August 16th, 2010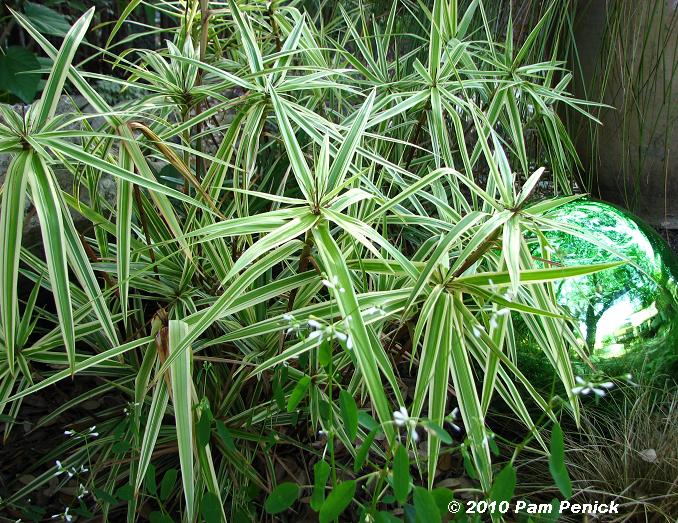 It's August. It's Austin. It's incredibly hot and humid. Flowers for Bloom Day were pretty scarce, but foliage is, as always, carrying the garden through the toughest months. My faves for Foliage Follow-Up this month are visually cooling, with variegated or glaucous leaves. But really, anything that doesn't wilt by 4 pm is making me happy these days.
PIctured above, 'Sparkler' sedge (Carex phyllocephala), a hard-to-find but interesting plant for shade. Those creamy stripes really brighten up a shady bed.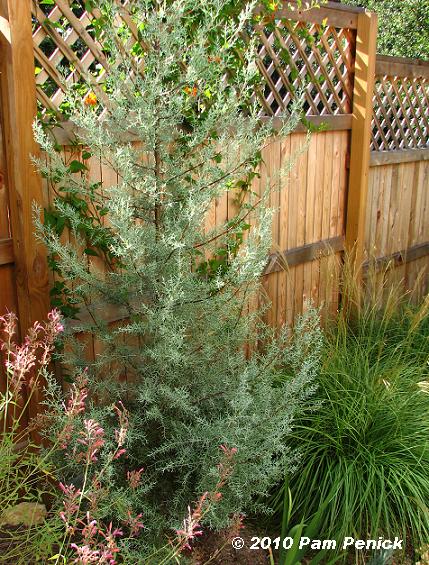 Arizona cypress (Cupressus arizonica) 'Blue Ice,' with wintry blue foliage and a Christmasy scent all year long.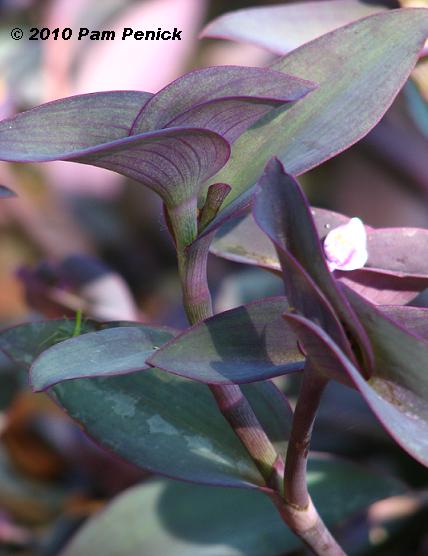 The ubiquitous purple heart (Tradescantia pallida), growing out of cracks between limestone slabs in the nearly untended lower garden. This is one tough plant for sun or shade.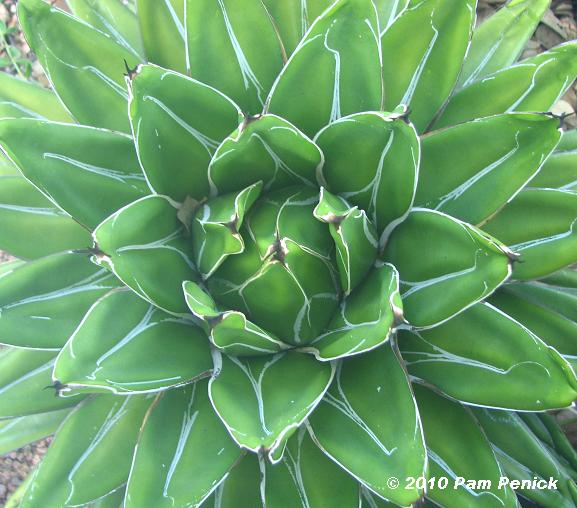 Queen Victoria agave (Agave victoriae-reginae), opening up like a striped artichoke.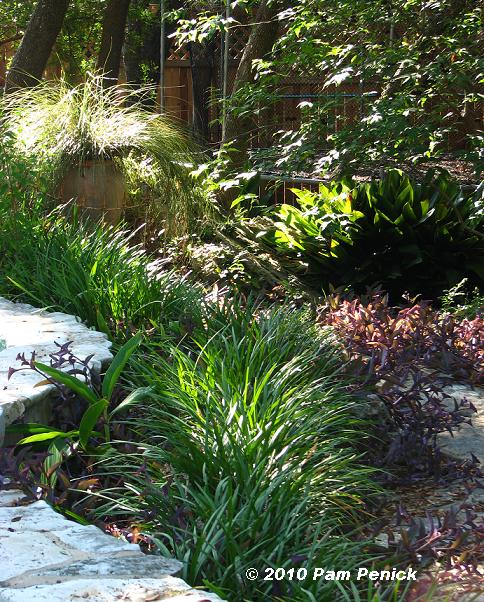 Another image of the lower garden's largely self-sufficient plants: giant liriope, purple heart, cast iron plant (Aspidistra elatior), and Mexican buckeye (Ungnadia speciosa), with Texas nolina (Nolina texana) in the container at left. I didn't plant a single one of these, with the exception of the potted nolina. Even though the liriope and purple heart are fairly prosaic, I'm happy to have their tough, ground-covering foliage in the neglected lower garden.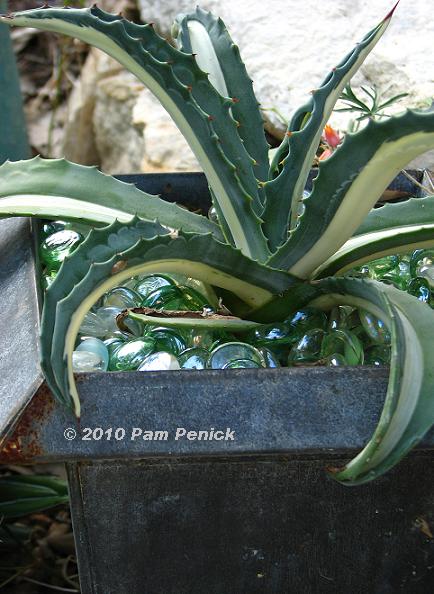 The agaves and aloes are always dependable in summer. This is the beautiful Agave americana mediopicta 'Alba.'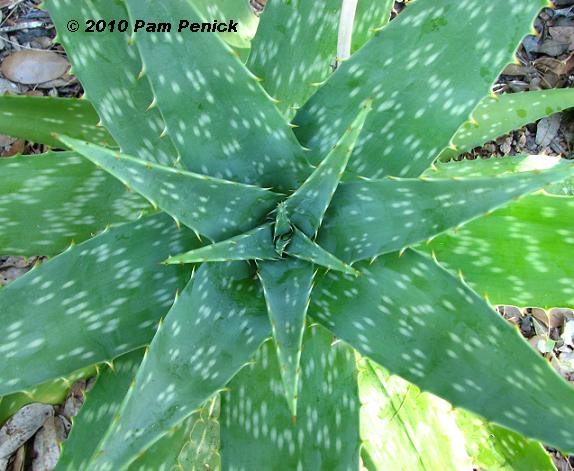 Aloe saponaria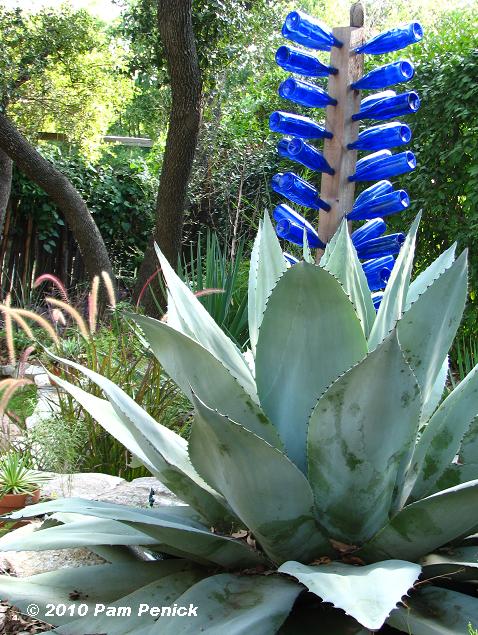 And my long-time favorite, 'Whale's Tongue' agave (A. ovatifolia). If you stand in just the right spot and squint, the bottle tree behind it looks like an agave bloom spike.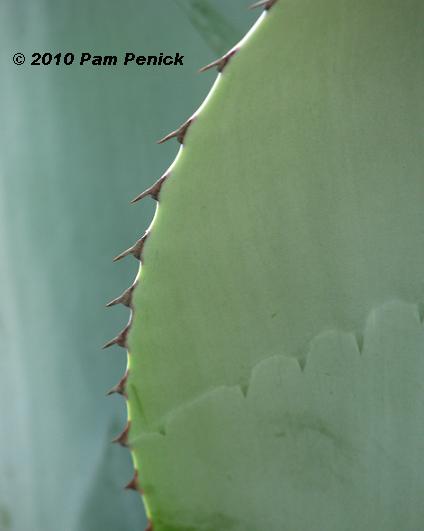 Detail of the Whale. Aren't those broad, blue-green leaves, shark-teeth thorns, and ghostly imprint patterns fantastic?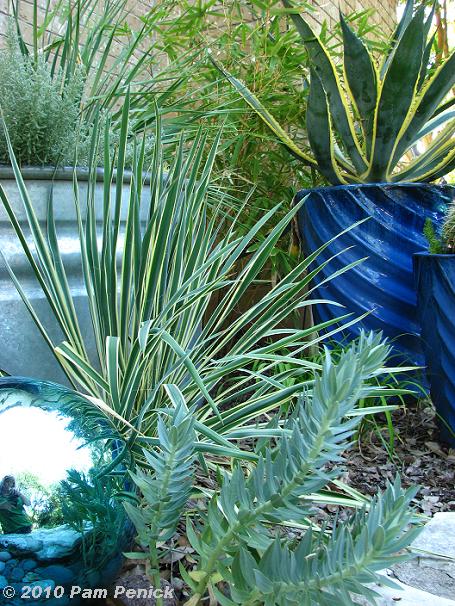 More succulent yumminess. From lower left, gopher plant (Euporbia rigida) and Yucca flaccida 'Bright Edge.' From upper left, santolina (Santolina chamaecyparissus), Yucca rostrata 'Sapphire Skies,' 'Alphonse Karr' bamboo, and Agave americana 'Variegata.'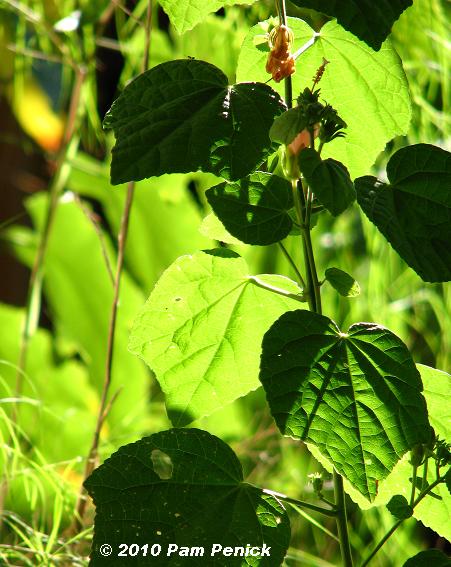 Our native Turk's cap (Malvaviscus drummondii) has surprisingly large leaves for such a xeric plant. They look beautiful when the morning light shines through them.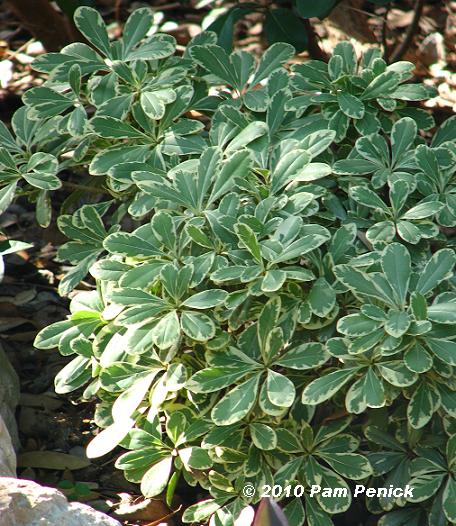 Pittosporum 'Creme de Mint'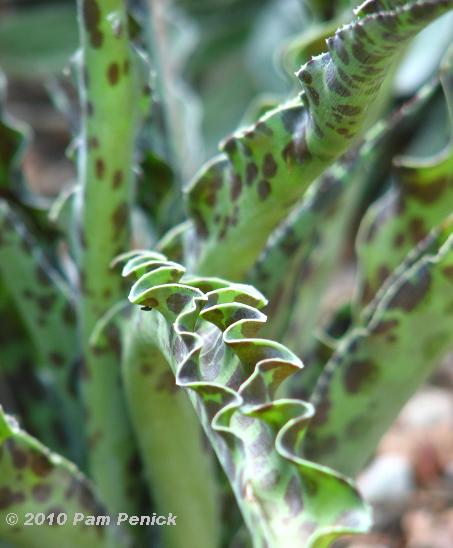 I'll end with the ruffly, speckled leaves of Manfreda undulata 'Chocolate Chips.'
I invite you to join me in celebrating non-blooming garden goodness for Foliage Follow-Up. It's easy to participate. Simply post about your favorite foliage plants for August, and leave a link to your post in the comments below. I look forward to seeing your high-summer choices.
All material © 2006-2010 by Pam Penick for Digging. Unauthorized reproduction prohibited.
posted in
2nd garden--2010
,
Agaves
,
Aloes
,
Bamboo
,
Bottle tree
,
Containers
,
Foliage Follow-Up
,
Grasses
,
Groundcovers
,
Succulents
,
Texas natives
,
Trees
,
Xeric plants