July 19th, 2010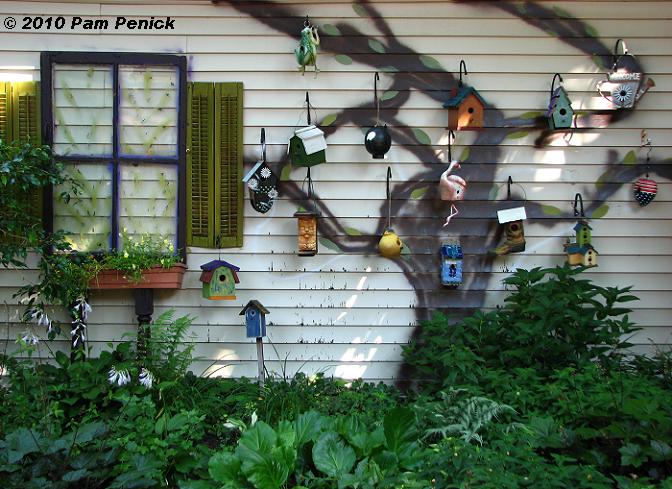 Playful wall decor in a Lancaster Avenue garden
Wrapping up my series about Garden Bloggers Buffa10, I've saved some of the best gardens for last, as did our hosts in arranging access to the remarkable Lancaster Avenue gardens for the final day of the event.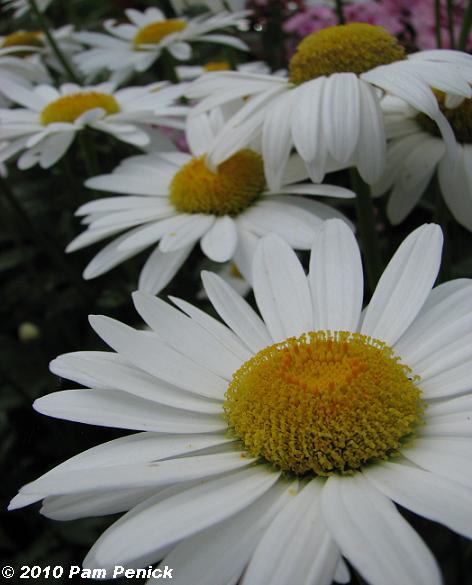 We had the pleasure of not only strolling this lovely street and getting a sneak peek at several Garden Walk gardens but also meeting the homeowners who created them. They were present during our self-guided visits, and many of them joined us for lunch afterward in the garden of their neighbor and our host Jim Charlier.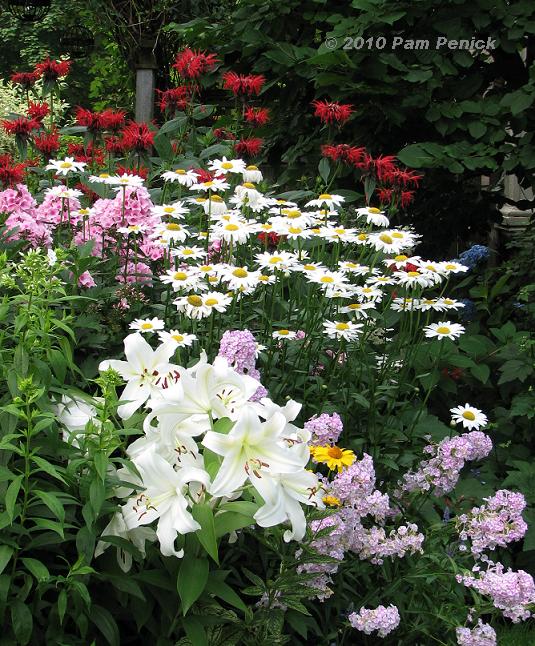 This image and the following six are from a delightful corner garden on Lancaster. (I'm kicking myself for not having written down any of the gardeners' names. My apologies to these generous folks.)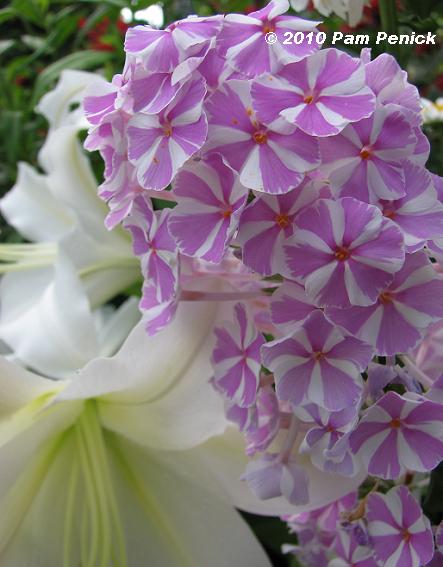 The pinwheel phlox, daisies, lilies, and beebalm occupy a large flowerbed that extends into this garden's front lawn.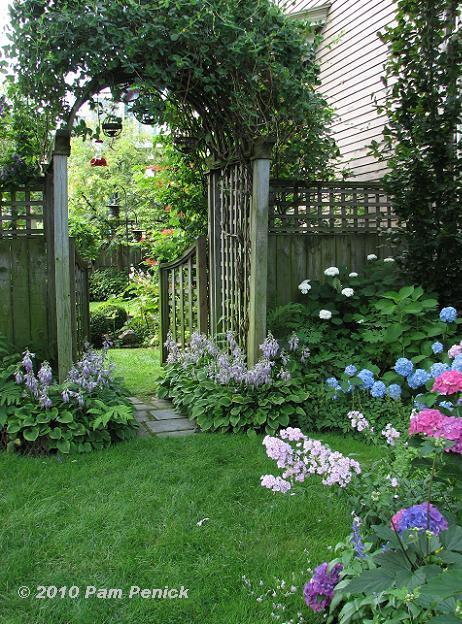 In a broad side yard to the left of the house, a hosta-edged arbor beckons you into a surprisingly formal garden enclosed by a lattice-topped wood fence.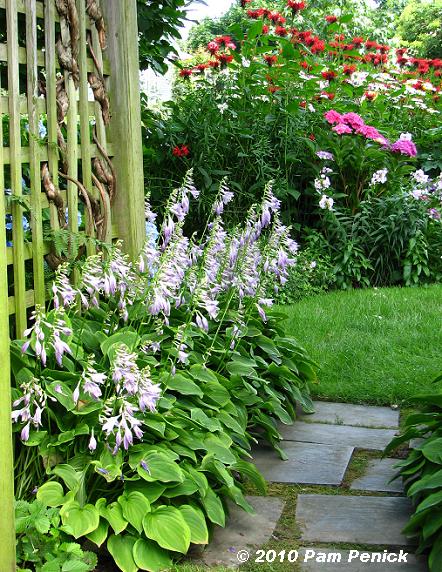 From inside the formal side garden, we are looking back through the arbor at the flower garden.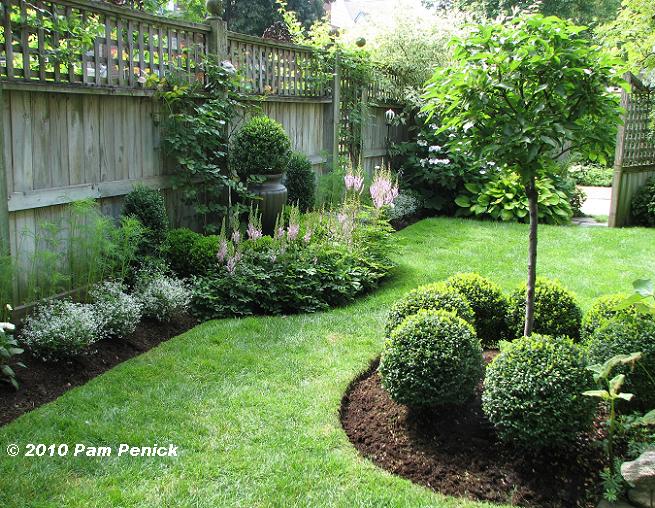 The ordered and mostly evergreen formal garden was a surprise after the more cottagey feel of the front garden. I thought it beautifully designed and very restful.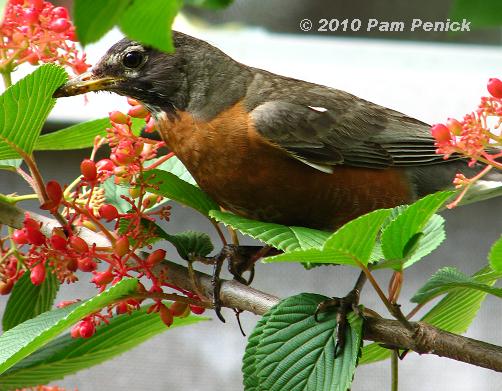 This robin was gorging on viburnum berries in one corner of the garden.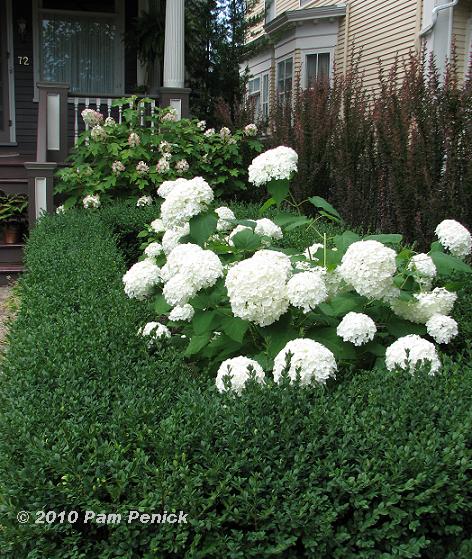 Back out front, alongside the front walk, another touch of formality appears with these enormous white hydrangeas wrangled into place by a boxwood parterre.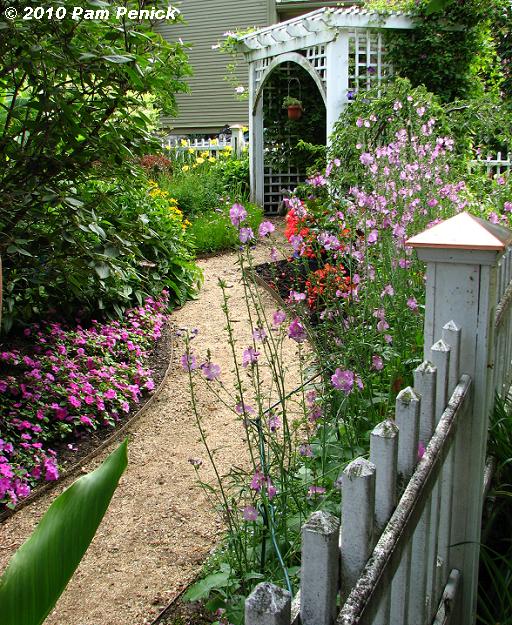 Across the street, a neighboring couple have created this beautiful scene on their double-lot property. Where a house used to stand, a large, sunny, side-yard garden now offers strolling paths and a shady arbor to sit.

Toward the back, a gardening bench makes a pleasant focal point.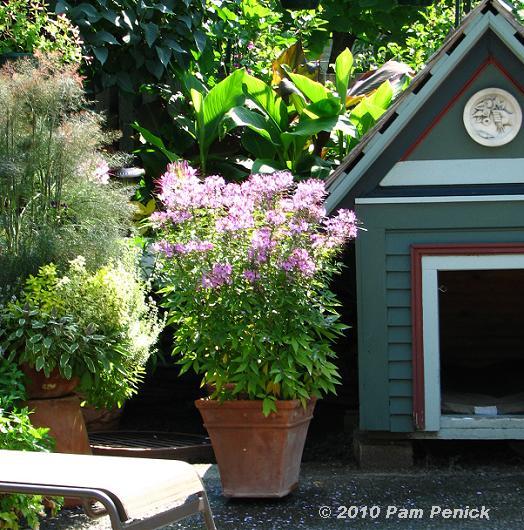 It was fun to see my much-touted 'Senorita Rosalita' cleome growing bushy and tall in pots next to a well-appointed doghouse.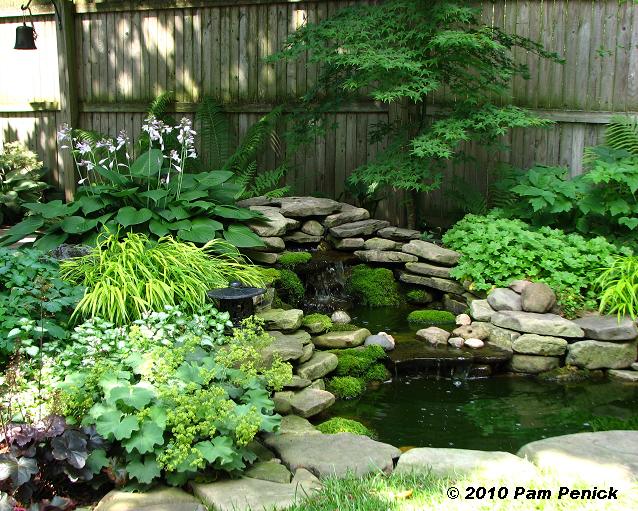 In another garden down the street, shade and a contemplative Asian aesthetic create a completely different mood.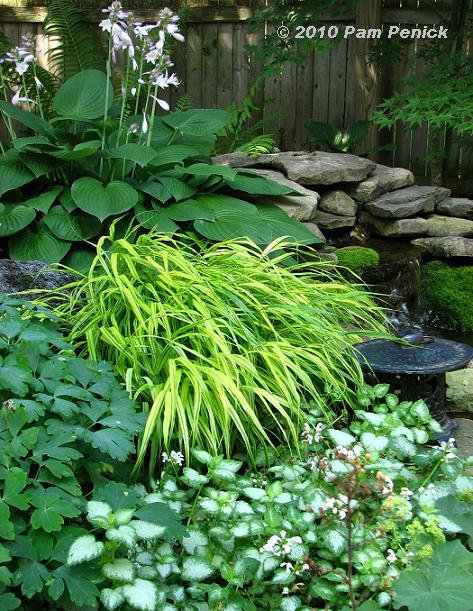 Gorgeous plant combination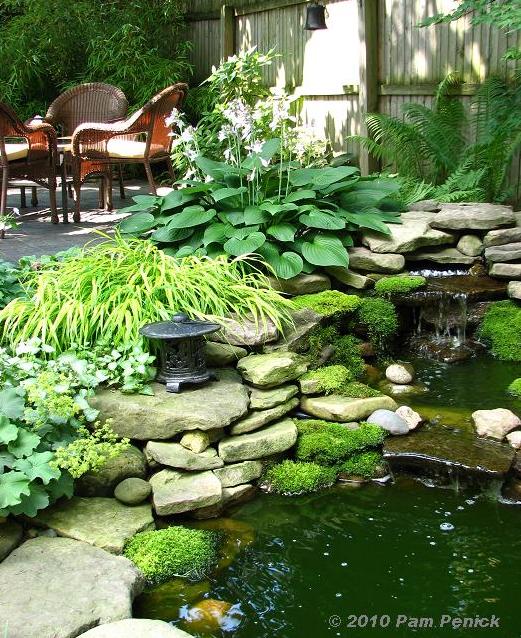 A waterfall cascades into a small pool that feeds into another.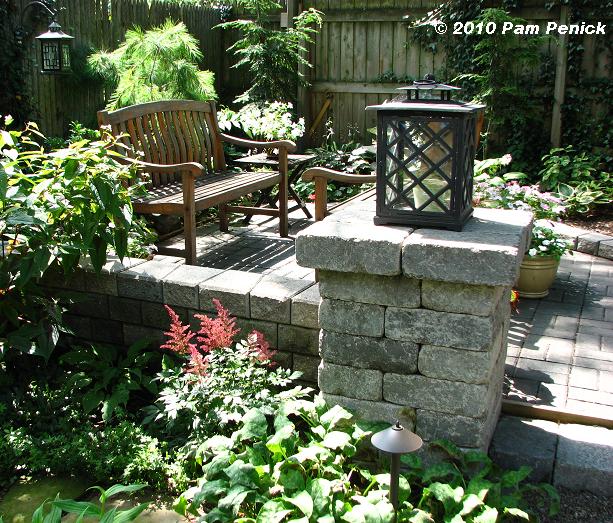 At the back of the garden, two seating areas are set behind a low wall of what looks to be paver blocks, with sturdy pillars marking the entry to this garden room. I admired the execution of the hardscaping, which is composed of materials readily available to do-it-yourselfers: gravel, concrete pavers, and paver blocks.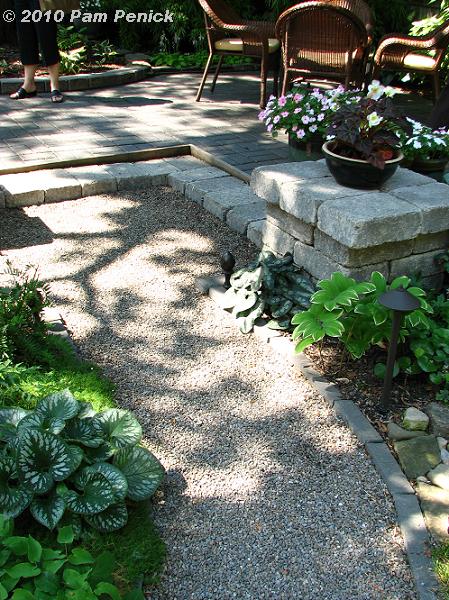 The homeowners told me they'd done it themselves, and they'd taken pains to be sure the lines and leveling were precise. No doubt they prepped just as carefully with compacted paver base in a precisely excavated space. And that's why it looks so good.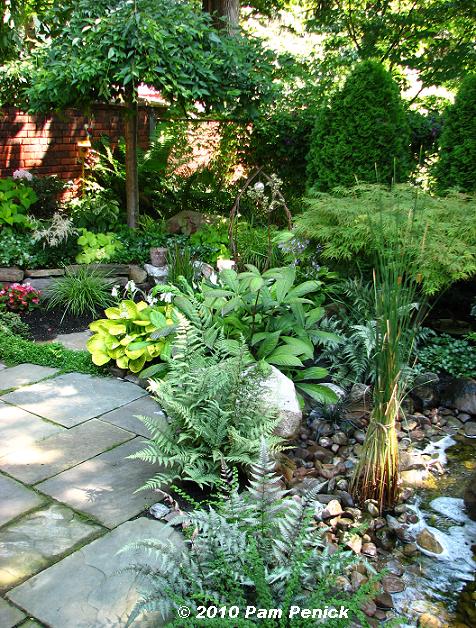 Just a few more doors down the street we found another treasure: this back garden built around a focal-point water feature (not pictured–sorry) composed of three large, stacked rectangular boulders sitting in a small pond. The surrounding garden was playful and intriguing, with a somewhat dressy cut-stone path/patio curving into the space.
I don't know if I could even pick a favorite among the Lancaster Avenue gardens. Lucky, lucky Jim doesn't have to. Aside from his own lovely garden, he can visit his neighbors' edens by simply strolling down the street. Creativity, horticultural know-how, and warm hospitality—that's what Buffalo has going for it, and I'm glad I had the opportunity to bask in its glow for a little while.
All material © 2006-2010 by Pam Penick for Digging. Unauthorized reproduction prohibited.