July 15th, 2010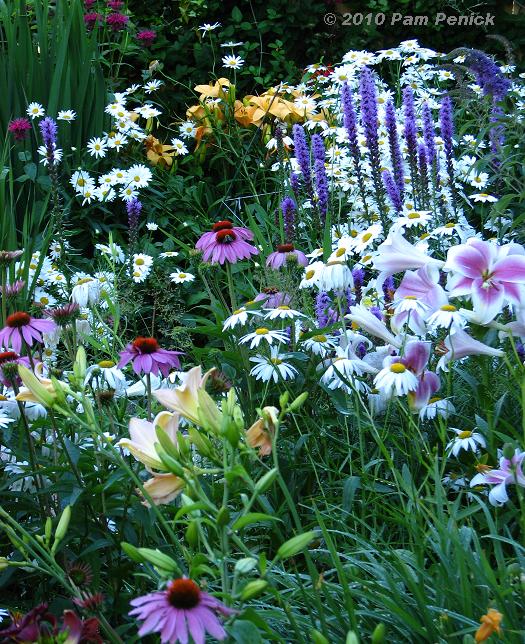 I never cease to marvel at how a love of gardening (and blogging about it) brings together people of all ages, from disparate growing regions, backgrounds, and politics, and forges instant friendships between them. To go for the obvious metaphor, we're like a home-grown bouquet picked from a rambling cottage garden (like the Hope Blooms garden, pictured above).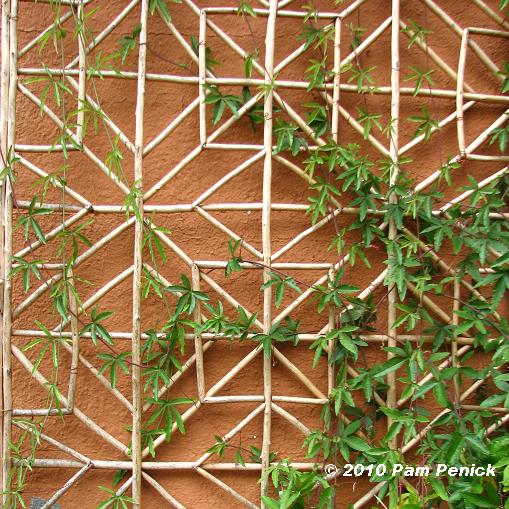 Garden bloggers form a marvelous support group, sharing gardening and blogging advice, offering congratulations when someone has an article or photo published, giving high-fives for a blogging anniversary or encouraging words when someone needs them. Meeting and reconnecting with fellow garden bloggers is why so many of us are willing to travel hundreds or thousands of miles to attend meet-ups like Garden Bloggers Buffa10. The gardens, dinners, and other activities offered by the hosting committee, wonderful and enticing as they may be, are purely a bonus. The personal connection is what Garden Bloggers Spring Fling, as it was originally known, is all about.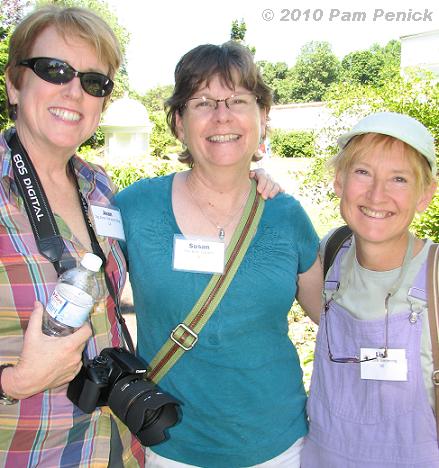 I met so many interesting people this year and renewed friendships with those previously met, and yet I have so few personal photos to show for it. Dang! I wish I had more. At any rate, here is a sampling of people pics from the weekend. You'll find a few more in my other posts about Buffa10. Pictured here, Jean (Dig, Grow, Compost, Blog), Susan (The Bike Garden), and Lisa (Natural Gardening). I met Jean last year in Chicago, and later we discovered, in a small-world moment, that she and my husband had been co-workers many years ago in Austin, before she moved to Louisiana. Susan is a fellow Texan from Lubbock whose blog I've long enjoyed, though we'd never met. And Lisa, I learned, is gardening in upstate South Carolina, my old home state. You can see that we all hit it off right away.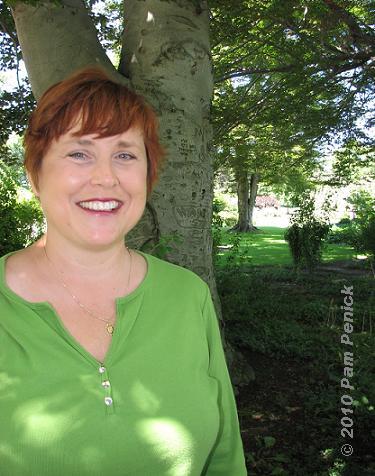 Dee (Red Dirt Ramblings) has been a friend since she came to Austin for the first garden blogger meet-up, and since then I've had the pleasure of visiting her Oklahoma garden.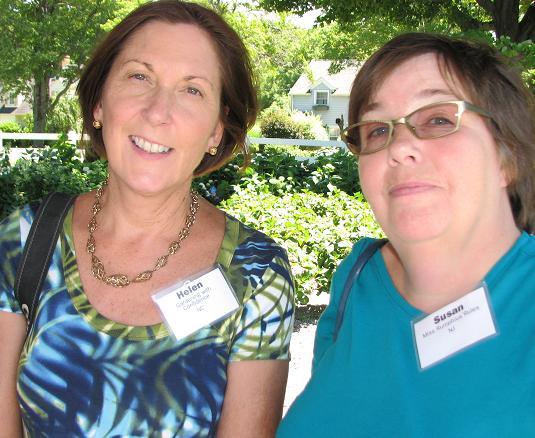 I'd never met Helen (Gardening with Confidence), though I read her blog, or Susan (Miss Rumphius' Rules), though we're both members of Garden Designers Roundtable. Strong, successful women both—it was a pleasure to meet them.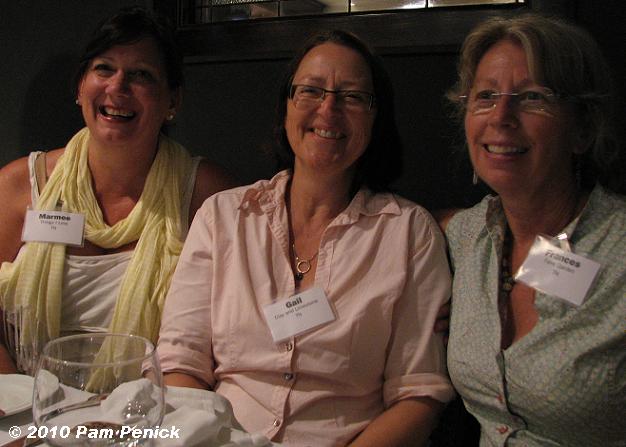 Lunch at the fabulous Rue Franklin on Friday landed me at a table with this delightful trio: Marmee (Things I Love), Gail (Clay and Limestone), and Frances (Fairegarden). Both Gail and Frances bravely came to Austin for the first meet-up; Marmee and her sister Meems of Hoe and Shovel (not pictured) were new attendees, and it was great to meet them both.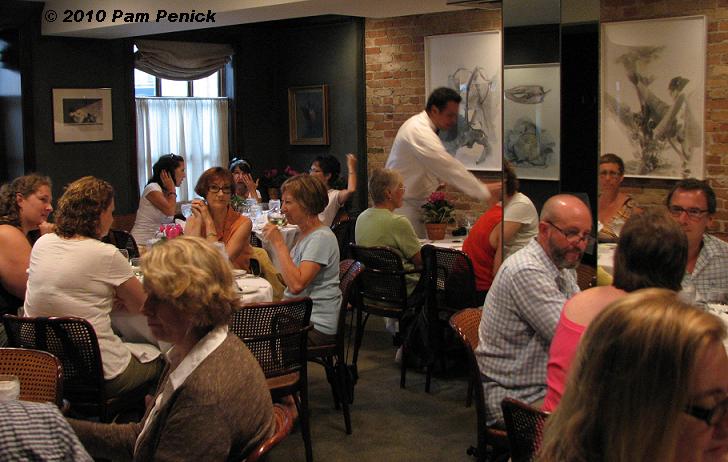 Half our group of 75 garden bloggers ate lunch in this dining room; the other half had the other side of the restaurant. It must have been a challenge for the planners to find restaurants that could accommodate our large group.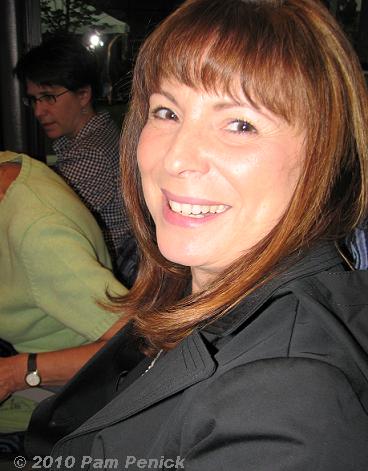 My intrepid and always delightful friend and traveling companion from Austin, Diana of Sharing Nature's Garden. Diana and I got to know each other on the planning committee for the first garden blogger meet-up in Austin in 2008. We haven't missed one since.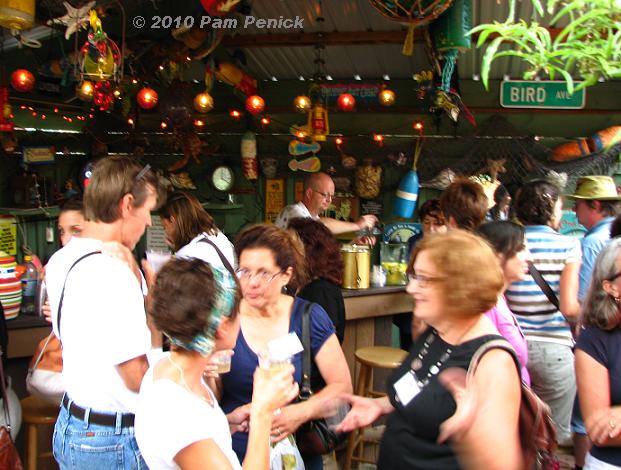 The happy-hour party in Gordon Ballard and Brian Olinski's garden. Doesn't this look like fun, even in the rain? It was. Gordon is behind the bar, probably mixing up another batch of sangria. They are very hospitable, and their garden is lovely.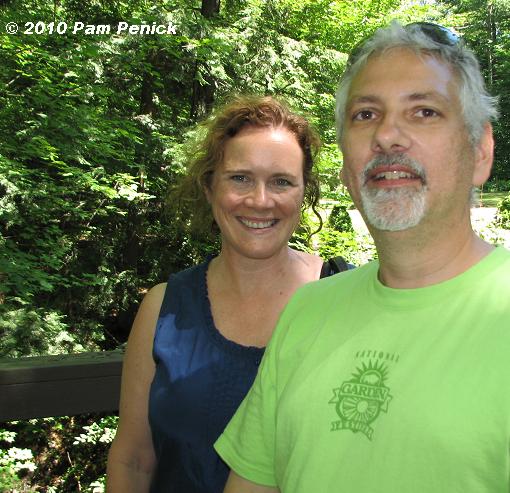 Elizabeth Licata (Gardening While Intoxicated and Garden Rant) and Jim Charlier (Art of Gardening), our Buffa10 hosts. I can't say enough good things about their hospitality. They made all 70+ of us feel welcome at all times and showed us a wonderful time, even opening their own gardens up to the entire group for happy hour and lunch gatherings. Kudos to them both. They received a standing ovation from our group at the final dinner on Saturday, and it was well deserved.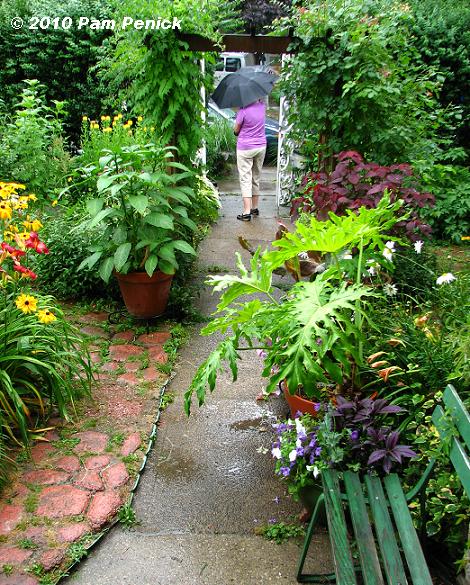 But there are more garden pictures yet to show you, so follow me down Gordon and Brian's rain-wet path until my next post on Buffa10.
All material © 2006-2010 by Pam Penick for Digging. Unauthorized reproduction prohibited.