April 26th, 2010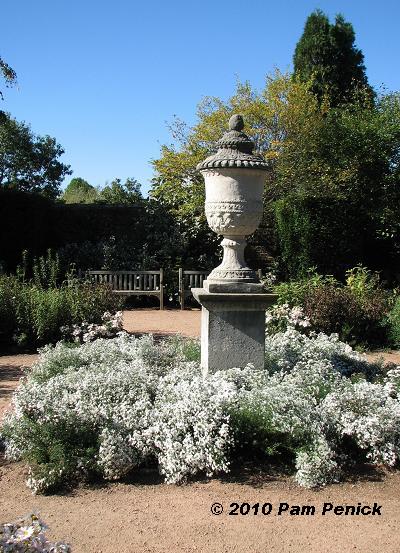 Today I join 10 designers from Garden Designers Roundtable in posting about focal points. (Photo: English Walled Garden, Chicago Botanic Garden)
Placing a focal point in your garden is like wielding a magic wand to cast a spell over your visitors. A well-placed object has the power to make people look at what you want them to see and walk where you want them to go. Here are some guidelines that have worked for me in placing focal points in my own and clients' gardens. Some of these are self-evident, yet they can be easily forgotten in the excitement of finding a spot for a new piece of garden art, a bench, or a colorful container.
1. Put a focal point where you want people to look or go: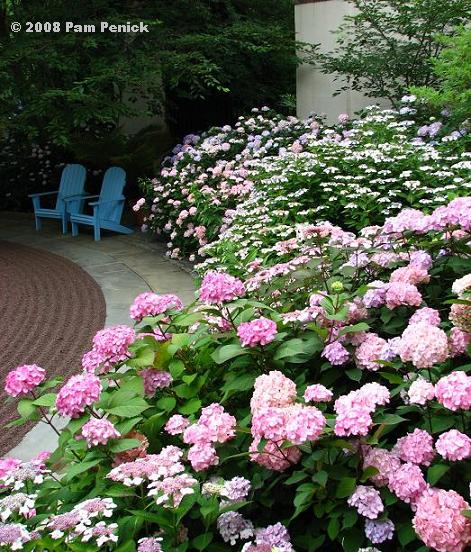 In the bend of a path (Chanticleer Garden, PA)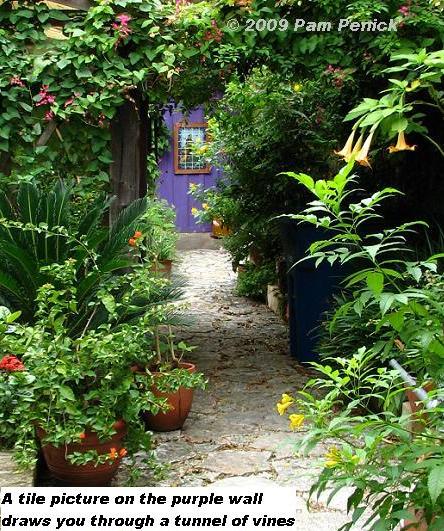 At the end of a long allee or on the far side of an arbor, to entice visitors through (Lucinda Hutson's garden, Austin)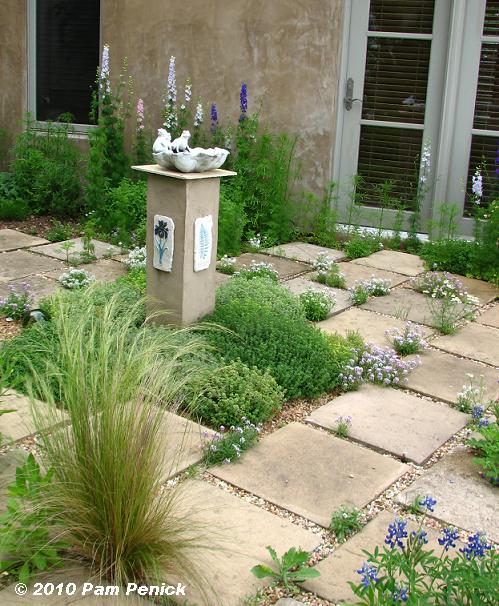 In the middle of an open space within an enclosed area, like this tiny thyme garden planted around a bowl on a pillar (Jenny Stocker's garden, Austin)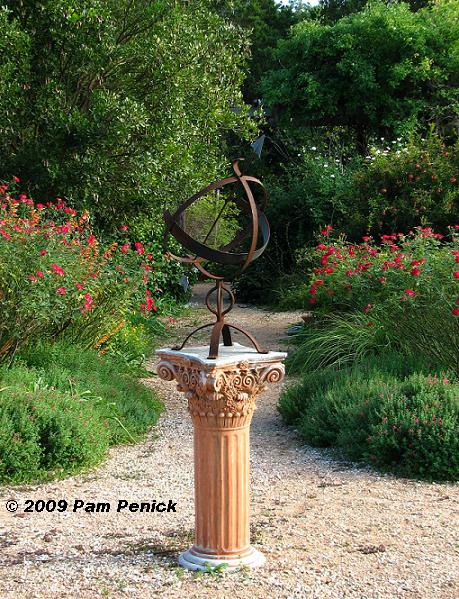 At the conjunction of two paths (Antique Rose Emporium, San Antonio)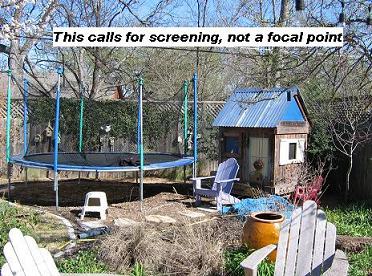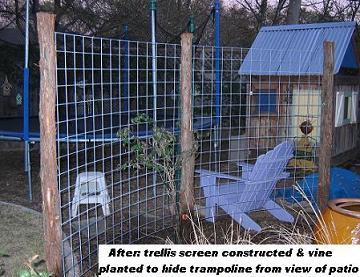 2. Don't put a focal point in front of something you'd rather visitors not notice, like a sagging fence, the neighbor's unpainted garage, or a telephone pole. Look with fresh eyes at your garden to see these undesirable elements that have become invisible to you over time; taking pictures of your garden is a good way to get a fresh perspective. Screen these elements with plants or hardscaping like a trellis rather than placing a single eye-catching item, container, or architectural plant in front of them. (Photo: My former back garden)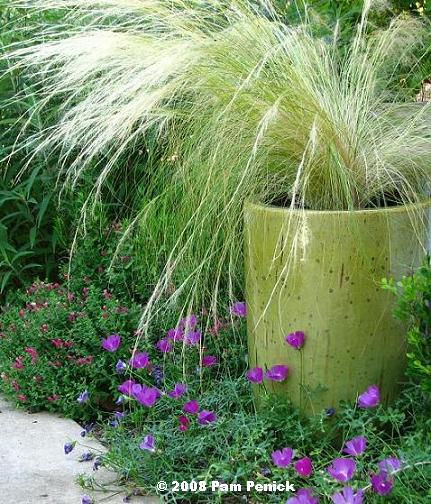 3. A container planting positioned in a garden bed makes an excellent focal point. Containers do not have to be placed on hardscape (patios, decks, porches, etc.) They attract the eye just as beautifully when placed among the plants in your garden. (Photo: My former front garden)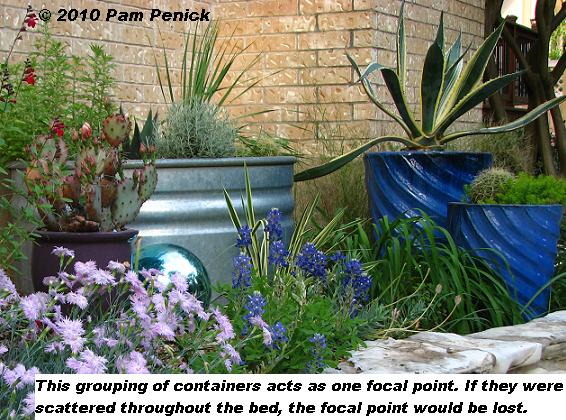 4. Avoid placing too many focal points in one area. You want the eye to zero in on one element, which may be part of a larger composition, not bounce around off several unconnected elements. (Photo: My new back garden)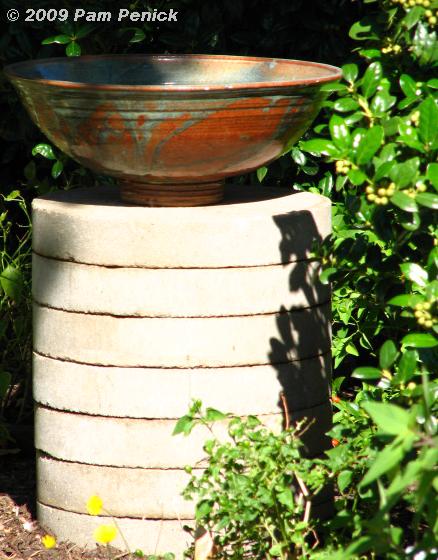 5. Find the right scale for your focal point. Most of us err on the side of too small rather than too large. One way to increase a focal point's presence is to elevate it on a plinth or, more simply, stacked pavers or stones. (Photo: Eleanor Pratt's garden)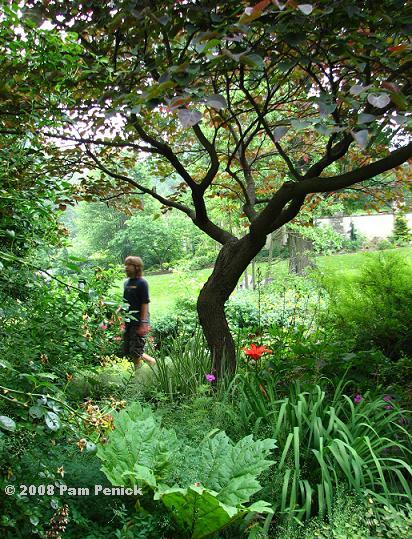 6. Plants make good focal points too. Use a specimen tree or an architectural plant like an agave as a focal point. Just be sure it looks good in all seasons. (Photo: Chanticleer Garden, PA)
By keeping these considerations in mind, you may find new and better places for your treasured garden pieces. Just remember what grande dame Emily Whaley said, in her book Mrs. Whaley and Her Charleston Garden, about placing statuary and other garden art: "There's such a thing as too many dancing girls." Wield your magic wand judiciously.
To read what other garden designers on the Roundtable have to say about focal points, follow these links:
Andrew Keys at Garden Smackdown, Boston
Carolyn Choi at Sweet Home and Garden Chicago, Chicago
Debbie Roberts at A Garden of Possibilities, Stamford, CT
Laura Livengood Schaub at Interleafings, San Jose, CA
Lesley Hegarty & Robert Webber at Hegarty Webber Partnership, Bristol, UK
Rebecca Sweet at Gossip In the Garden, Los Altos, CA
Susan Cohan at Miss Rumphius' Rules, Chatham, NJ
Susan Morrison at Blue Planet Garden Blog, East Bay, CA
Susan Schlenger at Landscape Design Viewpoint, Hampton, NJ
Tara Dillard at Landscape Design Decorating Styling, Atlanta
All material © 2006-2010 by Pam Penick for Digging. Unauthorized reproduction prohibited.