April 16th, 2010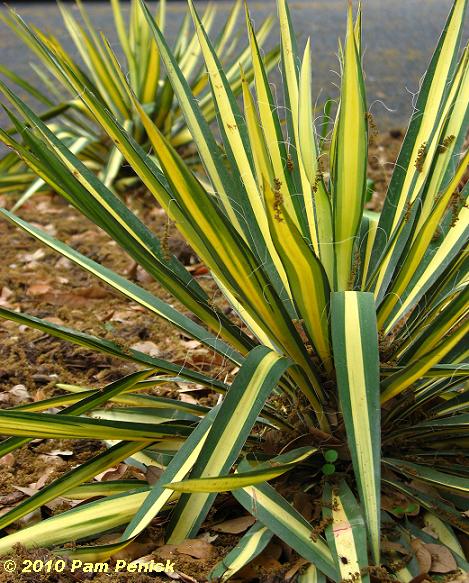 For April's Foliage Follow-Up (a celebration of foliage on the day after Bloom Day), let's see how the one-month-old garden in the deer-infested front yard is holding up. It's mostly a foliage garden, after all. In case you're wondering, by "deer-infested" I mean that a half-dozen to a dozen deer come tromping through every night. Some mornings they're still moseying through the yards on their way back to the greenbelt that borders my neighborhood.
First stop: the focal-point trio of 'Color Guard' yuccas. I bought them for their stripey yellow-and-green foliage, knowing that deer would eat the blooms. It's worth sacrificing flowers if I get to keep fabulous foliage like this. So far they remain untouched.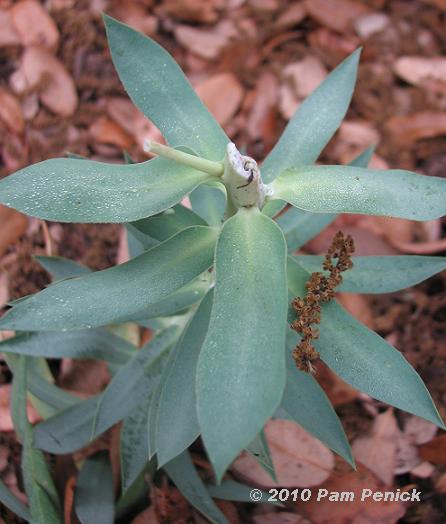 What's this? A deer's calling card. This gopher plant (Euphorbia rigida) has had its flower head bitten off.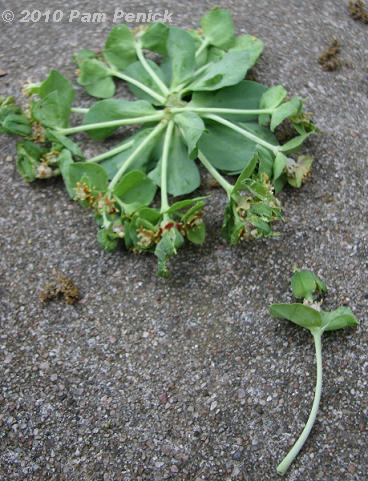 I felt grimly smug, I must admit, when I saw the flower head lying on the driveway, where it clearly had been spat out in disgust. I knew that the perpetrator had received a taste of irritating, latex-like sap with that ill-advised sampling. None of the other gopher plants were touched. Yeah, go tell it on the mountain, deer!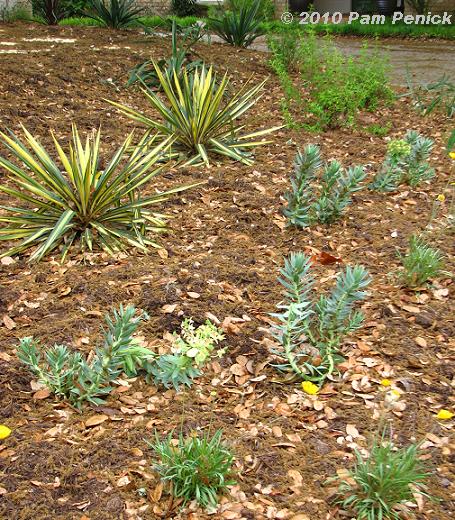 Hymenoxys (Tetraneuris scaposa) is one of the few plants I put in this bed for its flowers. Pictured at bottom, it's a scrappy little native that will bloom nearly year-round. So far, the deer have left it alone.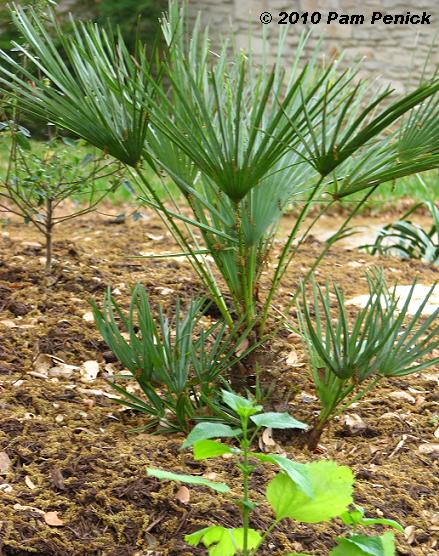 Silver Mediterranean fan palm (Chamaerops humilis var. argentea) is a stunning specimen plant with silvery-blue foliage and a strong silhouette. I positioned it for screening my across-the-street neighbors, though it will take a few years to grow large enough to do the job. Again, so far no deer damage.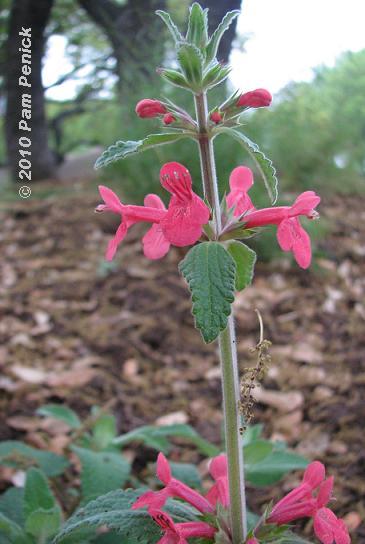 Texas betony (Stachys coccinea) has coral-red flowers and hairy, almost prickly stems that the deer have left alone.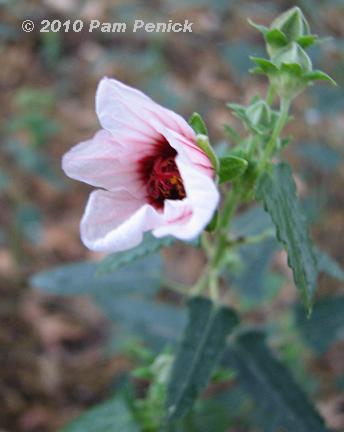 Pale pavonia (Pavonia hastata), a South American cousin to our native rock rose, has white flowers tinged with burgundy and a wine-colored eye. The flowers open in the morning and close in the afternoon. Again, so far the deer have not munched on it.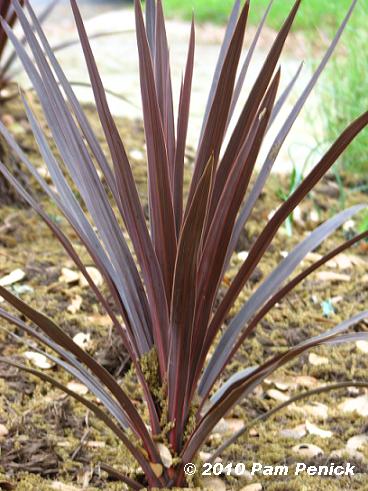 I planted red cordyline (Cordyline australis), an annual in Austin except in mild winters, to relieve the sea of green. It has a nice color echo with the flowers of pale pavonia and Texas betony. We inherited a couple of cordyline along the foundation of our home when we moved in, and the deer never bothered them. So I'm hopeful that these will be left alone too.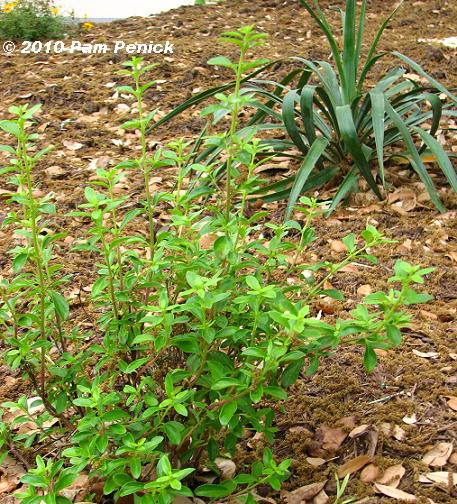 Mexican oregano (Poliomintha longiflora) has strongly scented foliage and eventually will be covered in a mass of lilac-and-white, tubular flowers attractive to hummingbirds. Softleaf yucca (Yucca recurvifolia) is an evergreen, non-clumping yucca that's not as sharp as some. I expect deer to eat the flowers this summer, but so far the foliage of both plants has not been bothered.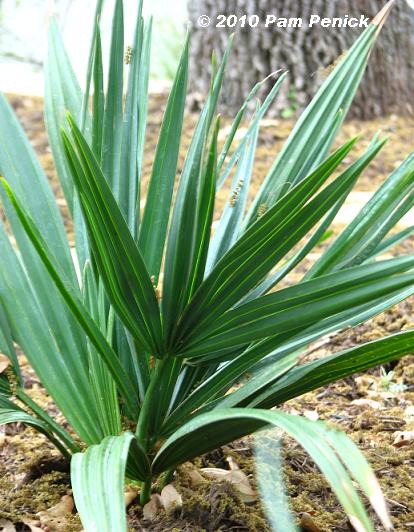 Texas dwarf palmetto (Sabal minor) is a slow- and low-growing native palm.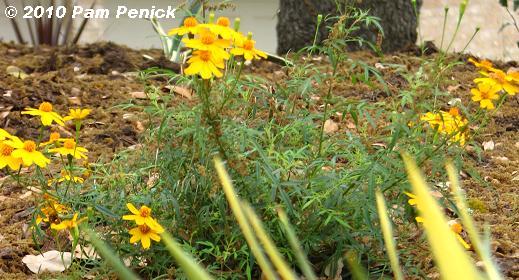 Copper canyon daisy (Tagetes lemmonii) isn't native to central Texas but might as well be. It can grow with no babying once established and provides a cloud of yellow flowers in fall. Its strongly scented foliage makes it unappealing to deer.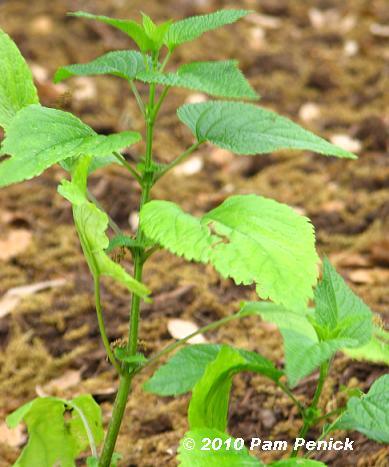 Majestic sage (Salvia guaranitica) is a shade-tolerant salvia with lime-green leaves and electric-blue, tubular flowers. Easily divided and transplanted, I dug up three pieces from the back garden and moved them to the front bed. I'm still waiting to see whether the deer will find these tasty.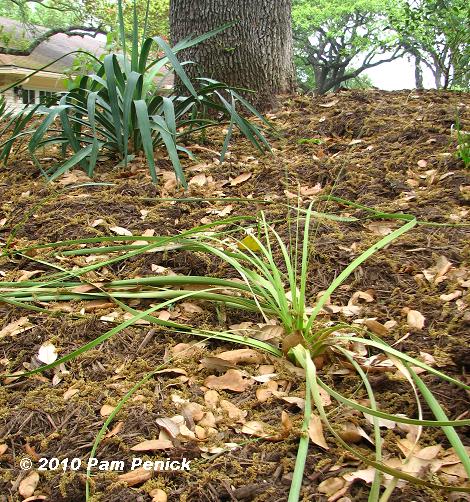 Lindheimer's nolina (Nolina lindheimeriana)—this is one of three divisions from my former garden—is one of our native woody lilies, related to agave and yucca though it has a grassy habit. Here it's paired with softleaf yucca.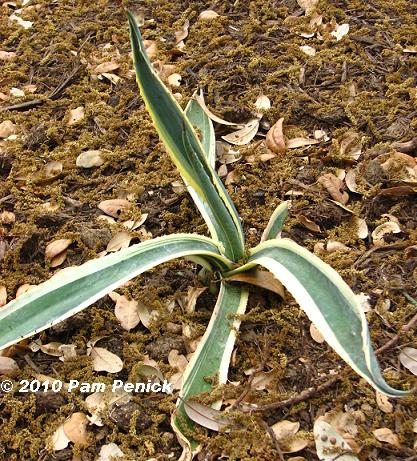 Variegated Agave americana is a vigorous, offsetting agave that can rapidly take over if not "de-pupped." But I love the stripey foliage and writhing arms. So far the deer haven't bothered it, but it may be in more danger in the fall, when deer look for trees and stiff plants to rub their antlers on.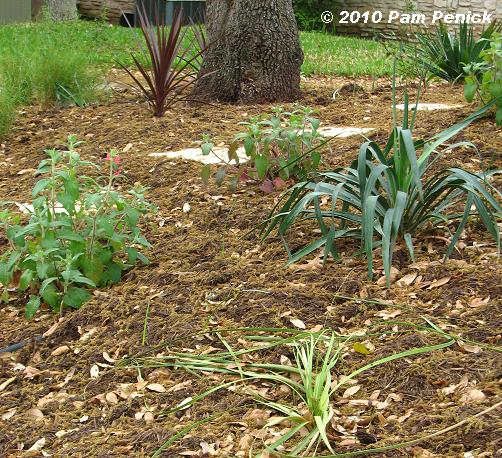 At one month old, the garden has held up well to nightly visits by deer. Only one plant, the euphorbia, has been browsed so far. I'm cheered by this early success but certain that the real test will be this fall and winter, when the deer are hungrier. But by then these plants should have a solid root system and be better able to withstand any munching.
If you are moved to join in for Foliage Follow-Up, just post about your favorite foliage this month and leave a link to your post in the comments on this post so that others can find your contribution.
All material © 2006-2010 by Pam Penick for Digging. Unauthorized reproduction prohibited.