January 12th, 2010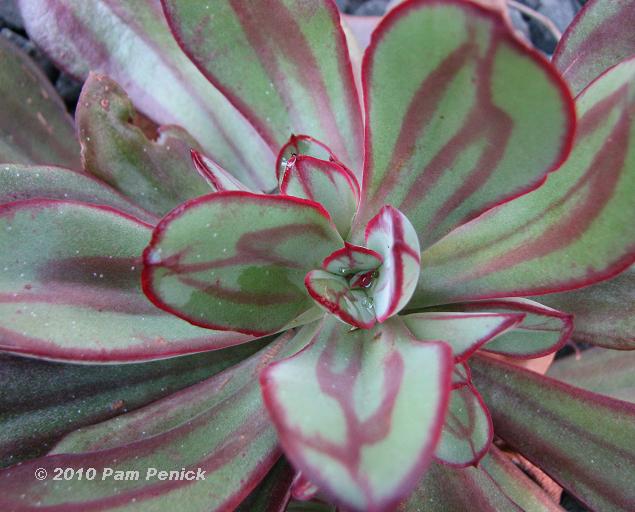 The deep freeze of the South has retreated, and now it's time to assess the damage done to our plants. Native and well-adapted perennials and shrubs should be just fine, even if they look toasted. The best bet is to leave them alone for now, brown stalks and all, because pruning will stimulate new growth, and we're likely to have more freezes. A good rule of thumb for central Texas is to cut back perennials (salvias, Turk's cap, plumbago, coneflowers, etc.) and ornamental grasses around Valentine's Day in preparation for new spring growth.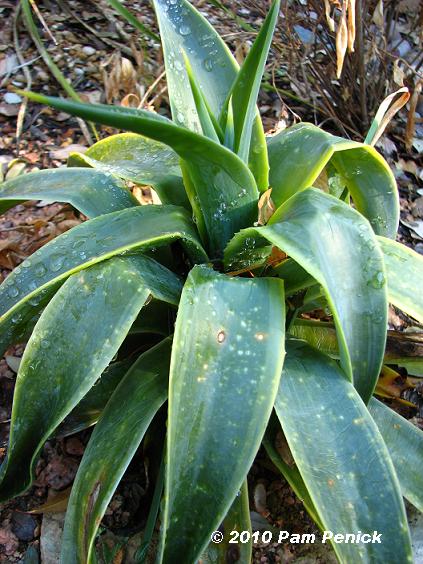 Freeze-damaged Agave desmettiana 'Variegata'
Many Austin gardeners, myself included, love to push our zone 8b with plants that are hardy in zone 9 or even 10. In recent mild winters all we had to do to protect these cold-tender plants was toss a sheet over them when an occasional light freeze was predicted. This year temps plunged into the mid-teens or even lower in the Hill Country west of Austin, and a sheet may not have provided enough protection. Now we're looking at mushy agaves, aloes, and other pitiful plants.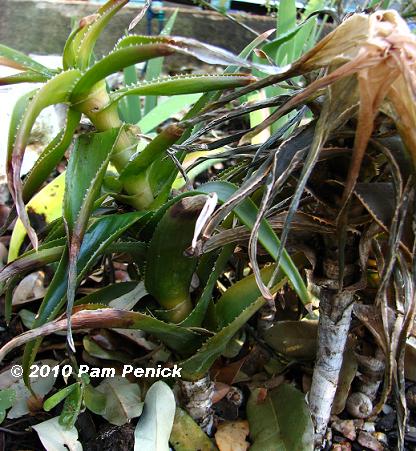 Freeze-damaged Aloe ciliaris
If you're tempted to rip out everything that looks wilted and mushy, wait. There's a chance that tender growth in the center was protected and is still being protected by damaged leaves up top. Even agaves that are severely stressed but not dead may respond in spring by producing pups that can be used to replace the mother plant.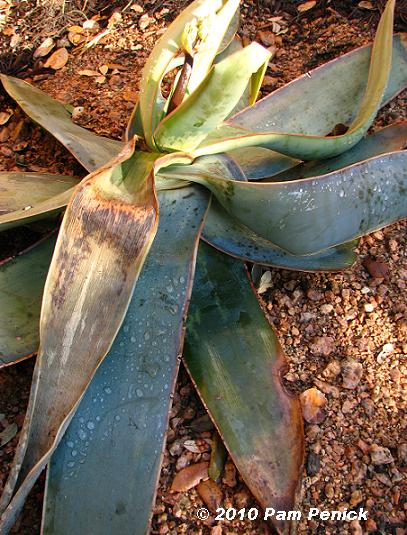 Aloe striata with freeze-damaged leaves
Here's what Daphne Richards, our County Extension Agent, has to say about hasty garden clean-up on the Central Texas Gardener website:
What should I do about my frozen plants, especially my agaves?

We're a little colder than we're used to this early, although probably not historically all that cold.

Many of us have planted desert plants, like agaves. Some of them got pretty mushy in our recent freeze, especially if they're from a low desert area. The mushy leaves will not recover.

What I would recommend: don't remove it at this time. If the center of the plant still has firmness to it, I would leave it and see if it makes pups next year. That way you can actually save the plant and start over with its pups.

You can remove the summer annuals that froze. Cut back frozen woody perennials.

But if you just have frost bit tips on herbaceous perennials, it's best to leave them for now, until the plant starts growing again. Trimming out the frozen tips will encourage growth in our typical warm spells in winter. Then, when we get another freeze, the plant will be stressed.

Don't be too anxious to do a lot of cleanup just yet, except for annuals, frozen woodies and confirmed mushy plants.
Daphne Richards, County Extension Agent-Horticulture, Texas AgriLife Extension Service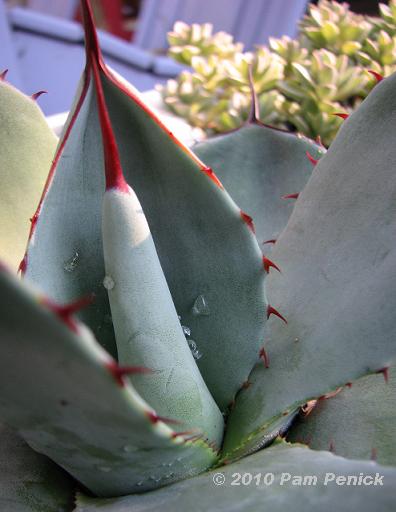 Agave parryi truncata, undamaged after being covered
It's hard to be patient when your garden looks brown, wilted, and mushy. But procrastination pays off if it prevents further freeze damage and helps your plants recover.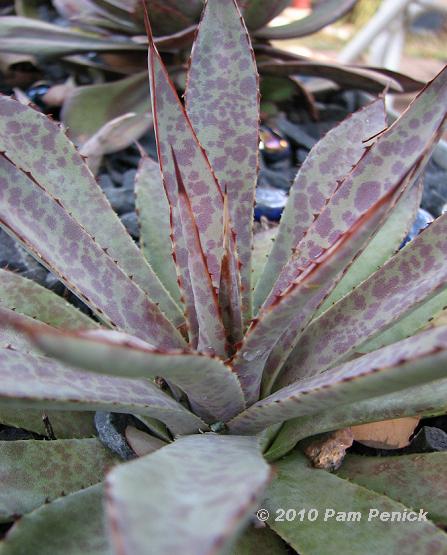 Mangave 'Bloodspot', undamaged after being covered
By the way, can anyone ID the succulent in the very first photo? I think it may an Aeonium. The first-pictured plant is Echeveria nodulosa (thanks for the ID, Peter, Noel, and Debra!). I bought three of them on sale last fall at Home Depot or Lowe's, unlabeled, and put them in my washtub planter. I was sure they'd freeze to mush during our cold snap, but protected by the overhanging branches of a live oak and covered with a sheet, they seem just fine.
All material © 2006-2010 by Pam Penick for Digging. Unauthorized reproduction prohibited.