January 6th, 2010
Gardening With a Sense of Place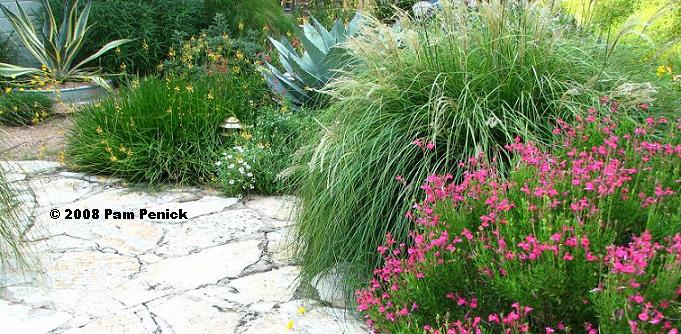 Today I join 12 other garden designers across the U.S. in posting on the topic Regional Diversity in Design. The idea of creating gardens with a sense of place is dear to my heart. In A Garden That Says "Howdy" (May 2007), I wrote about falling in love with a more rugged and arid garden aesthetic after moving to central Texas from the Southeast. As I began making my own garden, I was inspired by the local landscape to imbue it with a sense of place.
That's my former front-yard garden pictured at top. I took out the lawn and replaced it with a mix of native and well-adapted perennials, ornamental grasses, focal-point agaves, and small shrubs and trees. A limestone path invites visitors into the garden, while an open wood-and-wire fence provides an important sense of separation and privacy from the street without blocking views. My front yard went from being a cookie-cutter suburban lawn with sapling shade tree and foundation hedge from Anywhere, USA, to a colorful garden identifiable through plants, stone, and structure as belonging to central Texas.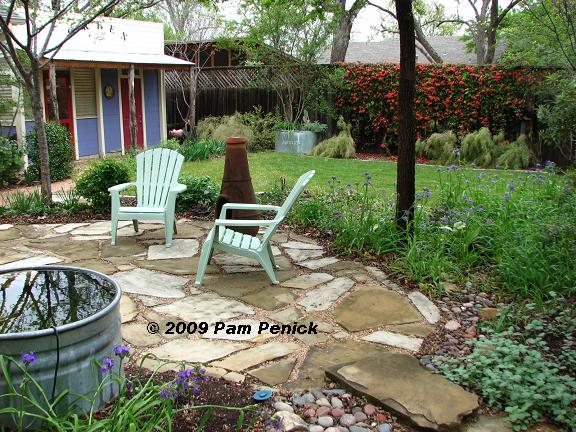 Climate, geography, the natural lay of the land—if we garden with rather than against these forces, we gain so much: a connection with the natural beauty of our own region; diversity of flora (and fauna that depend on regional plant species); a garden that requires less work because it's better adapted to local conditions; and less dependence on or, even better, a complete weaning from chemicals designed to sustain plants better suited to other regions.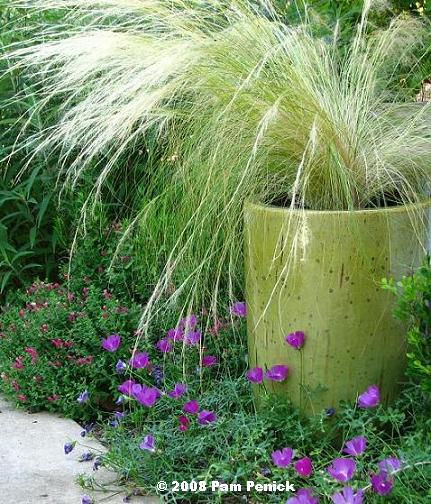 Using native plants is one way to impart a sense of place to your garden. Natives can handle the vagaries of local weather and rainfall, and they offer an important source of food and shelter for certain species of wildlife. Aesthetically they marry your garden to the natural surroundings of your region.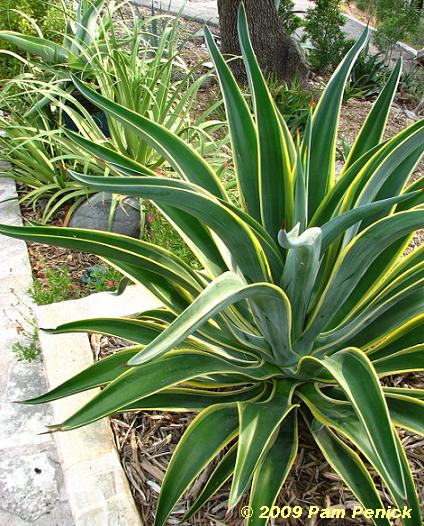 But designing so that your garden looks like it belongs where you live doesn't mean planting only native plants. For instance, evergreen azaleas and camellias are, to many, the essence of the South, even though they are well-adapted exotics from Asia. Likewise, in Austin we experiment with subtropicals from South Texas and central Mexico, and with succulents and cacti from the desert Southwest and northern Mexico. Many of these plants contribute to Austin's unique look, and they add to the richness of our gardens.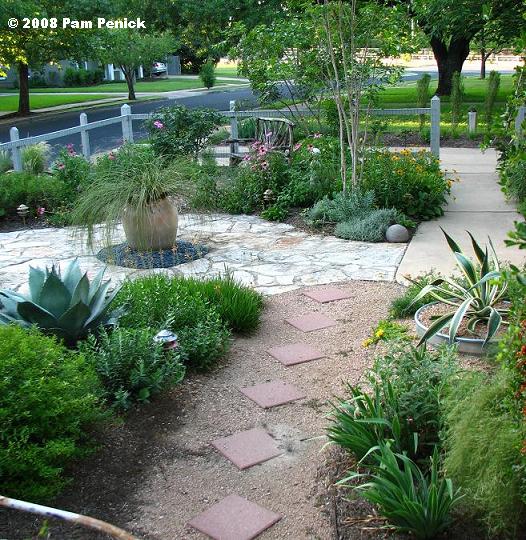 Another way to give your garden a sense of place is in the hardscaping you use. In Austin natural limestone outcroppings show us that limestone paths and walls will generally work beautifully in our gardens. Granite is also readily available; hence decomposed-granite paths are a natural look for us too. Happily, local stone is generally less expensive and a "greener" option than stone trucked in from out-of-state.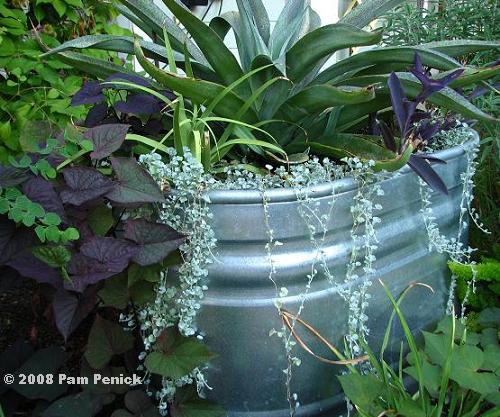 Look too at the materials builders tend to work with. In Austin, in addition to traditional wood siding, you see a lot of limestone exteriors, cedar posts, and galvanized and corrugated metal, plus an industrial-Texas look characterized by COR-TEN steel and concrete. Using these materials in your garden can tie your landscape to your region's design vernacular. Even the decor you choose can reflect the local scene, like this galvanized stock tank used as a planter.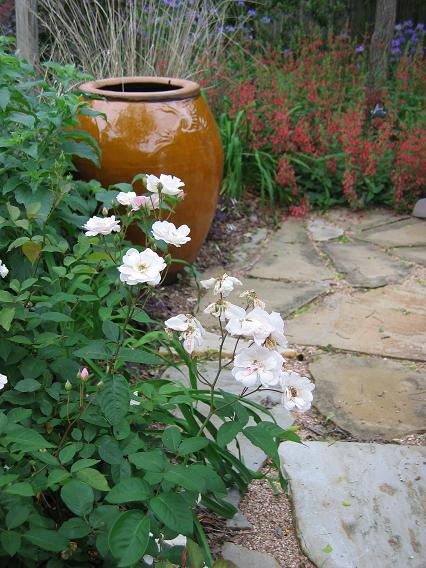 Even within Texas, differing climates and local geography make each region quite distinct, from a gardening standpoint. Picture the pineywoods and azaleas of East Texas, the subtropical citrus groves of the Valley in South Texas, the high desert scrub and cacti of El Paso, and Austin's own combination of rolling Blackland prairie and crumbly limestone hills. With deep clay soils on one side of town and thin caliche hills on the other, what fun Austin gardeners get to have as they mix it up!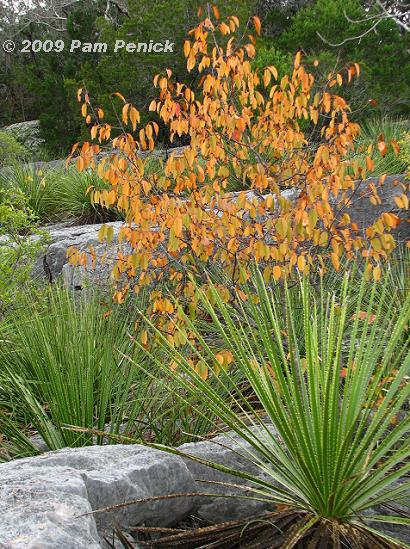 How do you translate a regional look into a garden setting? First just pay attention to the landscape when you go for a walk in the woods or along a nature trail. In this wild Hill Country landscape, limestone outcroppings shelter toe-holds for xeric plants like sotols.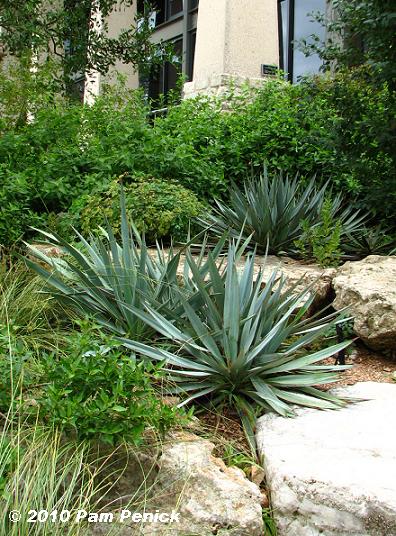 Brought into a wildscaped garden setting like this one at the Wildflower Center, the limestone outcroppings are translated into limestone terracing, and yuccas fill the gaps.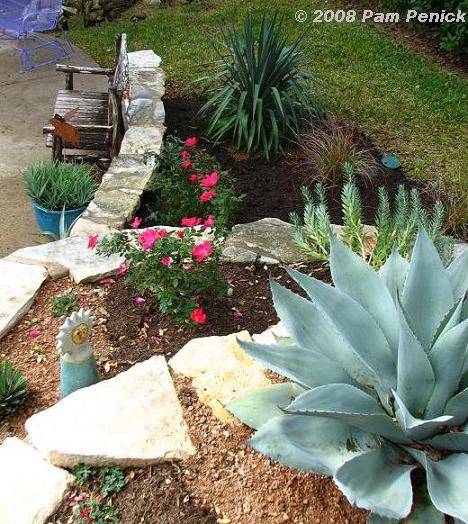 In a residential setting (my new back garden), this look is translated into limestone retaining walls and paths, with agave, roses, and yucca sharing space with perennials, grasses, and succulents. Does this look like central Texas to you? It sure does to me.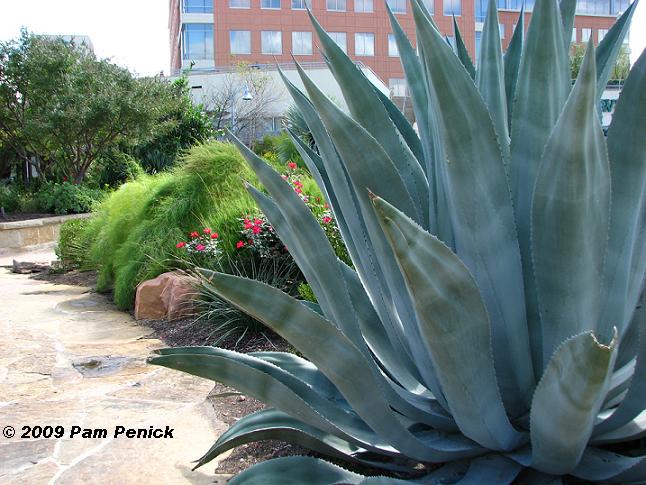 Every place offers its own unique look. And in a country increasingly populated by homogenized chain stores with nursery aisles offering the same plants everywhere, regional diversity is worth celebrating. Let's truly bloom where we're planted by making gardens with a strong sense of place—a sense of belonging to the wider landscape.
Special thanks to Scott Hokunson, who coordinated this post as part of an ongoing conversation about garden design at Garden Designers Roundtable. For more designers' perspectives on regional diversity in design, visit the following blogs:
Jocelyn Chilvers (Wheat Ridge, CO)
The Art Garden
Susan Cohan/Susan Cohan Gardens (Chatham, NJ)
Miss Rumphius' Rules
Michelle Derviss/Michelle Derviss Landscape Design (Novato, CA)
Garden Porn
Tara Dillard (Stone Mountain, GA)
Landscape Design Decorating Styling
Dan Eskelson/Clearwater Landscapes (Priest River, ID)
Clearwater Landscapes Garden Journal
Scott Hokunson/Blue Heron Landscape Design (Granby, CT)
Blue Heron Landscapes
Susan Morrison/Creative Exteriors Landscape Design (East Bay, CA)
Blue Planet Garden Blog
Laura Schaub/Schaub Designs (San Jose, CA)
Interleafings
Susan Schlenger/Susan Schlenger Landscape Design (Charlottesville, VA)
Landscape Design Advice
Genevieve Schmidt (Arcata, CA)
North Coast Gardening
Ivette Soler (Los Angeles, CA)
The Germinatrix
Rebecca Sweet/Harmony in the Garden (Los Altos, CA)
Gossip in the Garden
All material © 2006-2010 by Pam Penick for Digging. Unauthorized reproduction prohibited.