December 17th, 2009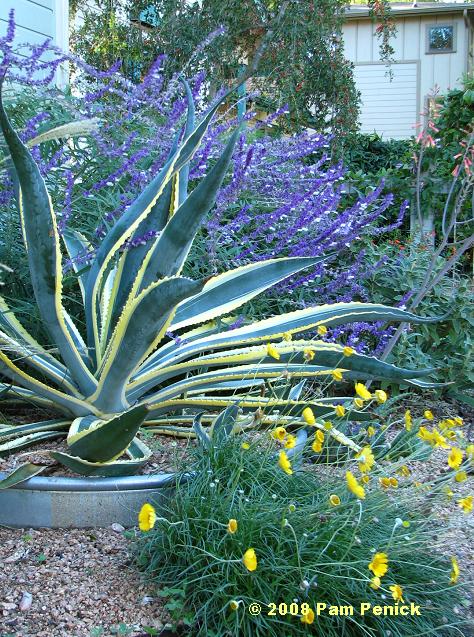 Tuesday I hired a landscaping crew to help me with a big fall cut-back in my former garden at the Unsold House. The house has been rented out since August, and except for a few drive-bys I hadn't really seen how the garden was holding up on its own. Up close I could see that some of the plants had disappeared, overwhelmed by other plants or perhaps having succumbed to the summer's drought. There were beaten down areas in parts of the garden where maybe their kids like to explore. But overall it looked pretty darn good. Ready for its first major trim in 6 months, but good.
Naturally, I saw plant raiding opportunities as part of the thinning process. Pictured above is the variegated American agave in the front garden (as seen when I lived there). It was overgrown with pups coming up all around it, so we got to work grubbing those out and clipping them off at the root.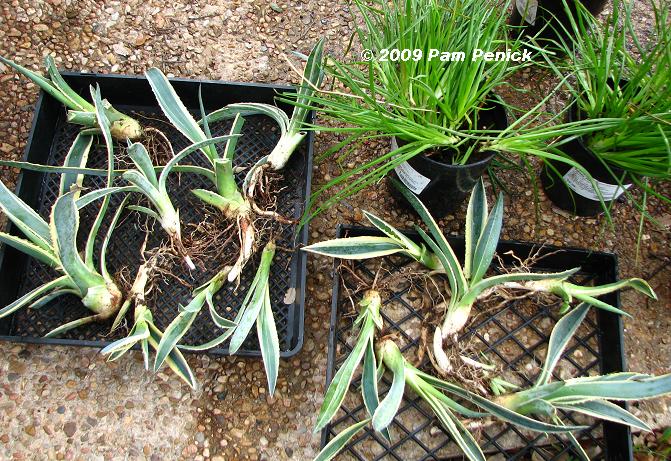 I collected them in a tub and brought them home—15 agave babies looking for a good home. I can't possibly plant all these in my garden, so I'm planning to leave them bare-root in my garage for a while then give them away in the spring. I think they'll survive just fine that way.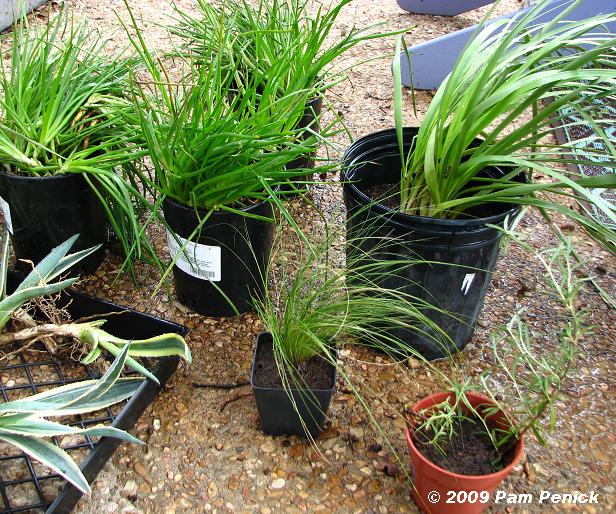 I didn't take a shovel with me that day, but it wasn't necessary. By pulling up or separating overgrown divisions with my hands, I was able to bring home a number of transplants for my new garden: rosemary, Mexican feathergrass, three big pots of bulbine divisions, spineless prickly pear pads, and three divisions of Lindheimer's nolina.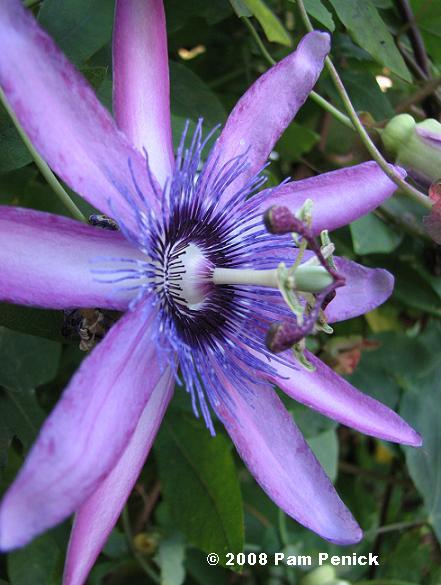 I also collected a handful of seeds from the 'Lavender Lady' passionflower vine. She looks like this in warmer days, and I look forward to having her bloom next summer in my new garden.
All material © 2006-2009 by Pam Penick for Digging. Unauthorized reproduction prohibited.