June 10th, 2008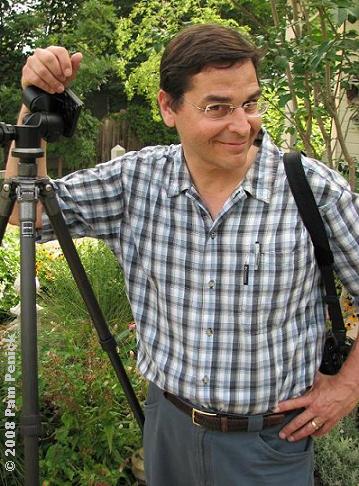 Last Saturday morning I had the pleasure of meeting professional photographer Rob Cardillo and observing as he photographed my front garden. He was scouting for images of regional design for his upcoming fourth book with Nancy Ondra, about perennial maintenance, and for ideas he can pitch to gardening magazines. What a thrill for my garden to be considered!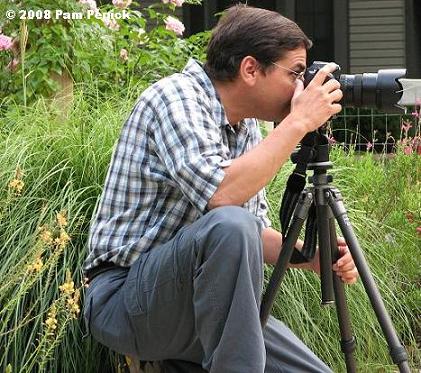 Thanks, Nancy, for sending Rob my way. And many thanks to Rob for his interest in my garden, his generous compliments, and his patience as I loitered on the front porch while he was shooting, distracting him with questions about his work, which assumed glamorous proportions in my mind. Finally, I went inside and lurked by the window with my daughter, watching him shoot, noting the scenes he composed and the equipment he used (a tall tripod and a shade device to block the glare of the sun).
If you've read Foliage or Fallscaping, you've seen Rob's incredible images. Check them out if you haven't already drooled over them.
While giving Rob a tour, I did fall, once or twice, into the trap of declaring that this plant looked great last week, or that plant won't really shine until later this month. But when I caught myself I put a lid on it and just tried to see what was right—right now. Here are some of my own images of the front garden, which is holding up well despite the heat wave.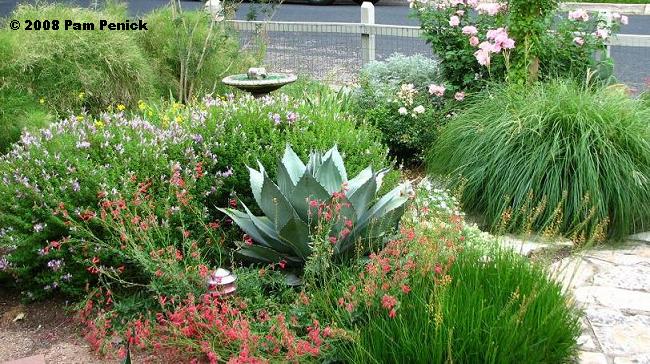 The southwest view from the front porch. The 'Whale's Tongue' agave provides the focal point, with Mexican oregano, rock penstemon, and bulbine flowering around it. The "hedge" of grasses on the far left is bamboo muhly; the one on the right is 'Adagio' miscanthus.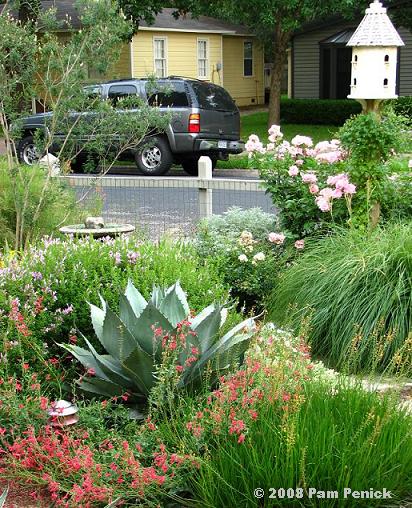 From this angle, my neighbor's car seems to ride the rail of the front fence. How do you avoid those car shots when you have a front-yard garden, I ask you? I'm constantly cropping hoods and wheels out of my photos, but I show this one because it also contains the dovecote birdhouse, the 'Belinda's Dream' rose, and the flowering, fragrant kidneywood tree to the left.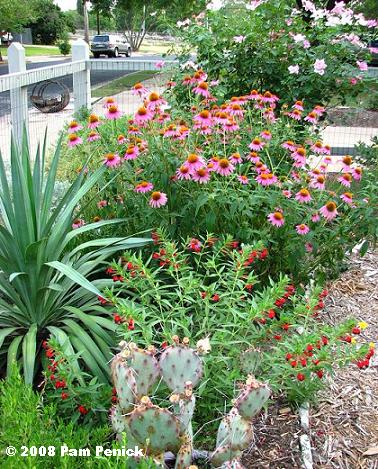 On the other side of the courtyard, more pink. If I've given you the impression that I don't like pink, I apologize. While I'm ambivalent about the light, muddy pink of the crazy pink bluebonnets, hot pinks and candy pinks make me very happy indeed, plus they stand up to the intense sunlight in the front garden. From front to back: 'Santa Rita' prickly pear, softleaf yucca, bat-faced cuphea, purple coneflower, and 'Carefree Beauty' rose.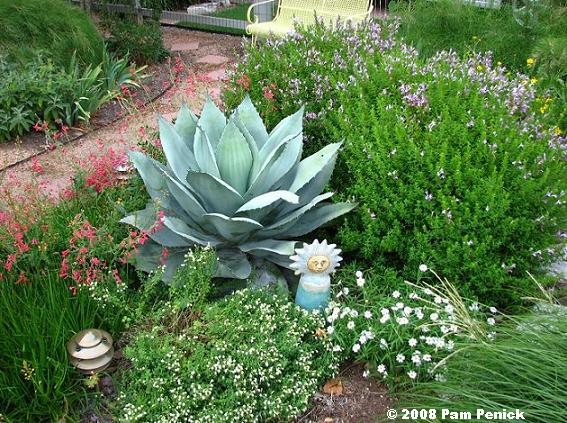 Another view of the 'Whale's Tongue' agave from the central courtyard. From this angle you see white skullcap, Blackfoot daisy, and Mexican oregano, plus the rock penstemon on the left.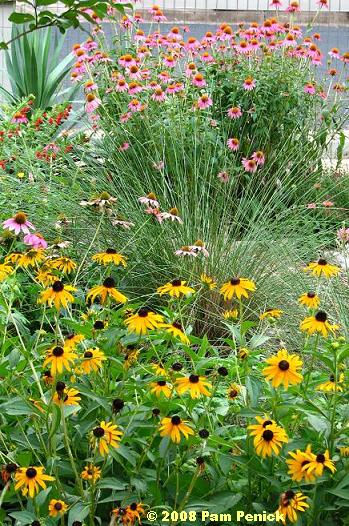 Coneflower power! Here's an angle I don't think I've shot before. Looking from the middle of the front porch toward the street: black-eyed Susan, Gulf muhly grass, and purple coneflower.
All material © 2006-2008 by Pam Penick for Digging. Unauthorized reproduction prohibited.