November 29th, 2009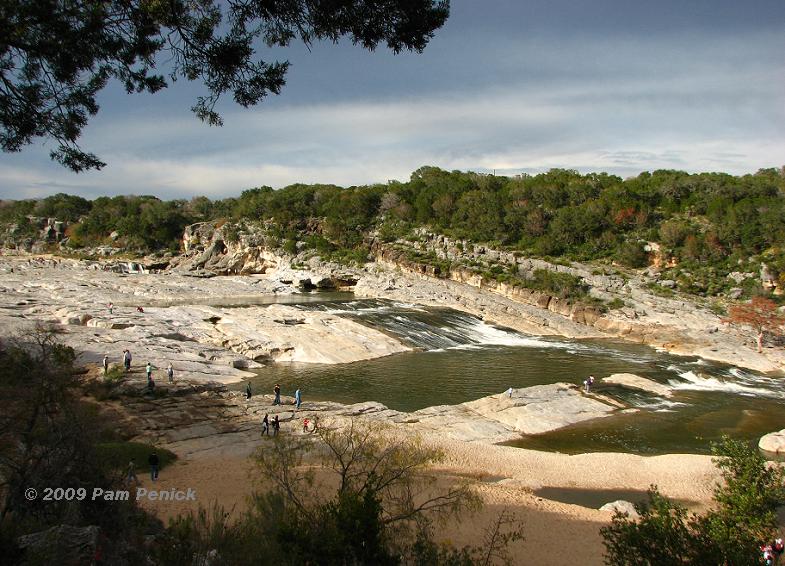 After a decadent Thanksgiving Day feast of turkey, stuffing, cranberry sauce, and pumpkin pie on Thursday, we needed a little fresh air and exercise, so on Friday we headed out to Pedernales Falls State Park, about 35 miles west of Austin in the rolling green Hill Country of central Texas. Locals Texify the pronunciation to "Purdanalez," but however you say it, this is a beautiful place.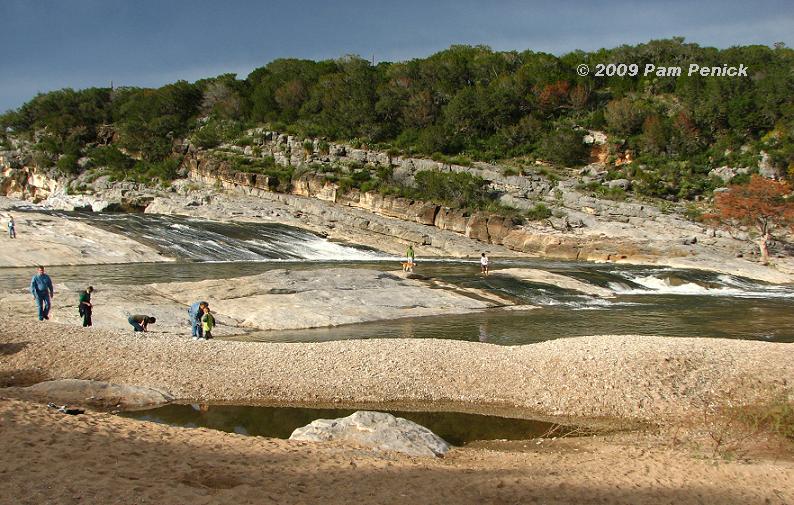 Geology enthusiasts might like to know that, according to the park's website, "the cascading falls are formed by the flow of water over the tilted, stair-step effect of layered limestone. These river limestones belong to the 300-million-year-old Marble Falls formation and are part of the southwestern flank of the Llano uplift. These layers of limestone were tilted by the uplift, then eroded long before early Cretaceous seas of the 100-to-120 million years ago covered this part of Texas and deposited sands, gravels, younger limestones, and marine fossils."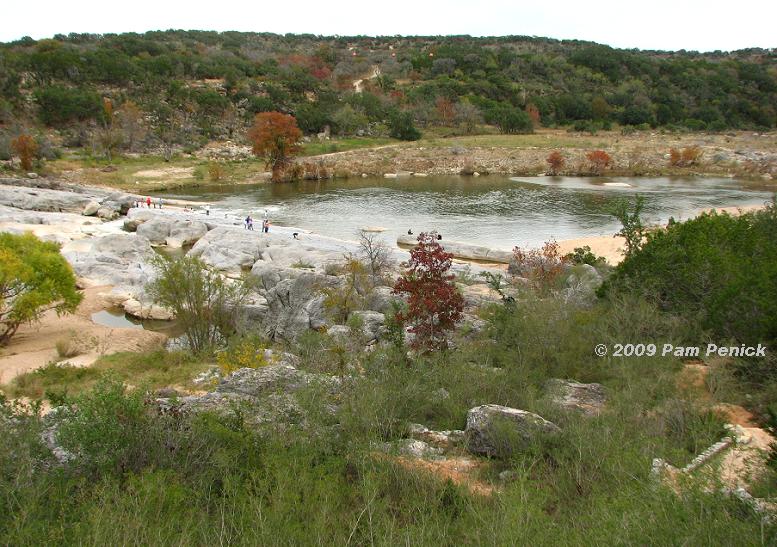 The river wasn't running high on Friday, but that can change in a matter of minutes, signs warn. Thunderstorms upstream of the falls that you never hear can cause dangerous flash floods, and you're advised to run for high ground immediately if you see water levels begin to rise or muddy water suddenly running into clear water.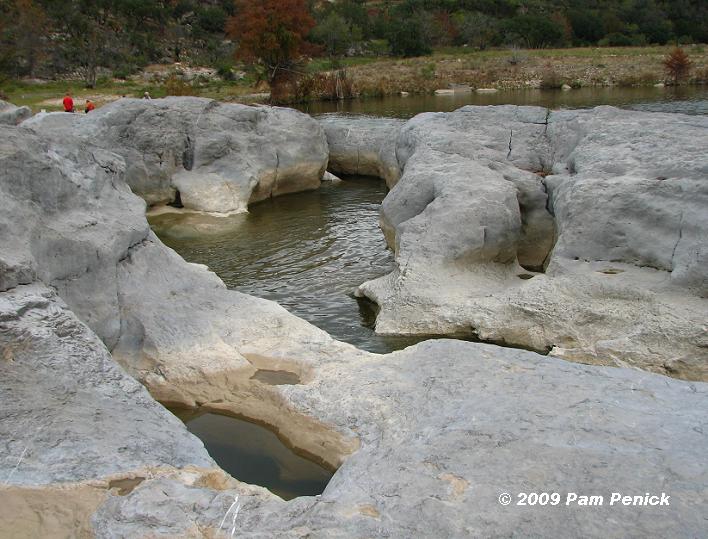 Eons of rushing water have turned the limestone riverbed into a labyrinth of curving slots, tunnels, and caves. People were clambering all over these towering, river-smoothed rocks, peering over the edges into deep, still pools or, on the other side, a scary-looking rapids where the river tumbled through a narrow bend.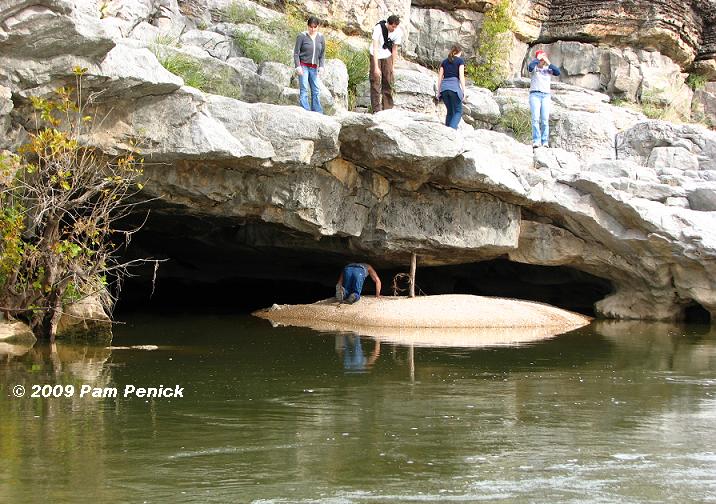 Swimming and other river activities aren't allowed at the falls because of the dangerous rapids and currents, so climbing was what everyone was doing. These young people had managed to cross to the far side—private property according to the website—and were fearlessly exploring caves…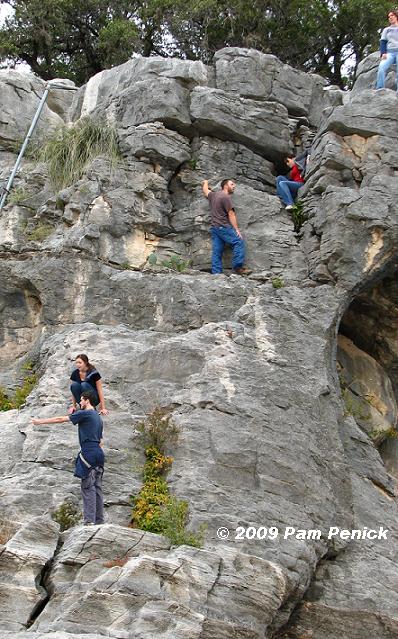 …and clambering up and down crumbling cliffs.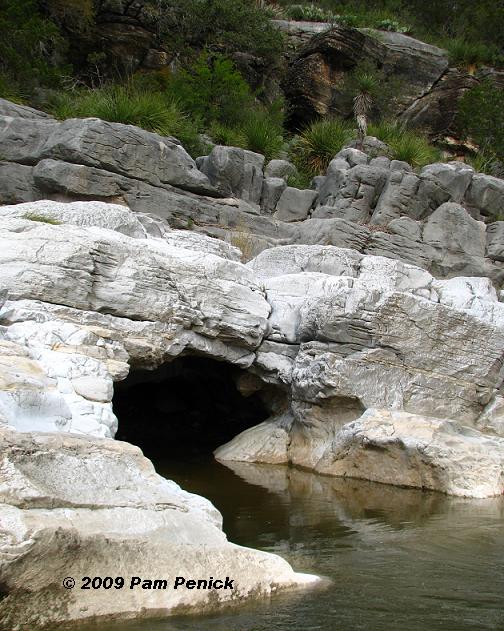 Another cave. Notice how the rocks have been worn to a silver sheen? It was beautiful.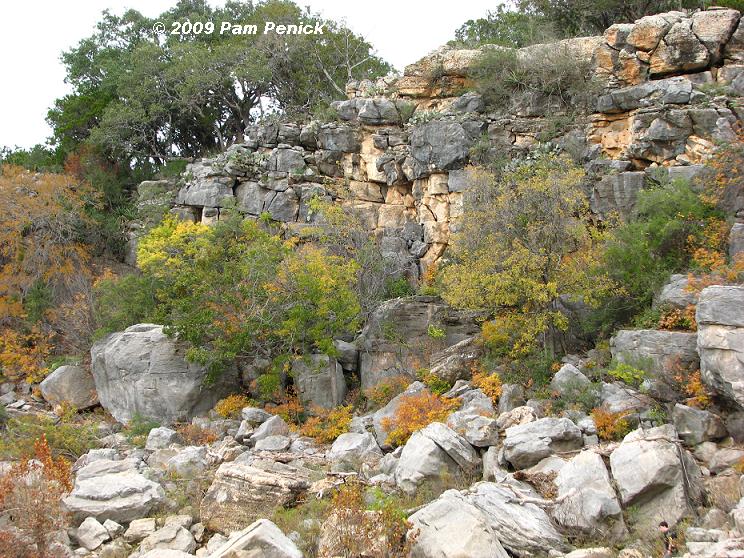 Amid tumbled limestone boulders, cedar elms and other trees added golden fall color.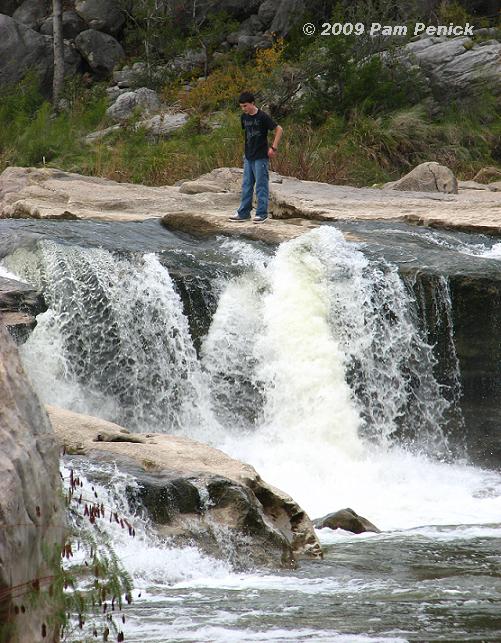 This section of the falls was flowing nicely.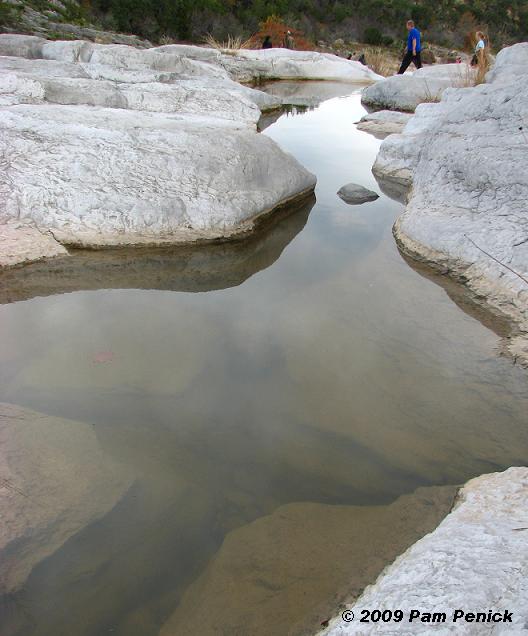 A water-carved channel. The slot looked about 10 feet deep.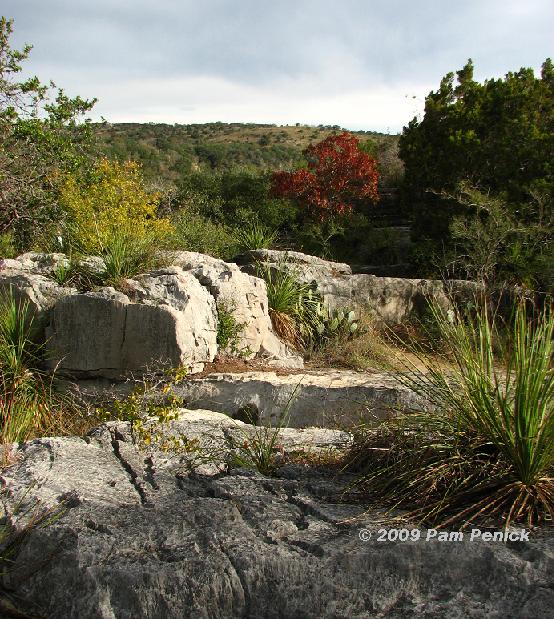 Hill Country beauty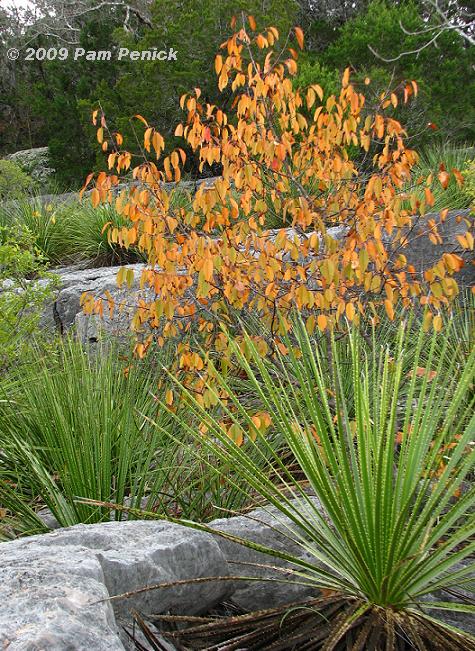 Texas sotols (Dasylirion texanum) grew thickly amid the boulders alongside the river. I walked among them enviously, wishing for a handful like these in my garden. A lovely golden-leaved tree in their midst captivated me, but I'm not sure what it was.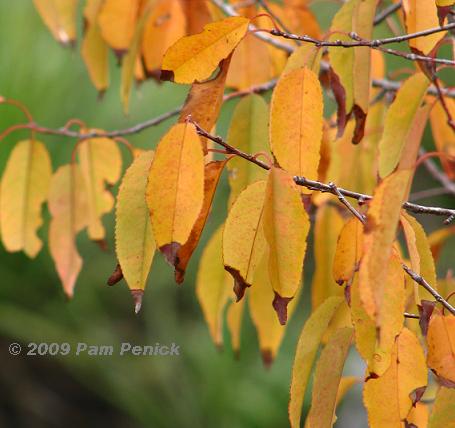 A close-up of its golden leaves.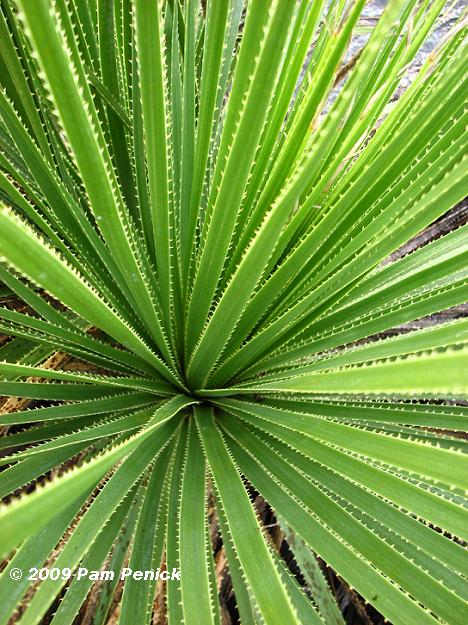 And a closer look at one of those stunning sotols.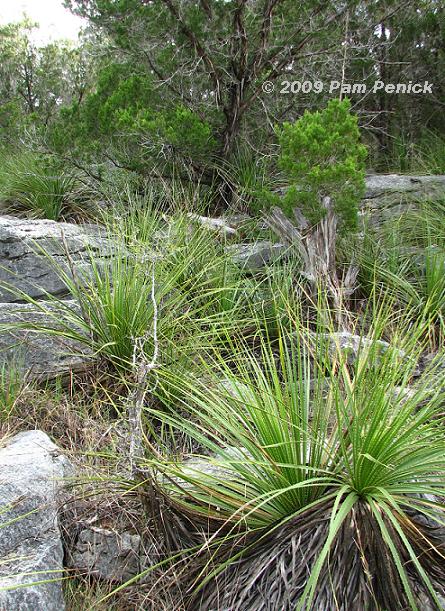 OK, here are a few more, with Ashe junipers (Texans call them cedars) in the background.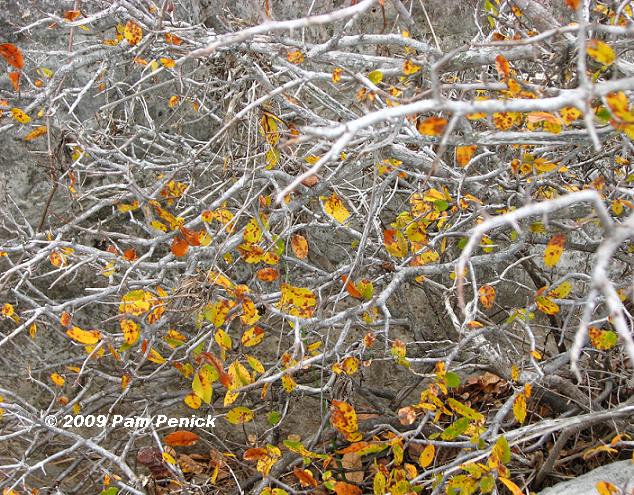 Yellow leaves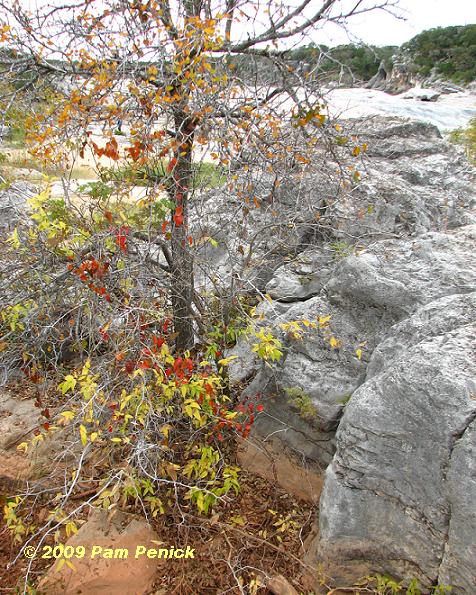 This yellowing cedar elm supported two vines, one turning yellow, the other red.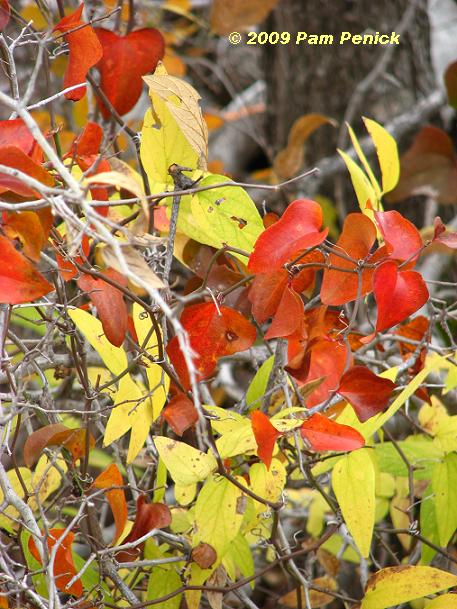 Or maybe it was one vine with red and yellow leaves?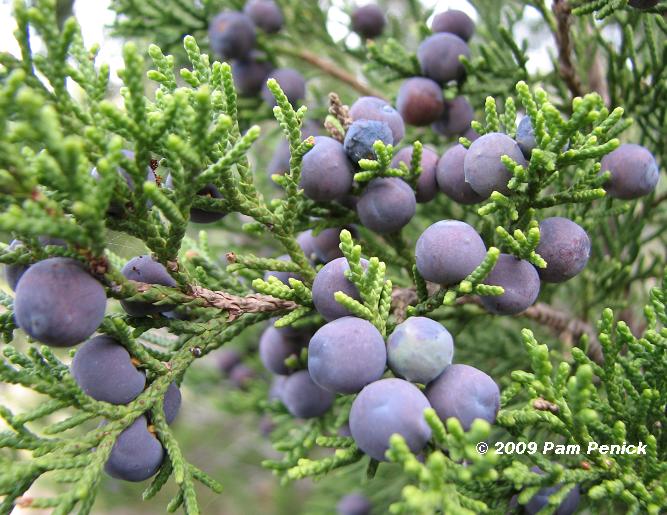 Purplish blue Ashe juniper berries looked so pretty against the fragrant green foliage.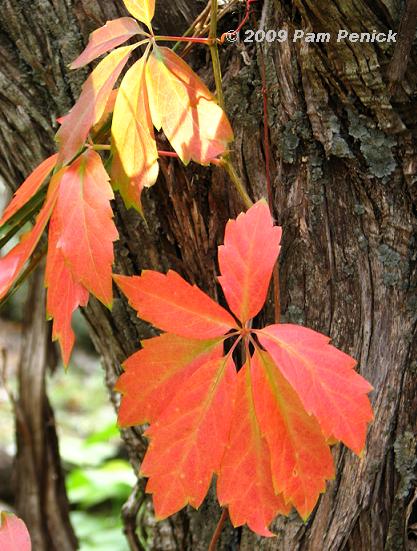 Virginia creeper blazed against a juniper's shaggy brown trunk.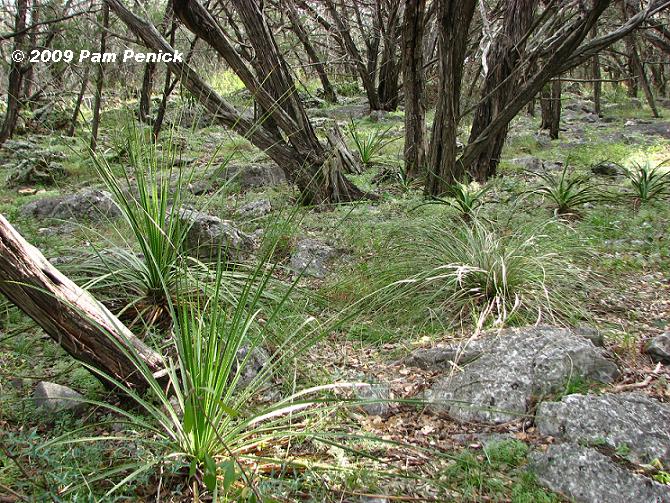 Above the river, a woodland trail through juniper trees led past more Texas sotols, twistleaf yucca, and Texas nolina, all growing happily in the dappled shade and rocky soil.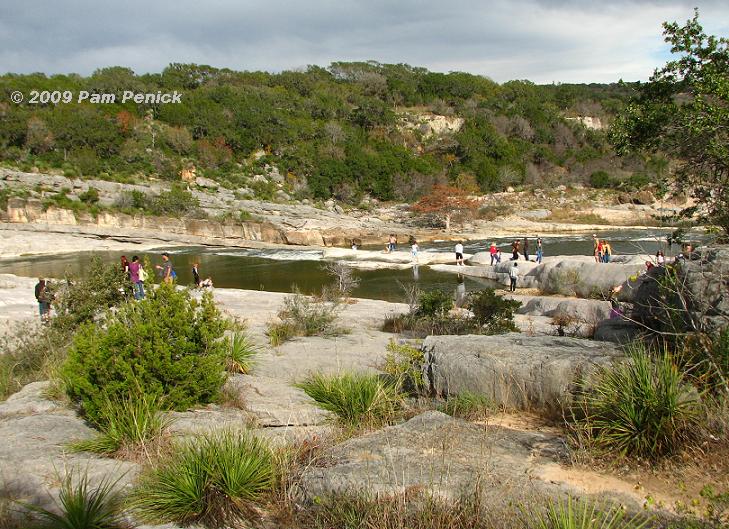 Pedernales Falls is a lovely place to spend a morning or afternoon, or you can camp there overnight. For more, check out this short video of a park ranger talking about why he loves Pedernales; it includes video of tranquil Twin Falls, which we missed this time. We'll be back to see it.
All material © 2006-2009 by Pam Penick for Digging. Unauthorized reproduction prohibited.