June 4th, 2008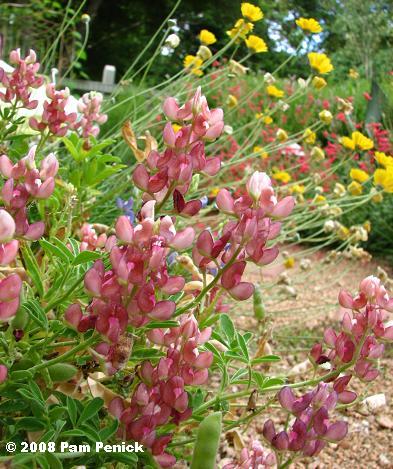 Those crazy pink bluebonnets I accidentally bought last spring are thumbing their little pink noses at the extreme heat we've been having and are STILL blooming.
Texas bluebonnets (Lupinus texensis ) normally peak in early to mid-April, and by June they've ceded the fields and highway medians to the yellow-golds of the summer wildflowers. But these pinkies are still going strong, throwing my summer color scheme out of whack. Half of this plant has reverted to the normal blue (see the blue bluebonnet back there?), giving it another strange twist.
And yet I can't bear to pull them out. I'm not usually tender-hearted about pulling plants, but these have become like a freak show to me, and I can't help being curious to see what they'll do next.
All material © 2006-2008 by Pam Penick for Digging. Unauthorized reproduction prohibited.