June 2nd, 2008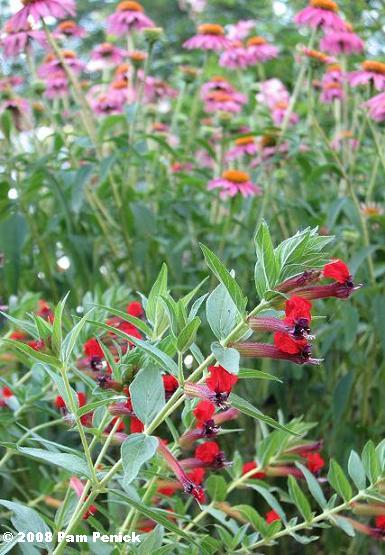 Aside from the painted-wall eye candy, the Summer 2008 Wildflower magazine also has an interesting article about Lotusland in Montecito, California. I'd never heard of this fantastical garden until Chuck visited Lotusland and posted about it. Now it's on my must-see-gardens list.
According to landscape architect Gary Smith, who is quoted in the article "Land of Plenty," Lotusland is "a globally significant work of garden art" that native-plant enthusiasts can use for design inspiration. While not a native-plant garden itself, Lotusland uses plants well adapted to the Mediterranean climate of Montecito, including agaves, aloes, and palms. The garden spaces, which rely on texture, leaf color, and form rather than bright floral displays, are dramatic, creatively designed, and extraordinarily beautiful (see Chuck's post for a few images).
These are the design lessons Smith would like native-plant gardeners to take to heart. "Most native plant gardens are habitat-oriented rather than design-oriented," he says. "Habitat-oriented gardens strive to eliminate the mark of the human hand. If we are going to broaden the appeal of native plant gardening, we native plant lovers have to have the confidence to sometimes make our gardens look like works of art."
Traditionally, part of the appeal of using native plants has been to create habitats for birds, beneficial insects, and other creatures. Wildscapes, or gardens designed to look like nature, are often the result, and they can be lovely and peaceful. But they may not appeal to everyone, particularly traditional gardeners who crave formal lines and evergreen structure and those who prefer contemporary garden design. Using native plants in a stylized, artful way, as Smith suggests, may inspire even more people to see the beauty and utility of native plants.
The Wildflower Center, a Texas native botanic garden, has long inspired me with its wildscapes and naturalistic gardens. But change is afoot. In the past couple of years, I've noticed more contemporary designs popping up in the demonstration gardens. A design by Gary Smith for a new space at the Wildflower Center called the Sun Garden shows an even more stylized use of native plants. Take a look at Smith's website for sketches of the Sun Garden (and others) soon to be inspiring us there. I expect it'll give visitors a whole new way of thinking about native plants.
P.S. The photo at top is not meant to illustrate an "artful" use of native plants. It's just a wild color combo I'm trying out in my garden this summer: bat-face cuphea (Cuphea llavea ) and purple coneflower (Echinacea purpurea ).
All material © 2006-2008 by Pam Penick for Digging. Unauthorized reproduction prohibited.