May 20th, 2008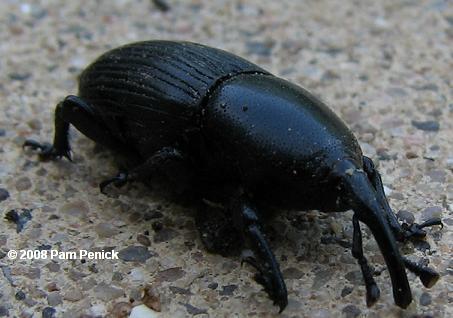 My mangave, the beautiful, sculptural, lusciously named and, let's not forget, expensive Manfreda 'Macho Mocha' has been murdered by the agave snout-nosed weevil.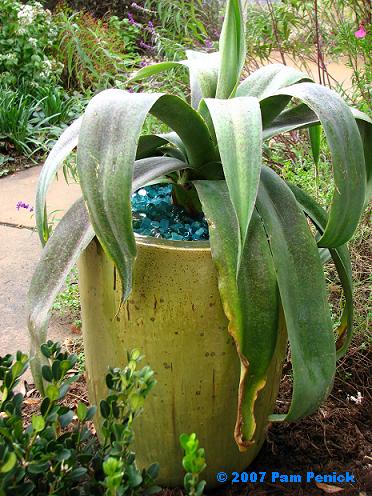 I bought it to fill a new glazed pot last winter. It looked great for about a month, as shown above, and then it suddenly sagged and sank in on itself. It became wobbly at the base. Investigating the problem, I carefully lifted the lower leaves and noticed a black beetle and some roly-polies, which I pulled out and squashed. I saw that the root system had been attacked, but I hoped the plant would recover on its own. Ha! Instead, the poor mangave continued to collapse, and I misguidedly let it flounder along.
At the Spring Fling lunch, I was chatting with agave aficianado Tom Spencer about his collection when he told me about the agave snout-nosed weevil, which had killed off several of his agaves recently. Afterward I did a little Internet research and learned that the weevils have devastated the tequila agave fields in Mexico, and they are causing losses in the U.S., including Austin. Certain agaves and yuccas, particularly Agave americana 'Variegata' and Yucca recurvifolia are more susceptible to attack than others, and mature specimens may be most vulnerable, but essentially any agave or related plant may fall prey. The adult chews into the base of an agave to lay its eggs, and the larvae eat and burrow to the center of the plant, introducing bacteria and destroying the plant. There are no known organic treatments, and a systemic chemical treatment seems to be the only hope. Tom, as I recall, was philosophical, saying he was watching and waiting to see which agaves would prove resistant to the pest.
Alarmed by knowledge of this menace, I took another look at my sagging mangave. I lifted its lower leaves—and the whole plant came right out of the soil, its roots completely severed. Poking around in the dirt, I saw another of the unfamiliar black beetles. With dread, I carried it inside in a cup and Googled the agave weevil. Sure enough, that's what I had.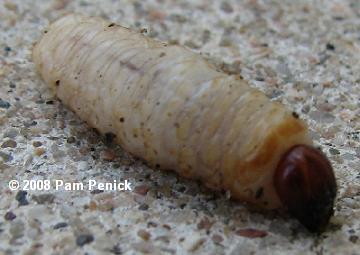 According to Tom and Internet sources, a scorched-earth policy is required. I dug up all the soil in the pot, found more weevils and larvae (above), crushed them all, and put all the contaminated soil in a garbage bag, which I knotted tightly and threw away to keep any eggs from hatching in the garden. Yuck.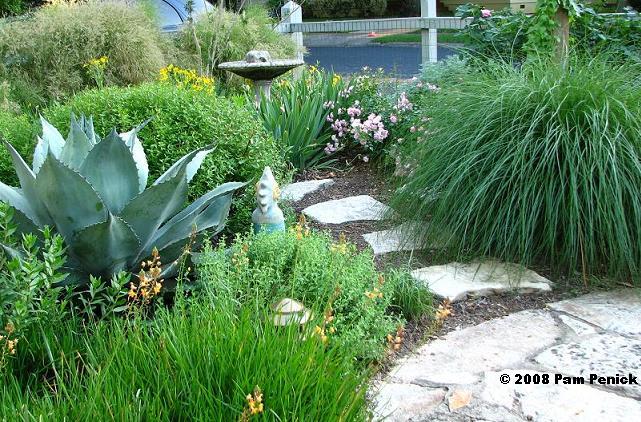 Then I began to worry about my other agaves, particularly my prized 'Whale's Tongue.' Had I brought the weevils home in the mangave's pot? Had they already spread to my other agaves? There is no way to tell by looking because the weevils get under the stiff, spiny leaves and the larvae burrow into the plant's heart. Anxiously, I called local nurseries The Natural Gardener and Barton Springs Nursery to ask the good folks there what I should do. They were sympathetic but could offer little advice beyond "hope for the best." They mentioned using a systemic insecticide but said they didn't carry any. BSN suggested using diatomaceous earth as a possible barrier for weevils traveling from one plant to another but reminded me that I'd have to reapply it after every rain. I dashed over to BSN that day for a sack of the stuff and floured my agaves, careful to wear a dust mask and eye protection. Afterward it looked like an anthrax scare in my garden, and I knew it wasn't going to be a permanent solution.
A few days later, at Hill Country Water Gardens, I was talking to their staff horticulturist and asked what they were doing to protect their agaves. He said they were mainly just waiting for resistant agaves to emerge. "I feel that if a plant doesn't make it, it wasn't meant to," he added. I nodded, tried to feel philosophical too, and said with an apologetic shrug, "Yes, only I don't want to lose a 'Whale's Tongue' agave I have." He gave me a quick look and asked how big it was. When I told him, he asked if I would call him when it blooms because, he said, it's hard to get 'Whale's Tongue' right now and he'd like some seeds. "You want to save that," he said. "Go buy the chemicals."
On his recommendation I bought Bayer Advanced Tree & Shrub Insect Control*, with the active ingredient imidacloprid (under the trademarked name Merit), mixed it with water according to the instructions, and applied it to the soil around my agaves, mangave, and yuccas, all of which are susceptible to attack. The solution soaks into the soil and is taken up by the plant's roots, circulating through the plant and killing any grubs or weevils that bite into it. It is not a spray, so it should not affect other insects in the garden, only those trying to eat into the treated plant. Still, it is a chemical solution, not an organic one, and I will use it judiciously, with protection, and, as recommended, just once a year.
Now I can only watch and wait, hoping the evil weevils don't make themselves known again. I will let you know what happens.
*Update 3/5/10: Bayer no longer seems to be making the formula I recommend in this post. Now it comes with fertilizer mixed in, and I'm not sure how that will affect agaves, which prefer poor soil. It might be best to experiment with one that isn't so dear to you.
All material © 2006-2008 by Pam Penick for Digging. Unauthorized reproduction prohibited.