April 17th, 2008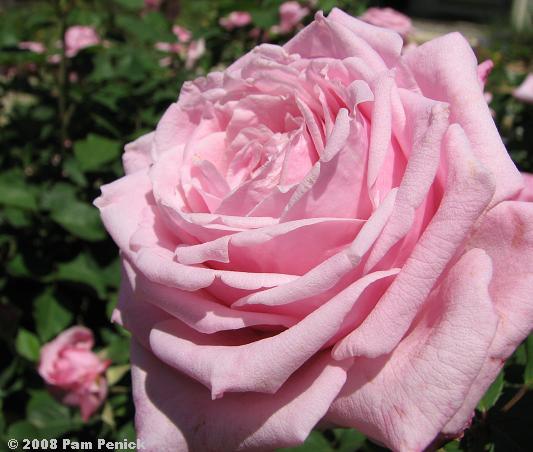 'Belinda's Dream' rose
I promised Dee of Red Dirt Ramblings that I'd provide the recipe for the bean dip I served at the Spring Fling happy hour, but I've kept forgetting to do it. Sorry, Dee! Here it is. It's very easy to make, I always get asked for the recipe, and I never seem to make enough—it's that good.
Cannellini Bean Dip

4 green onions, cut into 1 ½-in. pieces
2 garlic cloves
½ teaspoon ground cumin
½ teaspoon salt
2 (15 ½ oz.) cans cannellini beans, rinsed and drained
¼ cup mayonnaise
¼ cup lemon juice
Garnish: fresh cilantro sprigs

Process first 4 ingredients in a food processor until coarsely chopped. Transfer to blender. Add beans, mayonnaise, and lemon juice, and process until smooth, stopping to scrape down sides. Spoon into a shallow, 9-inch round dish.

Serve chilled or at room temperature with tortilla chips. Garnish, if desired.

Yield: 3 ¼ cups
All material © 2006-2008 by Pam Penick for Digging. Unauthorized reproduction prohibited.