April 13th, 2008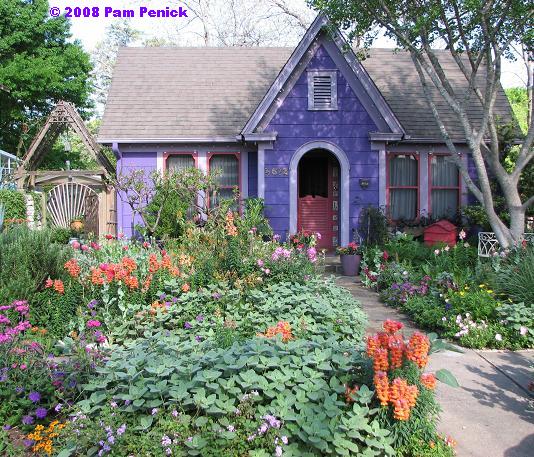 On Sunday after the Garden Bloggers Spring Fling, the out-of-towners who stayed an extra day joined some of the Austin garden bloggers for a personal tour of herbal-cookbook author Lucinda Hutson's garden. The other Spring Flingers may remember Lucinda from the happy hour at my house on Saturday. I was so glad she had time to join us, although other obligations prevented her from touring with us earlier in the day. Lucinda and I have only just gotten to know each other, but she's so generous with her time and her delightful home and garden that I feel as if we've been friends for a long time. Many thanks to her for opening her enchanting garden to us on Sunday.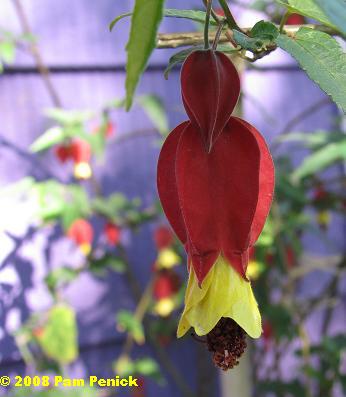 The first thing you notice as you pull up to her gabled Rosedale cottage is that it's purple. And I mean purple. With lavender and coral trim. The second thing you notice is that her garden is an absolute riot of color, texture, and, yes, flavor. Known in Austin for her extravagantly decorated Day of the Dead parties and her herbal expertise, Lucinda grows a variety of herbs right out front, mixed among annuals and perennials like the red abutilon, pictured above, in her cottage garden.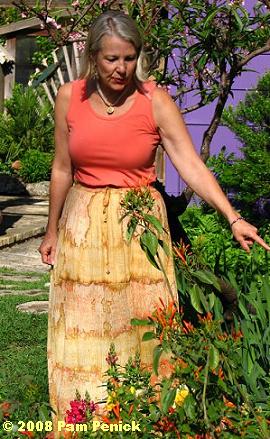 Lucinda pointing out a special plant in her garden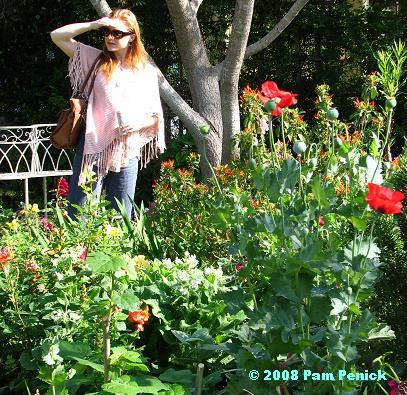 Red poppies contrast festively with the purple house. Lori of The Gardener of Good and Evil takes it all in.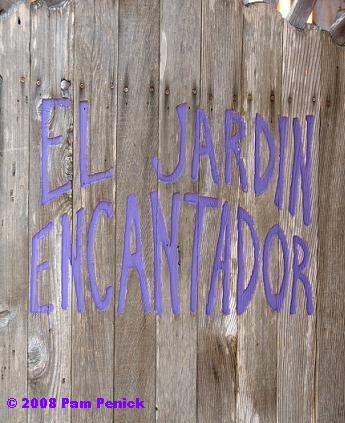 "El Jardin Encantador," carved into a back gate and painted purple, translates to "The Enchanting Garden." And it is.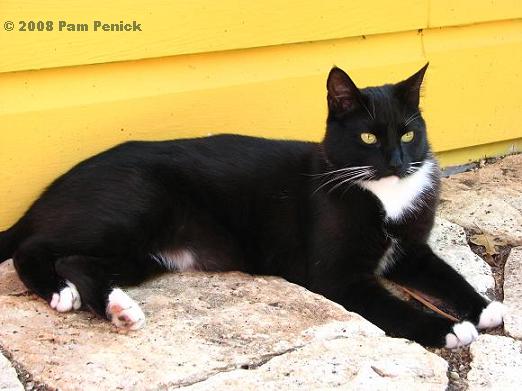 So was the resident cat, lounging against a yellow wall that matched his eyes.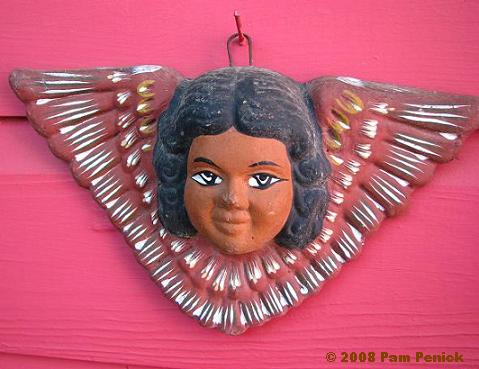 Lucinda is fearless with color. Her narrow back garden is divided into four intimate "rooms," and she's painted the back of her house and her garage walls several different colors—yellow, hot pink, and purple—to accent those rooms.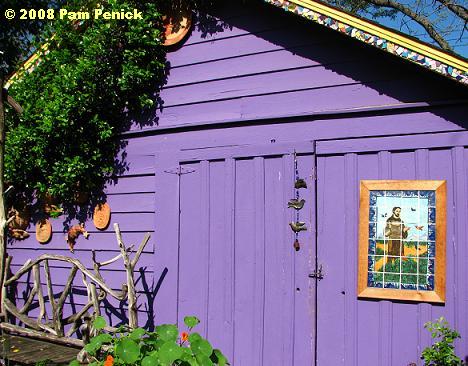 Here's a photo of her garage, now used, presumably, for storage, since the driveway was long ago transformed into two walled garden rooms—a mermaid grotto with a pond and a raised herb garden with a greenhouse—as well as a passageway to her cantina garden and office.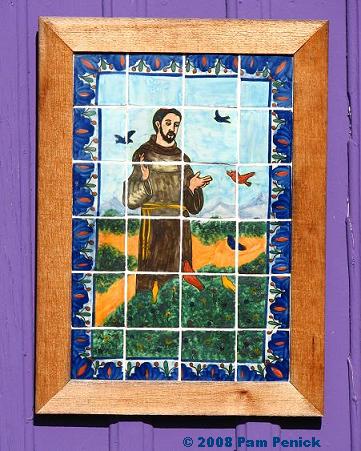 A tiled image of St. Francis of Assisi graces the garage wall.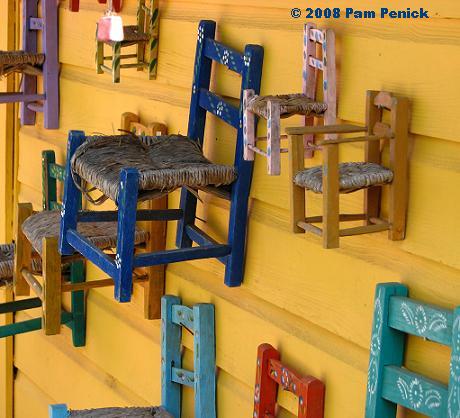 Look the other way, and you see a collection of children's chairs from Mexico hung on a yellow wall. Lucinda says that occasionally she'll find a cat sitting on one.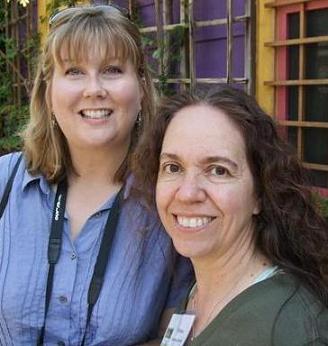 MSS of Zanthan Gardens and I posed for Julie Ardery of Human Flower Project (no longer online). You can see by our smiles that all that color and creativity made us happy. (Thanks, Julie, for permission to use your photo.)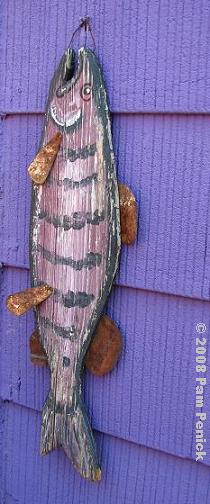 Along with bright colors and Mexican folk art, Lucinda decorates her home and garden with a sea theme. Mermaids in particular are found throughout, though I neglected to photograph any.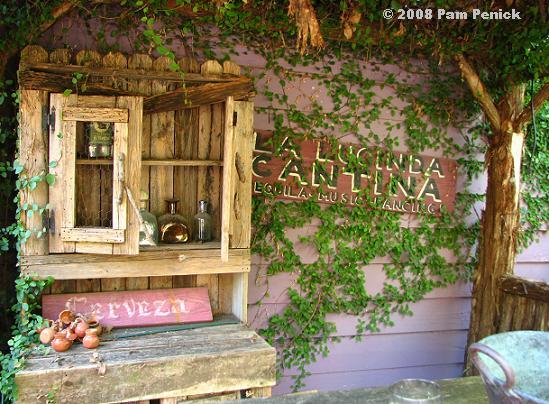 "La Lucinda Cantina," reads the wooden sign, "Tequila * Music * Dancing." A perfect deck for dancing under the stars lies nearby, along with a rustic outdoor shower sheathed with tin and wood. Nailed to the shower's frame is a wooden sign proclaiming, "No Couples in Shower."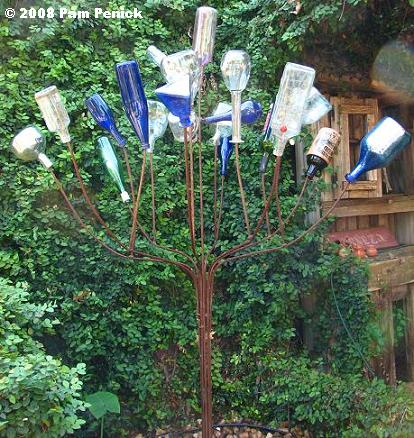 Evidence of parties past—Lucinda's bottle tree blooms with tequila and wine bottles. A thick mulch of wine corks lies underneath.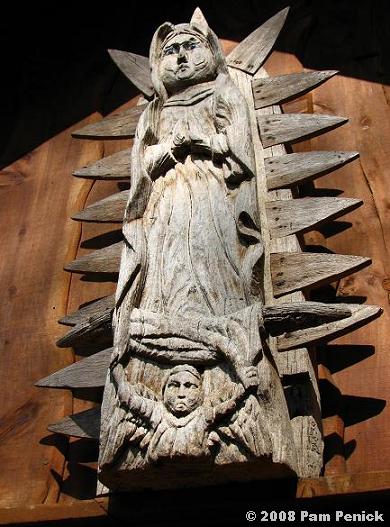 When I saw this carved, wooden Virgin Mary over her office door, I felt like I was back in San Miguel de Allende.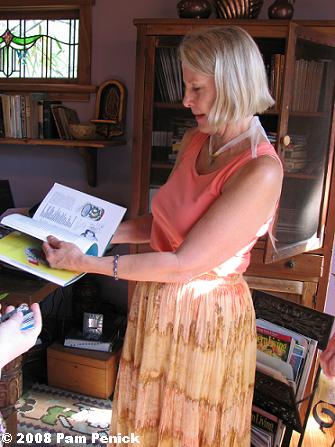 Inside her detached office, which sits at the back of her garden, Lucinda showed us her cookbooks. Her Herb Garden Cookbook is still in print 20 years after publication. Impressive.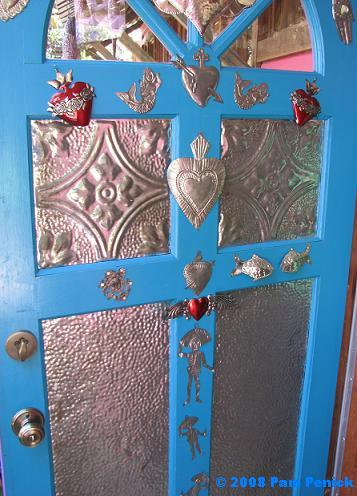 The interior of her back door is festooned with tin milagros, or "miracles." Milagros are inexpensive tin pieces that represent different ailments or people you're worried about. For example, you'd purchase a tin heart for a heart ailment or a young boy to represent your ill son, then take it to church, say a prayer, and pin it on the figure of a saint, hoping for a miracle cure. Stores like Tesoros in Austin sell milagros, and it's fascinating to look through the different representations of body parts, property, and family members.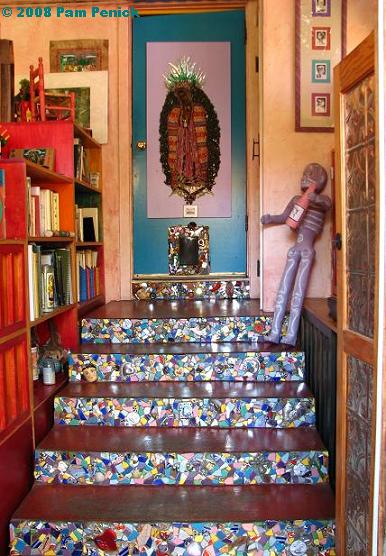 Her mosaic-tiled "stairway to heaven" ascends from the back garden through a sun porch to the kitchen.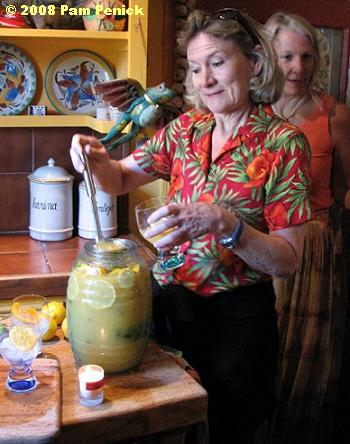 After the tour of her garden, Lucinda treated us to punch and Mexican pastries and cookies. Susan Harris of Garden Rant volunteered to serve it up.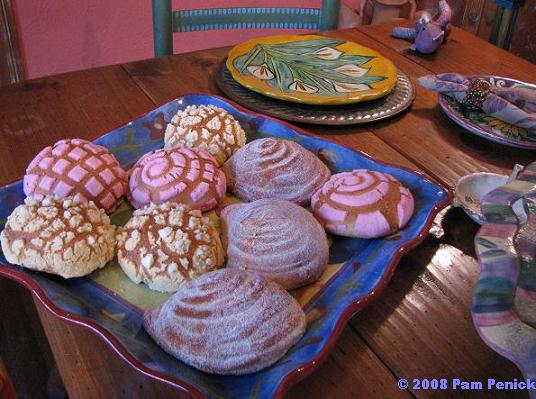 The colorful Mexican cookies were almost too pretty to eat.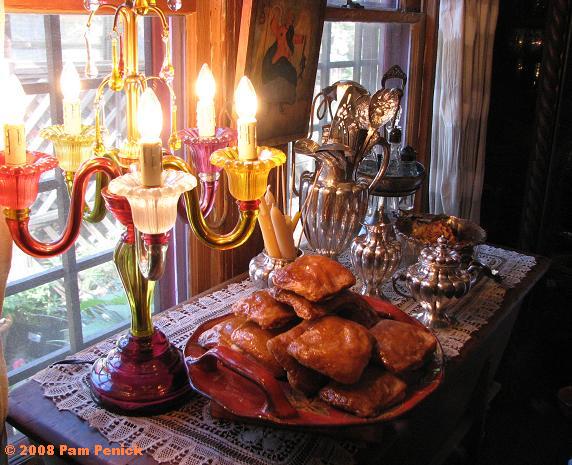 I tried one of the flaky Mexican pastries instead—yummy. As you can see, the interior of Lucinda's home carries the garden's Mexican theme indoors. It's as enchanting and full of beautiful and playful vignettes as the garden itself.
Lucinda started a website and a blog about a year ago. She says she's not a computer person and admits to stalling out with the blog, but check out her site for more pics of her garden, info about her cookbooks, and links to recent press she's received.
All material © 2006-2008 by Pam Penick for Digging. Unauthorized reproduction prohibited.