April 7th, 2008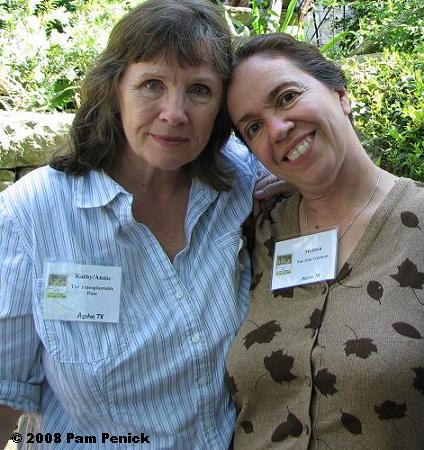 Normally we garden bloggers "sell" our posts with photos of flowers. Post-Spring Fling, I think it will be people pics that arrest the skimming reader. The Garden Bloggers Spring Fling, held last Saturday right here in Austin, yielded new and renewed friendships, good conversation, good eats, and beautiful gardens. Pictured above: Annie in Austin and MSS (who helped plan the Spring Fling) bask in the friendship of the day in James David's garden. (My thanks to Barbara, who took this photo with my camera.)
Despite the fact that we spent most of Saturday touring gardens, the scenery—fabulous, flowery, and beautiful as it was—was relegated to the backdrop in my photos in favor of the actors on the stage: all the fellow garden bloggers who'd journeyed to Austin from near and far to get to know each other and talk blogging and plants in person. All while oohing and aahing over some beautiful Austin gardens. Here are some of my favorite portraits from Friday and Saturday.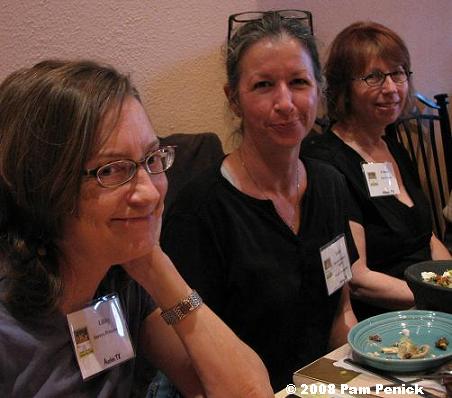 Libby, Linda, and Frances. I'd just squeezed my way down to the end of the second long table of bloggers at Matt's El Rancho, where early arrivers met on Friday evening for the Welcome Dinner. This trio looked like fun, but we were sitting too far apart to say much more than hello. And because they carpooled with someone else on Saturday, I didn't really get to talk with them much, which I regret. We need another Spring Fling soon.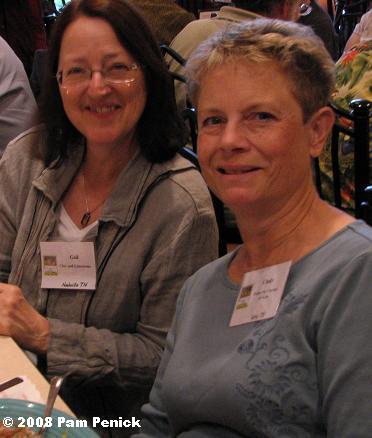 Gail and Cindy at the Welcome Dinner. They were cheerful at all times and ready for adventure.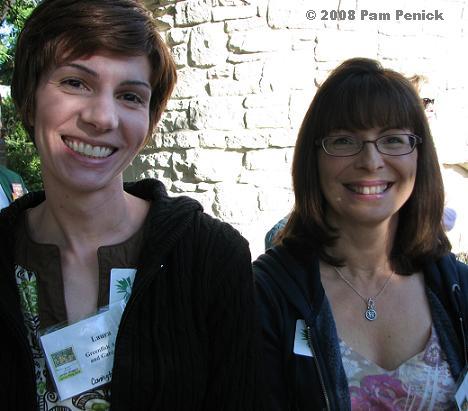 It was chilly the next morning at the Wildflower Center. Laura is an artist who blogs about gardening as well as her nature-themed paintings, and Diana is one of the Austin bloggers who helped plan the Spring Fling.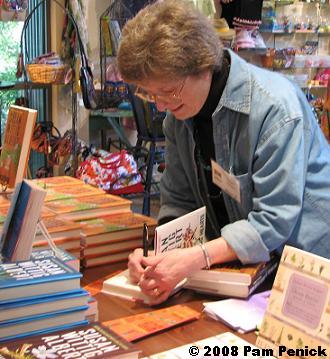 Susan Albert joined us at the Wildflower Center and autographed her herbal-theme mystery novels in the gift shop afterward. I purchased Spanish Dagger and look forward to getting to know Susan's beloved characters.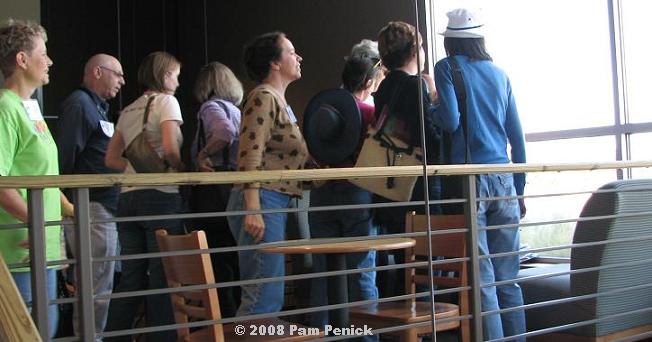 After lunch my carpoolers needed a caffeine fix, so we darted over to Starbucks in Circle C, and the green roof captured everyone's attention.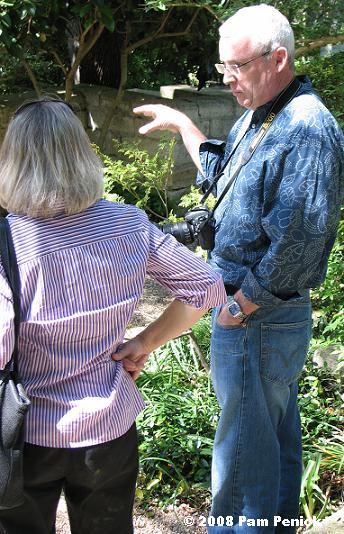 Susan and Tom in conversation at James David's garden.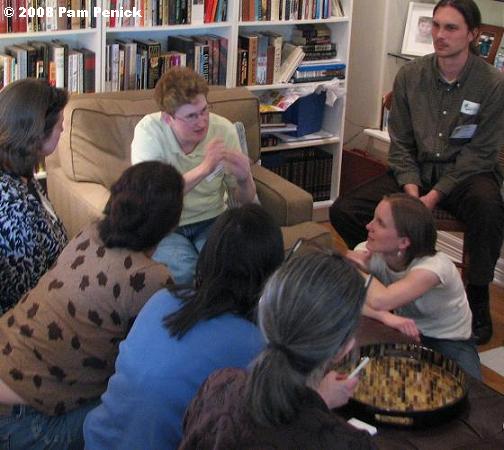 Back at my house for the happy hour that afternoon, we soon broke up into small groups to talk blogging with Carol and Kathy. Carol's group settled into the living room to talk about community-building aspects of blogging, and look how intently everyone is listening to her. I'm sorry I missed her discussion, and Kathy's too, and I'm hoping others will post about the conversations. By the way, that's Anneliese and Geoff, siblings who blog for family-owned CobraHead, sitting on the right.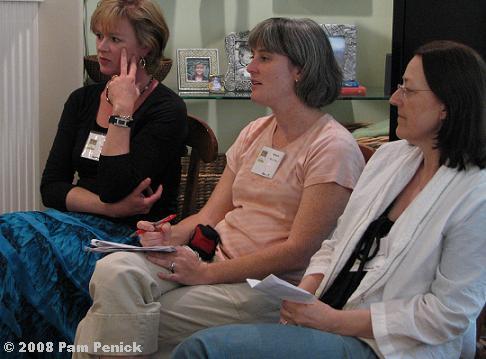 On the other side of the room, Robin, Bonnie (another of the Spring Fling organizers), and Gail follow the conversation too.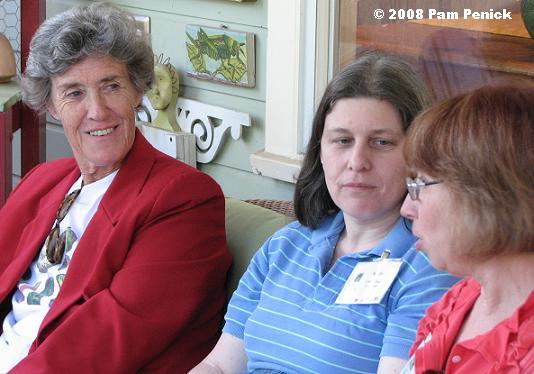 Kathy's group staked out the porch for a discussion of technical issues related to blogging. Here, Karen, Kathy, and Frances talk shop.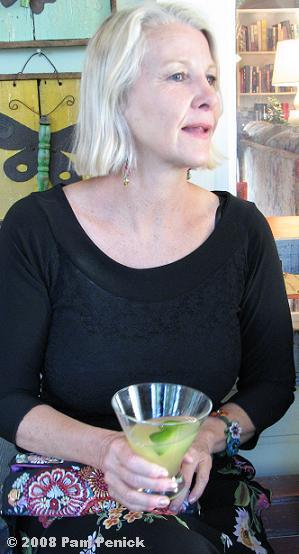 The charming Lucinda Hutson, who opened her fiesta-bright home and garden to late-stayers on Sunday. I'll post about that visit soon.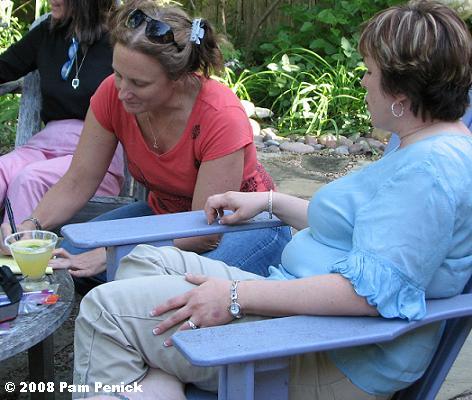 Meanwhile, on the back patio, I saw Austin American-Statesman garden reporter Robin Chotzinoff interviewing several bloggers, including Dee. Robin seemed surprised to find she had a fan club here, thanks to her book People With Dirty Hands.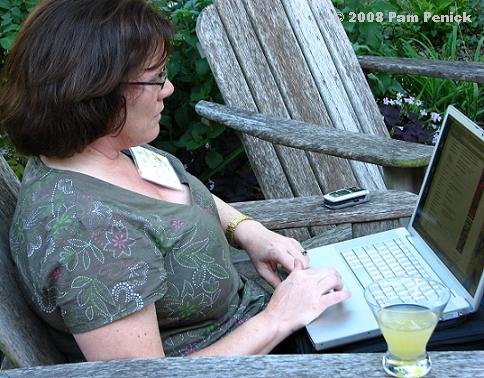 How wired were we? Take a look at this. Elizabeth was blogging live on Garden Rant from my garden. Cool.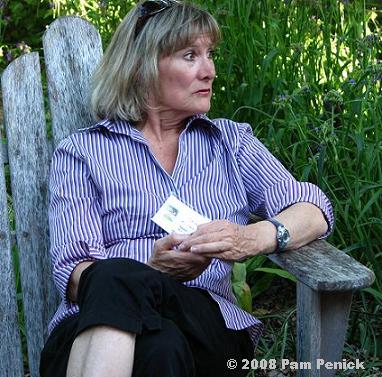 Fellow Ranter Susan in conversation on the back patio.
I sometimes worry about my home being too small to entertain large groups, but I'm learning that small spaces equal cozy conversation areas. During the blogging discussions, I mixed up another batch of the very popular Texas martinis and then made the rounds. Carol was holding court with a large group in the living room, and while space was tight, 13 or 14 people had found a place to sit, either on the sofa, side chairs, temporarily placed dining chairs, or the floor. The sight of all those garden bloggers deep in conversation made me very happy.
I stepped outside on the back porch to see Kathy and Rachel using a laptop to show Frances how to do something on her blog. Several others sat in the red wicker chairs and purple Adirondack nearby, contributing to the discussion.
On the back patio, I found Robin, the Statesman reporter, interviewing the Ranters and a few other bloggers, comfortably ensconced in the Adirondacks and strategically parked next to the martini and wine bar. You know you can never pull yourself out of these chairs once you sit down, so when you choose an Adirondack, you're settling in for a while.
Someone asked me a question about a plant in the front yard, so out we went and found yet another group of bloggers in the courtyard garden. What a delight to see all the spaces in my home and garden being put to so many good uses. The only space that people stayed clear of was the trampoline, which just goes to show you how responsible we were all being with our martini servings.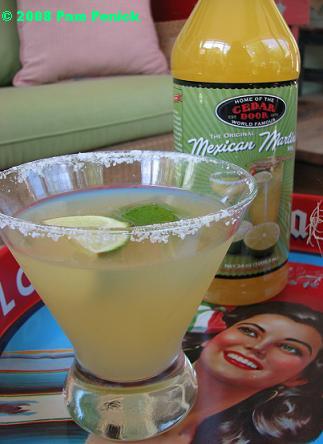 Speaking of which, I promised to share the recipe for the signature drink of the Spring Fling. The Texas martini, also known as the Mexican martini, is essentially a margarita served in a martini glass with salt on the rim and a stuffed olive (preferably stuffed with jalapenos) on a sword pick and a wedge of lime in the glass. Yum.
I use the Cedar Door's Original Mexican Martini Mix (basically pure cane sugar, water, and citrus oils), which has the recipe right on the back:
Over ice, pour equal parts Tequila, Triple Sec, and Mexican Martini Mix into a pint (16 oz.) glass. Add one freshly squeezed lime (important!) then shake well. Garnish with 3 skewered green olives and a lime wedge.
For the happy hour, to save time, I mixed up a large batch in a pitcher the night before, chilled it overnight in the refrigerator, and set it on the bar along with lime wedges, salt for the rim, and olives, and let people pour their own. I wouldn't advise mixing the martinis more than 24 hours ahead, for freshness.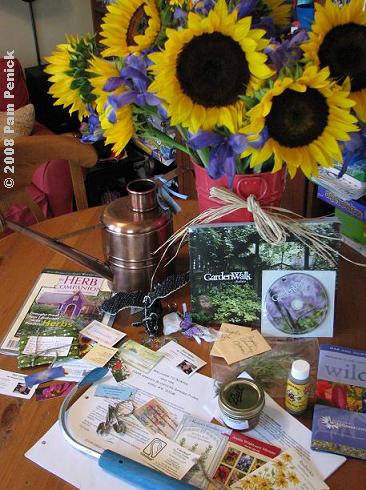 One last image for now: my "Fling bling." Moo cards and business cards from other bloggers, gifts from many kind friends, a bouquet of beautiful sunflowers and iris, seed packets from our welcome bags, and passalong seeds and plants from other bloggers. Also a beaded bat, Austin's mascot, which I bought for myself at the Natural Gardener.
All material © 2006-2008 by Pam Penick for Digging. Unauthorized reproduction prohibited.