April 7th, 2008
The Garden Bloggers Spring Fling 2008 came in like a lion and went out like a lion. The socializing, nonstop talking, and garden visiting began for me on Friday morning and didn't end until late Sunday afternoon. It was a more incredible experience to meet all these garden bloggers in person than I ever anticipated, and I'm so grateful to each and every one of them for taking a chance and taking part. And to all those who helped throughout the event in ways large and small, you were appreciated.
Those who couldn't join us have been clamoring for photos and stories, but I only have time for one right now. However, it's a good one—the group shot of everyone who attended the Spring Fling. We took this just before devouring our fajita lunch and hearing Tom Spencer speak. Thank you to my sister-in-law for popping over to take our photo.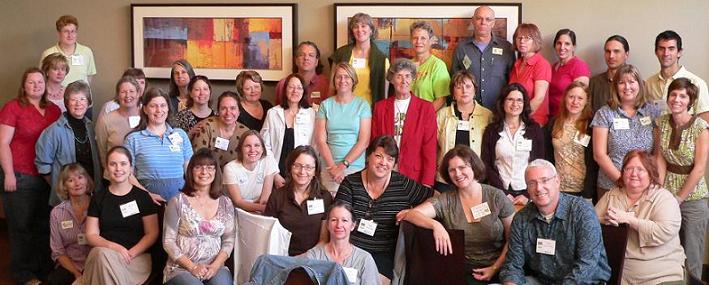 Back row (on chairs, plus a couple of very tall guys), left to right: Carol (May Dreams Gardens), Ron (Lost Valley Gardens), Bonnie (Kiss of Sun), Cindy (From My Corner of Katy), Bill (Prairie Point), Frances (Faire Garden), Barbara (Mr. McGregor's Daughter), Geoff (CobraHead Blog), Lee (The Grackle).
Middle row, left to right: Rachel (In Bloom), Robin (Bumblebee), Susan (Lifescapes), Carol (Lost Valley Gardens), Annie in Austin (The Transplantable Rose), Kathy (Cold Climate Gardening), Julie (Human Flower Project), Dawn (Suburban Wildlife Garden), MSS (Zanthan Gardens), Mary Ann (Idaho Gardener), Gail (Clay and Limestone), Suzanne (Vert), Karen (Savannah Garden Diary), Dee (Red Dirt Ramblings), Vive (Something About Blooming and Butterflies), Lori (The Gardener of Good and Evil), Pam (Digging), Laura (Greenfish Artist and Gardener).
Front row (seated), left to right: Susan (Garden Rant/Sustainable Gardening), Brianna (Seeds), Diana (Sharing Nature's Garden), Anneliese (CobraHead Blog), Libby (Aurora Primavera), Linda (Herself's Houston Garden), Vicki (Playin' Outside), Elizabeth (Garden Rant/Gardening While Intoxicated), Tom (Soul of the Garden), Nancy (Nancy's Garden Spot).
I am collecting links to all the posts about the Spring Fling and will share them on the Spring Fling website in a day or so *. If you post about it, please send me the link so I can include yours. Thanks!
*Update, 4/8/08: The Spring Fling Wrap-Up post is up.
All material © 2006-2008 by Pam Penick for Digging. Unauthorized reproduction prohibited.