April 4th, 2008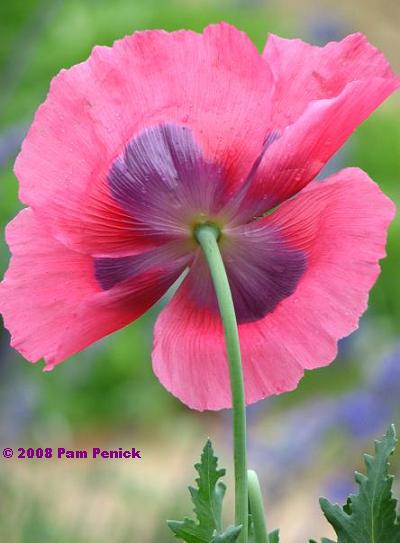 On her Blotanical "Plot" (site no longer active), in her entry for Garden to See Before I Die, Carol of May Dreams Gardens has written, "All those gardens of the Austin garden bloggers!"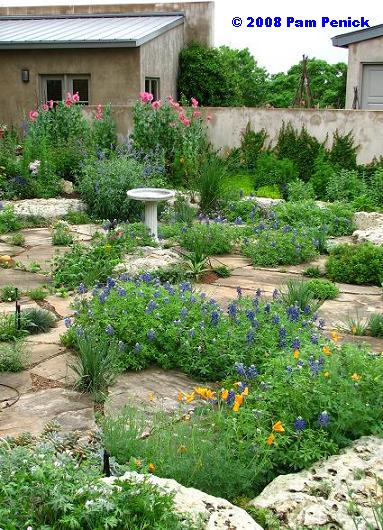 As it happens, a number of the Austin garden bloggers have had a burning desire to meet the woman behind the Victorian dress and reel mower too. This morning our wishes became reality, as Carol, who arrived in Austin yesterday, met MSS, Annie, and me for lunch and some pre-Spring Fling garden visiting.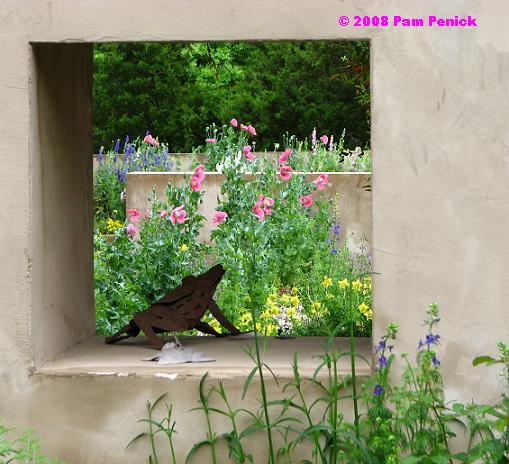 Is Carol as interesting and funny and thoughtful in person as she seems online? I have to say, Yes, she is. She cracked us up with sly asides about her hoe collection, and we had fun horrifying each other with our worst garden-pest stories. (Mine involve the kind with a sharp nose and a long tail; hers the kind with yellow stripes and a stinger.)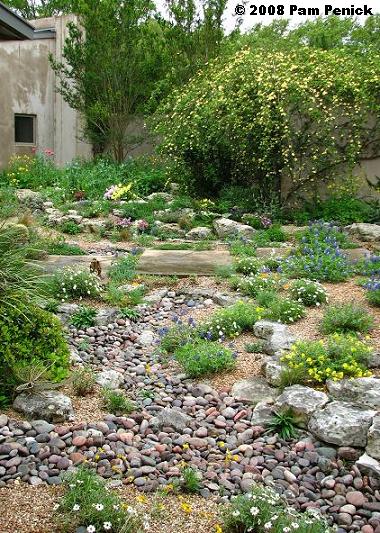 Carol gamely brought a sunhat and sunscreen along this morning, but the weather started out stormy and then, as it cleared around 9 am, the wind shifted and blew strong from the north, causing us to pull on light jackets.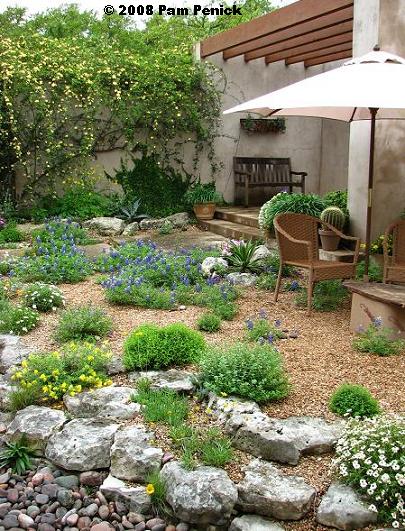 Not to worry, though. By the afternoon it had cleared and become sunny and breezy, and tomorrow's big day is expected to be in the upper 70s (F) and sunny. Good thing we put in that weather request early.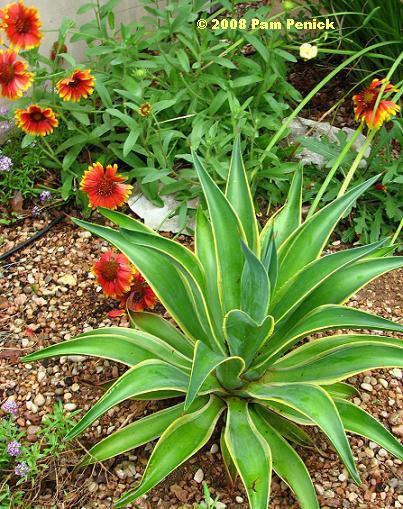 I've been regaling you with photos from Jenny Stocker's garden in southwest Austin. Jenny is going to be our docent on the Wildflower Center tour tomorrow, and she graciously agreed to give us a tour of her garden this morning as a warm-up to the Spring Fling. Despite the chilly temps, what a warm-up it was! I toured Jenny's garden two years ago on the Wildflower Center-sponsored Gardens on Tour, and it knocked my socks off then. I swear it's even better now.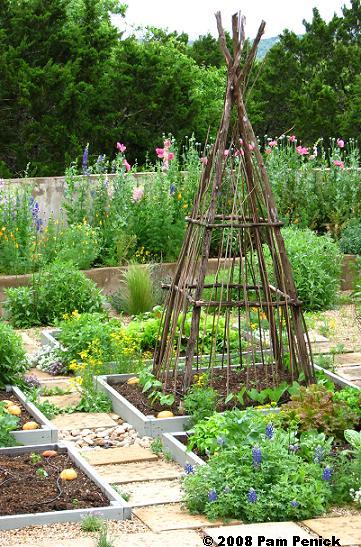 She and her husband, both of whom hail from garden-loving England, created this one with their own hands. Jenny designed it with many native-Texas plants and also came up with creative solutions that she and her craftsman husband made on site, like the beautiful but inexpensive pavers made of tinted concrete, impressed with a lumpy stone while damp to create natural-looking depressions and giving it the look of cut stone.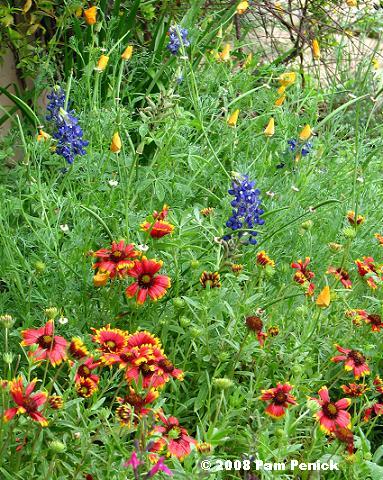 Jenny's garden is composed of a series of walled courtyards filled with self-seeding annuals like bluebonnets, California and pink poppies, larkspur, blanketflower, and blackfoot daisies, as well as agaves, succulents, roses, flowering vines, and small trees like pomegranate, vitex, and flowery senna.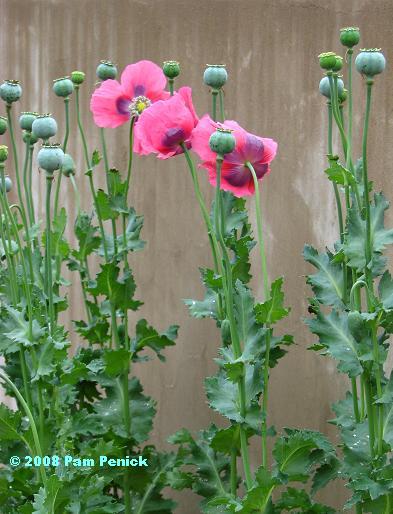 It looks simultaneously Texas Hill Country (plant choice), English cottage (billowy with flowers and intimate in scale), and Mediterranean (warm stucco walls, sunny outlook, and fruiting trees).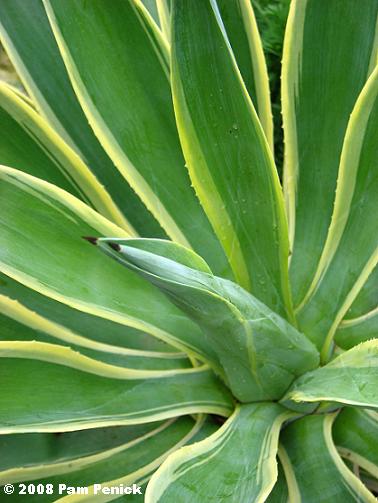 If you want to see her garden for yourself, go on the Inside Austin Gardens Tour on April 19. Thanks, Jenny, for giving us a private tour of your incredible garden.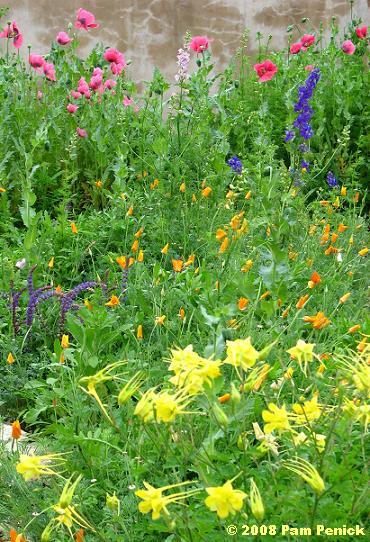 Evening update: I wrote the above earlier this afternoon, but I've just returned from the Welcome Dinner for the Garden Bloggers Spring Fling, where I met approximately 30 garden bloggers and some of their spouses/SOs/friends. Wow, what a night! How do I even describe the experience of greeting, face to face, so many friends I've only known through online words and photos. It was like going to a family reunion where you're reintroduced to distant cousins you played with as a child, and you reminisce while trying to match their faces with what you remember of them. Unfamiliar and yet familiar at the same time.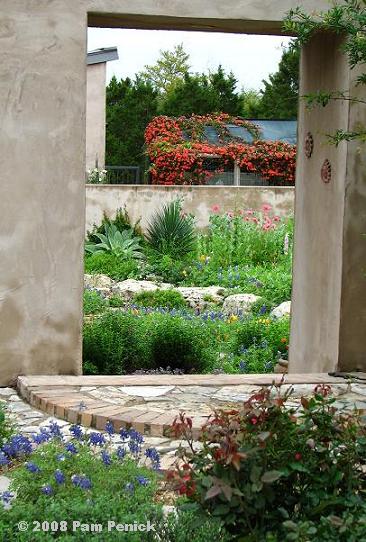 The restaurant was loud, and we'll no doubt all be hoarse tomorrow from trying to make ourselves heard, but it was a lot of fun to meet everyone. We'll meet even more folks tomorrow at the main event. Onward, Spring Fling!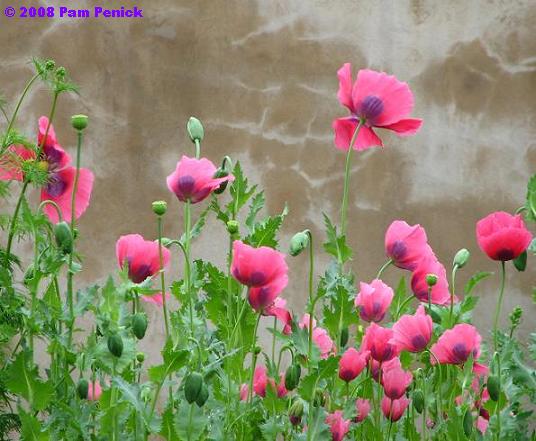 One sad note: Layanee's flight was delayed such that she missed her connection and couldn't catch another flight to Austin. After many hours hoping for a stand-by flight that didn't have room, she made the difficult decision to turn around and go home. I am very sorry not to get to meet her. We'll miss you, Layanee.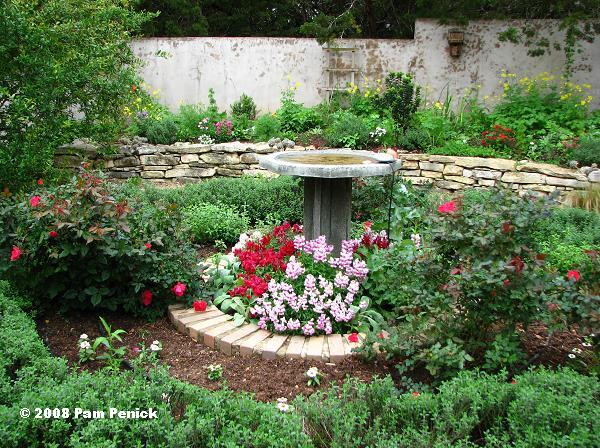 P.S. Elizabeth Licata of Garden Rant has beaten me to the punch with her "preamble" from Austin.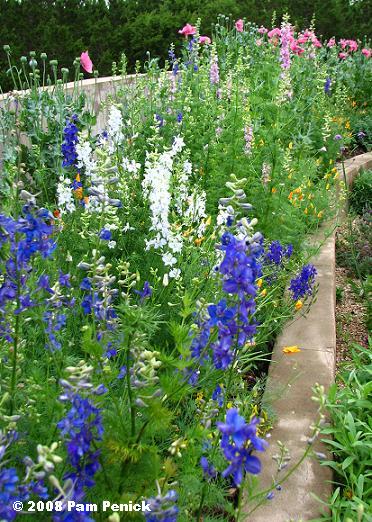 All material © 2006-2008 by Pam Penick for Digging. Unauthorized reproduction prohibited.
posted in
1st garden--2008
,
Agaves
,
Fling Austin
,
Garden blogging
,
Garden tours 2008
,
Paths
,
Roses
,
Texas natives
,
Trellis
,
Walls
,
Wildflowers
,
Xeric plants