October 24th, 2009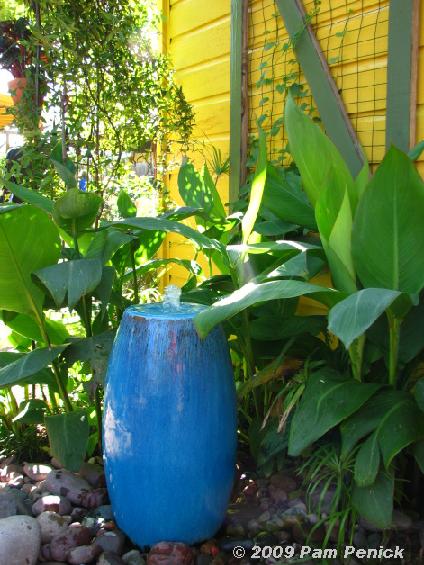 The fall Travis County Master Gardeners tour today featured six gardens that fit the theme of "Sustainable Gardening for Urban Wildlife." Three of them are the creations of Austin garden bloggers. Each one offered something unique and personal. But by far the most colorful and fun-loving garden belongs to Cheryl Goveia of Conscious Gardening, located in the Crestview neighborhood of north-central Austin.

Cheryl's garden is 13 years old, and her plant choices and overall design are well-chosen and inviting. But her whimsical, artistic touches really steal the show. Take her fence flowers, for example, ingeniously fashioned out of paint can lids, circular mirrors, and bottle caps. Adults and children alike were fascinated by them.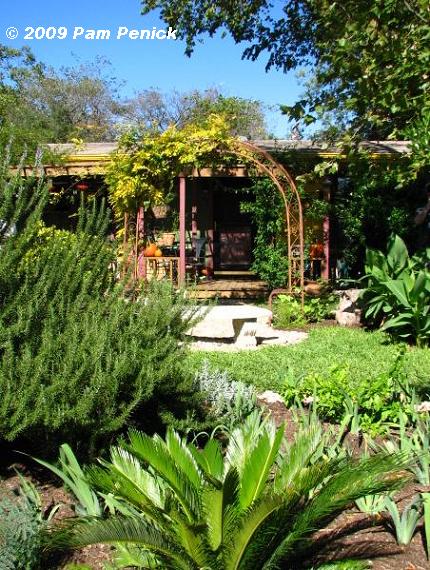 Cheryl uses numerous arbors to divide her space and invite you into it. This large arch welcomes visitors to the front garden.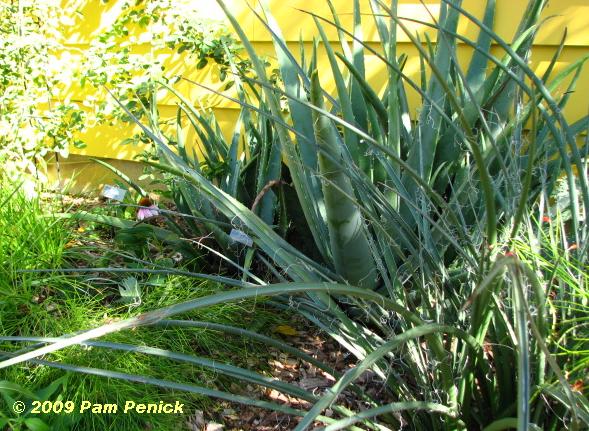 As you head around the side of the house toward the back, the color heats up, beginning with the bold yellow paint on the house siding. An aloe and red yucca's cool greens show up beautifully against the warm yellow.

A blue bird bath adds a jolt of color amid pink Salvia greggii.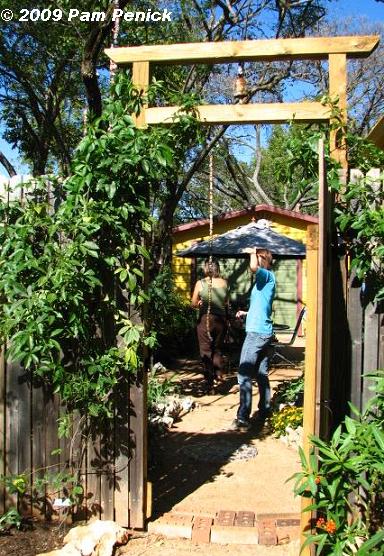 Another arbor, this one with an Asian flavor, marks the entry to the back garden.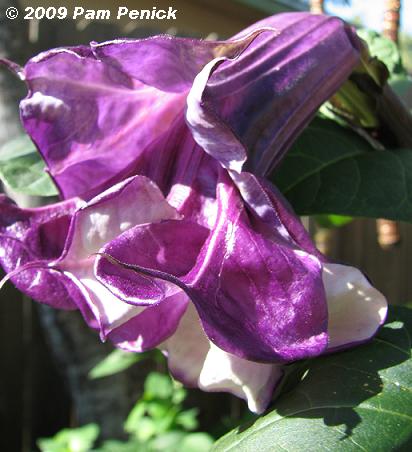 A gigantic double purple datura was loaded with folding, ruffled blooms, including this one at eye level.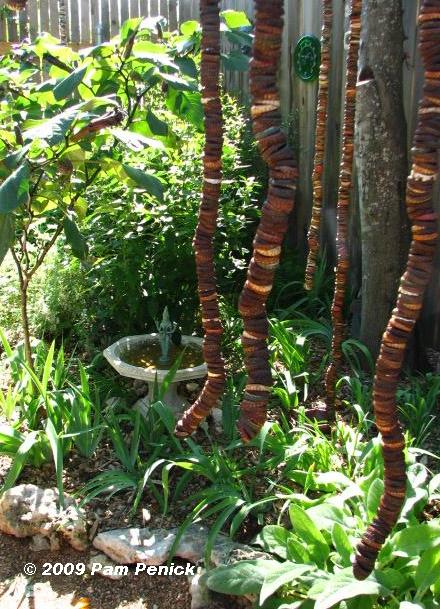 Strands of rusting bottle caps, one of Cheryl's repurposed creations, hang from the trees in slinky shapes.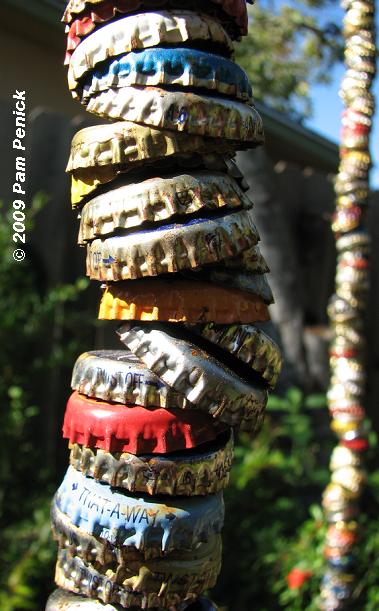 A closer look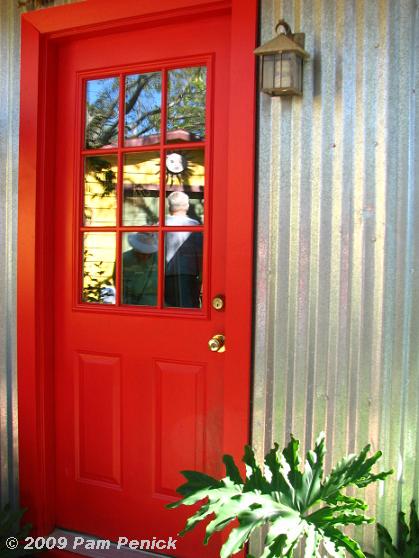 I love this bright-red door against silver, galvanized metal siding.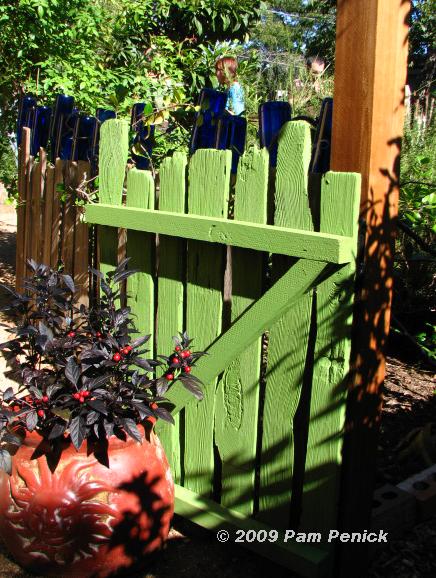 Color pervades Cheryl's garden, brightening up even this rustic gate.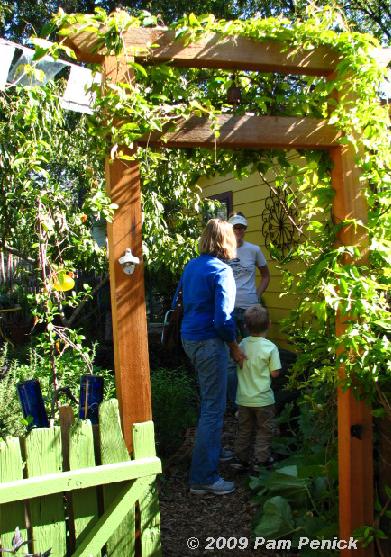 Another arbor marks the entry to the vegetable garden.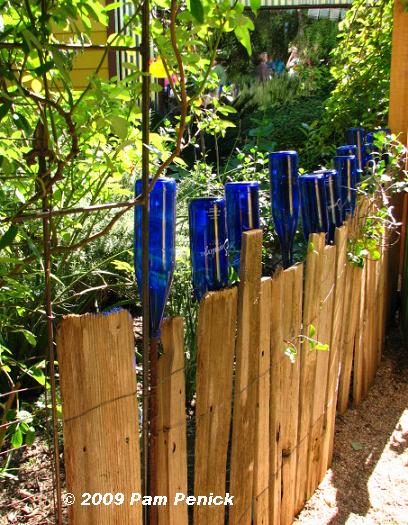 The veggie garden's low, weathered fence comes to life with a collection of blue bottles on rebar posts running along the top.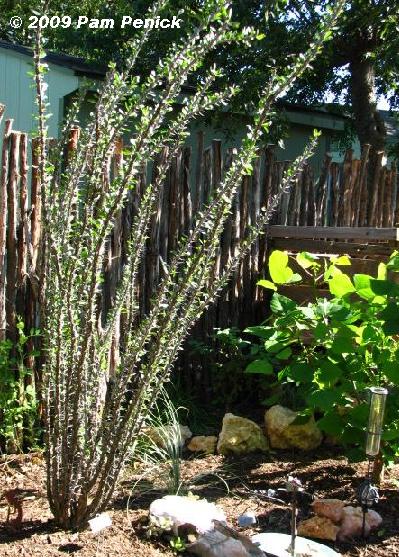 An ocotillo is a rare sight in Austin. To keep it from drowning during our typical winter rains, Cheryl has planted it high on a mounded berm of gravelly soil. I meant to ask her if this one has gone through a winter yet; this winter, predicted to be cool and rainy, will be a real test for this true desert plant.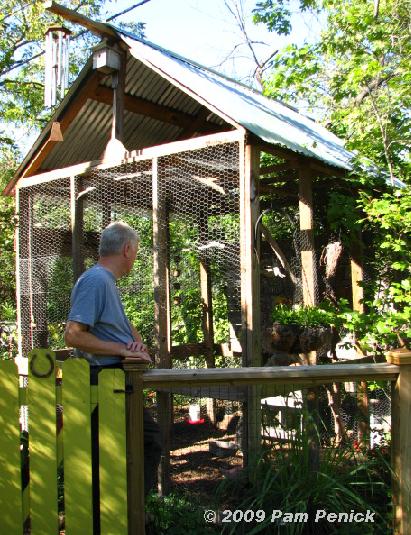 Chickens reside comfortably in the large coop at the rear of the garden.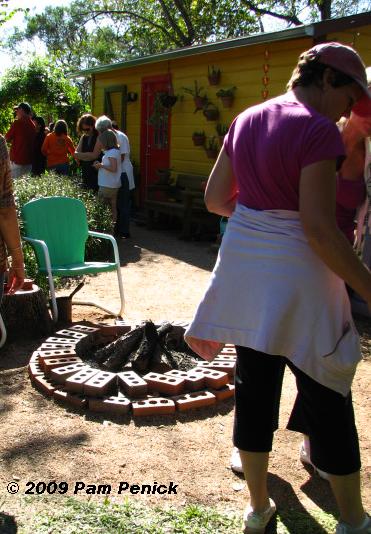 People are comfortable in Cheryl's garden too. Intimate seating areas abound, inviting you to sit a spell, or warm your feet by the fire.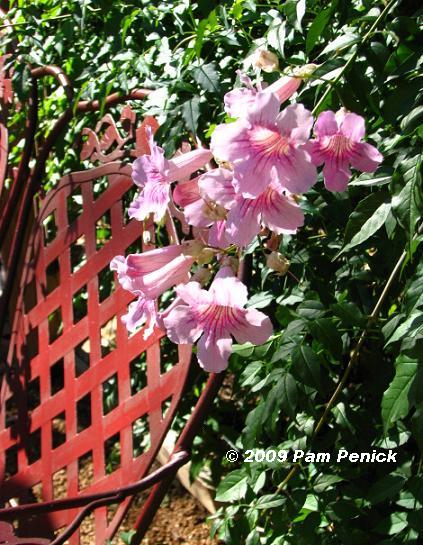 Desert willow vine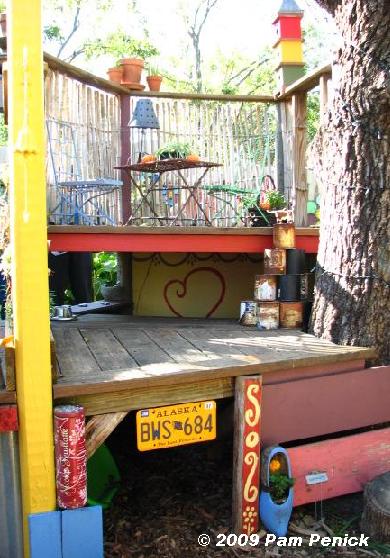 A charming play structure clings to the side of a large tree. Children would be right at home here, where swings and other play things are tucked among the plants.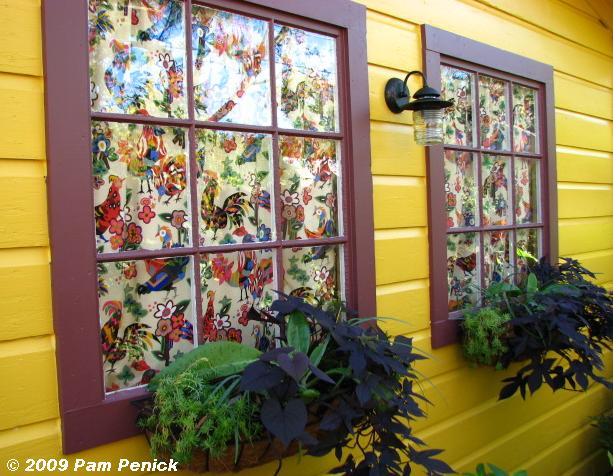 Near the coop, this marvelous chicken fabric hangs in the window of a converted detached garage.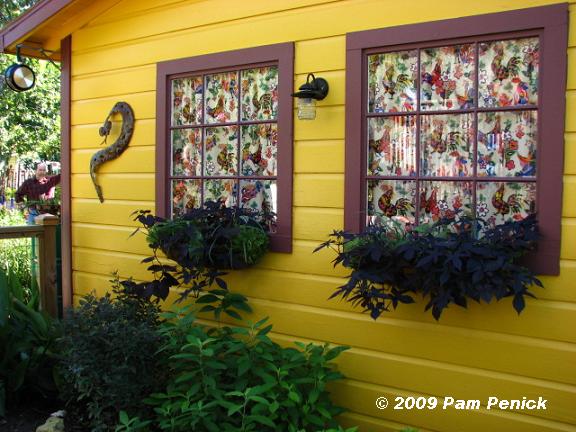 What fun color!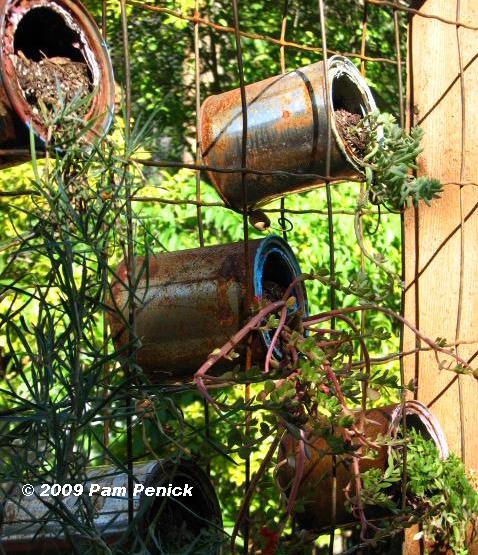 Under Cheryl's creative touch, old paint cans wired to a fence become succulent planters.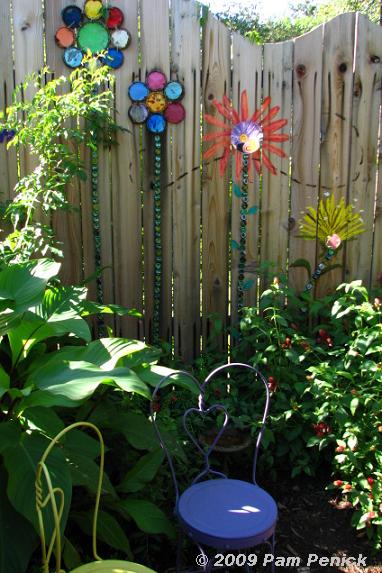 And here's where all the paint-can lids went: more flowers on a swoopy privacy fence.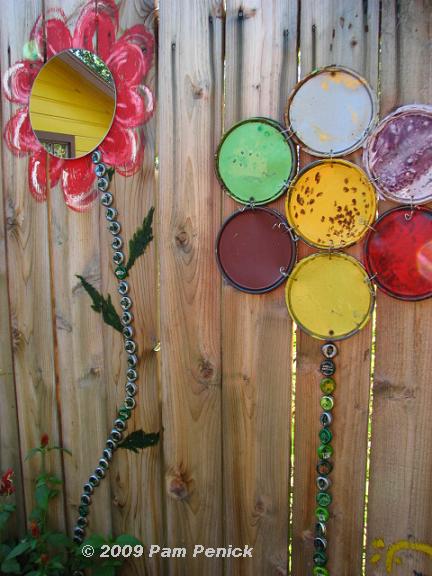 And more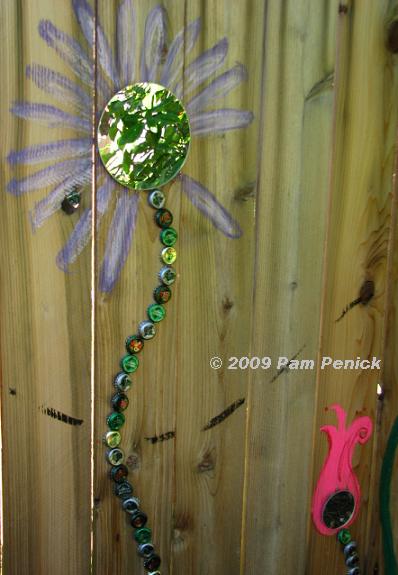 A whole garden of them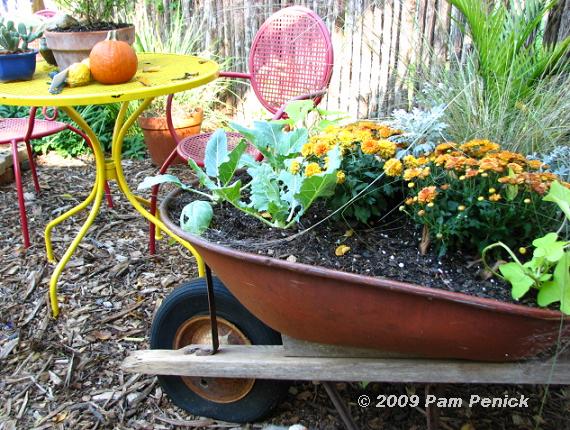 Cheryl's colorful, exuberant, anything-goes style reminds me somewhat of Lucinda Hutson's garden, which she opened to late-stayers at Spring Fling Austin in 2008. As it turns out, I ran into Lucinda in Cheryl's garden, and I can imagine she felt quite at home there. As did I.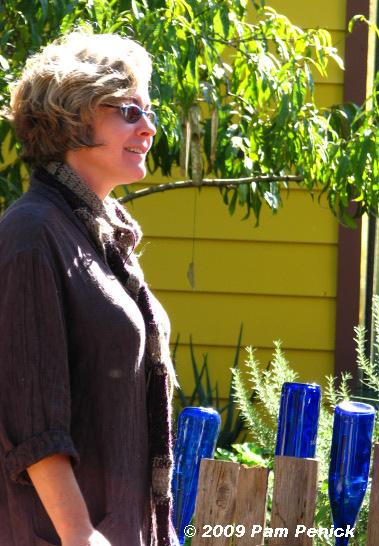 Thanks so much, Cheryl, for sharing your "romantically chaotic" garden with Austin.
Tune in tomorrow for a look at Gail Sapp's garden.
All material © 2006-2009 by Pam Penick for Digging. Unauthorized reproduction prohibited.
posted in
Arbors
,
Bottle tree
,
Chickens
,
Color
,
Containers
,
Doors
,
Fences
,
Fountains
,
Garden art
,
Garden tours 2009
,
Gates
,
Seating
,
Trellis
,
Vines