March 27th, 2008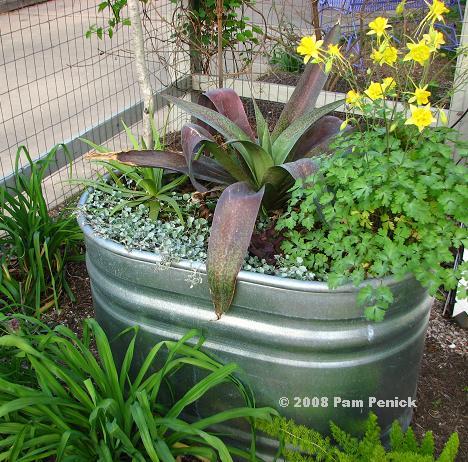 Squid agave (Agave bracteosa ), silver ponyfoot (Dichondra argentea ), Manfreda 'Macho Mocha,' and Hinckley's columbine in my first stock-tank planter.
Over at Gardening Gone Wild, they're talking about container plantings for this month's Garden Bloggers' Design Workshop. You know what that means here at Digging—cattle troughs!
Regular readers will roll their eyes at this point, remembering how I've rhapsodized about the humble stock tank once or twice before. But I can't help elevating these utilitarian vessels into focal points in my garden. Is it a Texas thing? Is it a nod to my neighborhood's origin, in the '40s, as a cattle pasture? Is it tongue-in-cheek? You decide.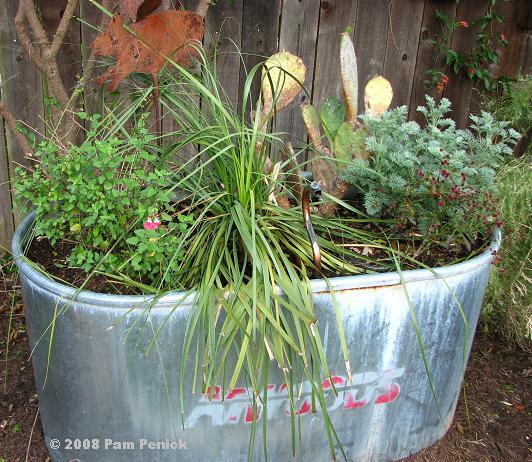 But the best thing about them—besides that great silver color and impervious construction—is that they're big. Summers in Austin are too brutally hot and dry to bother with planting thirsty, dainty annuals in tidy, little pots suitable for a front porch. They'd fry. A bigger container requires less-frequent watering. It also makes a statement and doesn't get lost in bitty-ness. As my husband is fond of saying, "Go big or go home."
The trough pictured above is my latest addition. My mother brought it down from Tulsa in the back of her PT Cruiser. She'd once used it as a container pond, and after that it sat in a field for a while. Well weathered, it now provides a focal point at the end of my lawnette. Planted with tough, drought-tolerant Texas natives, this baby won't need supplemental water more than once a week, maybe two, once it gets established. From left to right: Salvia microphylla 'Hot Lips,' Devil's shoestring (Nolina lindheimeriana ), spineless prickly pear (Opuntia ), Gomphrena 'Grapes,' and 'Powis Castle' artemesia.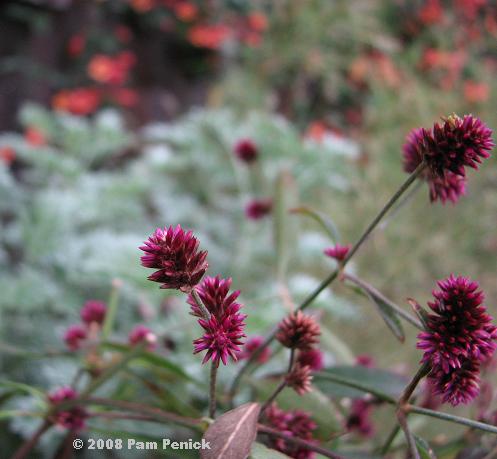 A close-up of the 'Grapes' gomphrena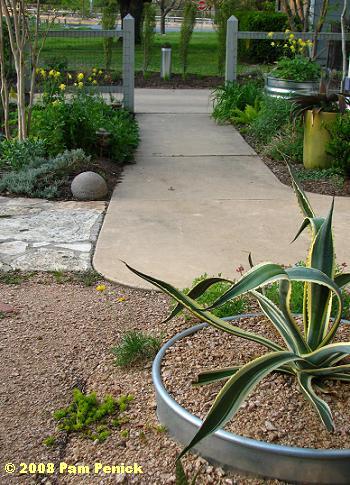 In this photo, you can see two of my stock-tank planters at once. In the foreground, a shallow cattle trough, drilled with drainage holes and sunken in the dirt, puts a dramatic variegated agave on a pedestal. In the background, the taller trough with the manfreda and the columbine welcomes visitors at the side entrance. (The tall, skinny planter in the far background is a $7 stovepipe planted with an Agave victoria-reginae.)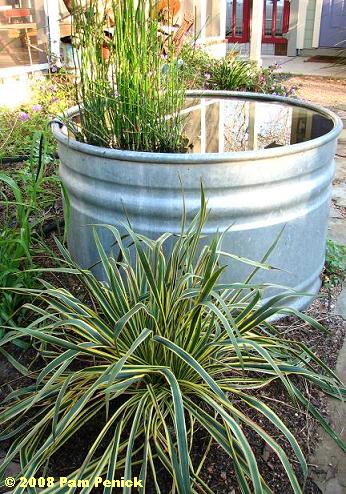 Stock tanks make great container ponds too. This one holds a dwarf water lily (dormant), a horsetail, and a sedge, plus a couple of goldfish.
As you can see, there are as many shapes and sizes of cattle troughs as there are uses for them in the garden. Just remember to buy a bigger one than you think you'll need. Go big or go home.
All material © 2006-2008 by Pam Penick for Digging. Unauthorized reproduction prohibited.