January 16th, 2018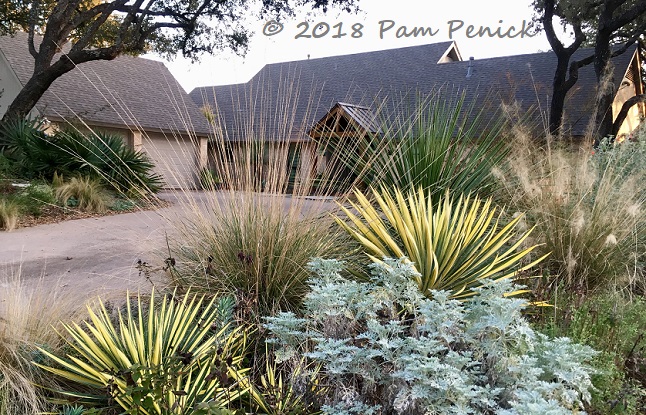 As I write this, an icy wind is flinging plastic pots and flapping draped sheets that are supposed to be sheltering certain freeze-tender plants in my garden. All I will say about that is that this is not the winter I signed up for. Happily, most of my garden is winter tough, including lovely native grasses like pine muhly (Muhlenbergia dubia) and colorful golden yuccas (Yucca filamentosa 'Color Guard'). Even frothy silver 'Powis Castle' artemisia holds up decently for most of the winter.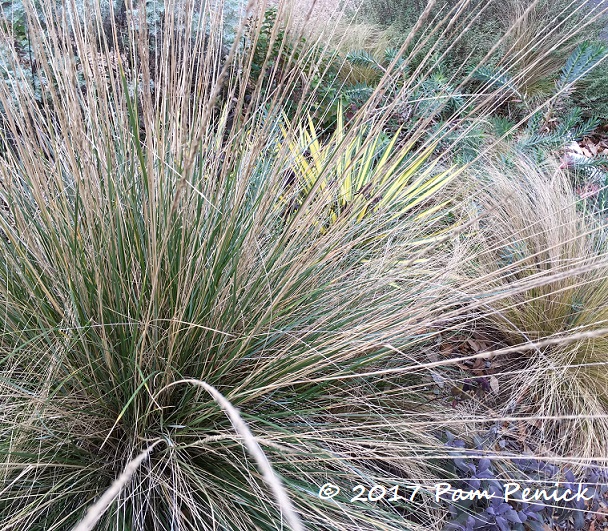 Pine muhly closeup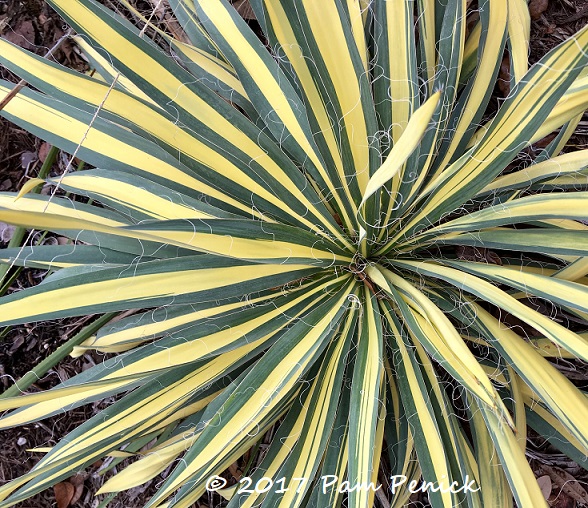 'Color Guard' yucca offers lemon-lime color all winter long.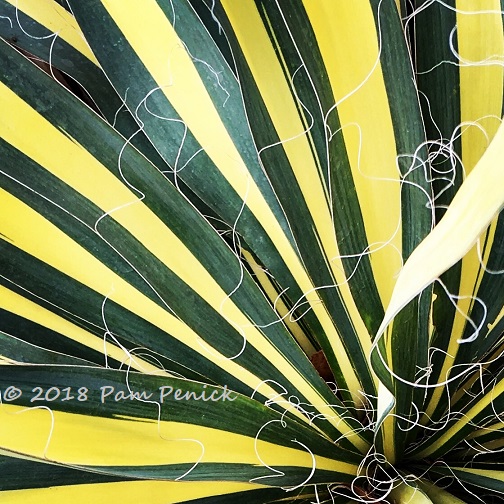 And check out those cool thread-like filaments along the leaf edges.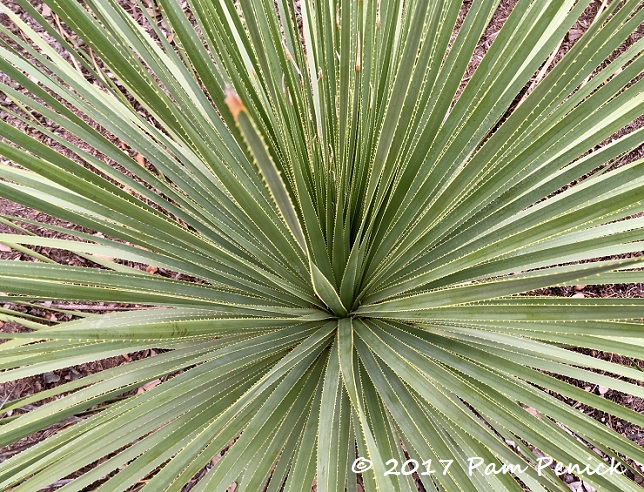 Texas sotol (Dasylirion texana) is also a winter workhorse, remaining evergreen and beautiful no matter the weather.
This is my January post for Foliage Follow-Up. Fellow bloggers, what leafy loveliness is happening in your garden this month? Please join me in giving foliage its due on the day after Bloom Day. Leave a link to your post in a comment below. I'd appreciate it if you'll also link to my post in your own — sharing link love! I look forward to seeing your foliage faves.
I welcome your comments; please scroll to the end of this post to leave one. If you're reading this in a subscription email, click here to visit Digging and find the comment box at the end of each post.
_______________________
Digging Deeper: News and Upcoming Events
Calling all garden bloggers! You're invited to register for the annual Garden Bloggers Fling tour and meetup, which will be held in Austin this May 3rd-6th! Click this link for information about registering, and you can see our itinerary here. Space is limited, so don't delay. The 2018 Fling will be the event's 10th anniversary, which started in Austin in 2008.
Join the mailing list for Garden Spark Talks! Inspired by the idea of house concerts, I'm hosting a series of garden talks by inspiring designers and authors out of my home. Talks are limited-attendance events and generally sell out within just a few days, so join the Garden Spark email list for early notifications. Simply click this link and ask to be added.
All material © 2006-2018 by Pam Penick for Digging. Unauthorized reproduction prohibited.