November 22nd, 2017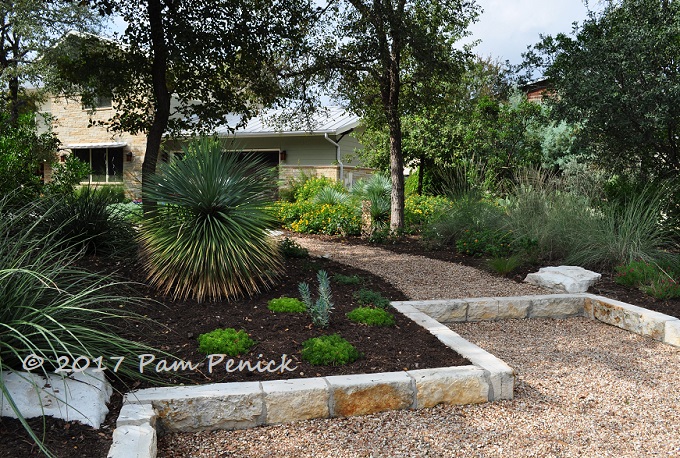 The talented Annie Gillespie of Botanical Concerns designed the water-saving garden at Ridgewood Road, the next garden in my recap of Austin's recent Open Days Tour. From the street you're invited to stroll through a low-water garden of oaks, grasses, agave, and yucca to reach the house via a stepped-back landing and pea-gravel path.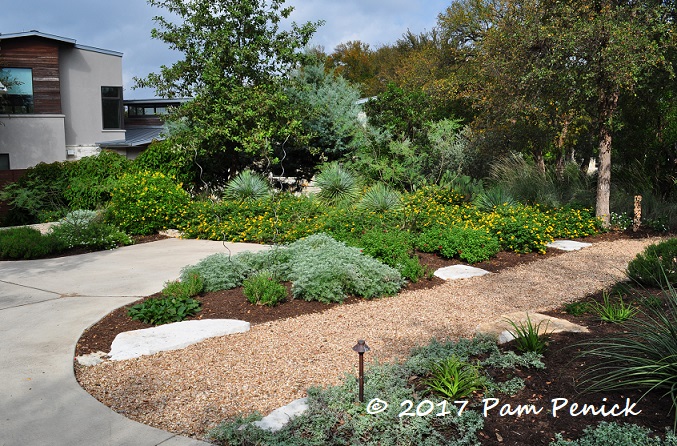 Here's the other end of that gravel path where it meets the parking area by the house. Densely layered plants help screen a neighbor's house from view.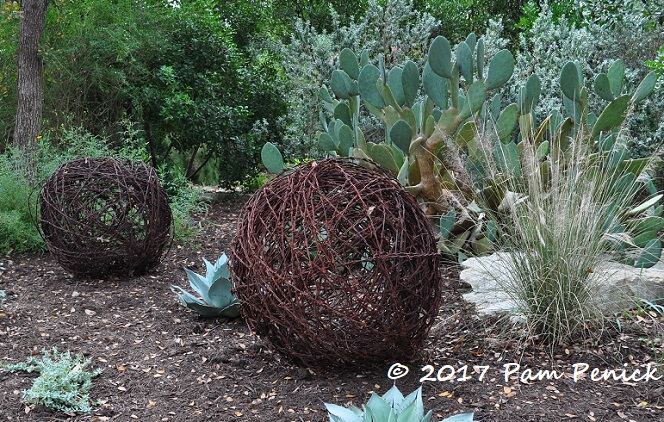 I love these barbed-wire spheres — a Western accent.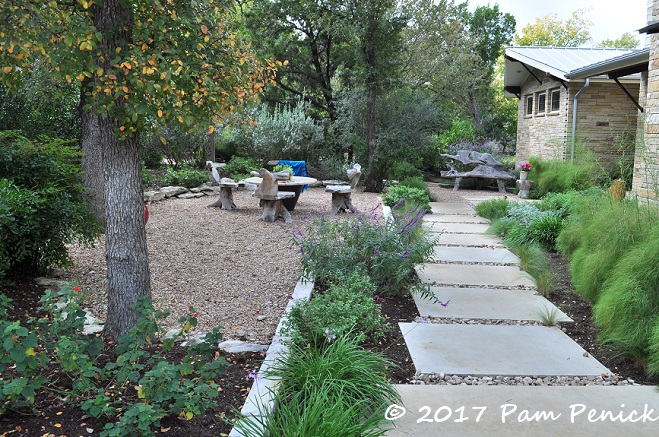 From the driveway, a square-paver (or stone) path leads past a pea-gravel patio to the front door. A front-yard patio is a great way to create a sense of welcome, plus it puts to use space typically devoted to lawn. Bamboo muhly lines the path along the foundation.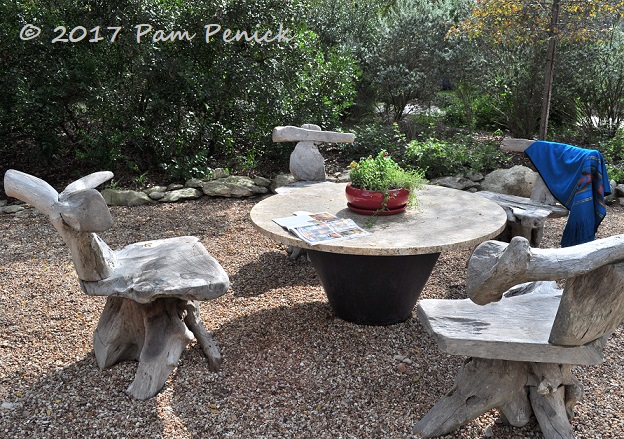 Rough-hewn wooden chairs at a round table look like works of nature rather than human made.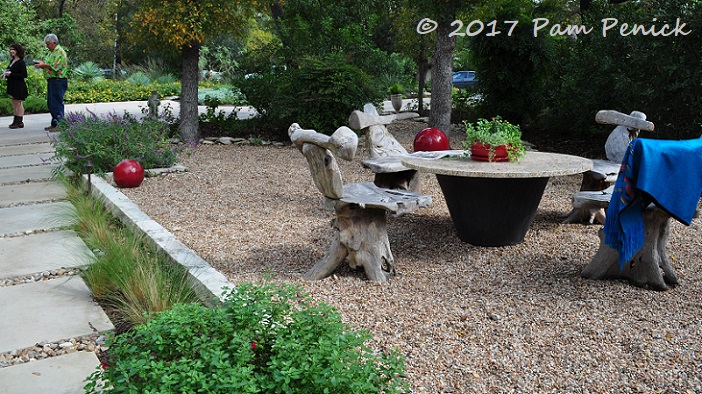 Such an inviting space, even if just for the eyes.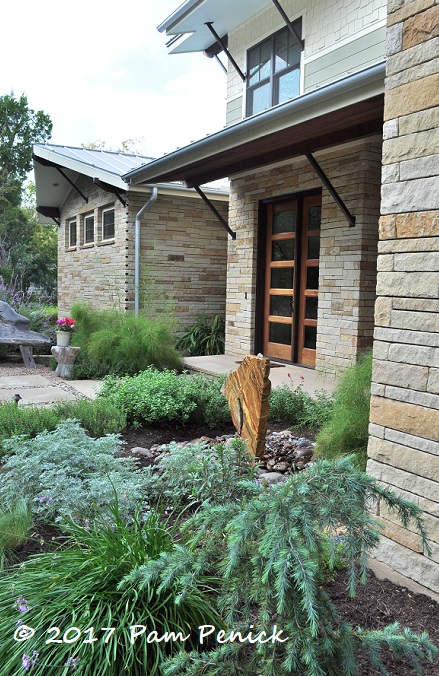 Near the front door, a vertical stone fountain adds the sound of water.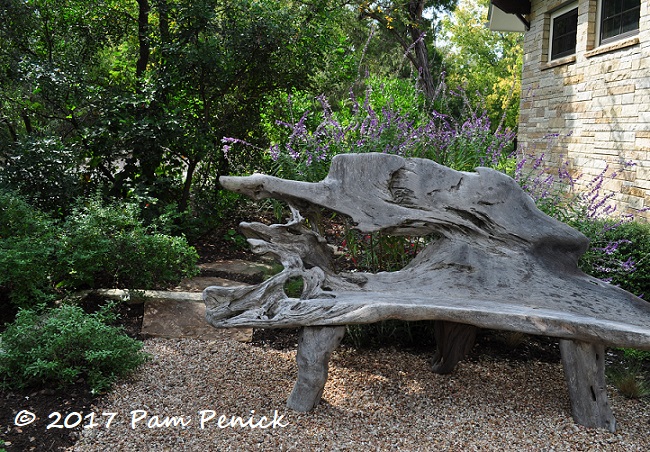 Where the path turns toward the door, a bench carved from a weathered old tree trunk stops the eye and offers a resting spot.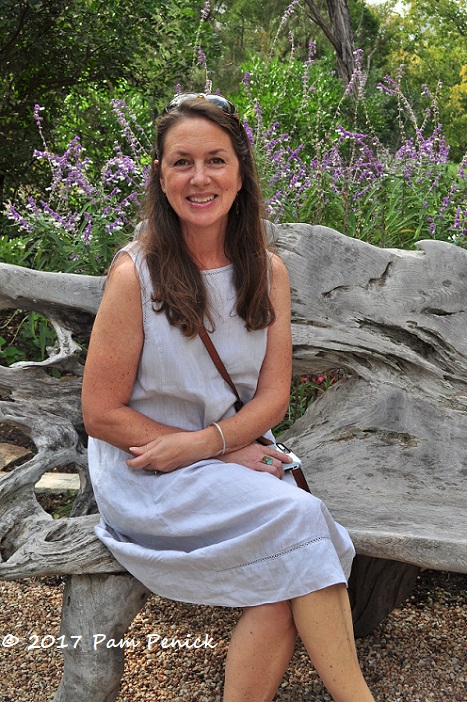 My friend Cat enjoys a moment amid flowering Mexican bush sage.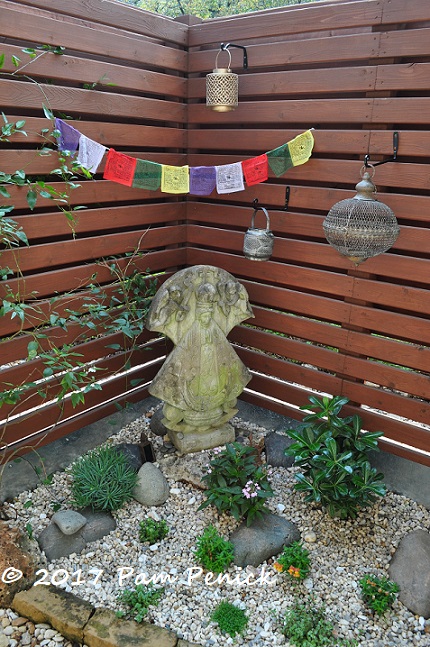 Continuing on around the house, we spotted this L-shaped screen creating a private nook around a bathroom window. Adorned with prayer flags, Moroccan-style lanterns, and a Mexican sculpture of the Madonna, the tiny garden is clearly a visual retreat for those enjoying the view from inside.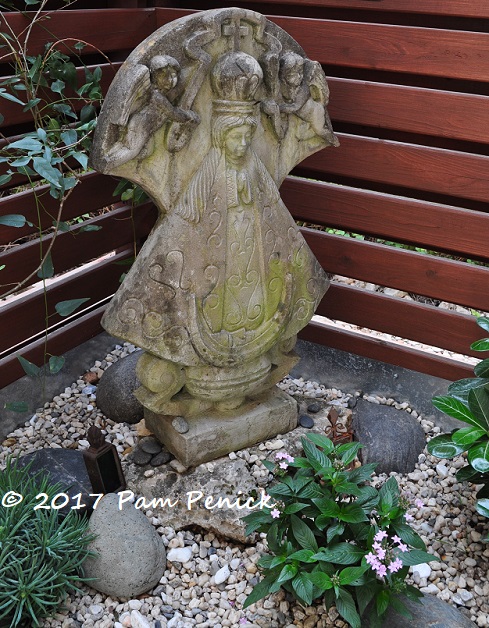 Tom Spencer, in his old garden (8th photo), used to have a carved Madonna just like this one.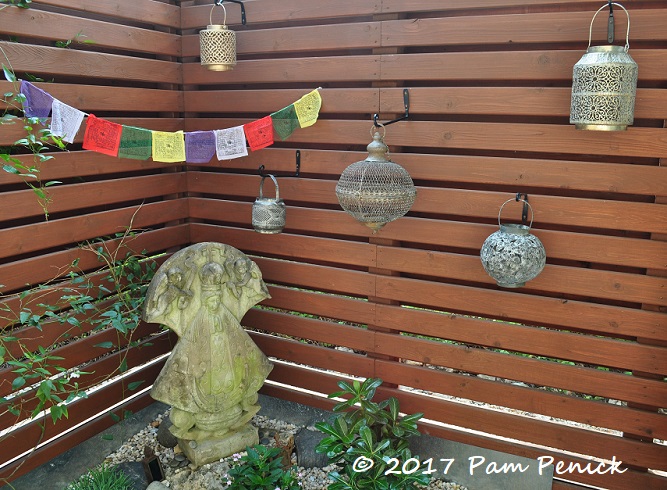 One more view. I've seen lanterns like these for sale at Barton Springs Nursery. This is a lovely way to display them.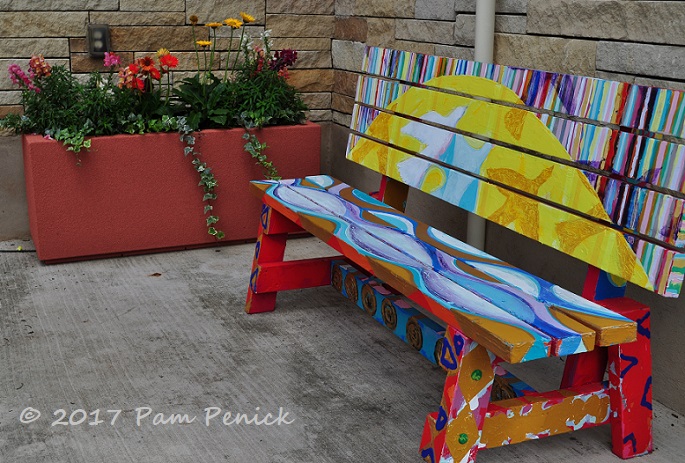 Coming around the back of the house, a small patio glows like a rainbow with a colorfully painted bench and red flower planter.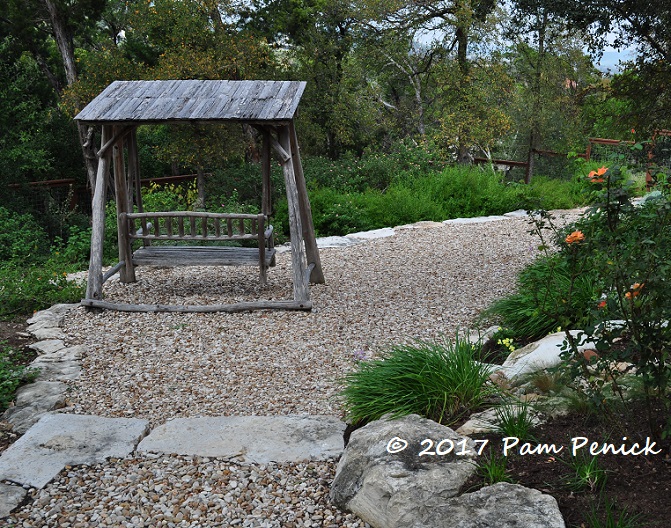 Farther along in the gravel path, a roofed cedar swing takes in the view. The path also serves as a filtration trench (hidden under the gravel) to cleanse rainwater runoff, since the steeply sloped back yard sheds water downhill into a watershed.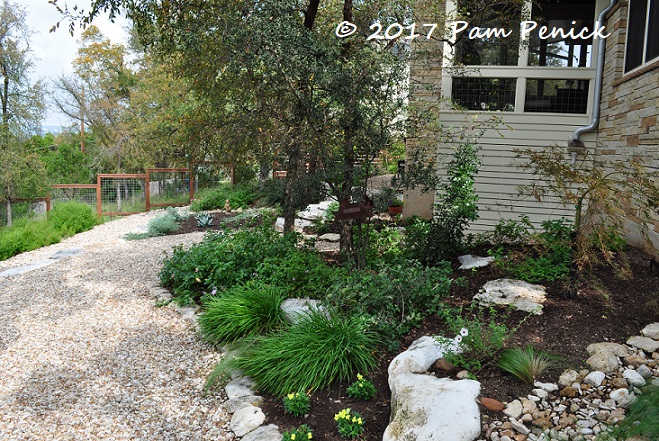 But the real goal in making a water-wise garden is to keep runoff from happening at all. Annie designed the entire garden to slow the progression of water and give it time to soak in. "What you want to do with water is slow it down," she says in a Central Texas Gardener episode about this garden.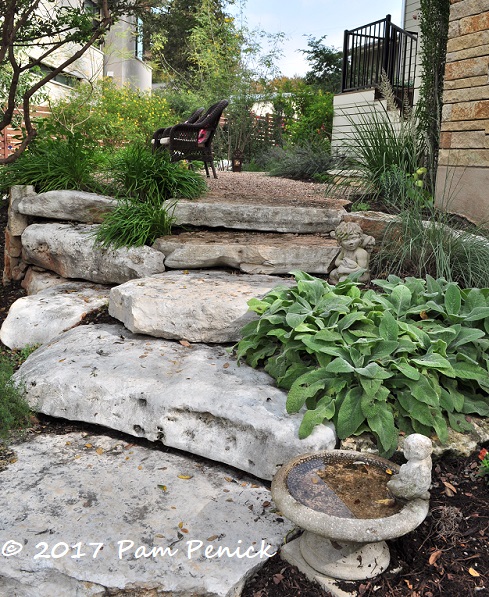 Terracing behind the house helps keep runoff from eroding the slope. It also creates space for a small patio to bridge the gap between house and garden.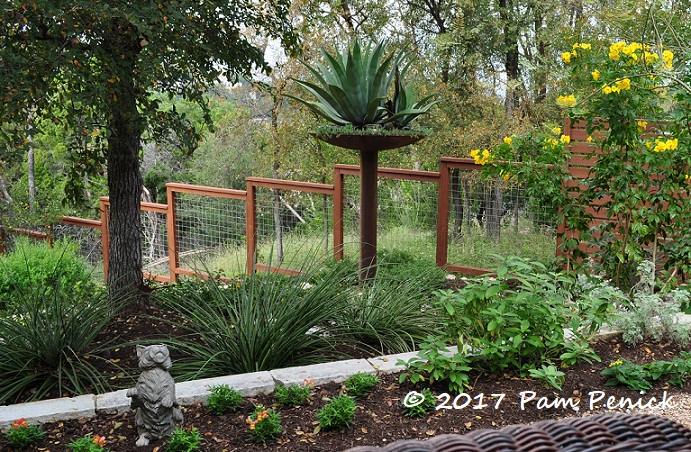 The view from the gravel patio includes a focal-point steel-dish tower planted with an agave, Big Red Sun-style.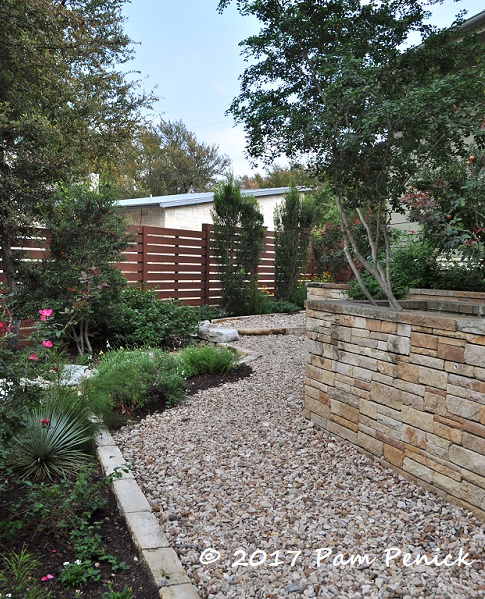 The gravel path leads past stacked-stone raised planters behind the house.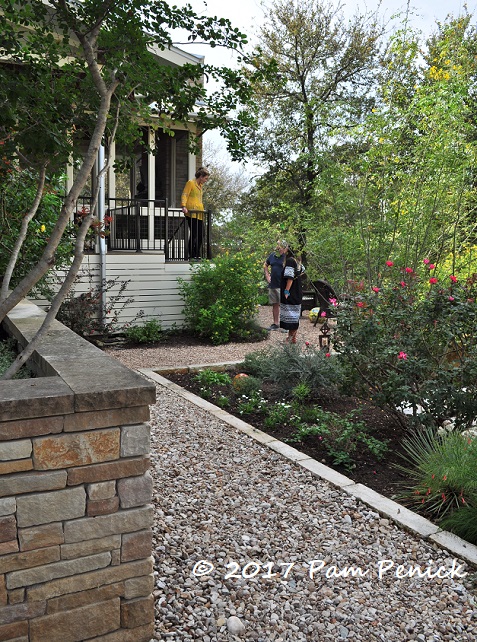 Looking back toward the home's screened porch, there's the homeowner (in the yellow blouse) talking with visitors.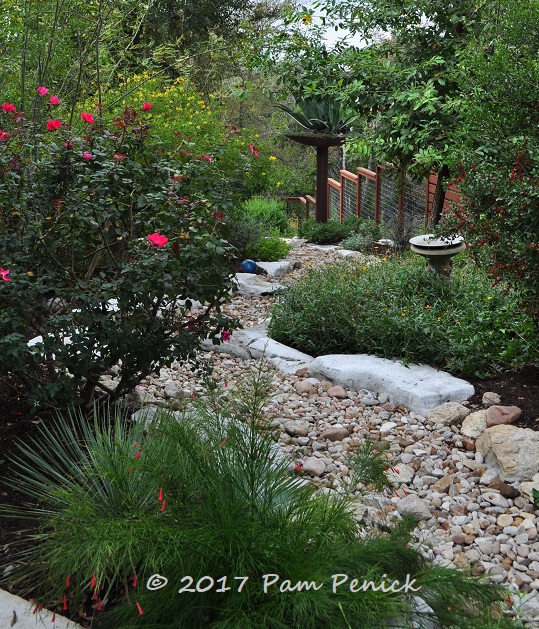 Winding along the side fence, a nicely designed dry creek directs and slows runoff from the front yard and roof downspouts when it rains.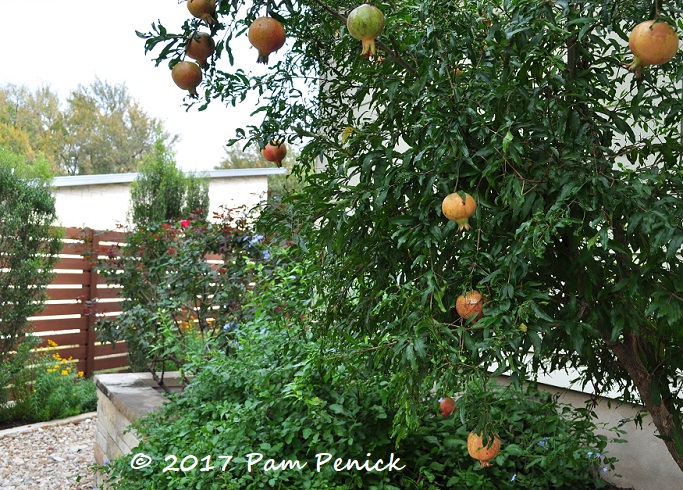 Pomegranates ripen on a small tree in one of the raised beds.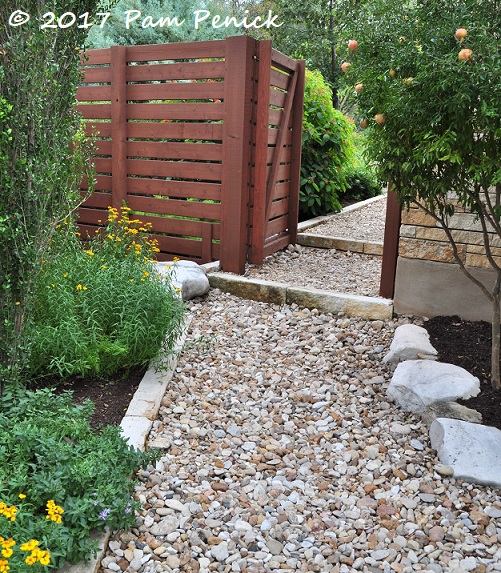 The gravel path leading out of the back garden is paved with a heavier gravel — clearly made for slowing down runoff.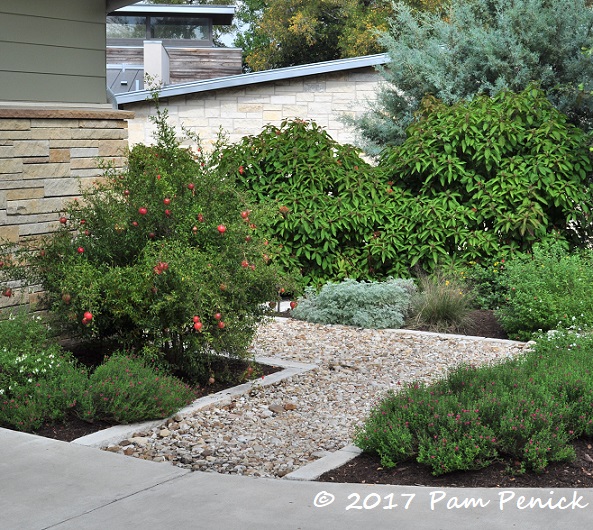 And here's that same path as it rounds the corner of the front house back to the driveway. Another dwarf pomegranate with rosy fruits softens the corner. Pink skullcap flowers on either side of the path.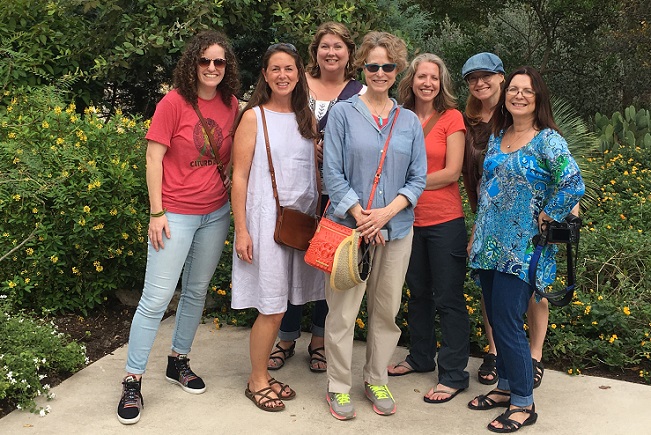 And here's the fun group of bloggers I was touring with that day: Jennifer of Victory or Death!…in the Garden, Cat of The Whimsical Gardener, me, Shirley of Rock-Oak-Deer (who drove up from San Antonio), Laura of Wills Family Acres, Lori of The Gardener of Good and Evil, and Diana of Sharing Nature's Garden. By the way, 6 of these bloggers will be attending the Garden Bloggers Fling tour and blogger meetup in Austin next May 3-6. If you're a garden blogger and want to Fling with us, click here for info about signing up. There are only a few spaces left, so don't delay!
Up next: Designer Tait Moring's canyon-side garden. For a look back at the waterwise drama of the Lakemoore Drive Garden, click here.
I welcome your comments; please scroll to the end of this post to leave one. If you're reading this in a subscription email, click here to visit Digging and find the comment box at the end of each post.
_______________________
Digging Deeper: News and Upcoming Events
Calling all garden bloggers! You're invited to register for the annual Garden Bloggers Fling tour and meetup, which will be held in Austin next May 3-6, 2018! Click this link for information about registering, and you can see our itinerary here. Space is limited, so don't delay. The 2018 Fling will be the event's 10th anniversary, which started in Austin in 2008.
Join the mailing list for Garden Spark Talks! Inspired by the idea of house concerts, I'm hosting a series of garden talks by inspiring designers and authors out of my home. Talks are limited-attendance events and generally sell out within just a few days, so join the Garden Spark email list for early notifications. Simply click this link and ask to be added.
All material © 2006-2017 by Pam Penick for Digging. Unauthorized reproduction prohibited.
posted in
Agaves
,
Cactus
,
Containers
,
Dry Streams
,
Edibles
,
Fences
,
Garden art
,
Garden tours 2017
,
Gates
,
Grasses
,
Hillside
,
Lawn Gone!
,
Lighting
,
Native plants
,
Paths
,
Patios & decks
,
Porch
,
Rock
,
Roses
,
Seating
,
Texas natives
,
Trees
,
Water conservation
,
Water-Saving Garden
,
Xeric plants