November 20th, 2017

Continuing my coverage of the November 4th Open Days tour, today I give you the Lakemoore Drive Garden. Regular readers may recognize this garden as one I blogged about, rapturously, in 2013. The outer garden, a sun-loving gravel garden with evergreen xeric plants like agave, yucca, prickly pear, palm, and nolina, is brightened with seasonal color from goldeneye daisy…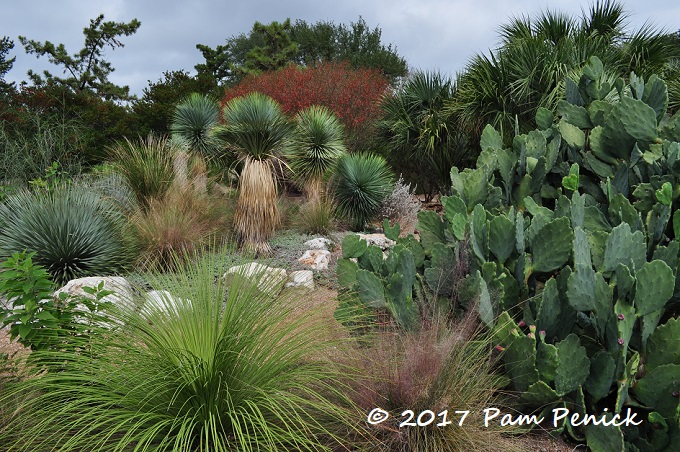 …Gulf muhly grass, and crepe myrtle (red leaves in the background).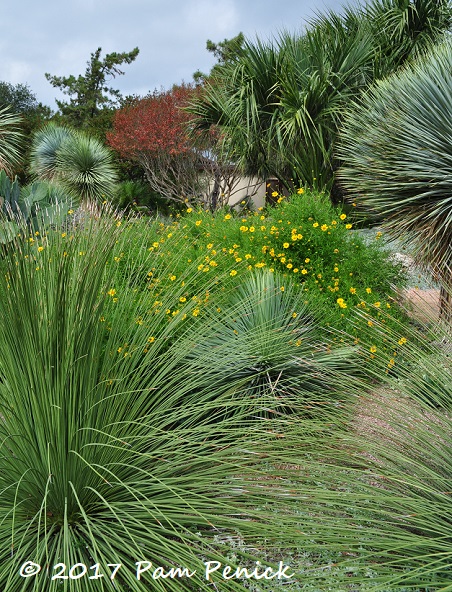 Curt Arnette of Sitio Design designed the garden in 2012. (Check out his new website. I've taken most of his portfolio pictures.) This summer, new owners moved into the house. I'm impressed that they allowed their garden to be on tour so soon after moving in, but the installer, John Gibson, helped whip it into shape, and it looked well-kept and lovely.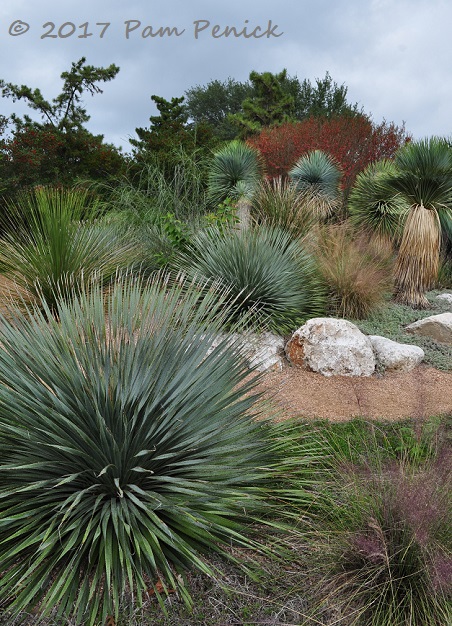 Spherical, strappy-leaved plants shimmer in the sunlight, like Wheeler sotol, toothless sotol, and Yucca rostrata.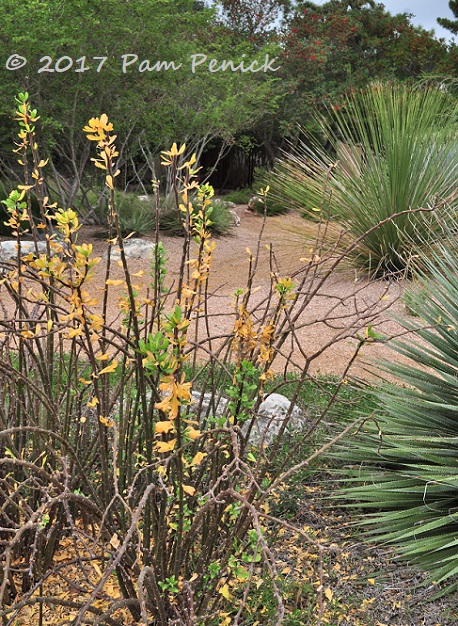 I believe this is leatherstem (Jatropha dioica), a dry-loving native Texas plant Curt is partial to in his designs.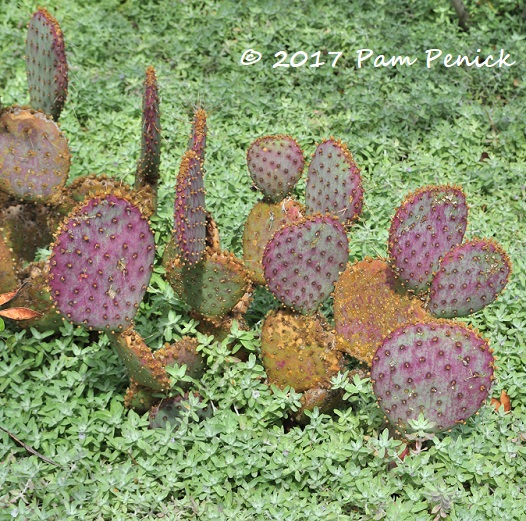 'Santa Rita' prickly pear in woolly stemodia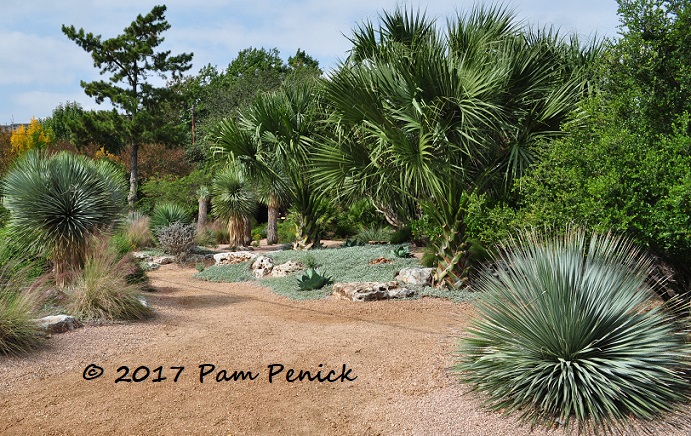 This used to be all turf grass, and flat as a sheet of paper. Gravelly berms accented with limestone boulders add height for drainage and interest, and wide gravel paths wind through the large garden, creating a dynamic walkway to the house from the street.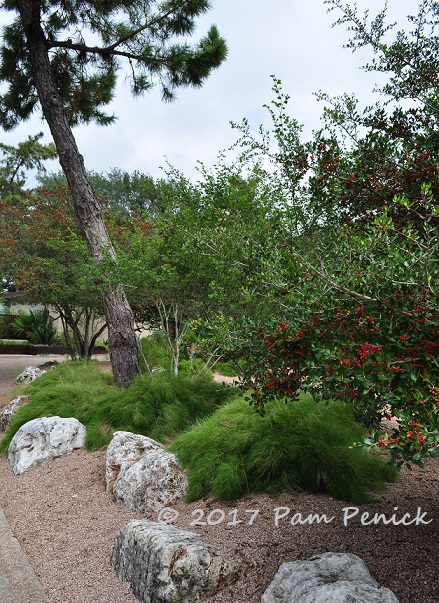 A few pine trees remain from before the garden was created, with shaggy bamboo muhly grass sprawling below, along with red-berried yaupon holly.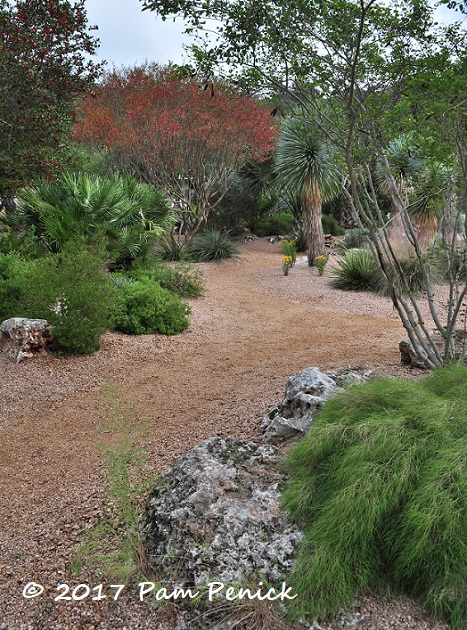 The gravel that mulches the planting berms is coarser than the packed decomposed-granite paths, but they blend almost seamlessly.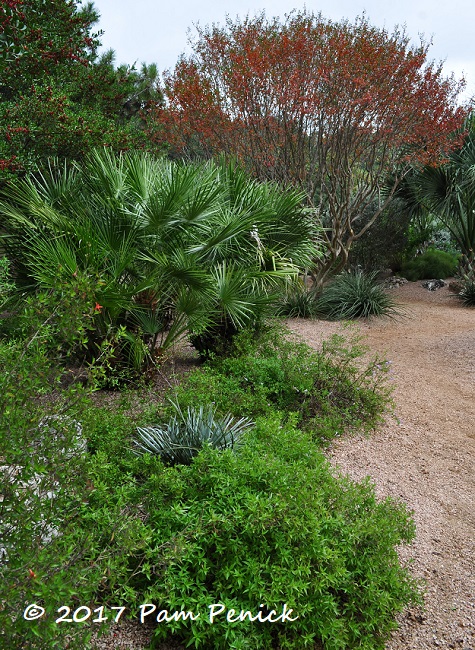 Crepe myrtle in fall color adds a punch of red to the largely evergreen garden.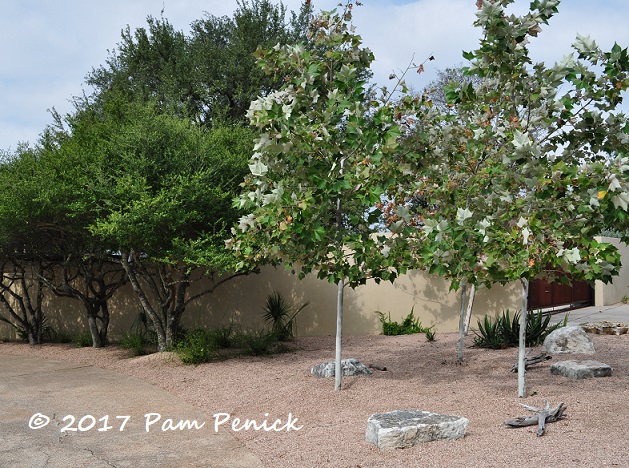 A small grove of white-trunked Mexican sycamores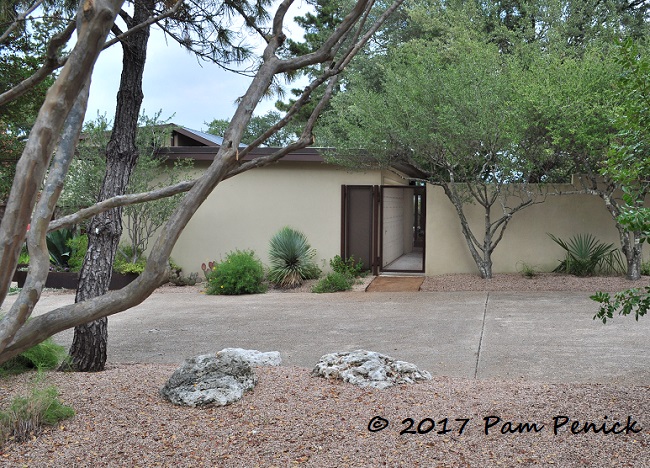 A circular driveway curves up to the house, where a steel-mesh gate offers access to the garage.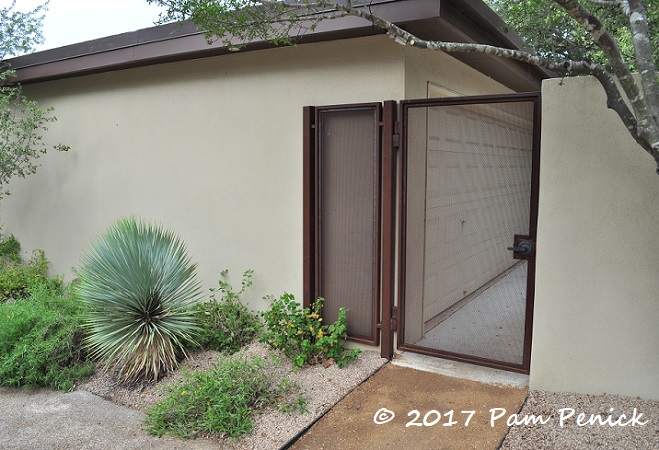 All I notice are gates these days, as I've been contemplating a new one for my garden.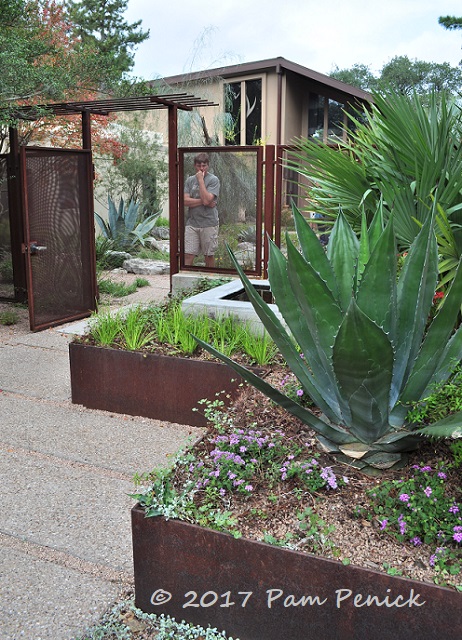 This visitor appears to be giving serious contemplation to something too. The main entry into the inner courtyard garden from the outer garden is signaled by a stepped-back steel raised bed with a concrete pond. A steel-rod arbor tops a gate in the mesh-paneled fence.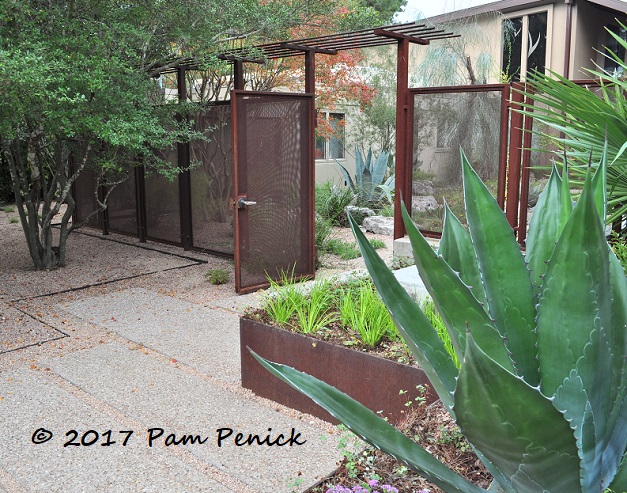 I like how this fence keeps out deer and other unwanted visitors, while also allowing friendly views into the inner garden.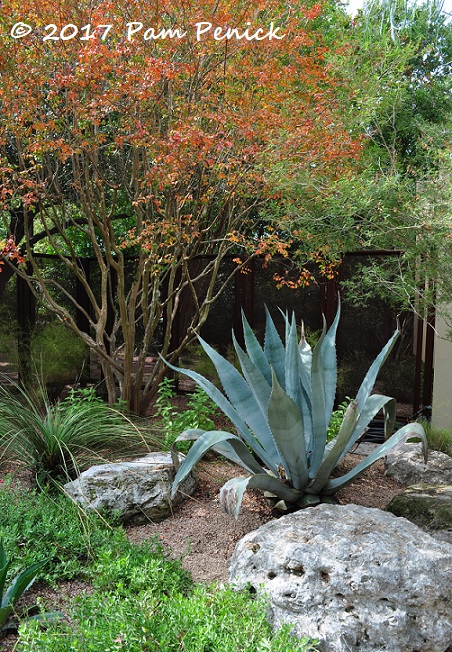 Step through the gate and you enjoy more xeric plantings on gravelly berms along one side of the walk, like agave and crepe myrtle.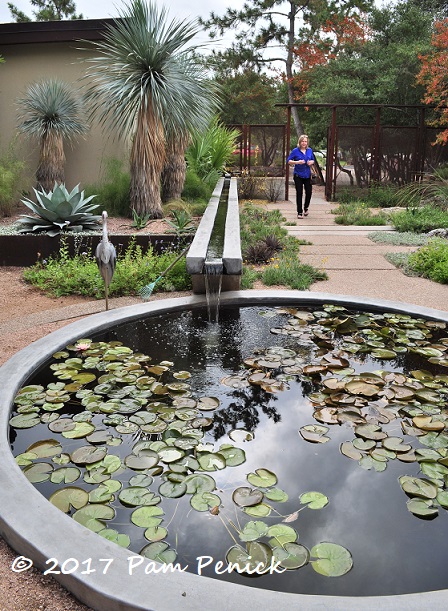 On the other side of the walk, a narrow, elevated rill made of board-formed concrete draws you in with a flowing waterway that spills into a circular, concrete-edged waterlily and fish pond.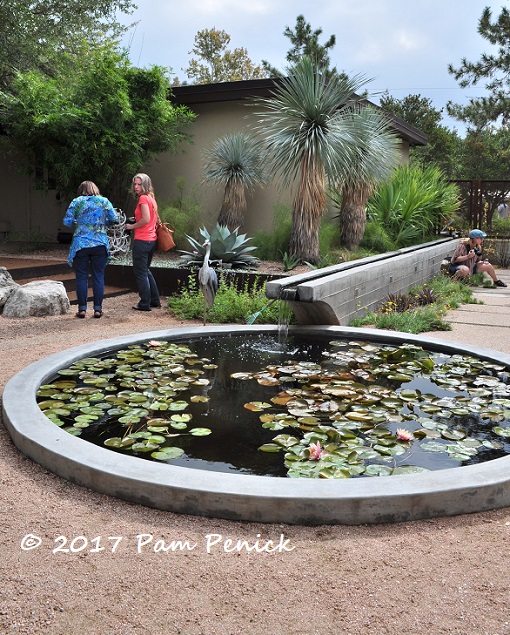 A trio of trunked Yucca rostrata anchors the corner of the garage.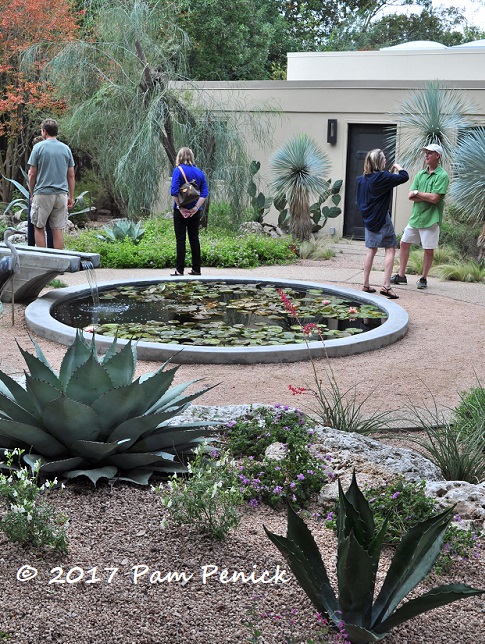 From another angle you see a wing of the house and more dry-loving yuccas, prickly pear, and a winter-wounded shoestring acacia. In the foreground, whale's tongue agave, 'Green Goblet' agave, and red yucca mingle with white salvia and trailing purple lantana. That's designer and landscape architect Curt Arnette in the green shirt.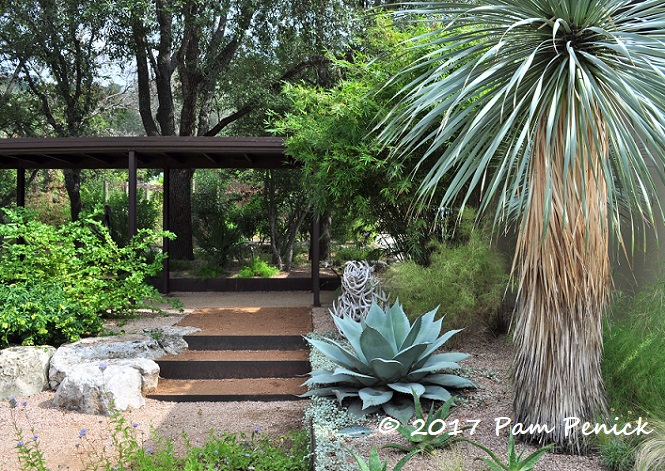 Steel-riser gravel steps lead up to a covered walkway between the detached garage and the house.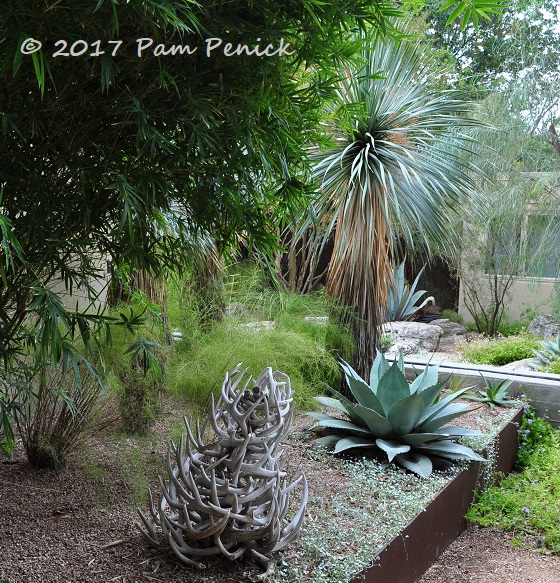 A sculpture of deer antlers adds a Western touch.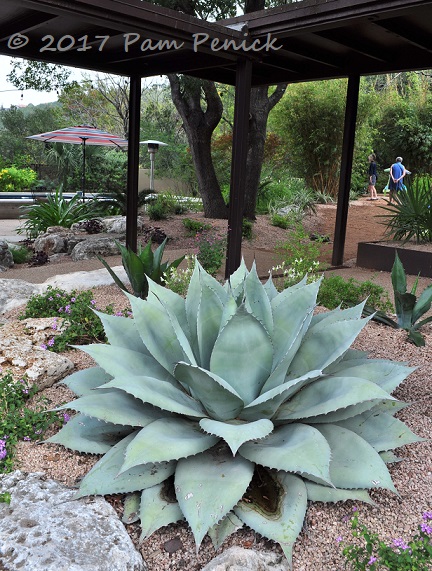 Whale's tongue agave and the covered walkway, with a raised-edge swimming pool visible beyond.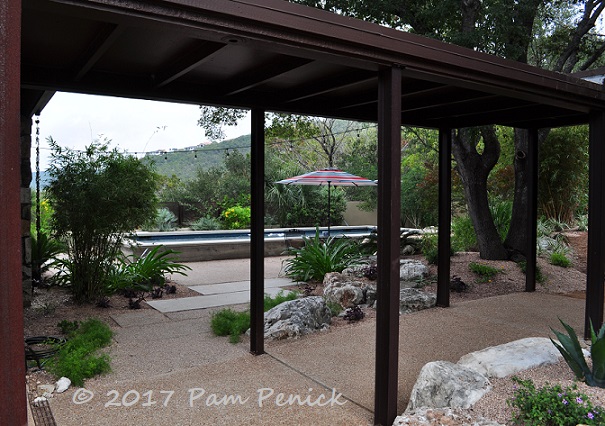 A closer look at the pool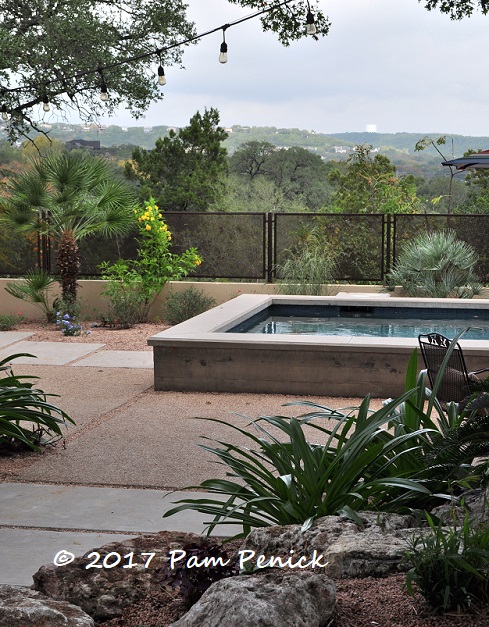 Swimmers enjoy a nice view of hills and canyons.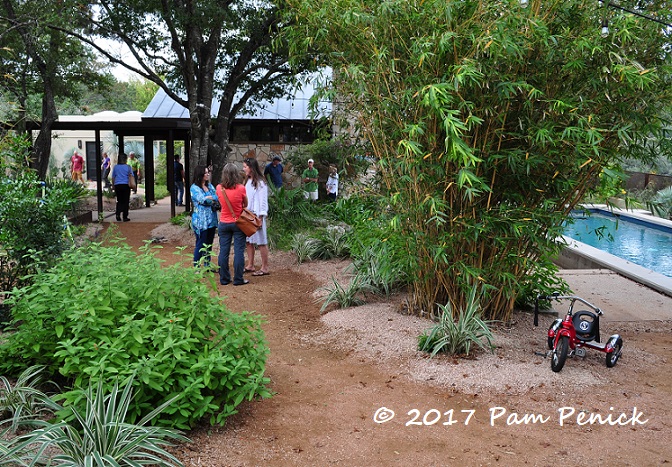 The back garden beyond the pond courtyard is shadier, although with enough sun for clumping 'Alphonse Karr' bamboo to thrive. Decomposed-granite paths thread through generous planting beds that take the place of all turf grass. I bet the new owners' kids love to ride their trikes along the winding paths.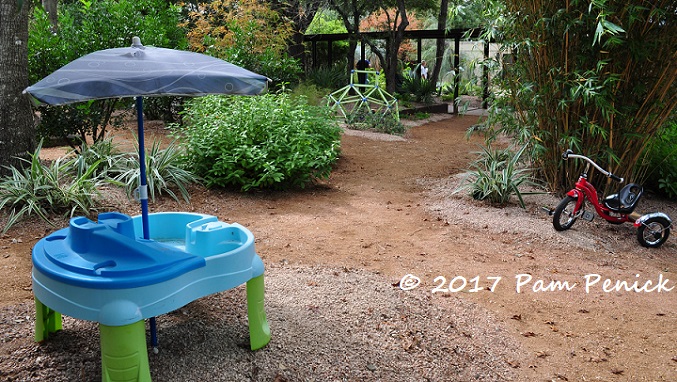 Other toys have been staged (temporarily, I assume) off the paths in the garden beds.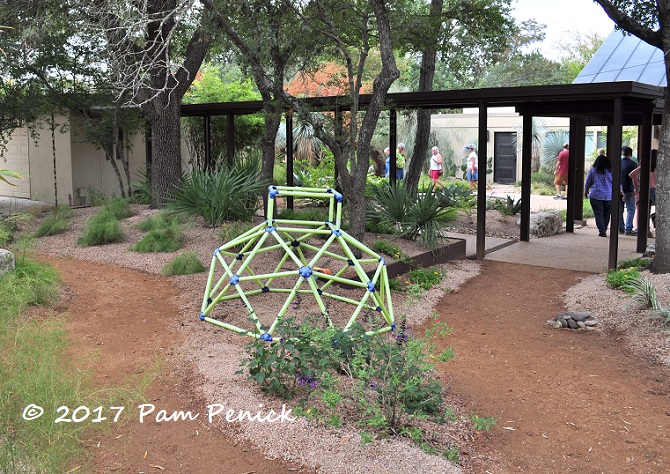 They actually look pretty good placed in a gravel garden, don't they? But I'm sure this is temporary because the chunky gravel of the beds would be a difficult material to use under a playset of any kind.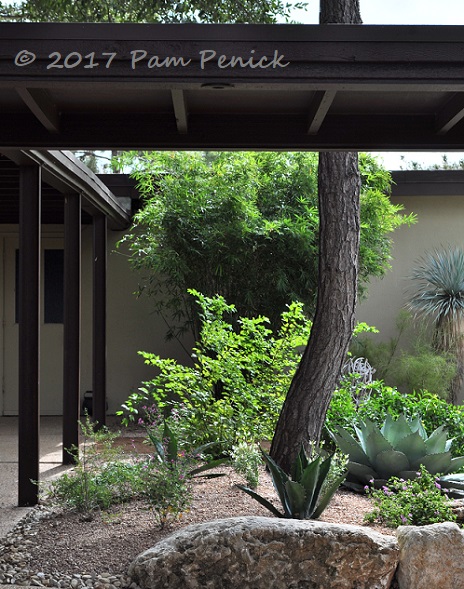 Heading back through the pond courtyard, I stop to admire a pine trunk weaving upward past the covered walk's similar-colored roof.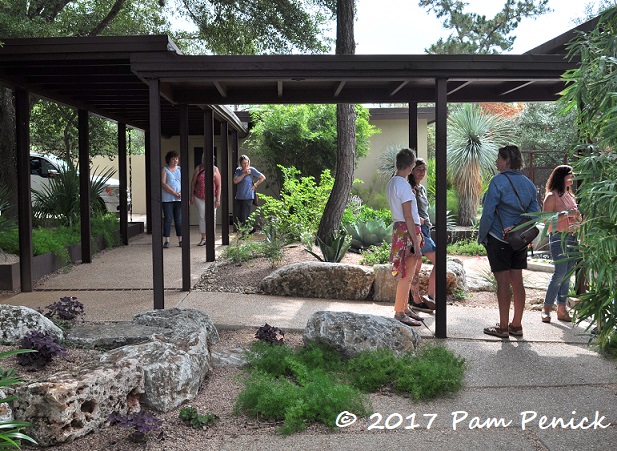 There were a number of other local designers visiting this garden while I was there, and no wonder. It's a beauty!
Up next: A water-conserving garden designed by Botanical Concerns. For a look back at the contemporary retreat of designer B. Jane, click here.
I welcome your comments; please scroll to the end of this post to leave one. If you're reading this in a subscription email, click here to visit Digging and find the comment box at the end of each post.
_______________________
Digging Deeper: News and Upcoming Events
Calling all garden bloggers! You're invited to register for the annual Garden Bloggers Fling tour and meetup, which will be held in Austin next May 3-6, 2018! Click this link for information about registering, and you can see our itinerary here. Space is limited, so don't delay. The 2018 Fling will be the event's 10th anniversary, which started in Austin in 2008.
Join the mailing list for Garden Spark Talks! Inspired by the idea of house concerts, I'm hosting a series of garden talks by inspiring designers and authors out of my home. Talks are limited-attendance events and generally sell out within just a few days, so join the Garden Spark email list for early notifications. Simply click this link and ask to be added.
All material © 2006-2017 by Pam Penick for Digging. Unauthorized reproduction prohibited.
posted in
Agaves
,
Arbors
,
Bamboo
,
Cactus
,
Containers
,
Design
,
Fountains
,
Garden art
,
Garden tours 2017
,
Gates
,
Grasses
,
Groundcovers
,
Lawn Gone!
,
Native plants
,
Palms/Cycads
,
Paths
,
Patios & decks
,
Play spaces
,
Ponds
,
Rock
,
Sustainable Gardening
,
Swimming pools
,
Texas natives
,
Trees
,
Views
,
Walls
,
Water features
,
Water gardening
,
Water-Saving Garden
,
Xeric plants
,
Yuccas