October 18th, 2009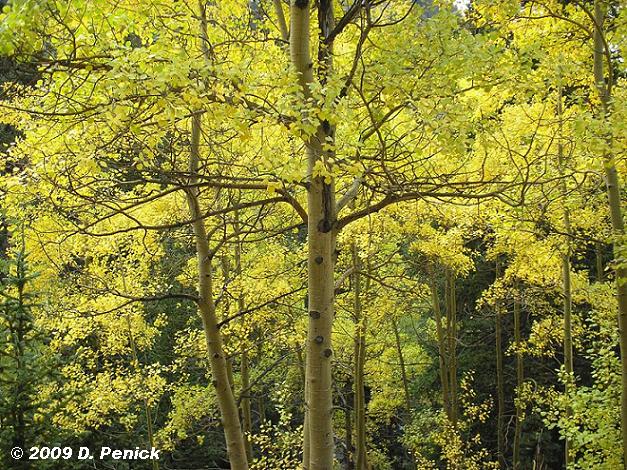 Aspens, Rocky Mountain National Park, September 2006
Garden bloggers love the great outdoors and are an adventurous bunch. That's what I learned this week while reading about visits we've made to national parks, national monuments, and other special places that have been set aside for the enjoyment of future generations. And what a wealth of natural beauty our country (and others) has to offer!
Thanks so much to everyone who joined in the bloggers' celebration of national parks. You really inspired me. Listed below, in alphabetical order by park (U.S. followed by non-U.S.) are the posts of those who sent me their links. If I missed yours, please let me know and I'll add it to the list. I, for one, will be consulting these wonderful posts for future vacation ideas!
Appalachian National Scenic Trail, Maine to Georgia
Frances of Fairegarden hikes a portion of the Appalachian Trail in North Carolina.
Assateague Island National Seashore, Maryland and Virginia
Rose of Ramble on Rose makes a winter visit to windswept Assateague Island, home of the wild ponies made famous in the children's book Misty of Chincoteague.
Big Bend National Park, Texas
Jenny of Rock Rose hikes the rugged trails of Big Bend and sees spring wildflowers.
Caroline of The Shovel-Ready Garden hikes Big Bend, takes stunning photos of the scenery, and proclaims it her favorite national park.
Pam of Digging posts photos of "Giant" country taken by her friends who visited the park. Later she visits Big Bend herself.
Black Canyon of the Gunnison National Park, Colorado
Jenny of Rock Rose takes a strenuous hike to the bottom and back up at Black Canyon.
Linda of Patchwork Garden shows dizzying and beautiful views of Black Canyon.
Joseph of A Round Rock Garden visits Black Canyon and proposes to his fiancee along the way; he also stops to admire the Colorado wildflowers.
Canyonlands National Park, Utah
Kathy of Gardening for Nature sees Canyonlands as Mother Nature's rock garden.
Cape Hatteras National Seashore, North Carolina
Carol of May Dreams Gardens visits the Outer Banks on a hot summer day and sees the Cape Hatteras lighthouse being moved.
Cherokee National Forest, Tennessee
Frances of Fairegarden explores Bald River Falls in Cherokee National Forest.
Death Valley National Park, California and Nevada
MSS of Words Into Bytes (and Zanthan Gardens) experiences the stark landscape of Death Valley.
Devils Postpile National Monument, California
Ryan of DryStoneGarden shows us the fascinating rock formations at Devils Postpile and the wildflowers at Agnew Meadows.
Everglades National Park, Florida
Pam of Digging explores the mysterious waterworld that is the Everglades.
Grand Canyon National Park, Arizona
Pam of Digging rides a mule to the bottom of the Grand Canyon.
Jenny of Rock Rose rafts the rapids of the Colorado River through the Grand Canyon.
MSS of Words into Bytes (and Zanthan Gardens) travels the Colorado River by dory for two weeks.
Janet of The Queen of Seaford shows a dramatic view of the Grand Canyon.
Grand Teton National Park, Wyoming
Pam of Digging admires the majestic mountains of Grand Teton.
Great Smoky Mountains National Park, Tennessee and North Carolina
Christopher of Outside Clyde visits Cataloochee in the Smokies and muses about the ghosts of gardeners past, two houses of early settlers, a Cataloochee church and school, and wild Cataloochee.
Carol of May Dreams Gardens gets lost and finds a vegetable garden in the Smokies.
Inyo National Forest, California
MSS of Words into Bytes (and Zanthan Gardens) shows us the otherworldly beauty of Mono Lake.
Mesa Verde National Park, Colorado
Pam of Digging visits Mesa Verde (added 2016): Cliff dwellings at Mesa Verde National Park
Meredith of Great Stems explores the ancient cliff dwellings of Mesa Verde.
Linda of Patchwork Garden visits Mesa Verde through the years.
Mount Rainier National Park, Washington
Brad of Rooted in California backpacks in Mt. Rainier in the rain.
Pam of Digging sees beautiful views of Mt. Rainier on a clear summer day.
Olympic National Park, Washington
Tatyana of My Secret Garden marvels over the mossy forests and misty shores of Olympic National Park.
Rocky Mountain National Park, Colorado
Pam of Digging hikes to mountain lakes in the Rockies.
Susie of Poppy and Sage leaf-peeps and hears bugling elk in a fall visit to the Rockies.
Les of A Tidewater Gardener takes in the scenic views of Never Summer Ranch; drives to the top of the world on Trail Ridge Road; and hikes the Ute Trail.
Yellowstone National Park, Wyoming and Montana
Pam of Digging goes on safari in the American West in Yellowstone.
Jane of Mulchmaid shows the beautiful wildflowers of Yellowstone.
Jenny of Rock Rose compares a past visit to a more recent one and shows the wonders of the park.
Yorktown Battlefield, part of Colonial National Historical Park, Virginia
Janet of The Queen of Seaford enjoys a quiet Sunday afternoon with swans and admires the Yorktown onions (alliums).
Yosemite National Park, California
Pam of Digging raves about the beauty of Yosemite.
Ryan of DryStoneGarden climbs vertically at Tenaya Lake.
MSS of Words into Bytes (and Zanthan Gardens) makes the stunning and strenuous Half Dome hike.
Town Mouse of Town Mouse and Country Mouse examines Yosemite's freeloader plants, admires wildflowers, hikes among redwoods, explores Hetch Hetchy, and celebrates her anniversary.
Multiple park visits
Cheryl of Conscious Gardening takes a western road trip and sees Mesa Verde, Bryce Canyon, Grand Canyon, Zion, Joshua Tree, and Saguaro National Parks, plus White Sands and Natural Bridges National Monuments.
Linda of Patchwork Garden takes a vintage tour of national parks and monuments across the west, including Grand Teton, Yellowstone, Yosemite, Grand Canyon, Great Sand Dunes, and Petrified Forest.
Jocelyn of The Art Garden visits a slew of national parks, including Yellowstone, Death Valley, Rocky Mountain, and her all-time favorite, Mesa Verde.
Annie of The Transplantable Rose take a time-machine journey to numerous national parks, including Mammoth Cave, Smoky Mountains, Badlands, Grand Teton, Yellowstone, Mt. Rainier, Olympic, and Hawaii Volcanoes, plus Devils Tower, Dinosaur, and Mount St. Helens National Monuments.
Vertie of Vert takes a Christmastime road trip west with her dog and visits Joshua Tree, Grand Canyon, and Carlsbad Caverns National Parks, as well as Montezuma Castle National Monument.
Katina of Gardening in Austin recalls dutifully visiting national parks "on the way to someplace else" during her childhood. But in the last four years, she and her husband have made numerous destination visits to various parks around the country.
Chobe National Park, Botswana, Africa
Jean of Dig, Grow, Compost, Blog goes on safari in Chobe National Park.
Groot Winterhoek Wilderness Area, South Africa
Elephant's Eye admires the disa flowers in Groot Winterhoek.
Namaqua National Park, South Africa
Elephant's Eye shows the blazing wildflowers of Namaqua.
Serengeti National Park, Tanzania, Africa
Pam of Digging gives a photo safari tour of the animals of Serengeti National Park, Tarangire National Park, Lake Manyara National Park, and Ngorongoro Crater; she also posts about the people she met on safari and the plants, wild and cultivated, she saw.
All material © 2006-2009 by Pam Penick for Digging. Unauthorized reproduction prohibited.