October 22nd, 2017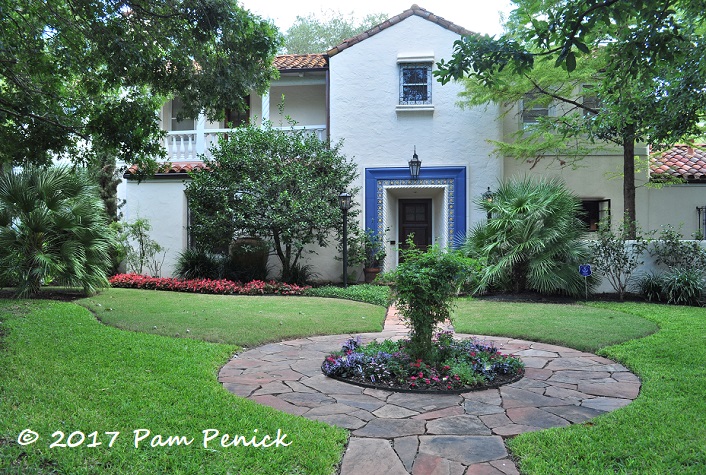 Compared with the formality of the Ware Garden, the rambling Old San Antonio style of the Tupper Beinhorn Garden couldn't be more different. I visited last weekend during the San Antonio Open Days Tour sponsored by the Garden Conservancy. Located in the historic and charming Monte Vista neighborhood, the 1928 Spanish Colonial Revival home was the star of this property, with shrubby palms, mature trees, groundcovers, and potted plants playing a supporting role to the architecture.
A pieced-stone front walk leads through a small lawn with two different kinds of turf laid out in asymmetric curves. I found that a bit distracting, but I do like the walk with circular focal point, and I love that cobalt and tiled door surround. At the left corner of the house…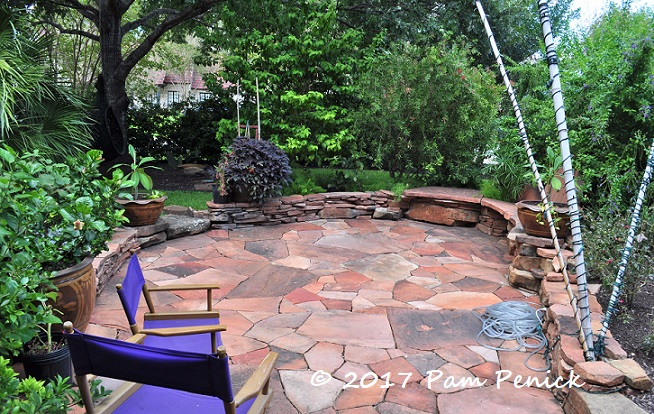 …a patio with a built-in bench echoes that asymmetry using the same rusty flagstone as the front walk. I don't know that this casual patio with stacked-stone edge works in the context of this particular house. A more formal, geometric layout would perhaps be a better fit, especially if constructed as a welcoming terrace between the driveway and the front door. However, I do always appreciate a front-yard sitting space, and this one enjoys privacy thanks to a dense planting along the street and driveway (at right).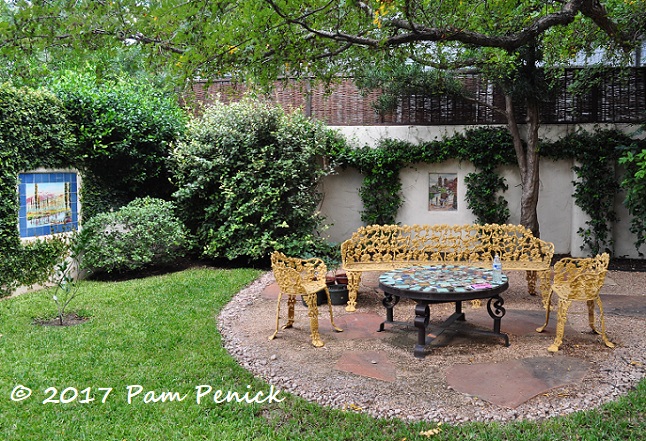 Another patio space appears in the side yard along the driveway, with lacy iron seating painted a mustard yellow. What instantly grabbed my attention, however, were white stucco walls with inset tile-mosaic pictures of rural Mexican scenery. Cloaked in fig ivy and topped with a woven extension for added privacy, the walls create the feeling of a romantic hideaway.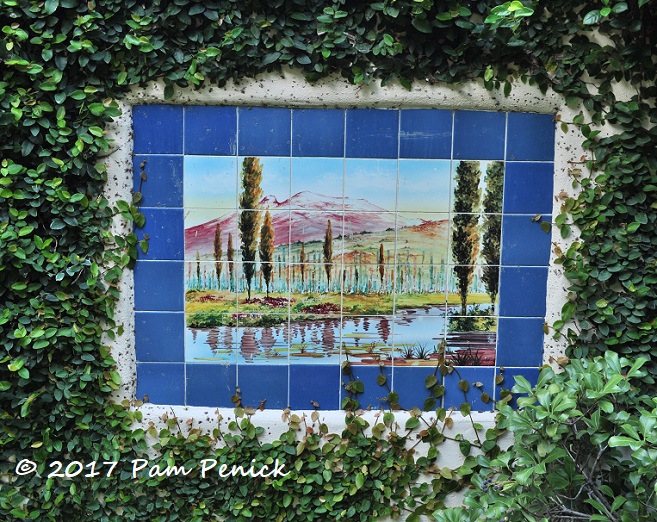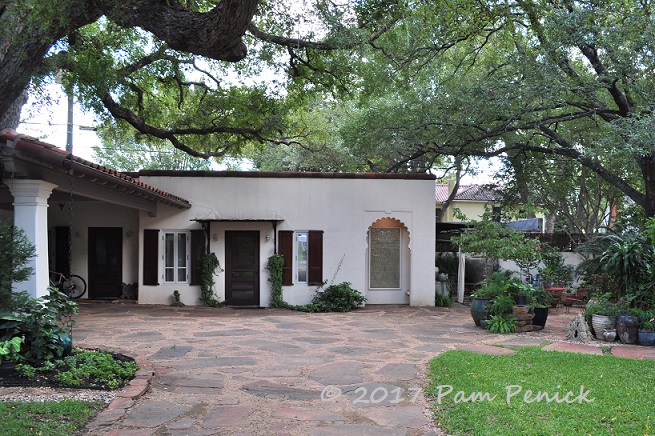 The driveway leads to a small parking court and detached guest house.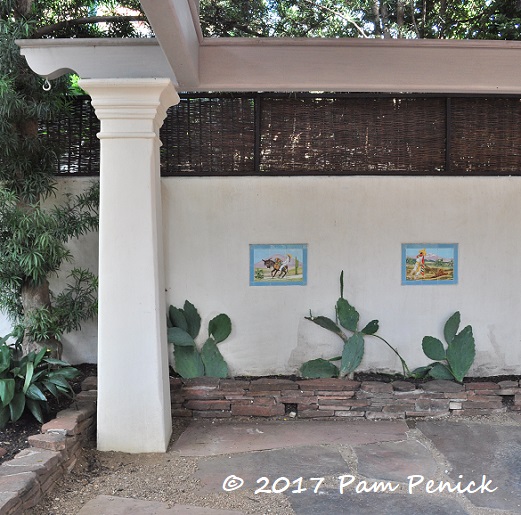 Under a pergola for sheltered parking, you see more tile pictures on the wall, with wavy prickly pear in a narrow raised bed below.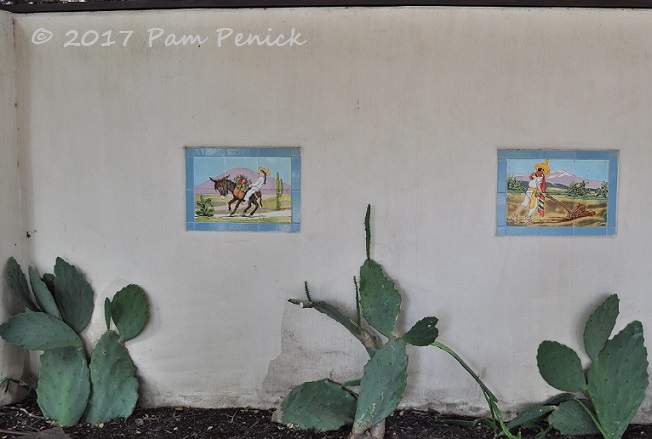 The tile pictures portray scenes of rural life in Mexico a century ago.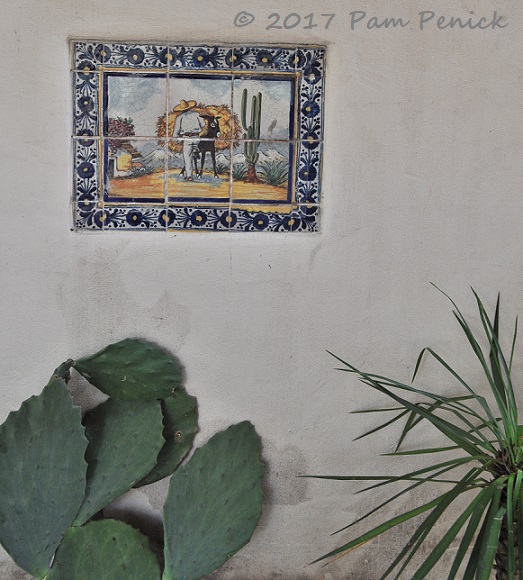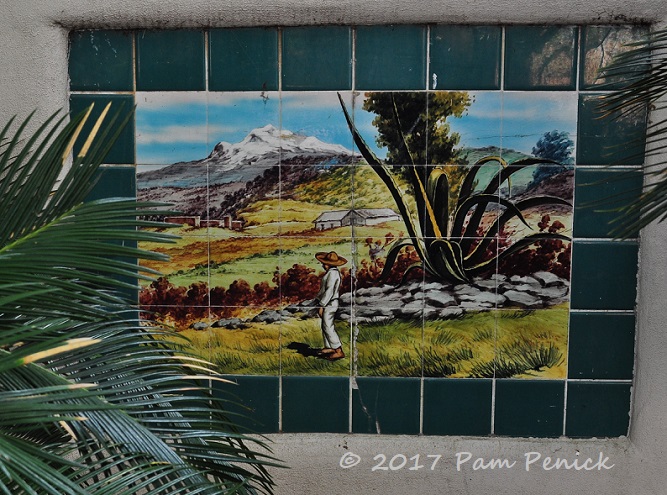 This one is my favorite, with an out-of-scale variegated agave resembling a kraken from the deep!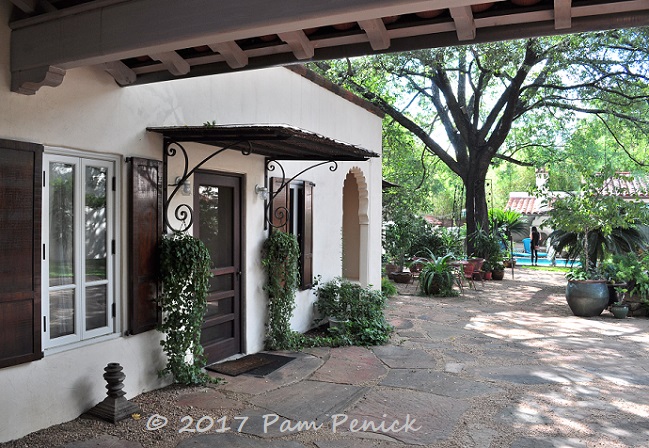 The guest house is charming with scrolled ironwork and a doorway awning. Matching hanging baskets trail greenery on each side of the door.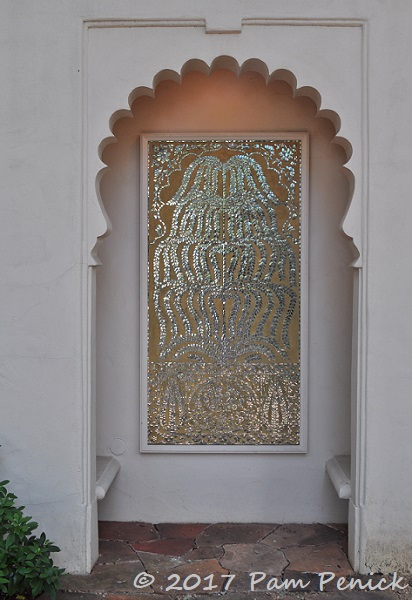 Built into the right corner of the guest house is a Moroccan-style niche with benches and beautiful mirror-tile mosaic — a focal point from the driveway.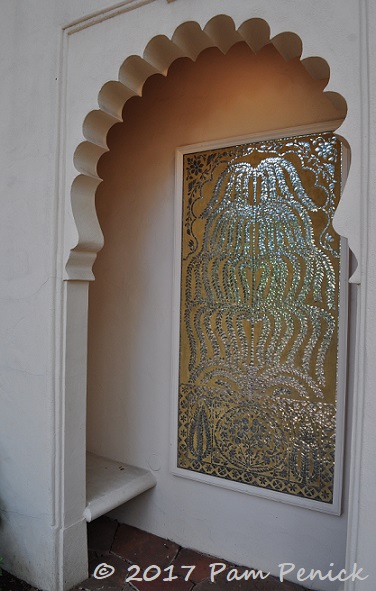 A hideaway for romantic liaisons?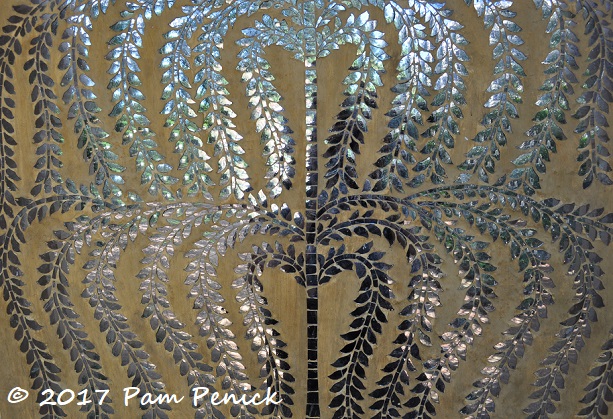 Mosaic detail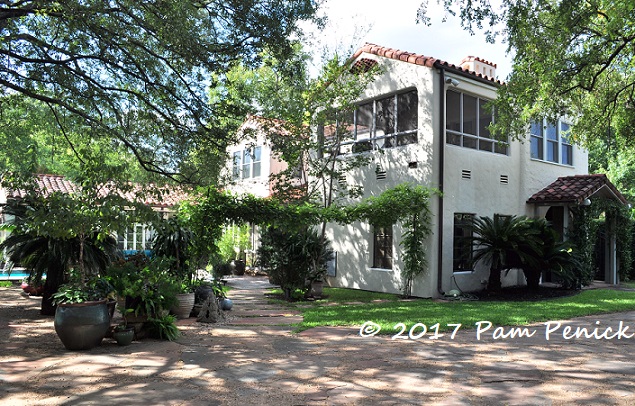 From here you enter the back garden behind the main house.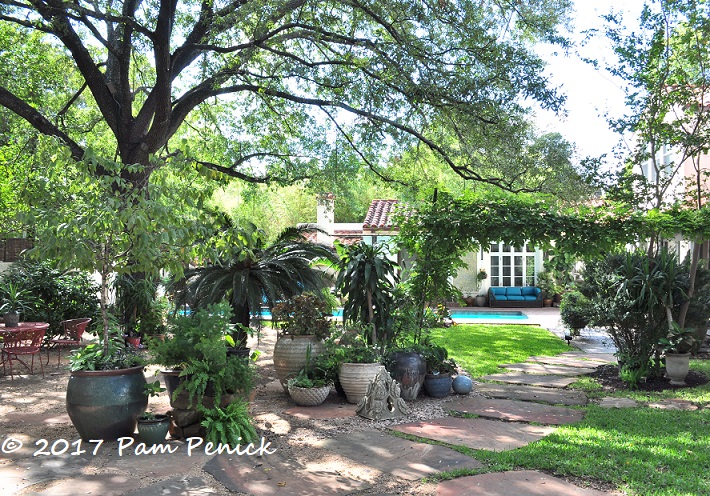 A casual array of container plants creates separation and privacy, and a wide, vine-swagged arbor offers entry.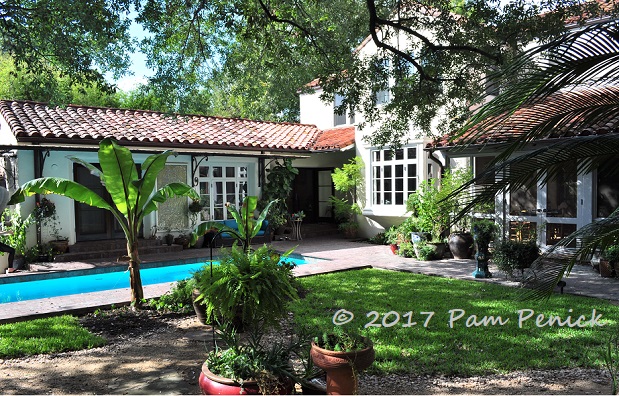 The landscaping is not over-fussed. A bit of lawn, a collection of containers, and a relaxed vibe indicate that the owners are pretty casual about their garden.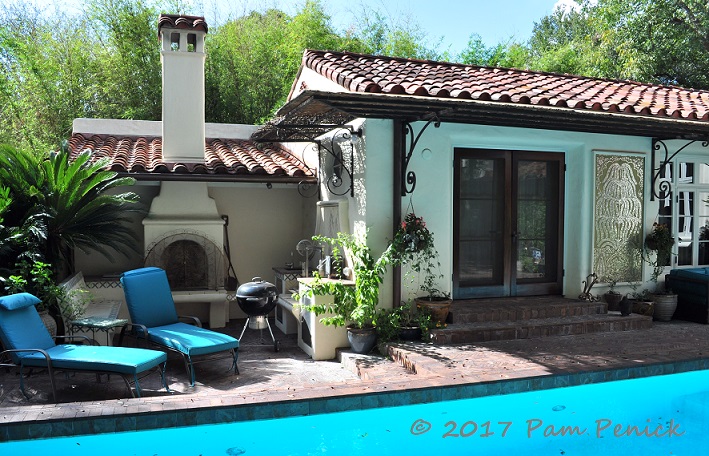 Again, the architecture of the home is what stands out: an outdoor fireplace with built-in bancos, a woven awning held up by scrolled ironwork, another mirror-tile mosaic (fabulous), and a red-tile roof.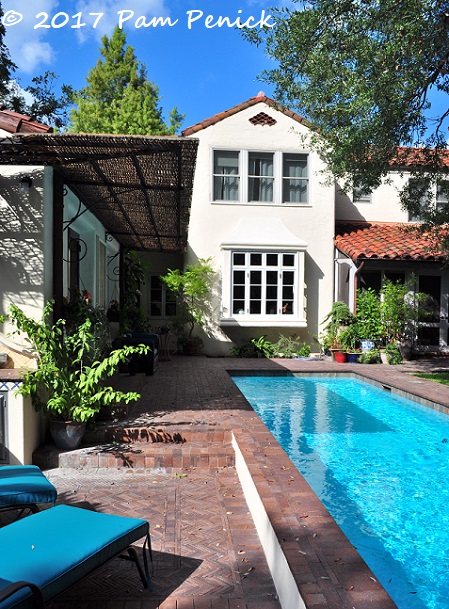 A turquoise lap pool surrounded by a narrow, brick-paver terrace is the focal point of the garden.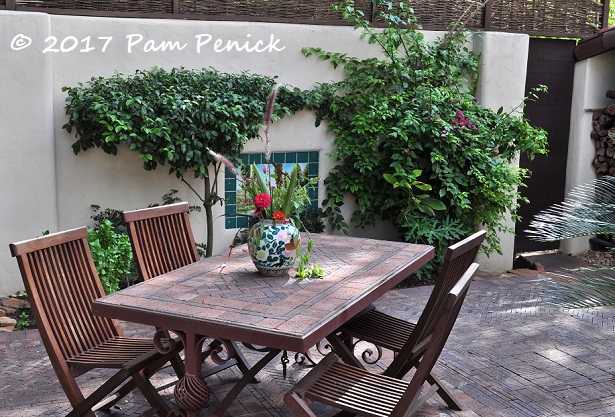 The terrace widens behind the pool, allowing space for a dining table surfaced in matching brick pavers.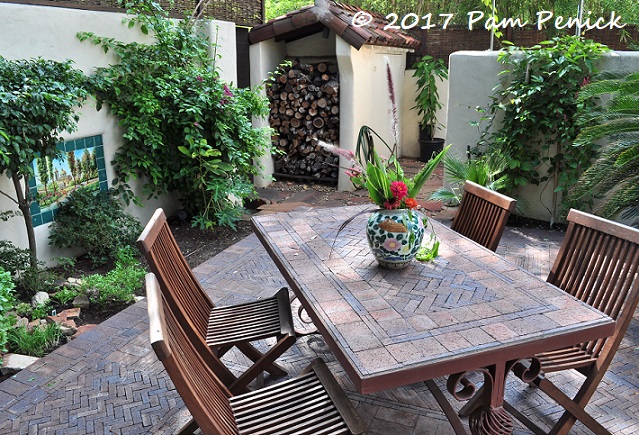 The stucco walls, softened with climbing vines, create enclosure and privacy and show off more mosaic-tile pictures. A stucco-walled woodshed is stocked for the outdoor fireplace.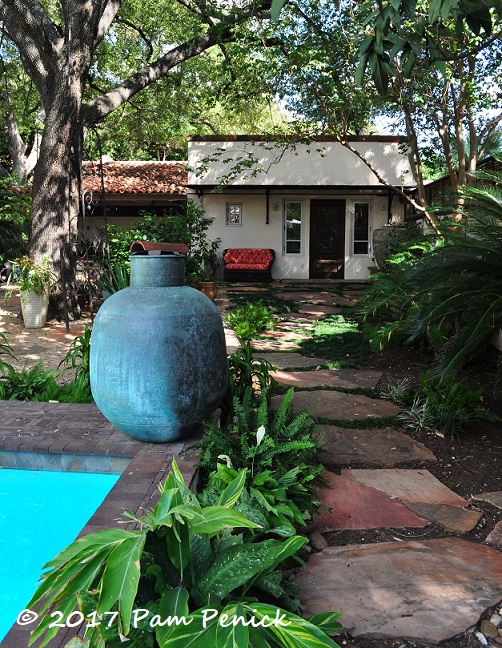 A flagstone patio at the back of the guest house connects via a stepping-stone path. Gingers, ferns, and sago palms add lush, subtropical greenery under the shady tree canopy.

Dwarf mondo grass outlines the terracotta-hued flagstone, and a cushioned bench adds a similar dash of color. At right, atop a low stacked-stone wall, a large urn with a spigot collects rainwater from a downspout, allowing the owners to easily water their containers.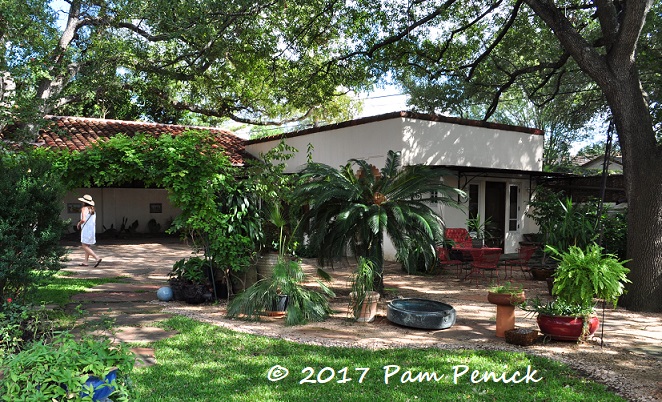 Touring this casual garden in one of San Antonio's prettiest neighborhoods was a treat, especially for the chance to see a historic home with plenty of Alamo City charm.
Up next: Linda Peterson's green-walled, low-water garden and courtyard patio. For a look back at the Europe-meets-Texas Ware Garden, click here.
I welcome your comments; please scroll to the end of this post to leave one. If you're reading this in a subscription email, click here to visit Digging and find the comment box at the end of each post.
_______________________
Digging Deeper: News and Upcoming Events
Don't miss the Austin Open Days garden tour sponsored by the Garden Conservancy on November 4.
Join the mailing list for Garden Spark Talks! Inspired by the idea of house concerts, I'm hosting a series of garden talks by inspiring designers and authors out of my home. Talks are limited-attendance events and generally sell out within just a few days, so join the Garden Spark email list for early notifications. Simply click this link and ask to be added.
All material © 2006-2017 by Pam Penick for Digging. Unauthorized reproduction prohibited.
posted in
Agaves
,
Arbors
,
Containers
,
Decor
,
Doors
,
Fireplace
,
Garden art
,
Garden tours 2017
,
Palms/Cycads
,
Patios & decks
,
Seating
,
Swimming pools
,
Travel
,
Trees
,
Vines
,
Walls