October 12th, 2017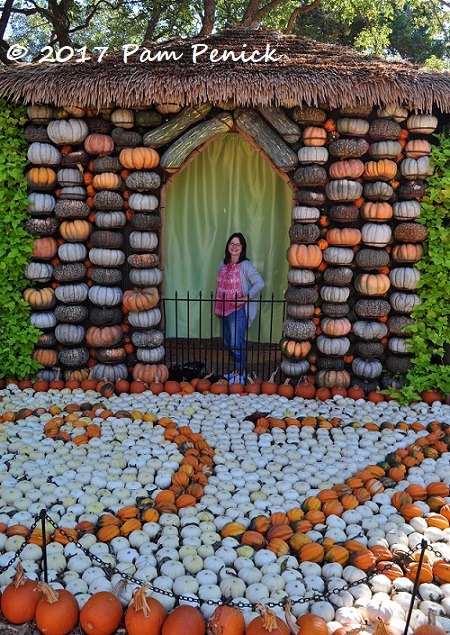 Pay no attention to that man behind the curtain! But the woman in front of the curtain? That's Diana, my friend and fellow explorer last weekend at the annual Pumpkin Village at Dallas Arboretum. This year the Arboretum carries you off like a tornado to "The Wonderful World of Oz," with pumpkin houses representing Auntie Em's house, the Wicked Witch's castle, the Emerald City, and more.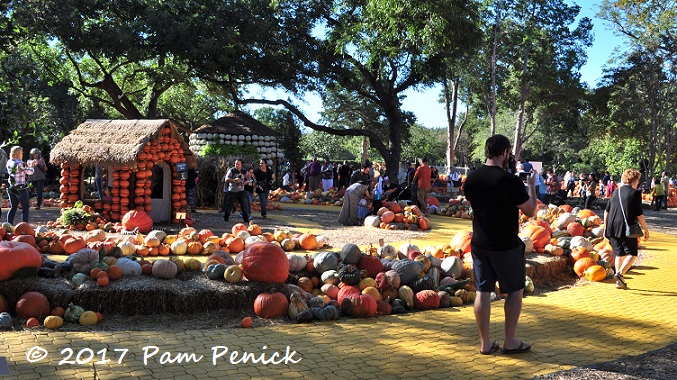 I'm always amazed at what the festival staff pulls off, and this year's Oz theme may be the best yet. A yellow brick road spirals through piles of pumpkins — more than 90,000 pumpkins, squash, and gourds are used for the display — toward Auntie Em's house…

…where a big pumpkin appears to have flattened the Wicked Witch of the East. Her stripe-stockinged legs are all that's left of her, those famous ruby slippers already on someone else's feet.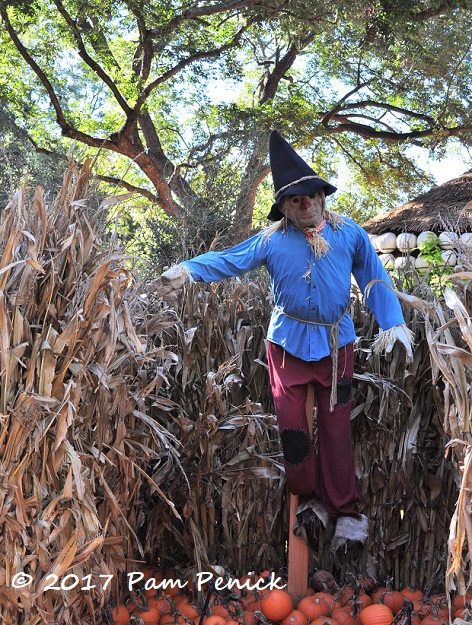 In a "cornfield" of dried stalks, the Scarecrow points the way to the Emerald City.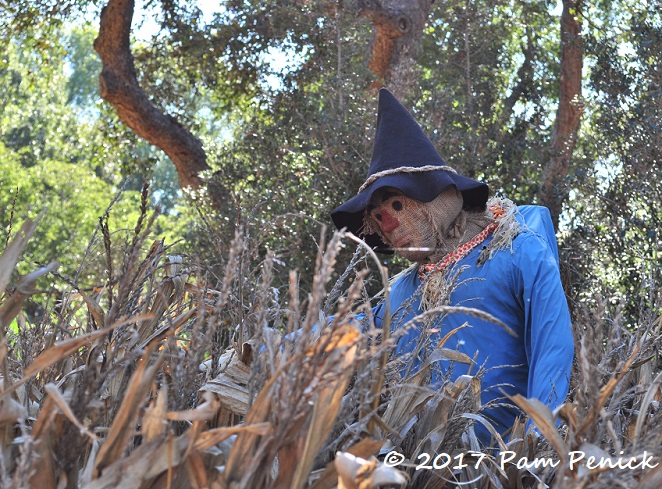 I half expected him to come to life and start dancing.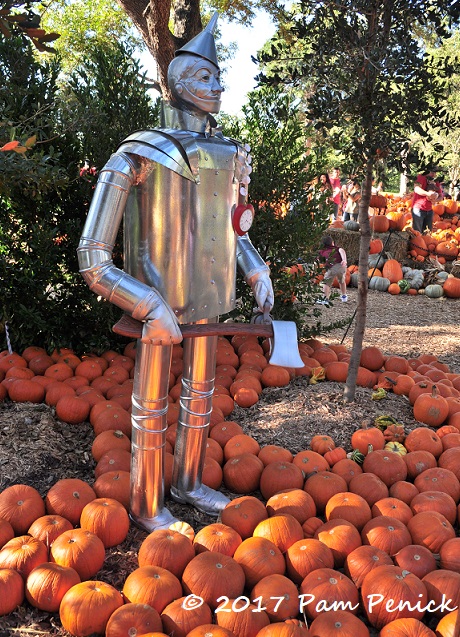 In a grove of trees stands the Tin Man, already wearing his ticking heart gift from the Wizard.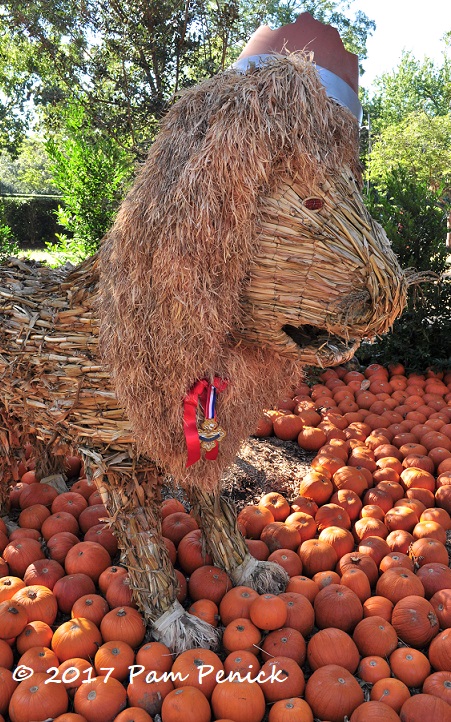 The Cowardly Lion, wearing his flowerpot crown and medal of courage, stands nearby.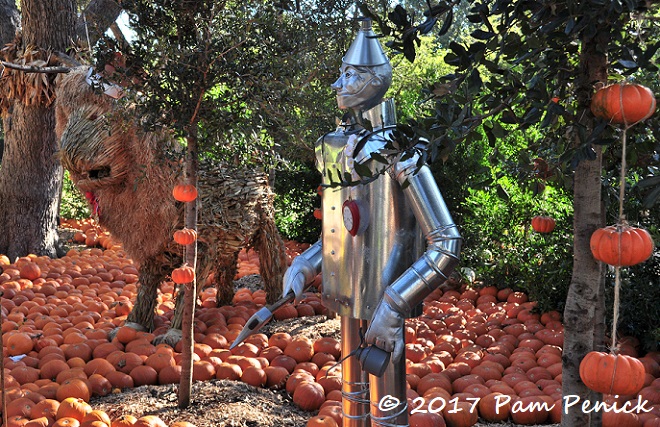 Little pumpkins strung vertically with twine hang from the trees.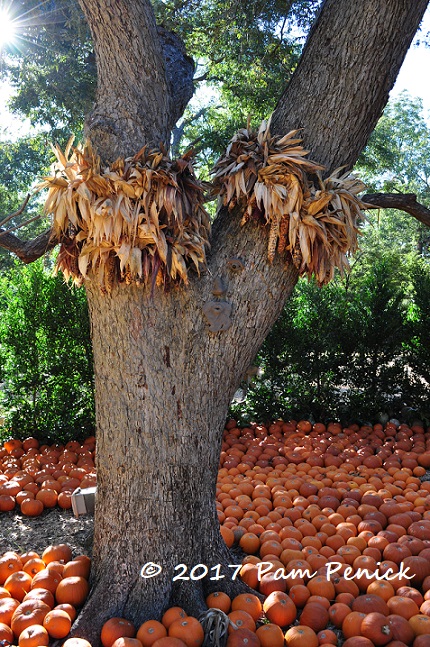 One of those trees isn't very happy about trespassers! Check out that face…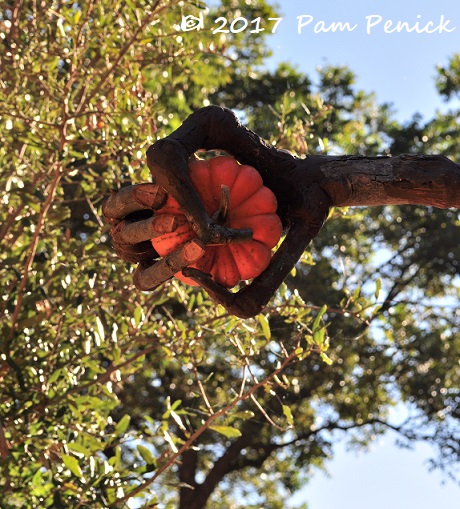 …and a clenched twig fist, ready to hurl a small pumpkin!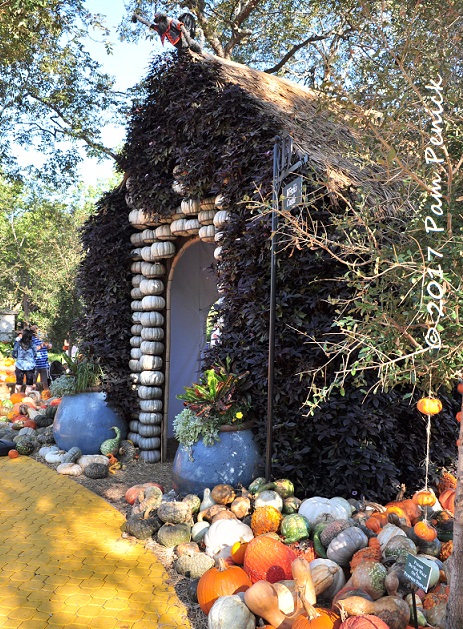 Black sweet potato vine darkens the pumpkin house that belongs to the Wicked Witch of the West.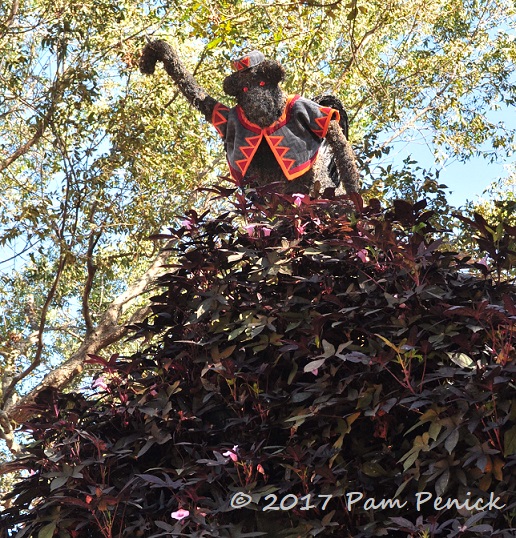 One of her flying monkeys perches on the roof.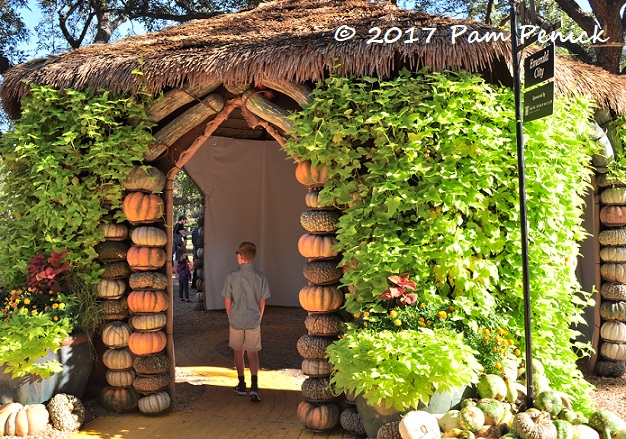 The Emerald City's pumpkin house is adorned, appropriately, with green sweet potato vine.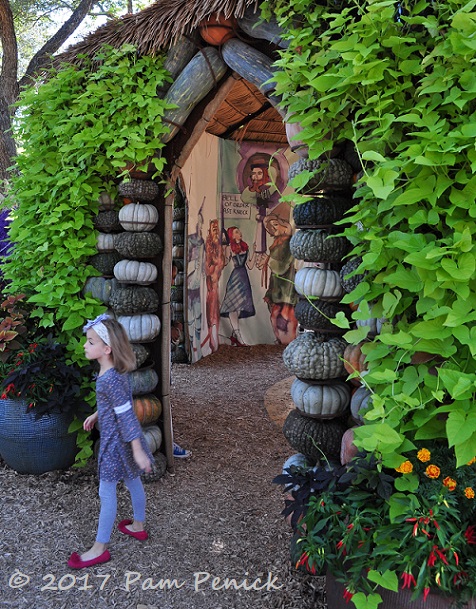 Inside each house, murals depict scenes from the story.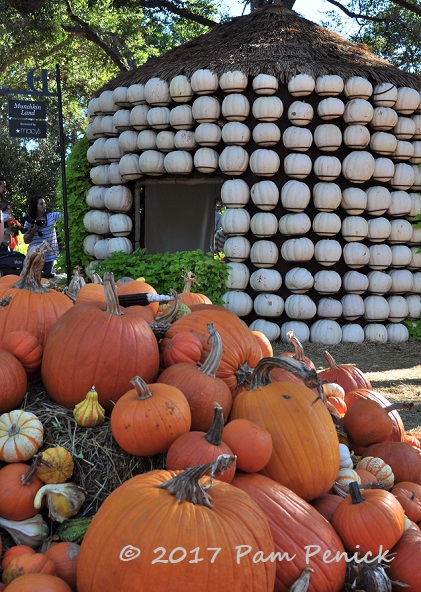 Munchkin Land is represented with a white pumpkin house…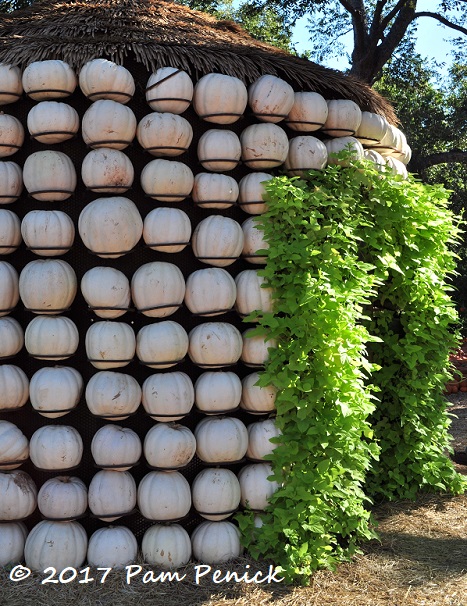 …with its own sweet potato vine doorway.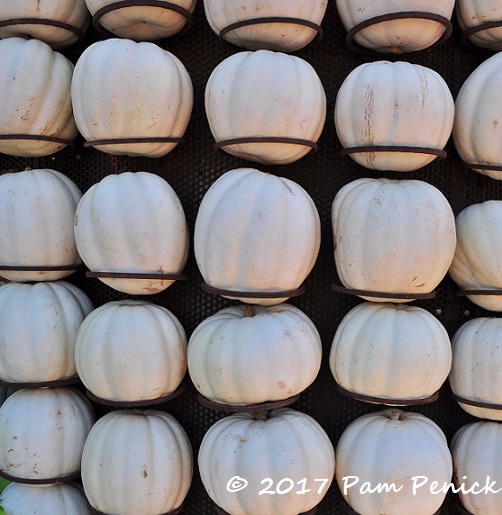 Building materials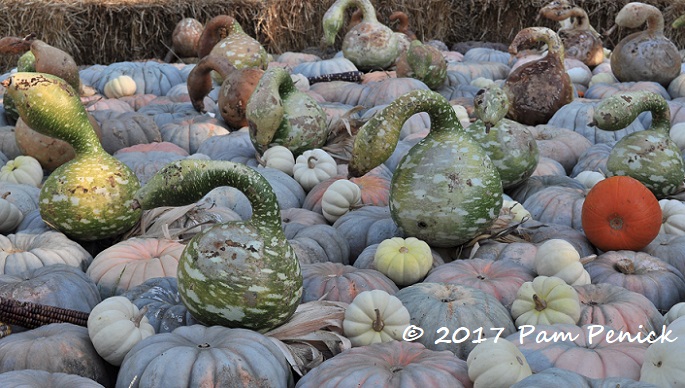 A small "lake" of gray and white pumpkins is home to a flock of geese gooseneck gourds. So clever!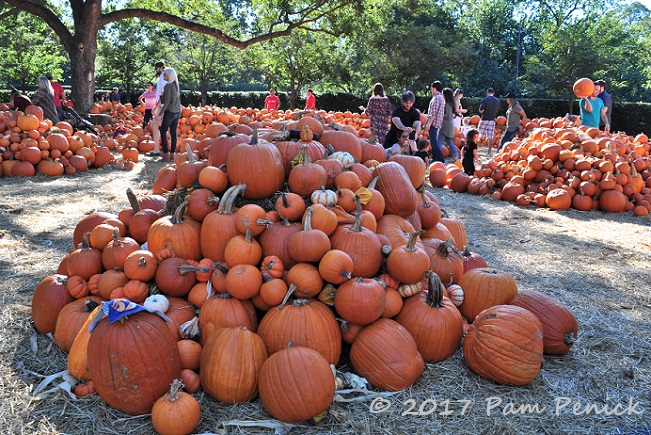 The place was, naturally, a madhouse with families picking out pumpkins in the pumpkin patch and taking pictures of their kids. I'm just a big kid myself and delighted in exploring the place. Although I searched, I never did see Dorothy, Toto, or the Wicked Witch and wonder if I missed them or if the Arboretum hires actors to play them or what.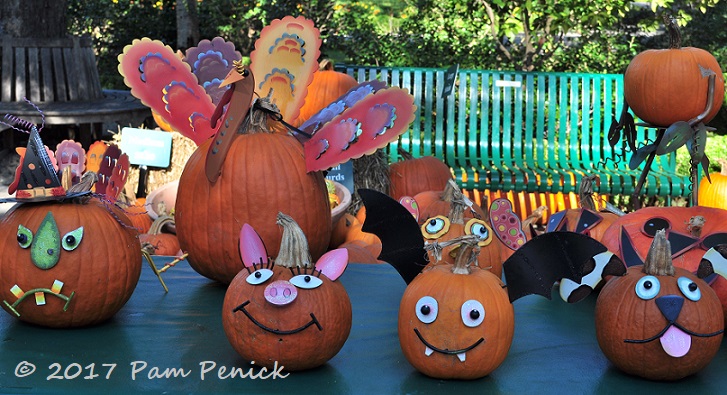 Pumpkins are a theme well beyond the Oz display. We spotted these decorated pumpkins, with push-on features you could purchase in a kit.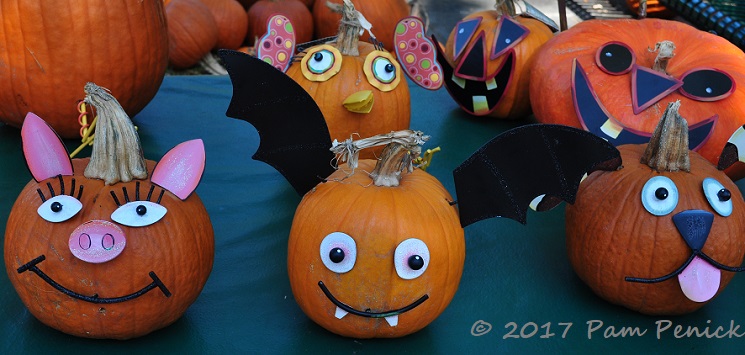 So cute!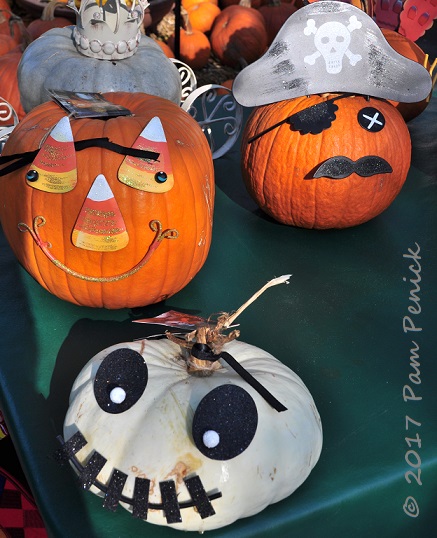 I love all three of these.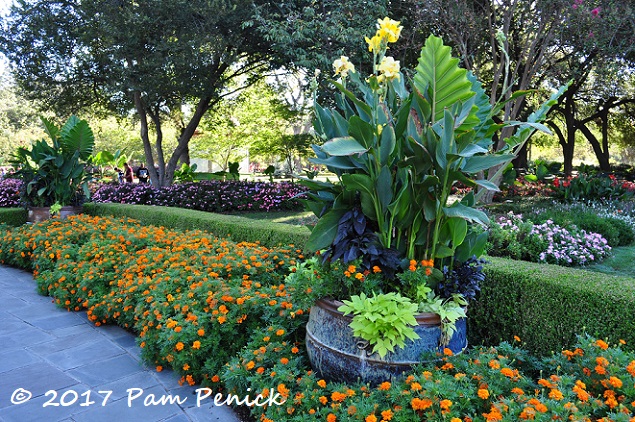 The Arboretum is all about wowing you with masses of annuals and perennials in showy arrangements.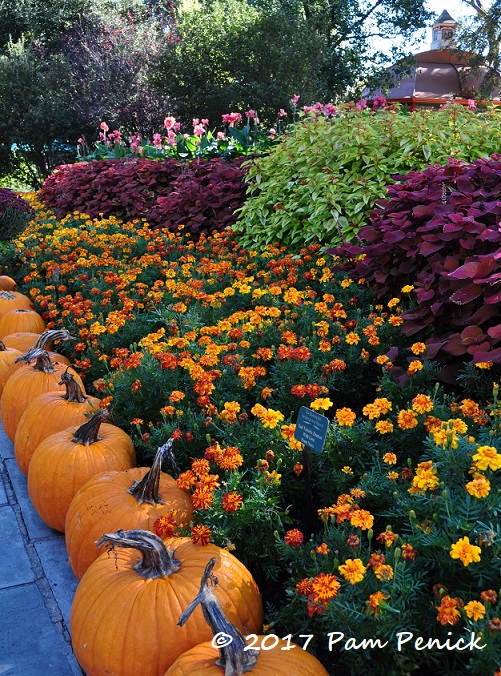 That style of garden is not usually my thing, but the Arboretum does it so well that I always end up enjoying the spectacle.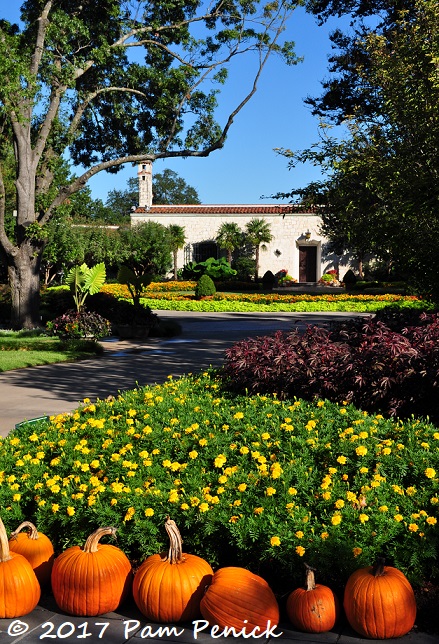 Yellow marigolds — a cottage garden classic done to perfection here with purple-black castor bean plant and bordered by a row of orange pumpkins.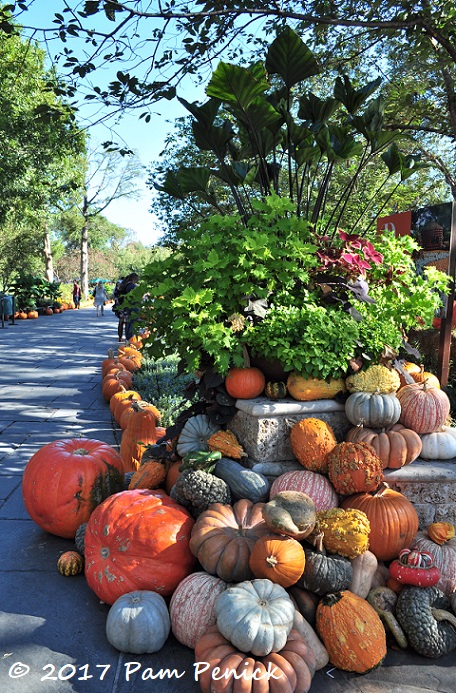 Artfully piled pumpkins of every color and shape surround large containers overflowing with big tropical leaves and annual color.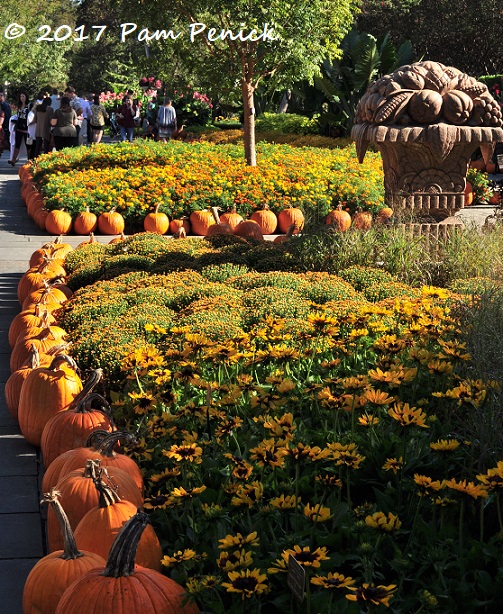 So much orange and yellowwww — I love it! Golden rudbeckia and orange mums about to pop are edged with orange pumpkins.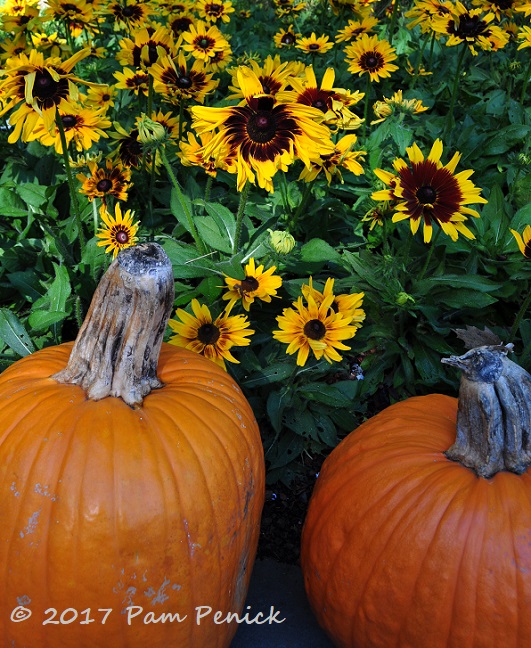 Rudbeckia 'Sonora', maybe?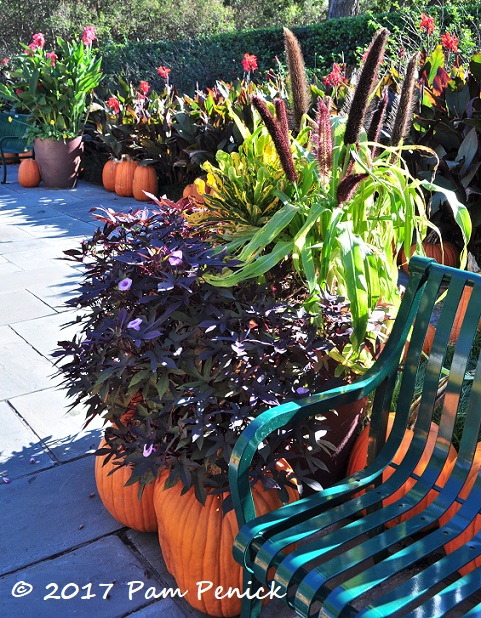 Black sweet potato vine, croton, and millet make a wonderful autumnal combo in this pot, set off by lipstick-pink flowering canna in the background.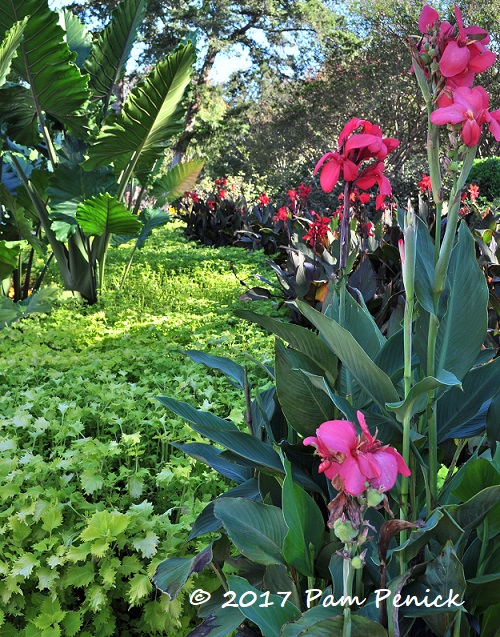 Gorgeous cannas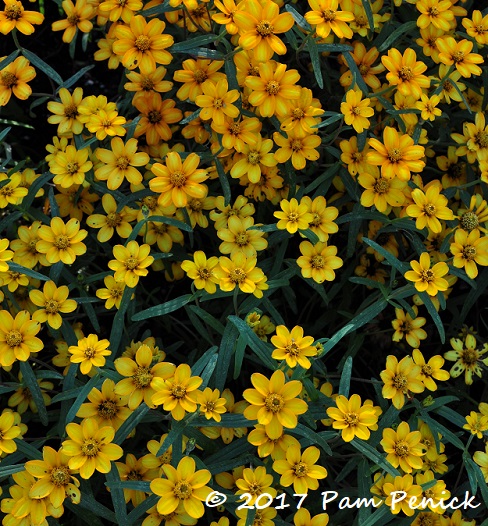 Golden narrowleaf zinnia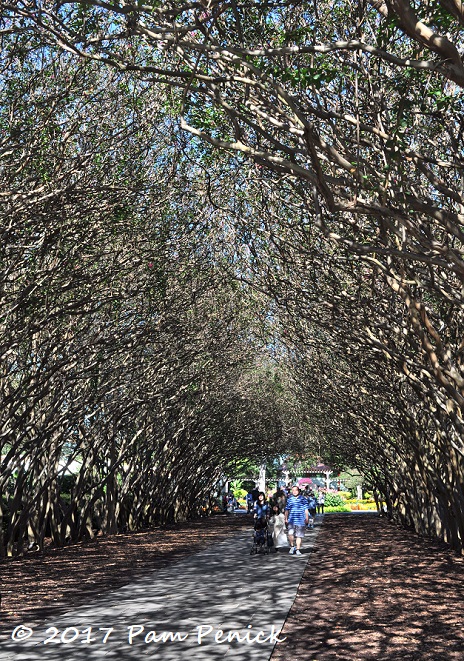 An allee of crepe myrtles, their bare lower branches making web-like shadows on the ground, leads to…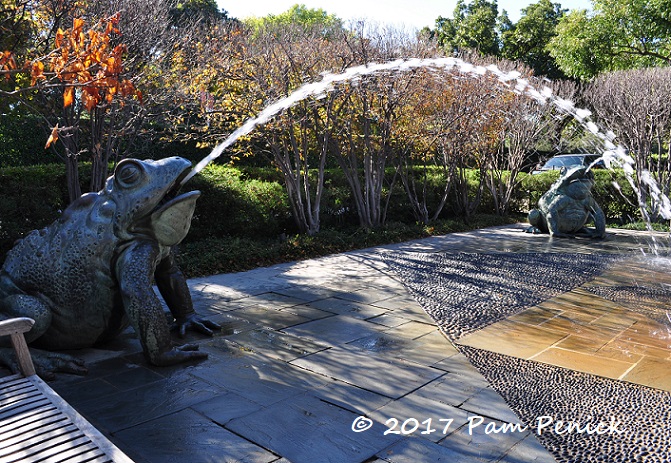 …a small plaza with four bronze toads spouting water toward the center.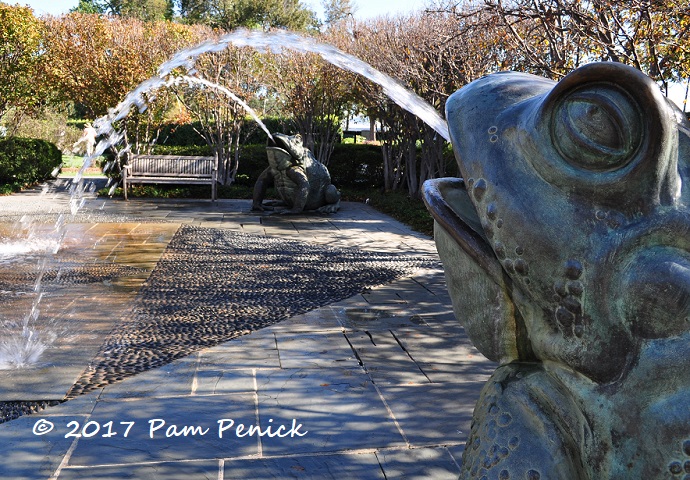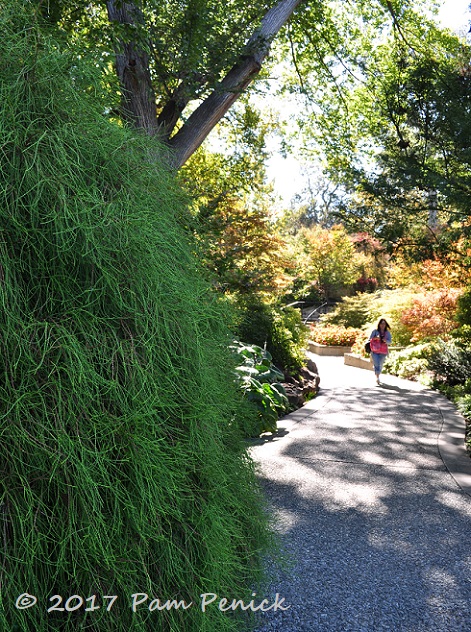 I'd love to see the garden again in a couple of weeks, when all the Japanese maples turn orange and red. In the foreground is a touchable shrub I'm now wondering if we can grow here in Austin: 'Franky Boy' arborvitae.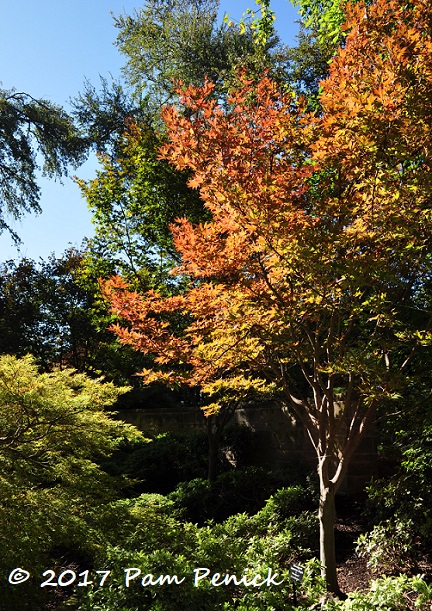 A 'Bloodgood' Japanese maple offers some early fall color.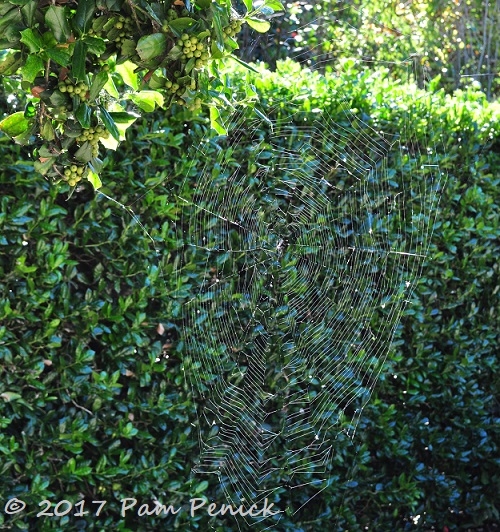 Spiderweb catching the light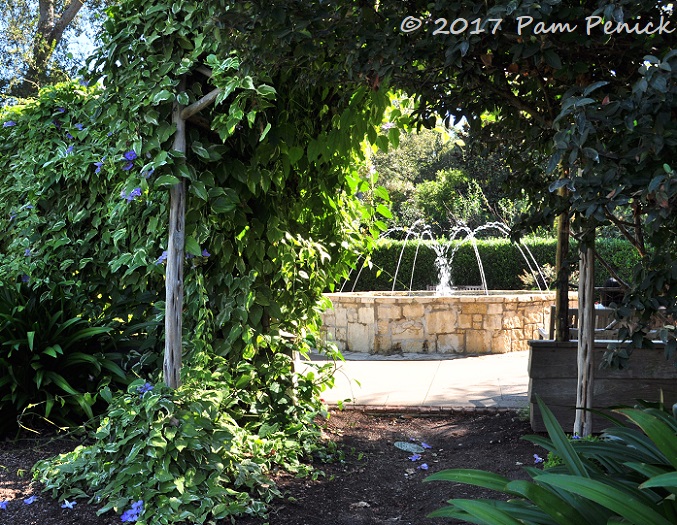 A curved arbor of sky vine offers a tantalizing glimpse of a stone fountain.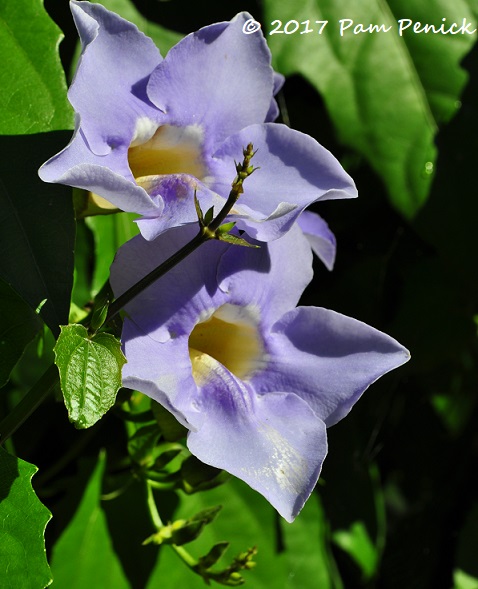 Sky vine blossoms (Thunbergia grandiflora)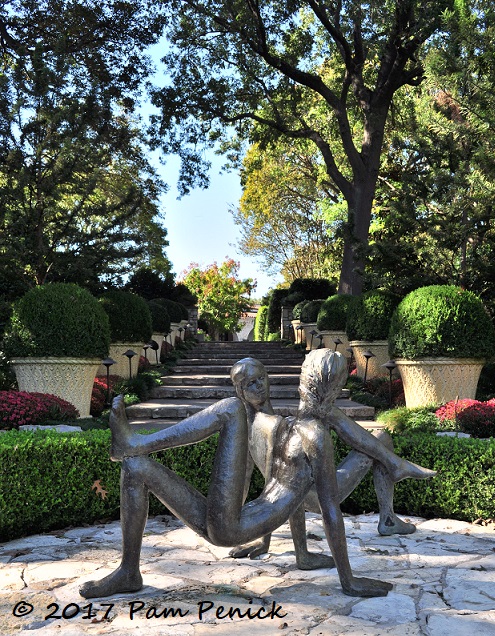 I always enjoy this playful sculpture at the base of a formal stair lined with potted boxwoods: Chico y Chica de la Playa (Boy and Girl on the Beach).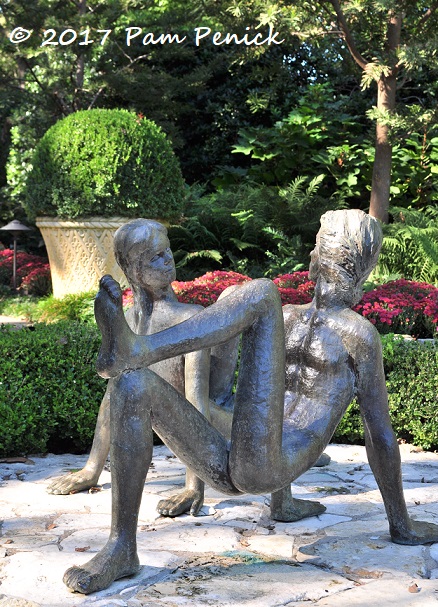 Must be a nude beach.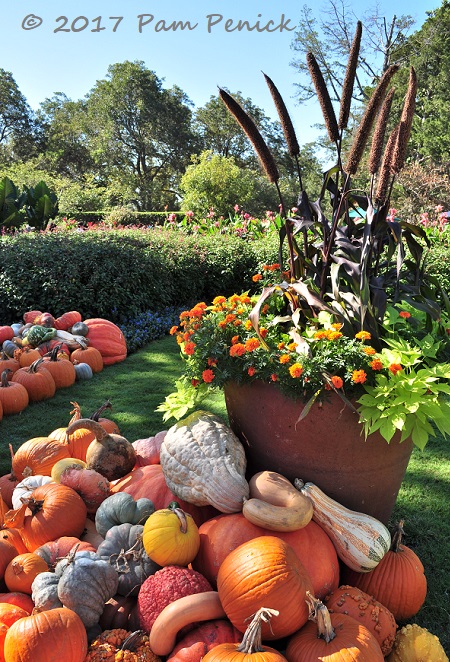 Millet (thriller), marigold (filler), and sweet potato vine (spiller) make a cool combo.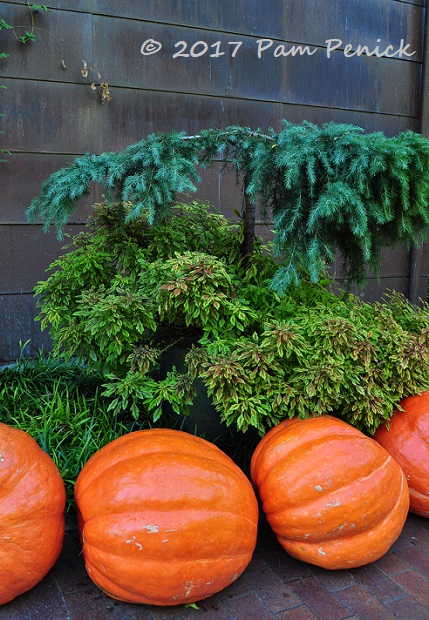 Who knew pumpkins could make so many plants look even better?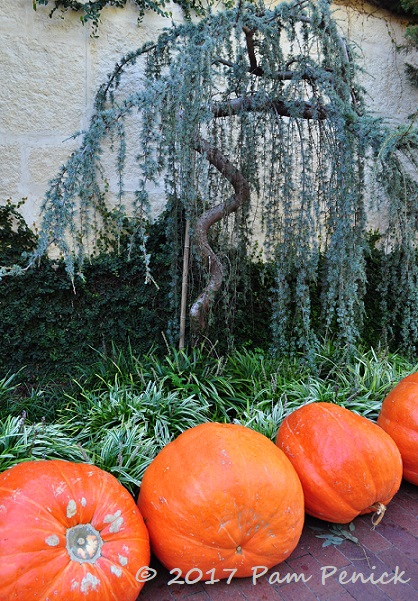 And this! Weeping blue atlas cedar with variegated liriope and big, orange pumpkins.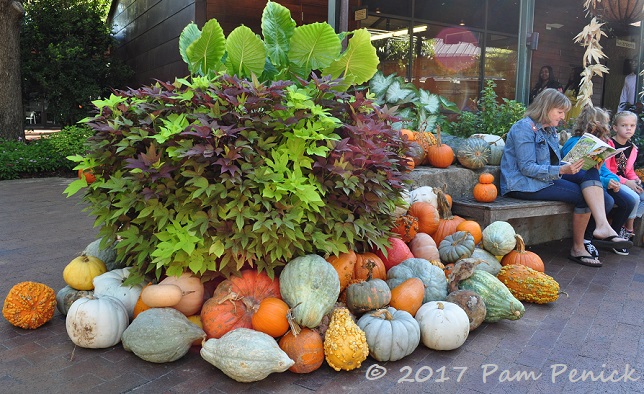 'Tis the season for pumpkin enjoyment, so if you have a chance to visit Dallas Arboretum this fall, the pumpkin display runs through November 22nd.
I welcome your comments; please scroll to the end of this post to leave one. If you're reading this in a subscription email, click here to visit Digging and find the comment box at the end of each post.
_______________________
Digging Deeper: News and Upcoming Events
Get ready for fall garden tours in Texas! The Garden Conservancy is sponsoring Open Days tours in San Antonio on Oct. 14th and Austin on Nov. 4th.
Join the mailing list for Garden Spark Talks! Inspired by the idea of house concerts, I'm hosting a series of garden talks by inspiring designers and authors out of my home. Talks are limited-attendance events and generally sell out within just a few days, so join the Garden Spark email list for early notifications. Simply click this link and ask to be added.
All material © 2006-2017 by Pam Penick for Digging. Unauthorized reproduction prohibited.
posted in
Annuals
,
Arbors
,
Botanic/Public Gardens
,
Containers
,
Decor
,
Doors
,
Fall color
,
Festivals
,
Fountains
,
Garden art
,
Garden structures
,
Garden tours 2017
,
Grasses
,
Holidays
,
Paths
,
Play spaces
,
Sculpture
,
Seating
,
Shrubs
,
Signs
,
Travel
,
Trees
,
Tropicals
,
Vines
,
Walls
,
Water features
,
Windows