September 22nd, 2017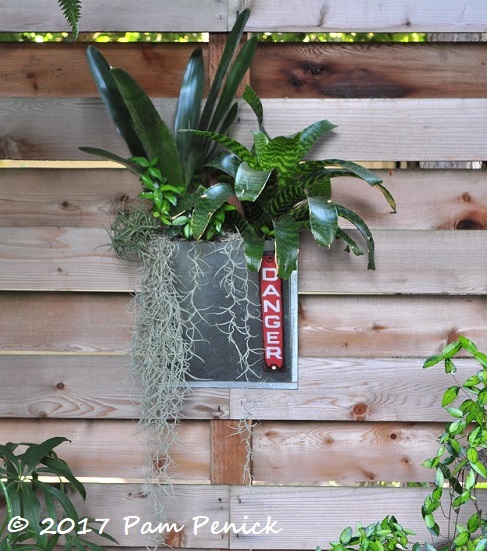 Every three years I manage a trip to Portland, and each time (2014 and 2011) I've been fortunate to visit the garden of my friend Loree Bohl — fellow spiky plant lover, the prolific blogger of Danger Garden, and a collector-gardener with an incredibly artistic and meticulous eye for detail. The way she combines foliage and texture, her disciplined yet bold use of color, her artful arrangements of containers and natural ornaments, and her obsession with stab-you-in-the-shin-if-you're-not-careful plants have me crushing on her garden every time I see it.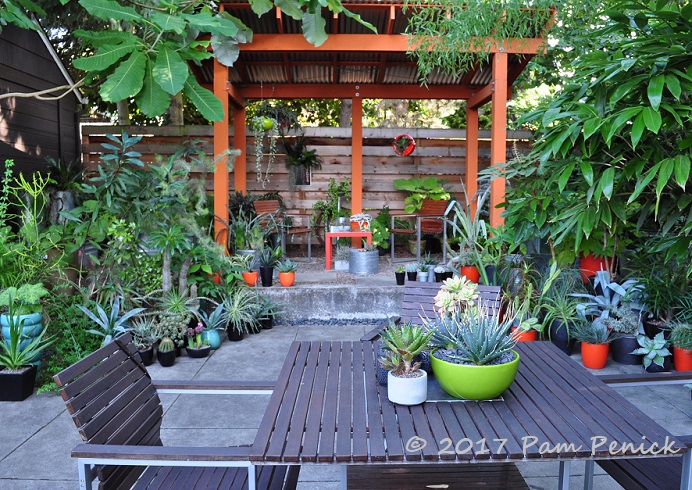 I enjoy Loree and her husband, Andrew, as much as the garden, which ironically almost cost me my planned photo shoot at the golden hour. We arrived late one afternoon in mid-August, and after introducing our husbands and my daughter to each other, we headed straight out to the sunken patio to enjoy a beverage and catch up.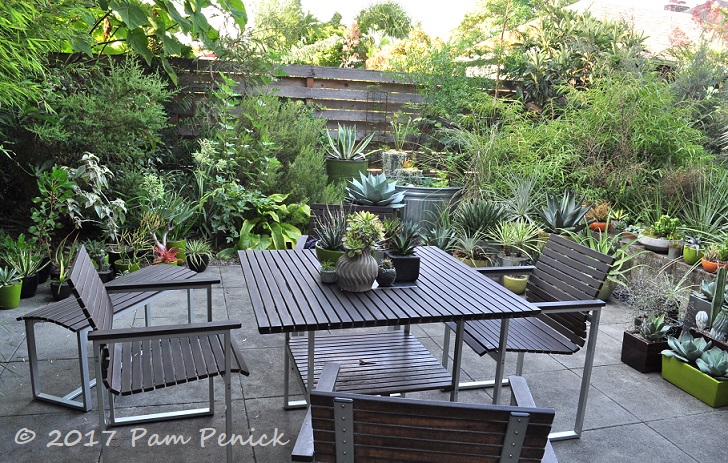 It was lovely talking with them, and time slid by until Andrew stood and announced he needed to walk the dog before dinner. I jumped to my feet, saying something like, "Oh my god, I haven't looked at the garden yet!" Loree laughed, and I belated turned my attention to the garden I'd been sitting in for an hour, and oh, it took my breath away again.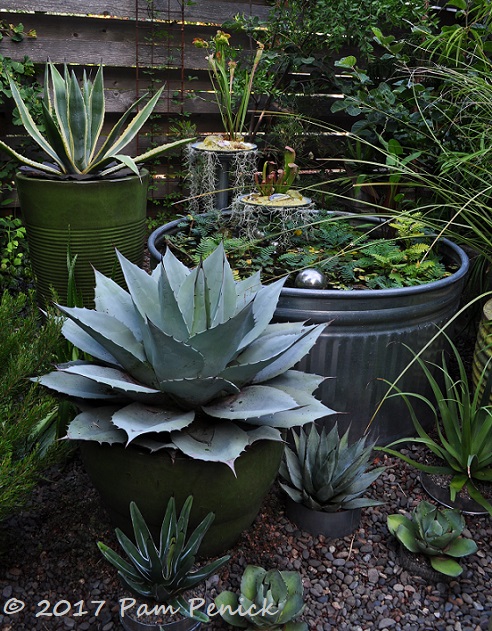 The pitcher plant saucer planters by the stock-tank pond grabbed my attention first. And just look at that big, beautiful Agave ovatifolia while we're here!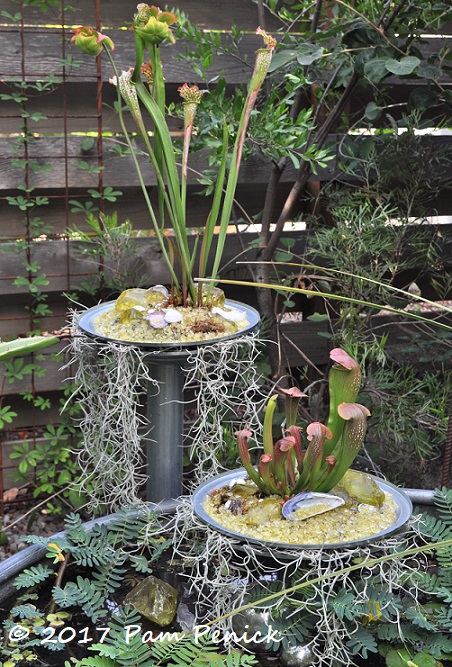 I believe Loree added these fairly recently, using her trademark invention of poultry-feeder covers as planting saucers atop galvanized steel posts. Yellow-green glass chips and chunks of slag glass, seashells, and frosty-gray tendrils of Spanish moss, with mouthy pitcher plants rising cobra-like above, give these striking planters a Lotusland vibe.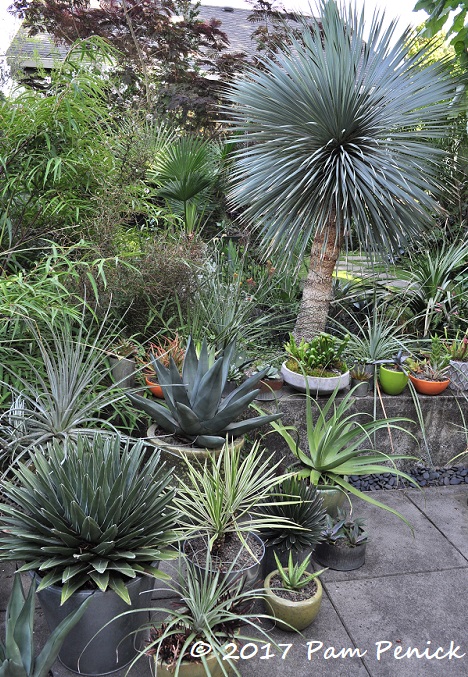 Panning right, Sammy the Yucca rostrata dominates the scene — my, how he's grown in 3 years — and Loree's collection of agaves in silver and chartreuse pots adorns one corner of the patio.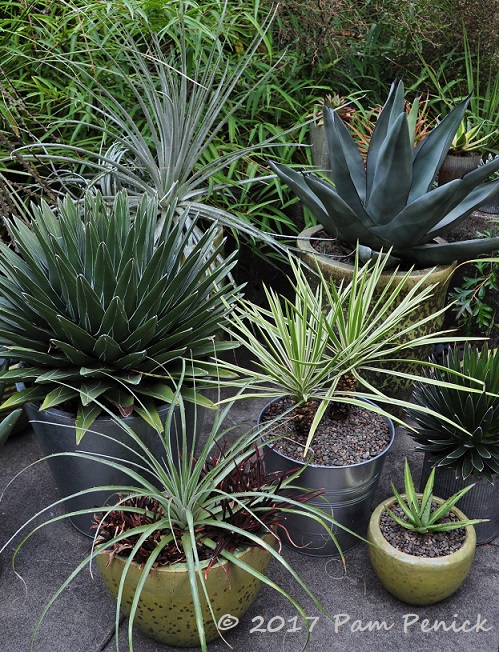 A closeup. I covet that Queen Victoria agave at middle-left and the 'Sharkskin' at back-right.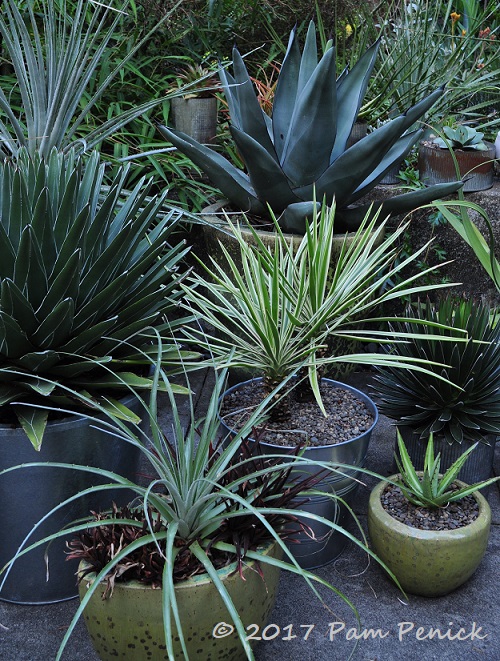 They're all fabulous.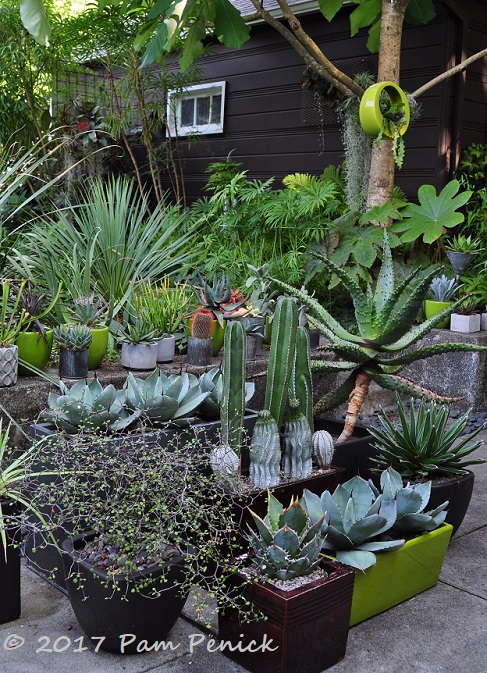 More! Just imagine — Loree totes all these into a covered shelter each fall, to protect them from Portland's wet winters, and brings them out again in spring. A lazy gardener, she is not.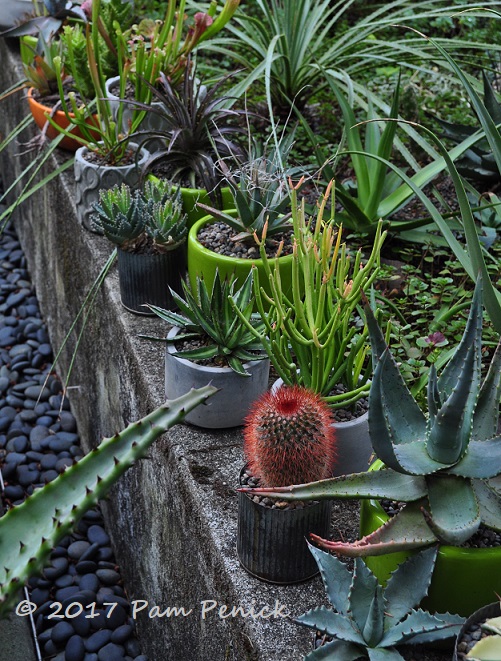 The low concrete retaining wall along one side of the sunken patio makes a perfect display perch for smaller pots.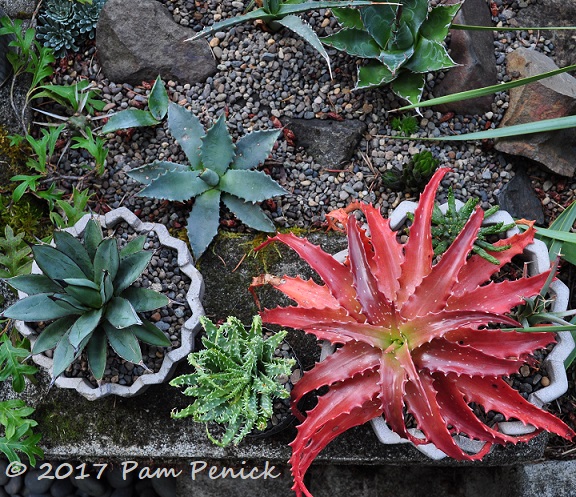 These white pots remind me of cookie cutters. I like how they show off the star-shaped forms of the agave and red aloe.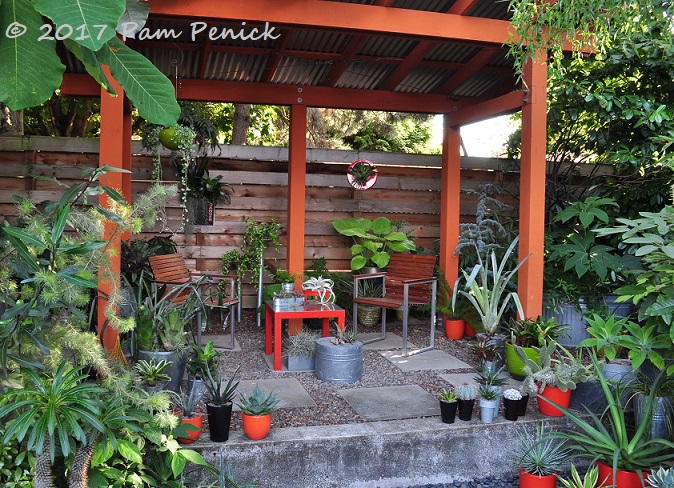 An orange shade pavilion houses the potted succulents in winter, when Loree and Andrew enclose it with plastic sheeting corrugated plastic panels. But in the warmer seasons it's a charming hideaway for two with a view of the sunken patio.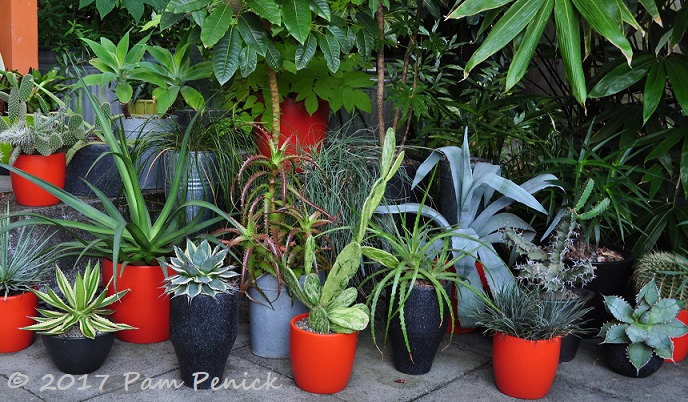 Playing off the orange pavilion, Loree adds orange and contrasting charcoal pots to the mix. Gah, everything is perfect! How does she do it??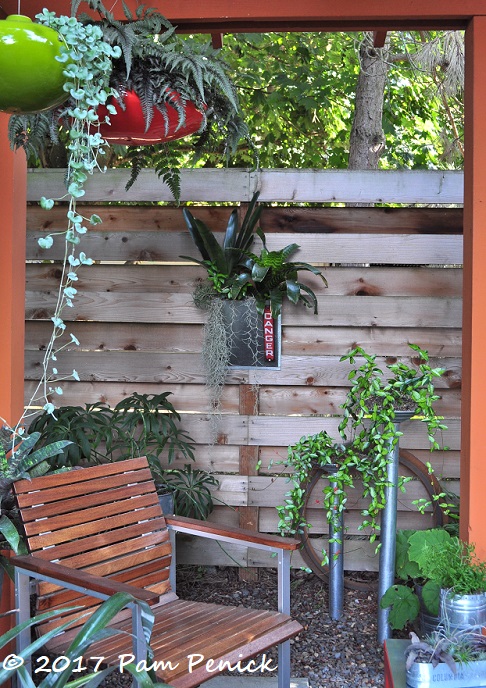 Hanging planters bring the garden to eye level under the pavilion, as do more of Loree's saucer-and-post pedestal planters. The vintage Danger sign is attached to the metal planter via magnets.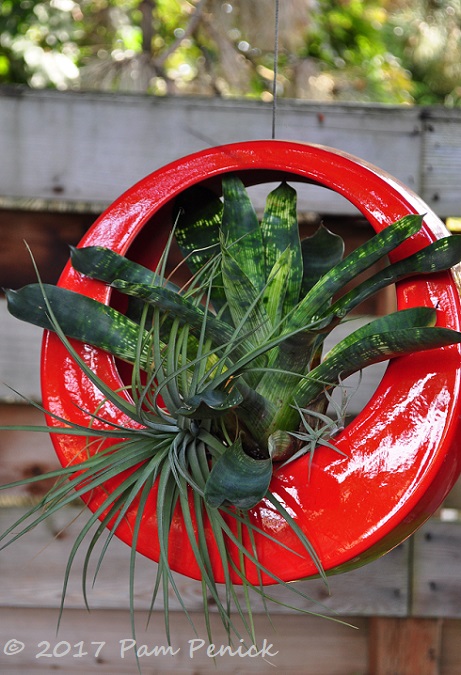 A red Circle Pot from Potted elevates a bromeliad and tillandsias.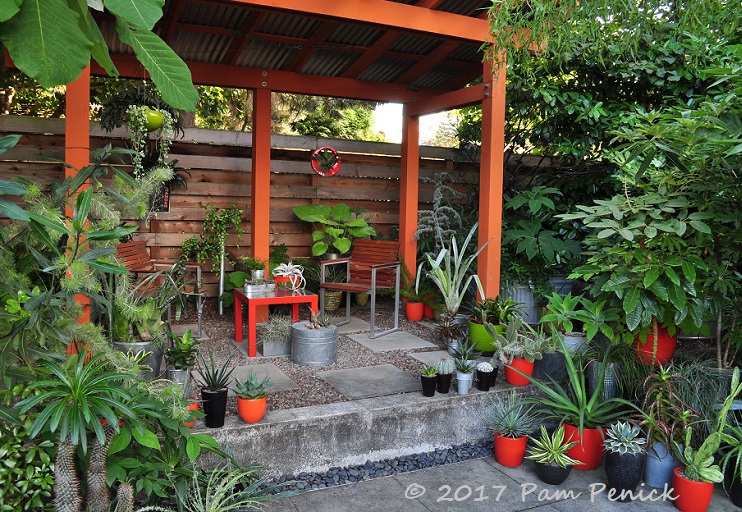 A wide view. On the upside-down galvanized container by the orange table…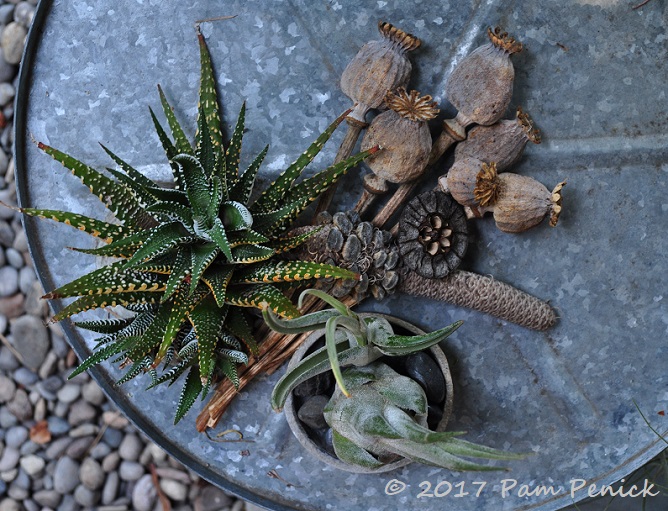 …Loree arranged a still-life of poppy seedheads, tiny plants, and a few other found bits.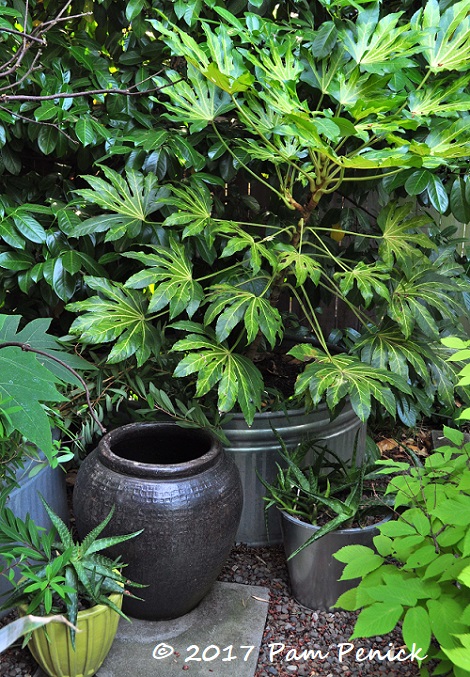 Loree is even more crazy for galvanized-steel stock tanks than I am. They shine out from shady nooks throughout her garden.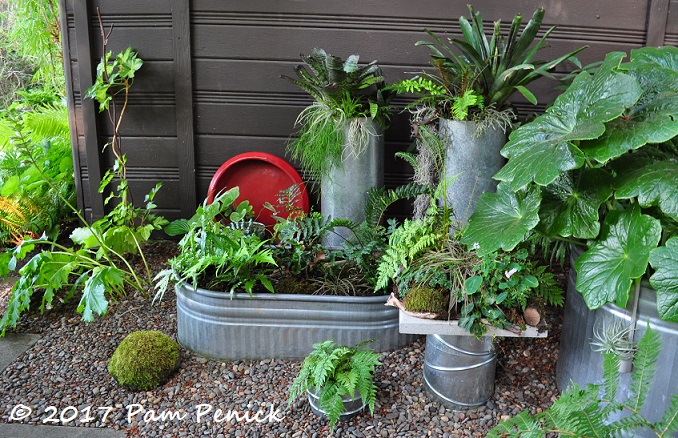 This arrangement adorns a shady gravel garden to the left of the pavilion.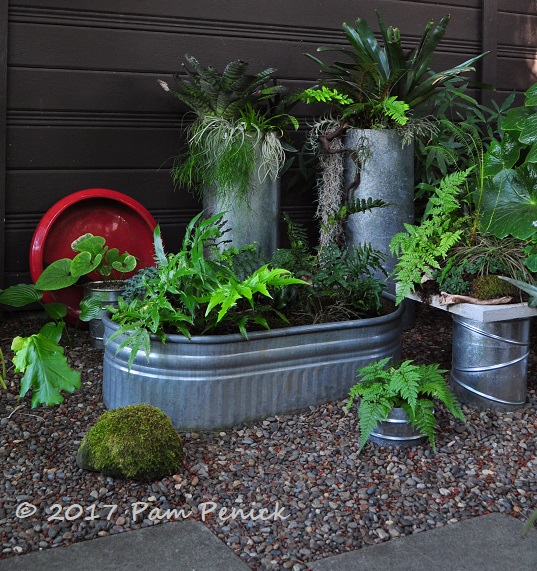 Steel pipe remnants (duct pipe, maybe?), turned into planters, are mixed in.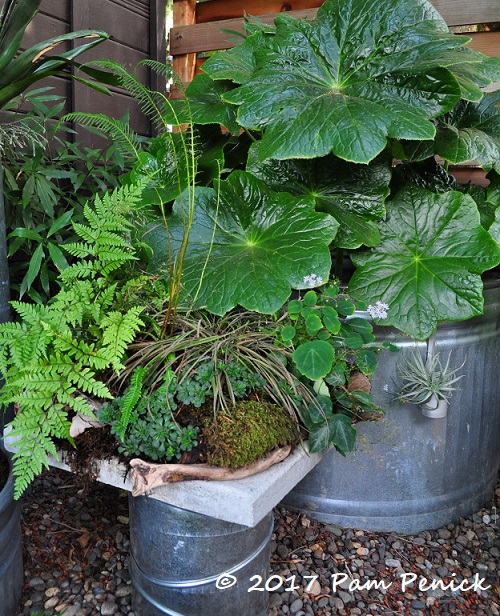 One acts as a pedestal for an exquisite fern-and-moss arrangement that seems to be planted in mounded soil (surely not!) atop a square concrete paver. Update from Loree: "The plants that appear to be planted in mounded soil on a concrete paver really are! It's a method of planting called a fern table. I wrote about it at Danger Garden."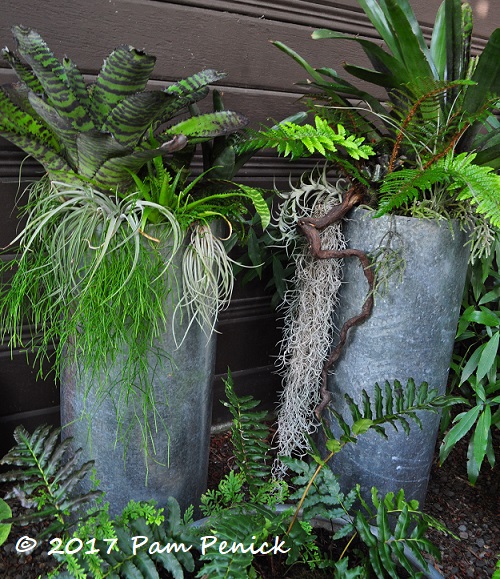 Pipe planters with a rich assortment of shade lovers, plus more Spanish moss cascading down the side.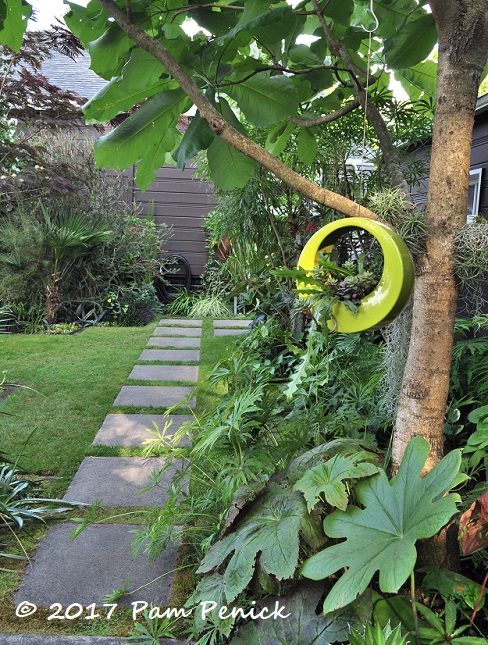 A chartreuse Circle Pot hanging from a big-leaf magnolia beckons you along a concrete-paver path out of the sunken garden.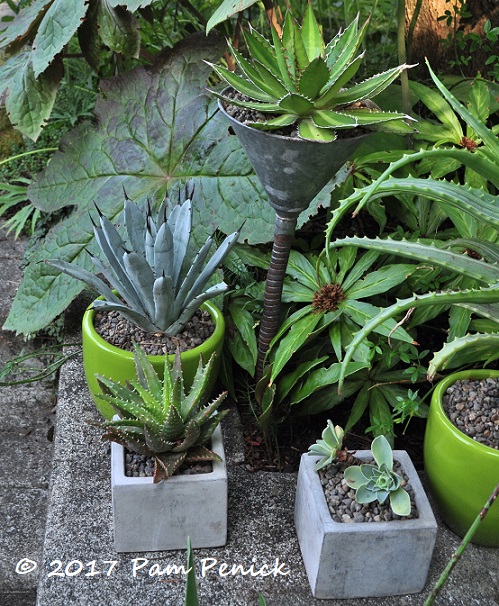 Below, details of another succulent-pot arrangement — look, a funnel planter! — stop you in your tracks.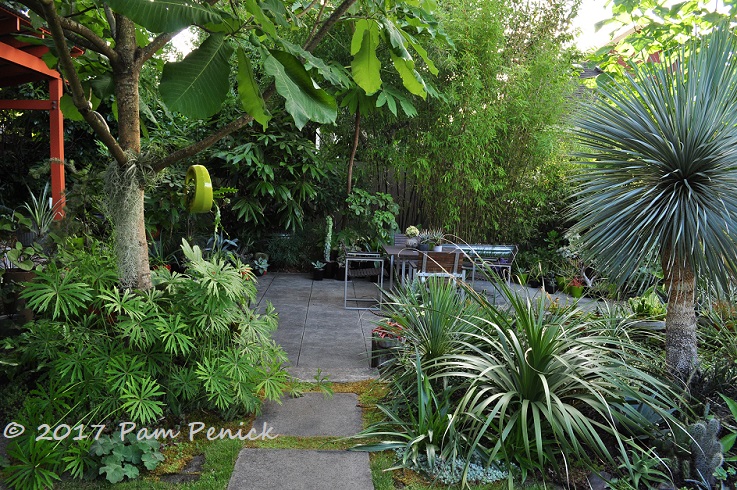 Looking back toward the patio — so many cool plants and such lushness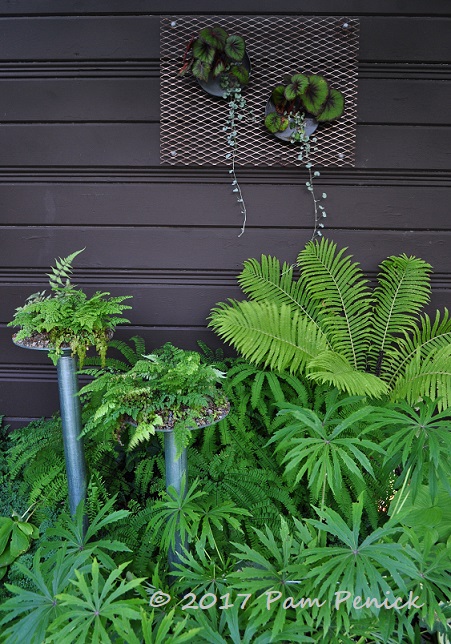 The garage wall, painted a rich brown, shows off another beautiful arrangement: two saucer-and-post planters and a piece of wire mesh framing two pie-pan planters (at least that's what I call them; I have three from Target in my own garden). Below, a mix of chartreuse and emerald foliage.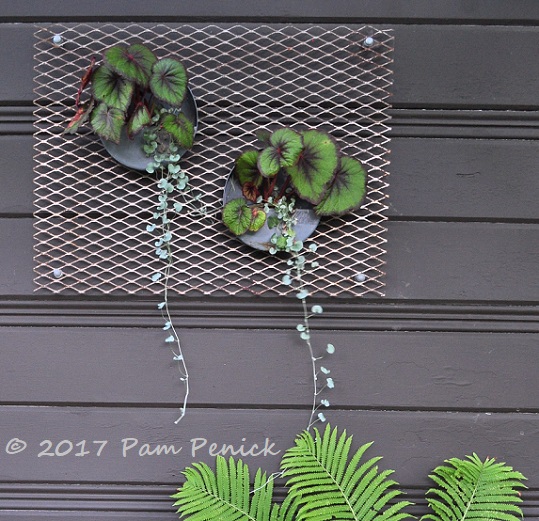 Begonias and silver ponyfoot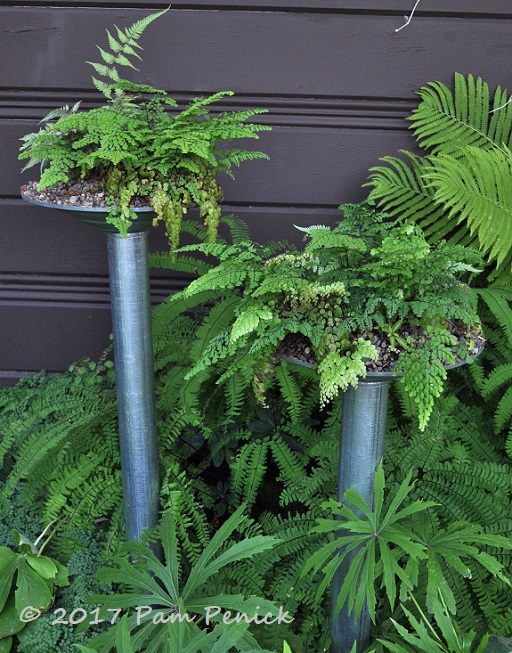 Maidenhair fern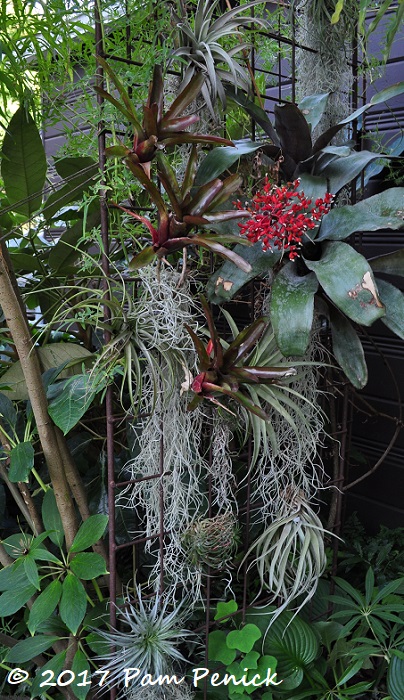 A vertical piece of cattle panel acts as a trellis, supporting a jungle-like vignette of bromeliads, tillandsias, and Spanish moss.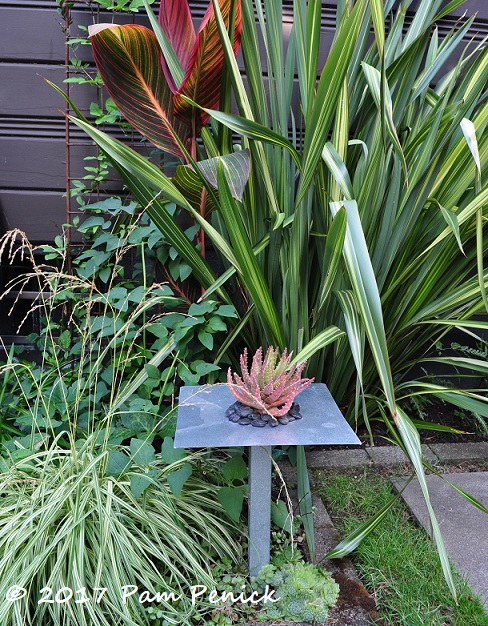 Loree has a knack for offering up plants like exquisite gifts. Here you go! Look at this!, they seem to say.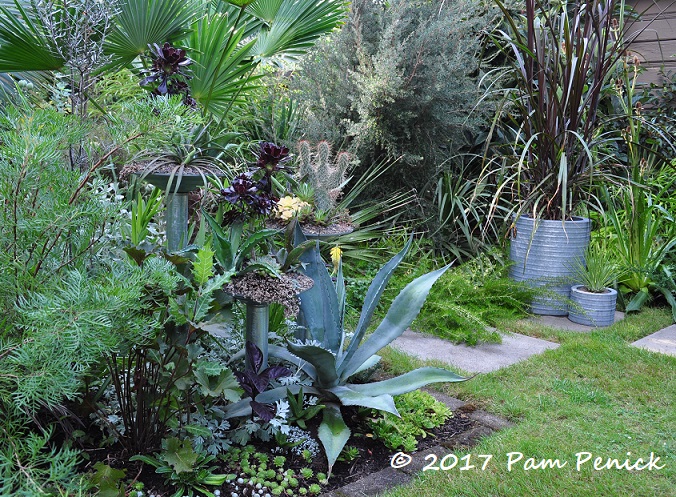 This part of the garden retains a tiny, geometric lawn — a bit of openness that offsets the densely planted beds surrounding it, and a green echo of the paved sunken patio nearby.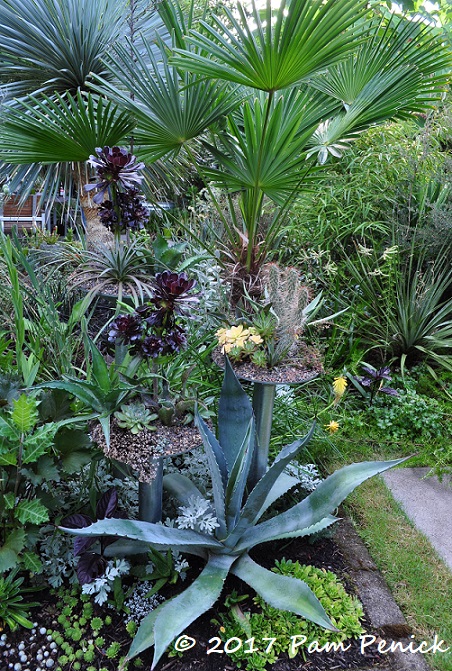 Bold-leaved agaves and palms mingle with more saucer-and-post planters that hold smaller plants up for inspection.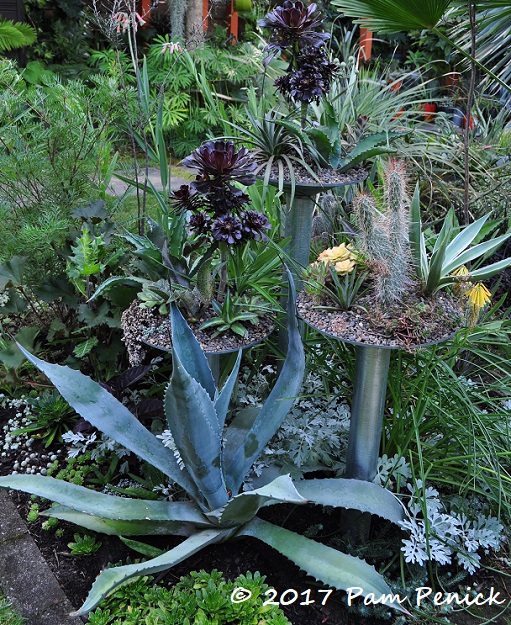 Stunning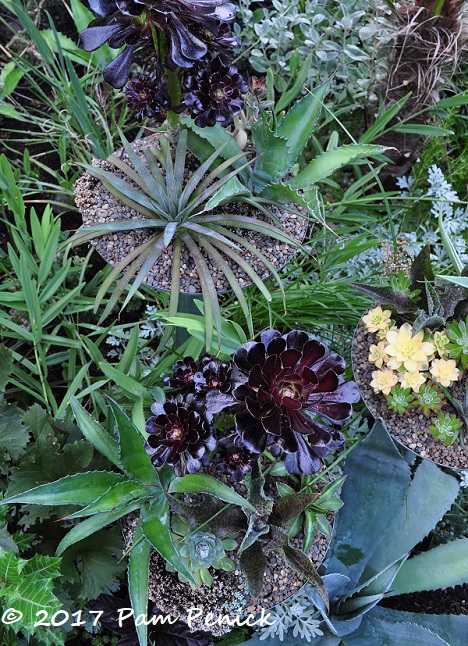 Details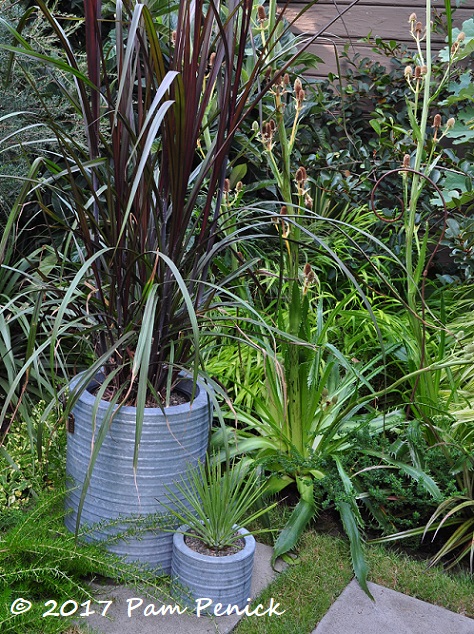 A burgundy grass stands tall in a ribbed silver pot alongside a pincushion-like agave.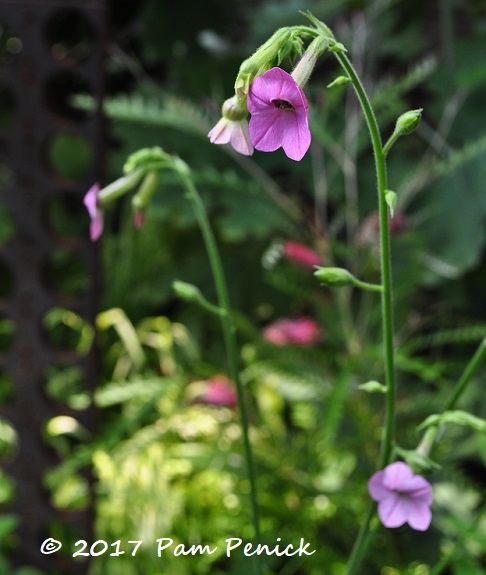 There are flowers in Loree's garden. They're just not the main focus.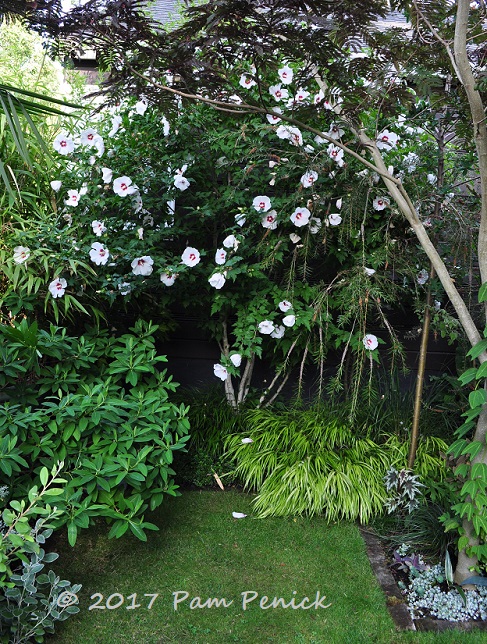 Rose of Sharon and a chocolate mimosa add height, but notice the echoing colors below, along with chartreuse Japanese forest grass.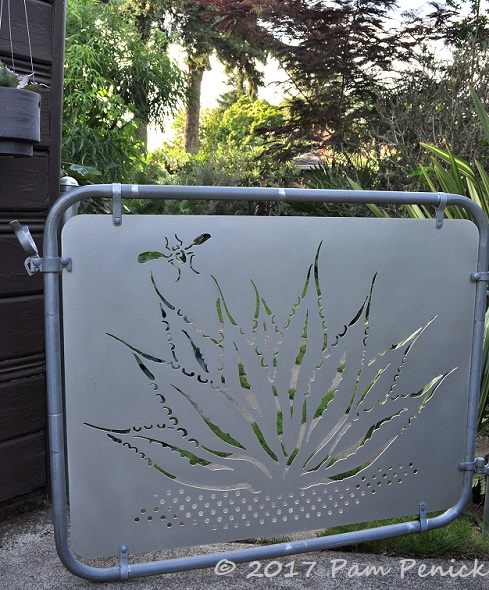 Exiting the back garden through a steel cut-out agave gate…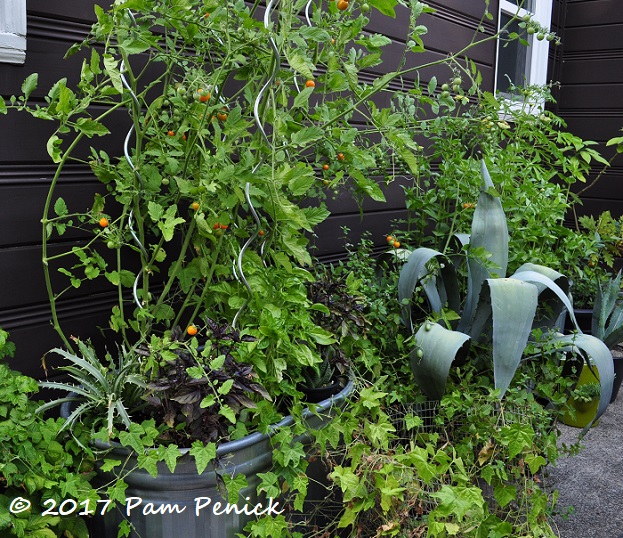 …you see an intriguing mix of agaves and tomatoes in a narrow bed along the driveway.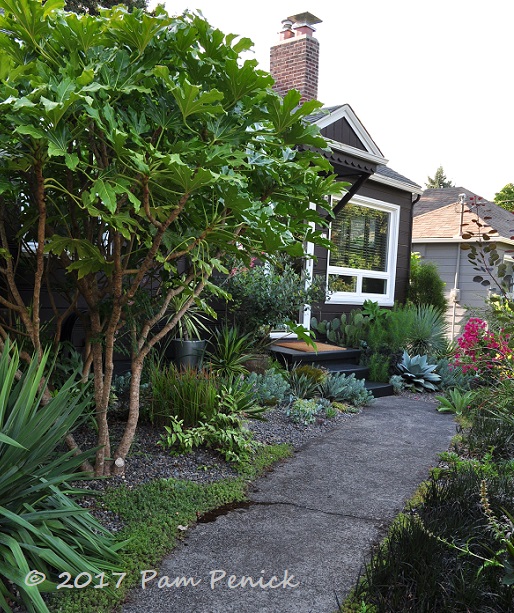 The front garden is planted dry-garden style, in gravel, with sun-loving spiky plants galore. A concrete walk leads diagonally from the driveway to the front porch, giving visitors an eyeful of bold plants with leaves of powder blue, emerald, chartreuse, and burgundy to almost black.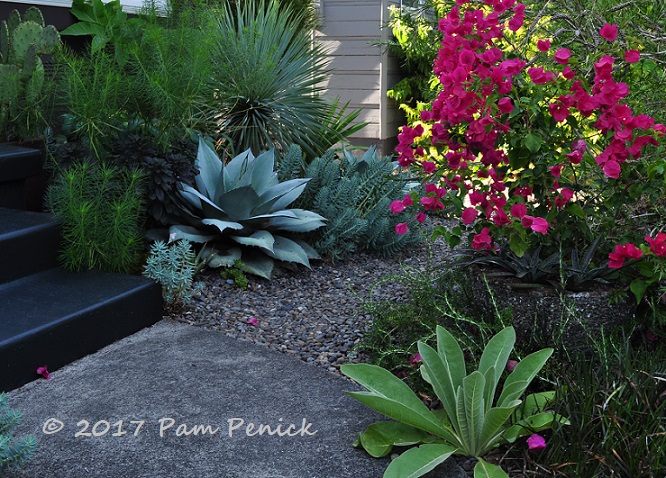 A whale's tongue agave shines amid green and dark-leaved plants that echo the rich-brown hue of the house. Hot-pink bougainvillea adds a major dose of flower color.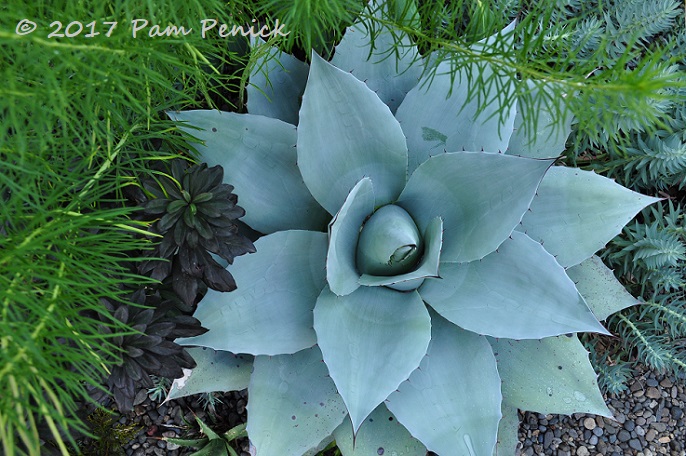 Whale's tongue agave (A. ovatifolia), my fave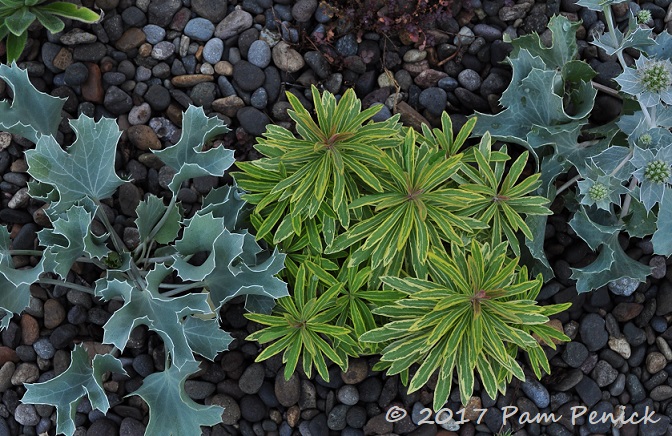 Euphorbia 'Ascot Rainbow' in center, with sea holly (Eryngium maritimum).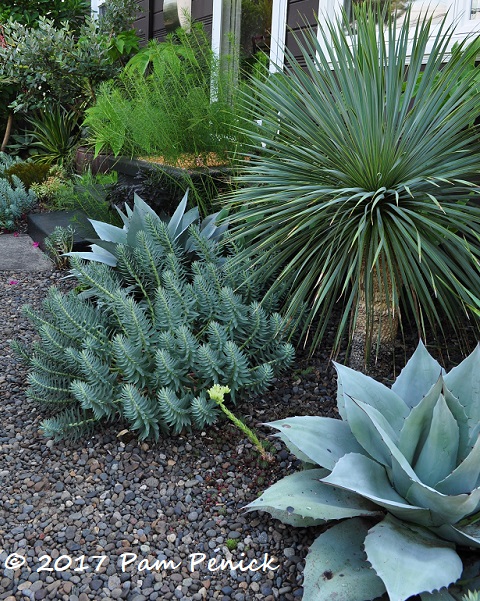 We can grow this combo in Austin: whale's tongue agave, beaked yucca (Y. rostrata), and gopher plant (Euphorbia rigida).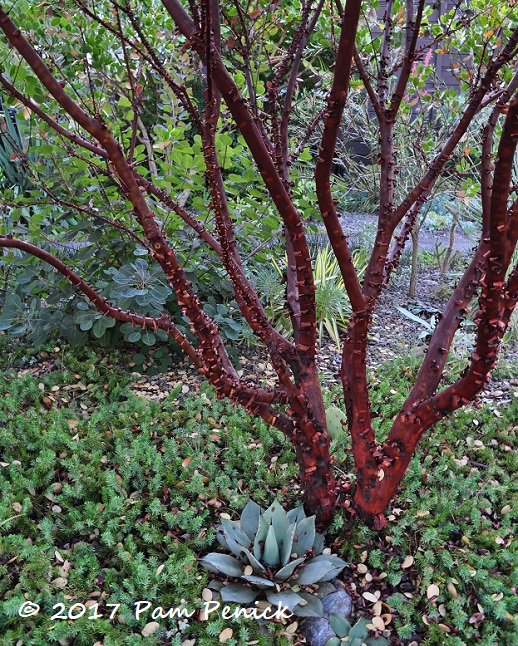 The glowing mahogany bark of manzanita, curling up like wood shavings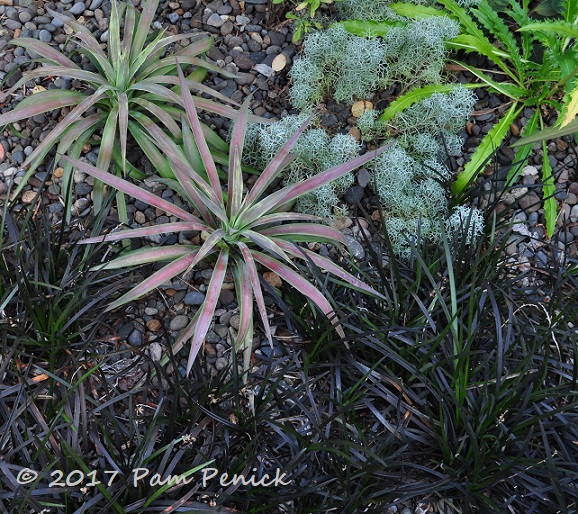 Yucca desmetiana 'Blue Boy', black mondo grass, and 'Seafoam' artemisia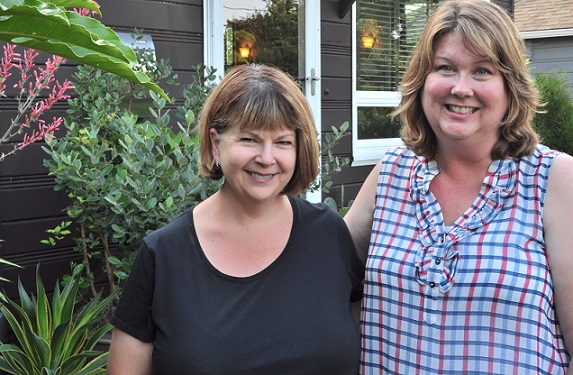 What a garden! Loree, thank you for the lovely garden visit with you and Andrew!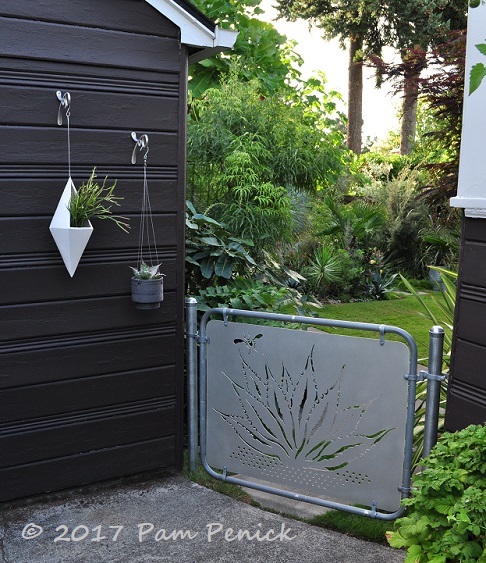 It was wonderful to live a little more dangerously for an evening.
Up next: The Lan Su Chinese Garden in downtown Portland. For a look back at the Columbia River Gorge, waterfalls, and flower farms, click here.
I welcome your comments; please scroll to the end of this post to leave one. If you're reading this in a subscription email, click here to visit Digging and find the comment box at the end of each post.
_______________________
Digging Deeper: News and Upcoming Events
Get ready for fall garden tours in Texas! The Garden Conservancy is sponsoring Open Days tours in Fort Worth on Oct. 8th, San Antonio on Oct. 14th, and Austin on Nov. 4th.
Get on the mailing list for Garden Spark Talks. Inspired by the idea of house concerts, I'm hosting a series of garden talks by talented designers and authors out of my home. Talks are limited-attendance events and generally sell out within just a few days, so join the Garden Spark email list for early notifications. Simply click this link and ask to be added.
All material © 2006-2017 by Pam Penick for Digging. Unauthorized reproduction prohibited.
posted in
Agaves
,
Aloes
,
Bamboo
,
Cactus
,
Carnivorous plants
,
Containers
,
Decor
,
Dyckias
,
Edibles
,
Fences
,
Garden structures
,
Garden tours 2017
,
Gates
,
Grasses
,
Lawns
,
Palms/Cycads
,
Paths
,
Patios & decks
,
Ponds
,
Seating
,
Shade garden
,
Shrubs
,
Signs
,
Stock tanks
,
Succulents
,
Sunken garden
,
Tillandsias
,
Travel
,
Trees
,
Trellis
,
Walls
,
Water features
,
Water gardening
,
Xeric plants
,
Yuccas