September 16th, 2017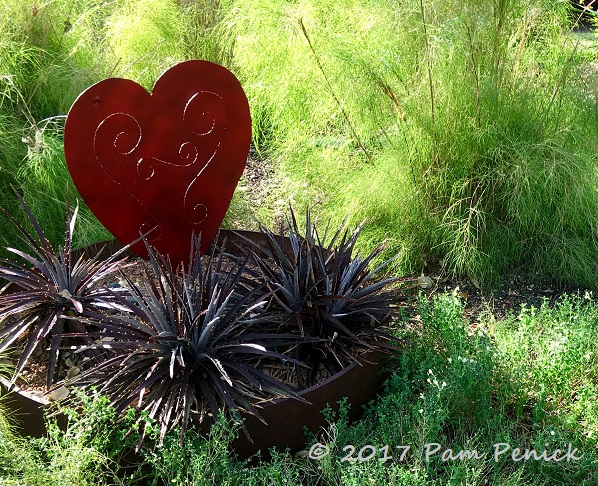 A local reader asked me about evergreen plants that grow well here in central Texas, and as I was putting together today's Foliage Follow-Up post, I realized it's a good opportunity to share some of my faves. I use a lot of evergreen plants — though not necessarily shrubs — because 1) they tend to require less maintenance than plants grown for flowers, 2) they look great year-round, 3) they provide wonderful structure, and 4) I have lots of shade, and flowers generally need more sun.
In the photo at top you see a chartreuse scrim of bamboo muhly (Muhlenbergia dumosa), an ornamental clumping grass that stays evergreen in most winters. Last winter's two Arctic blasts did bleach out the foliage, and it takes its time in greening up again. But for a light-catching green cloud, drought tolerance, and deer resistance, this grass can't be beat.
In the steel planter, 'Burgundy Ice' dyckia offers a dark-leaved evergreen option for Austin gardens. Again, it can be damaged in extreme cold, but most winters it does fine. As a low-growing, front-of-border plant, white skullcap (Scutellaria suffrutescens 'White') is a semi-evergreen sub-shrub that tolerates dappled shade. It looks best with a light shearing in late February and maybe again in mid-August. The white-flowering skullcap can be hard to find, but pink is readily available. Save the purple skullcap (Scutellaria wrightii) for full sun and gravelly conditions.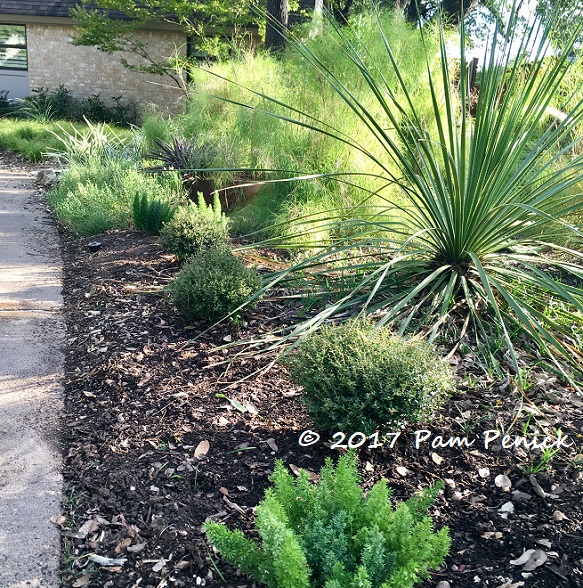 Here's a long view of this same bed, from a little further along the driveway. Strappy Texas sotol (Dasylirion texana) is the star here, backed by bamboo muhly. In front, I just took out all my iris, which wasn't blooming in the dappled shade, and replaced it with evergreens 'Micron' dwarf yaupon holly (Ilex vomitoria 'Micron'), foxtail fern (Asparagus meyeri), and variegated flax lily (Dianella tasmanica 'Variegata'). 'Micron' holly is a new one for me and is said to get only about 1-1/2 ft. tall by 2-1/2 ft. wide. (I bought all of Barton Springs Nursery's supply, but I spotted it at The Natural Gardener last weekend.) Foxtail fern and flax lily both can be hurt by deep freezes, but generally they do fine in Austin's winters, and they are workhorses that require very little care or maintenance.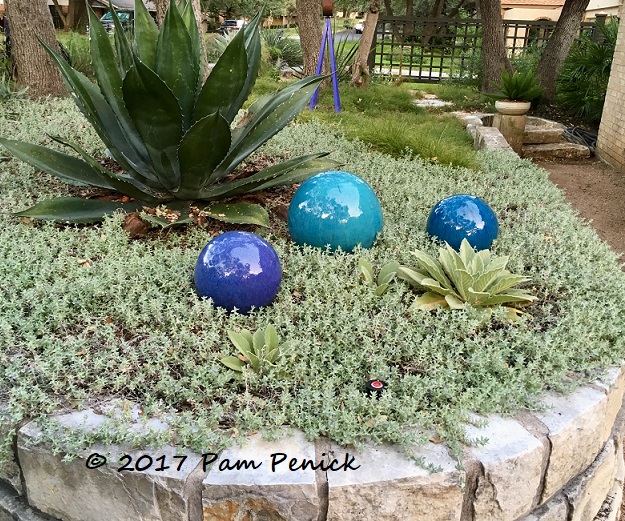 'Green Goblet' agave (Agave salmiana var. ferox 'Green Goblet') is a winter-hardy agave with a beautiful olive-green leaf with a tinge of blue. It produces pups on underground runners, but not too many, so they're manageable. I just tug it loose whenever one pops up — usually several feet away from the mother plant. The silver groundcover woolly stemodia (Stemodia lanata) is not evergreen, but it's a good choice for part or full sun and gravelly conditions. Fuzzy-leaved mullein (Verbascum spp.), which is generally evergreen for two years until it blooms and then dies, grows amid the stemodia.
In the background, I'm growing a lawnette of evergreen Berkeley sedge (Carex divulsa). I now recommend 'Scott's Turf' sedge (Carex retroflexa 'Scott's Turf') instead of Berkeley (Scott's is less fussy), but both are good lawn substitutes for part shade or dappled shade and green all year.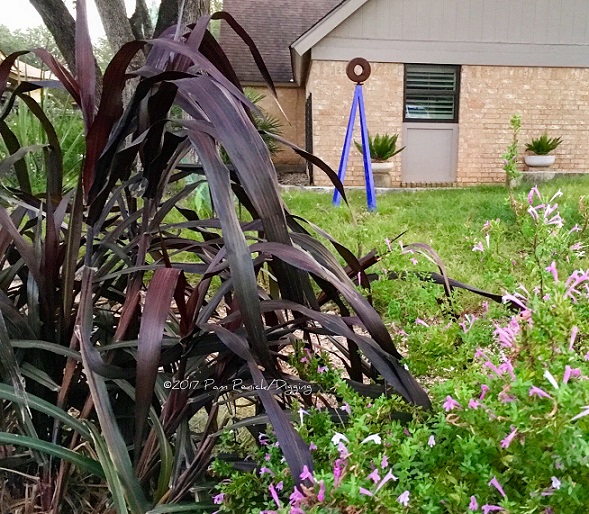 Purple-leaved 'Vertigo' grass (Pennisetum purpureum 'Vertigo') goes brown and dormant after a freeze, but it does return each year, unlike traditional purple fountain grass. Next to it, lavender-flowering Mexican oregano (Poliomintha longiflora) has fragrant, edible, evergreen leaves. You can see the evergreen sedge lawnette in the background.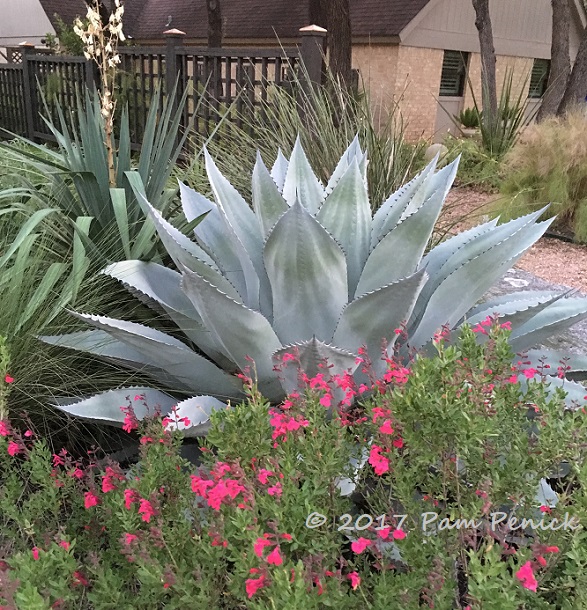 My favorite agave has to be whale's tongue (Agave ovatifolia), a powder-blue agave that doesn't pup but grows in an open, rose-like form. I also like evergreen softleaf yucca (Yucca recurvifolia), growing at left of the agave — and too close, unfortunately. In the foreground, blooming hot pink and attracting hummingbirds, is autumn sage (Salvia greggii). Its tiny, semi-evergreen leaves release a minty fragrance when you crush them or brush against them.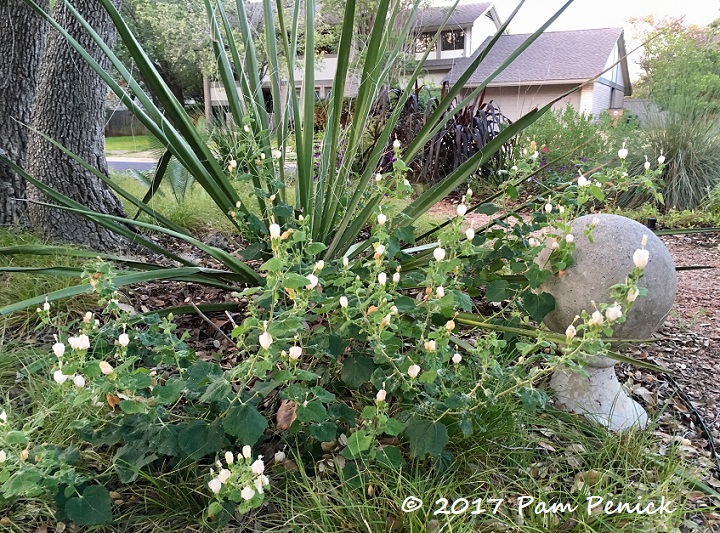 I also love wide-leaf giant hesperaloe (Hesperaloe funifera ssp. chiangii), a stately, more open and vase-like relative of the common red yucca. Its evergreen leaves are long and sword-like, although not particularly spiny, and white thread-like fibers dangle from their edges. A white-flowering Turk's cap (Malvaviscus arboreus var. drummondii 'Alba') grows in front — not evergreen, but a nice companion in dappled shade. The white Turk's cap is harder to find than the common red, but last week I saw some 1-gallons for sale at Barton Springs Nursery.
The only downside of using giant hesperaloe is that bucks love to rub their antlers on it in the fall and winter, smashing its beautiful form. So now I put rolled wire fencing around it from early fall through spring. And I do the same with my 'Green Goblet' agave, which the bucks will also antler-damage.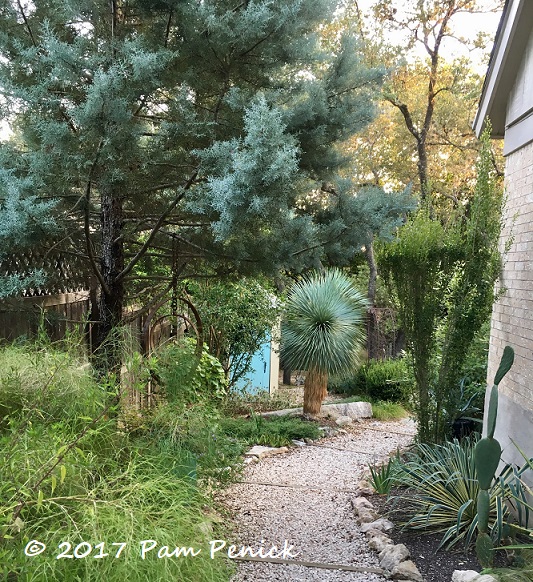 The side-yard path into the back garden is mostly evergreen with bamboo muhly, 'Blue Ice' Arizona cypress (Cupressus arizonica var. glabra 'Blue Ice'), 'Sapphire Skies' Yucca rostrata, 'Will Fleming' yaupon (Ilex vomitoria 'Will Fleming'), 'Bright Edge' yucca (Yucca filamentosa 'Bright Edge'), and prickly pear (Opuntia).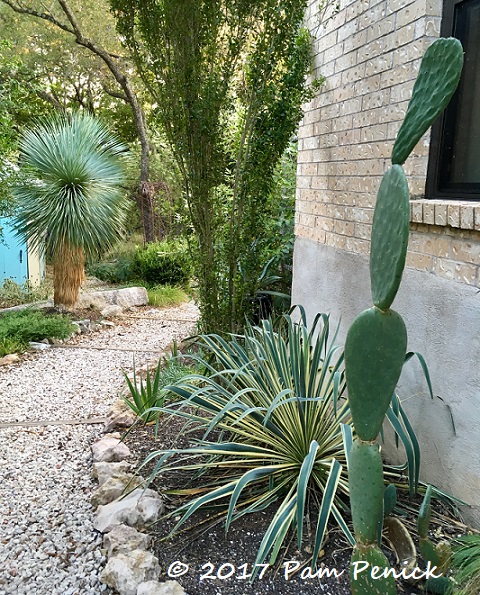 I'm loving the totem-pole shape of my one surviving Indian fig opuntia (Opuntia ficus-indica). The others succumbed to a deep freeze one year. Indian fig is less cold tolerant than many prickly pears.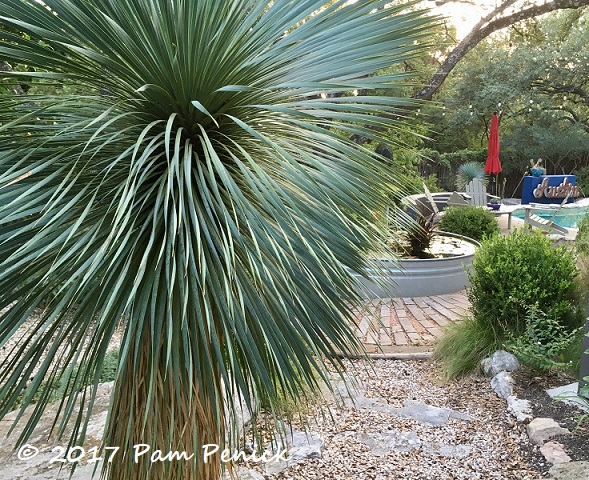 Peeking around the Yucca rostrata, you see a couple more hardworking evergreens, 'Winter Gem' boxwood and the ubiquitous live oak (Quercus fusiformis), which shades most of my garden and indeed most of my neighborhood, none of which were planted by human hands and grow as Mother Nature planted them in loose clusters.
This is my September post for Foliage Follow-Up. Fellow bloggers, what leafy loveliness is happening in your garden this month? Please join me in giving foliage its due on the day after Bloom Day. Leave a link to your post in a comment below. I'd appreciate it if you'll also link to my post in your own — sharing link love! I look forward to seeing your foliage faves.
I welcome your comments; please scroll to the end of this post to leave one. If you're reading this in a subscription email, click here to visit Digging and find the comment box at the end of each post.
_______________________
Digging Deeper: News and Upcoming Events
Get ready for fall garden tours in Texas! The Garden Conservancy is sponsoring Open Days tours in Fort Worth on Oct. 8th, San Antonio on Oct. 14th, and Austin on Nov. 4th.
Get on the mailing list for Garden Spark Talks. Inspired by the idea of house concerts, I'm hosting a series of garden talks by talented designers and authors out of my home. Talks are limited-attendance events and generally sell out within just a few days, so join the Garden Spark email list for early notifications. Simply click this link and ask to be added.
All material © 2006-2017 by Pam Penick for Digging. Unauthorized reproduction prohibited.
posted in
2nd garden--2017
,
Agaves
,
Cactus
,
Containers
,
Dyckias
,
Foliage Follow-Up
,
Garden art
,
Grasses
,
Paths
,
Ponds
,
Shrubs
,
Signs
,
Stock tanks
,
Trees
,
Xeric plants
,
Yuccas