September 8th, 2017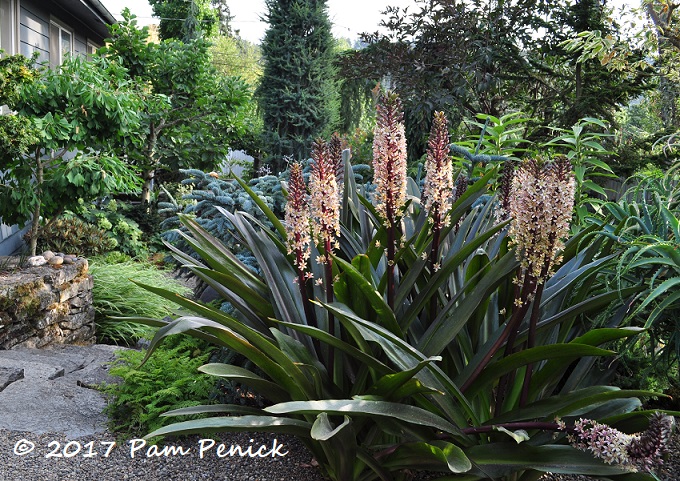 I don't think I planned a family road trip from San Francisco to Portland just to have an opportunity to swing through Eugene, Oregon, to visit the garden of Buell Steelman and Rebecca Sams, the husband-and-wife design-and-build team at Mosaic Gardens, whose work I greatly admire and recently wrote about for Garden Design. But then again, it's possible.
Rebecca and Buell graciously invited us to stop by and see their garden last month, even though 1) they weren't even going to be there, 2) their garden was newly exposed due to the cut-back of a neighbor's tree, and 3) their poor plants had just endured an unusually long heat wave with little watering. Knowing that their garden is beautiful because of its compelling structure, not just the plants, I wasn't worried.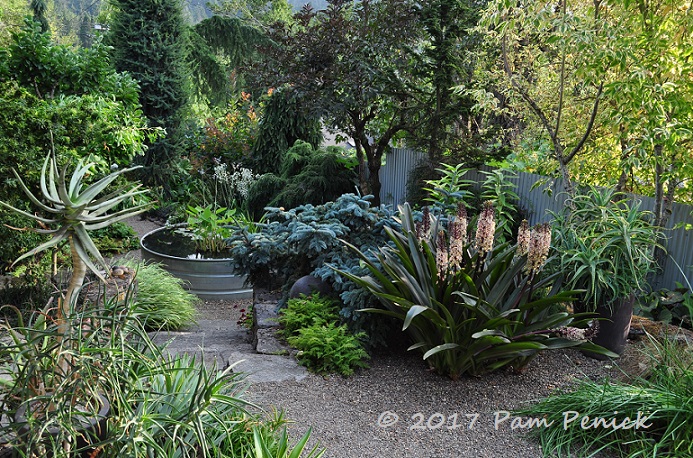 And I wasn't disappointed. Rebecca and Buell's garden is essentially a long, skinny side yard that slopes sharply downhill from their house. They tackled this difficult space by creating a series of rooms linked by axis views to focal points. Like running your fingers along a string of beads, you enter their garden via a garden room — a gravel foyer — at the top of the slope, pause, look ahead to a focal point, advance toward it, pause in the next garden room, look ahead to the next focal point, and so on.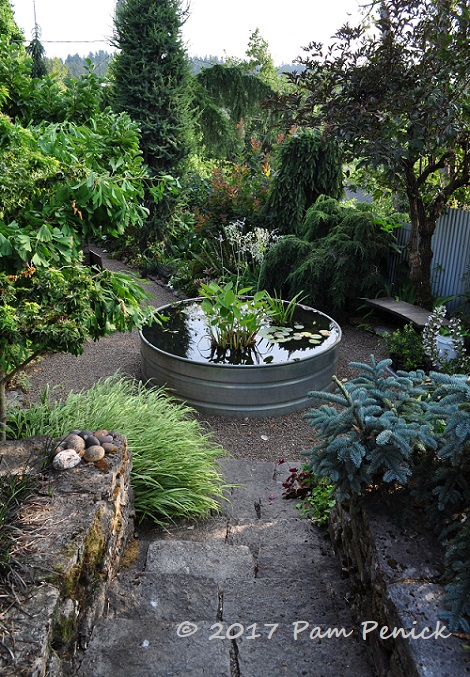 Each focal point, like this stock-tank pond (yes, one of the inspirations for my own), draws you forward but also gives you a reason to stop and look around, enjoying the mosaic of beautiful plants that Rebecca and Buell have created.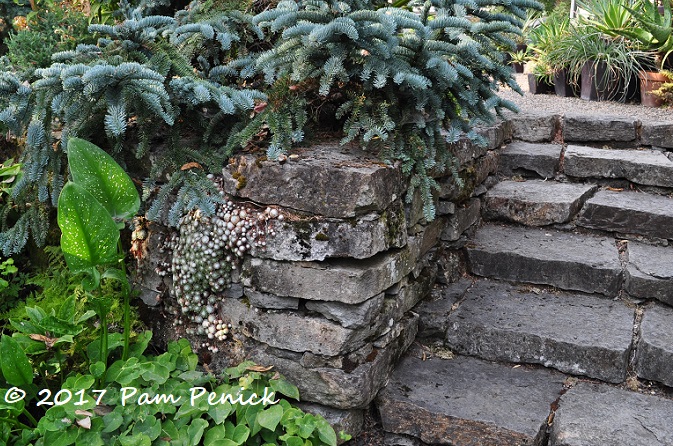 Stone stairs lead you down into the garden. Cascading sempervivum grows in the crevices of the stone retaining wall. Above, a frosty blue conifer cascades on a larger scale.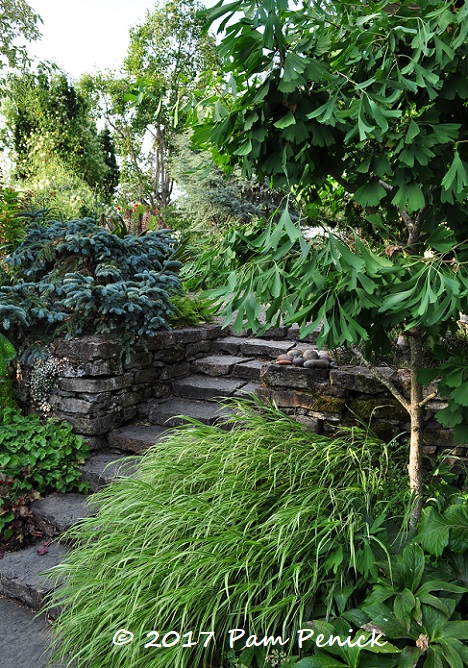 A wider view, with Japanese forest grass flowing like water alongside the steps.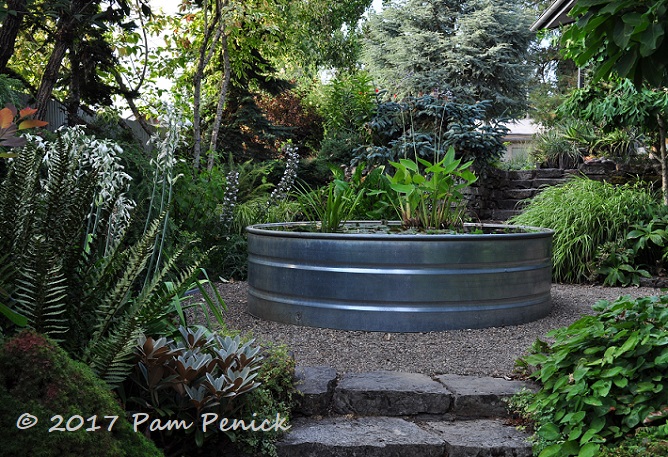 Now we're in the pond garden, a sunken space not visible from the street. The stairs where we entered are visible behind the pond. Atop the slope, strategically placed trees screen neighboring houses from view.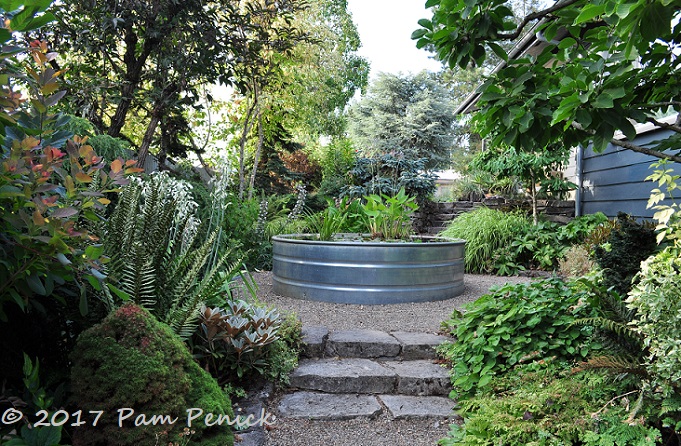 Stepping back a few paces, down a short flight of steps, here's an even wider view. The gravel path flows around the pond so you can view all sides. The narrow spaces around the pond are densely planted with columnar trees, shrubs, and perennials to create layering that makes those beds feel deeper.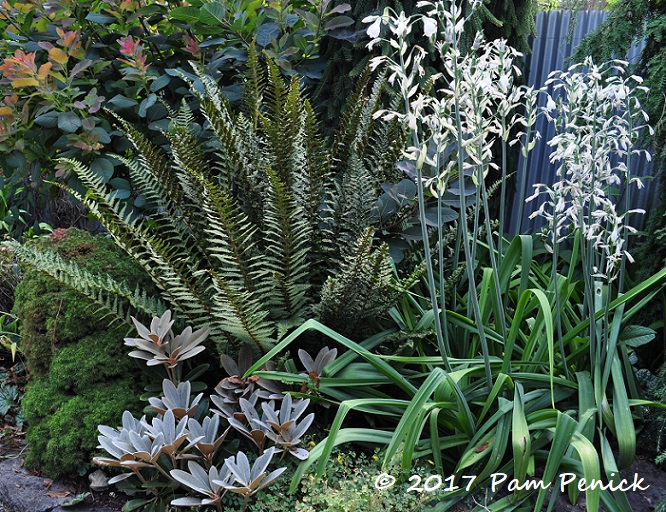 And look at the gorgeous plants! I asked Rebecca to ID this combo for me. From left to right: Cotinus 'Grace', a sport of 'Conica' Picea glauca, a mystery fern ("This thing is a wonder. Gorgeous, even in drought with a blast of midday sun. We don't recall where we got it, but we'd love to find more. If someone knows this one, please tell me!"), Rhododendron 'Yak x pak', Corydalis lutea, and Galtonia candicans, aka summer hyacinth ("the best plant that no one grows — we love it, and so do the hummers").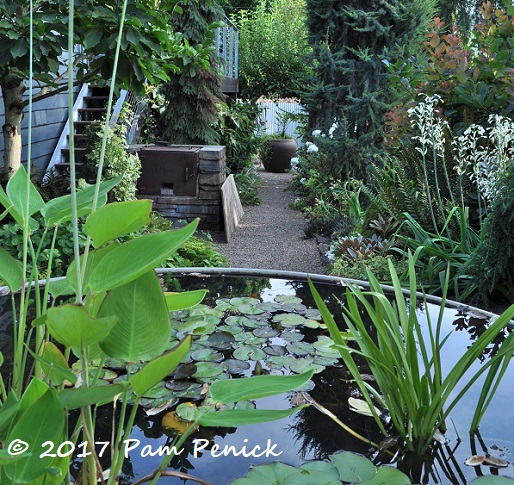 Looking across the pond, your eye travels along a path, past a brick BBQ and the stairs to their back deck, to a chocolate-colored pot framed by a living arbor. The pot stands out against a corrugated, galvanized-steel fence.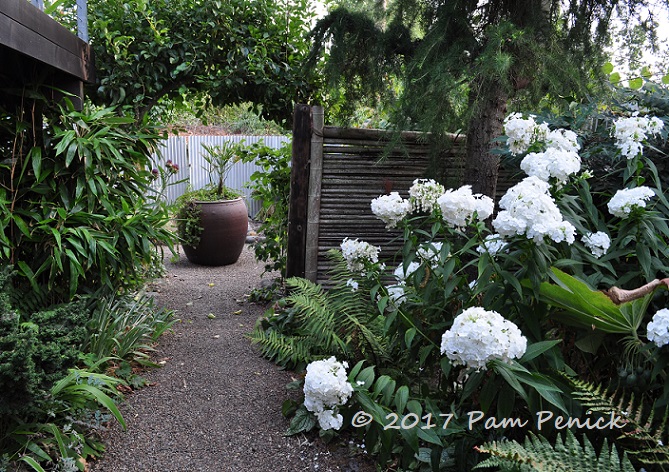 A closer look. A horizontal bamboo fence adds an Asian flavor to this area, and white hydrangea glows alongside the path. Espaliered trees arch over the path to create a living arbor.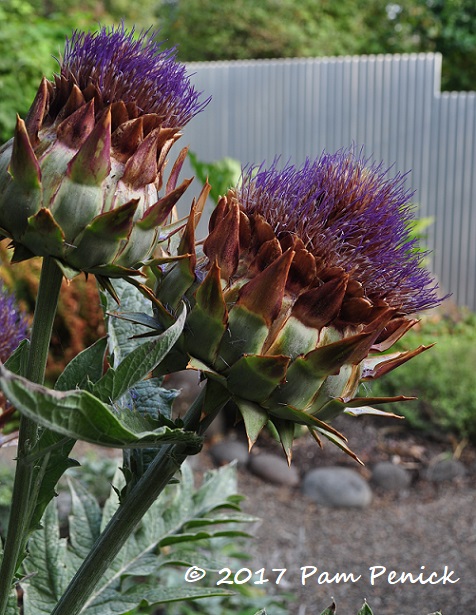 Past the arbor you enter an edible garden, which jogs left into a small back yard. Asparagus was blooming here…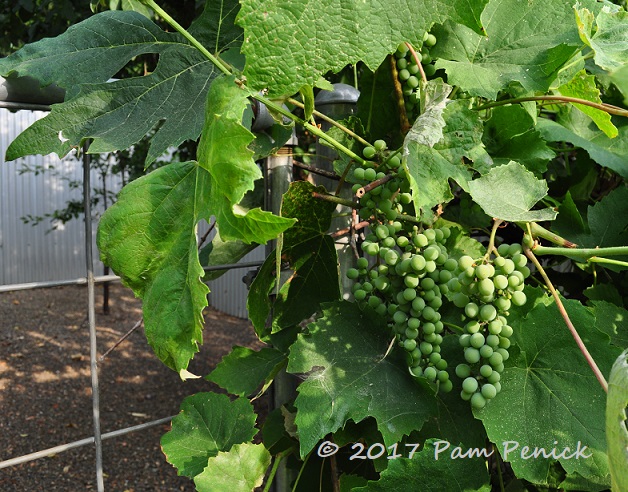 …and grapes dangled from a wire trellis fence.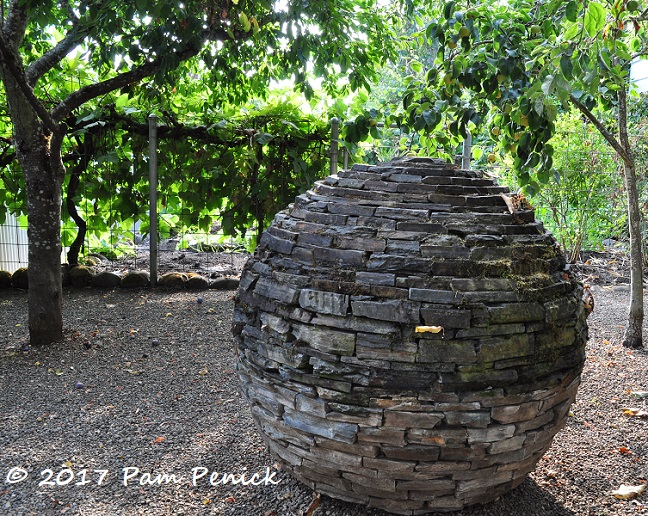 A gateway in the trellis fence allows access to another garden room — an orchard of fruit trees, anchored by an approximately 4-foot-diameter stacked-stone sphere that Buell made.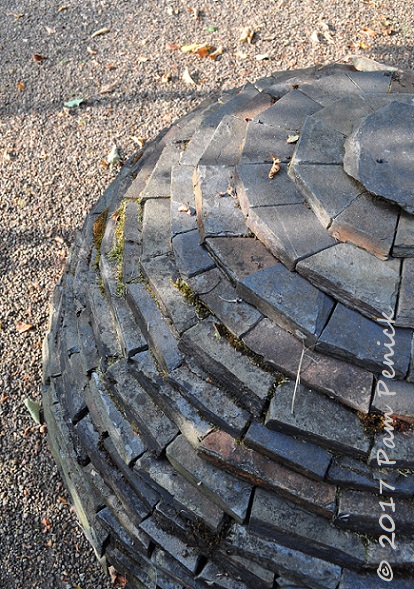 I love this.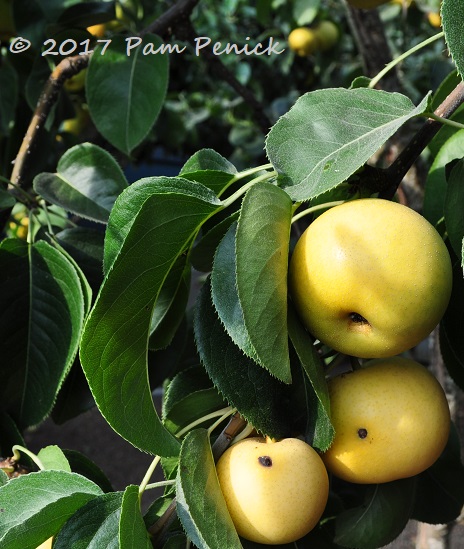 Apples were ripening in the orchard.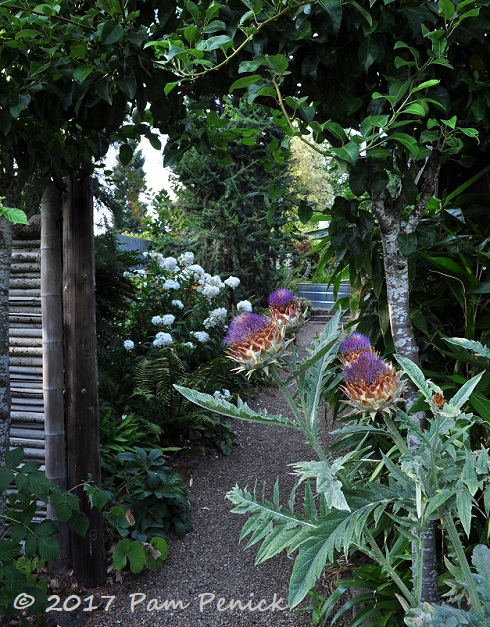 Returning through the garden, here's another look at the espaliered arbor…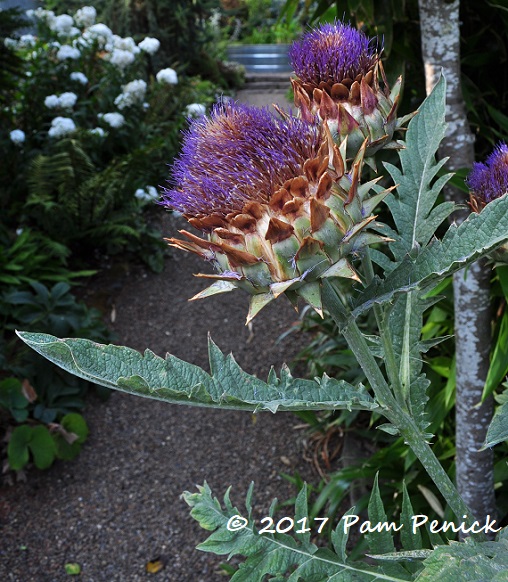 …and artichoke.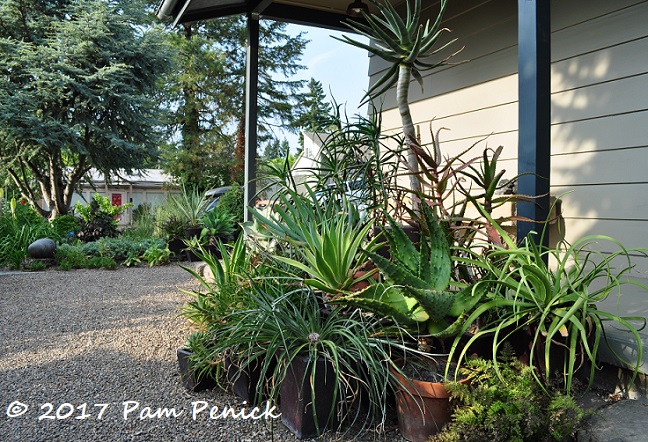 Back at house level, a long, narrow porch leading from the driveway to the front door is adorned with a collection of potted succulents massed for impact.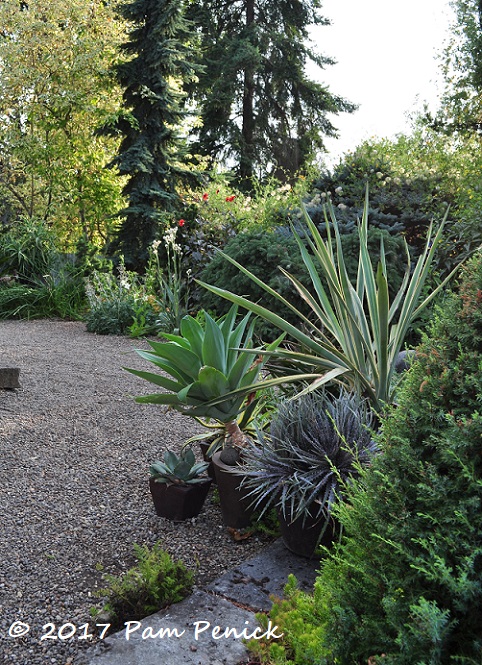 Other potted plants add interest to the edge of the gravel "foyer" garden, with fabulous skinny conifers visible in the background, growing along the property line and creating the illusion of greater depth.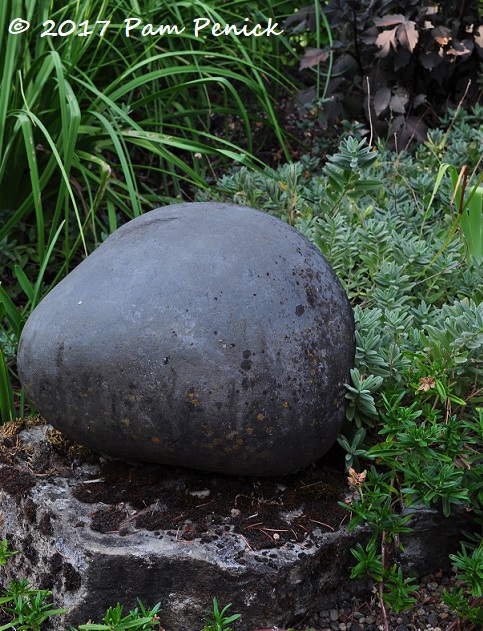 River stone as art object in the garden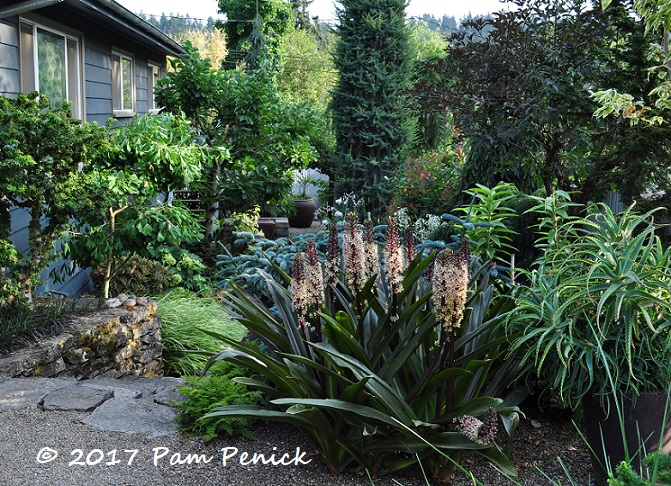 Another look from the top of the garden into the sunken side yard.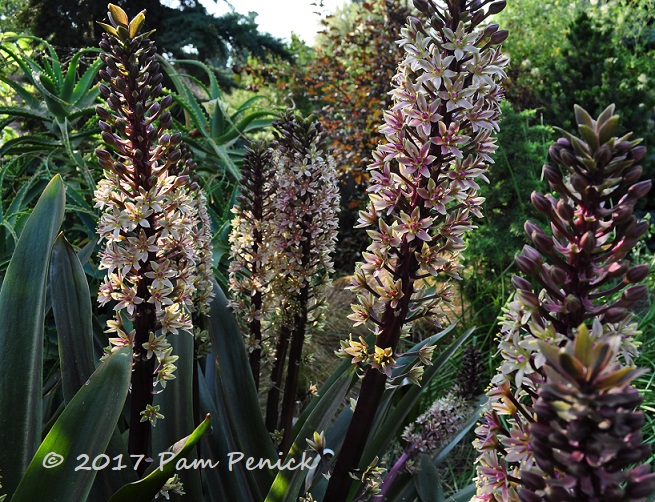 Eucomis flowers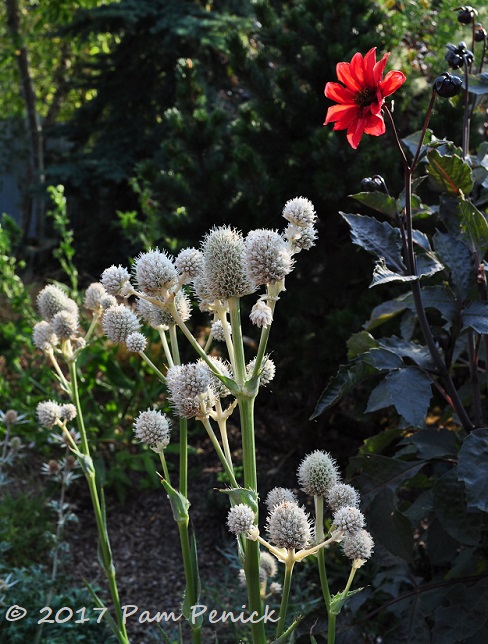 Rattlesnake master (I think) and red dahlia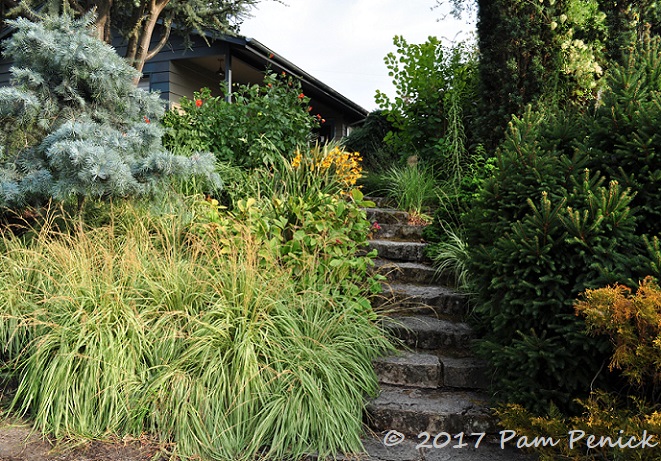 How do you approach the garden from the street? Via this almost secret-garden stone stair, through touchable grasses, conifers, and perennials. How could anyone resist taking a peek?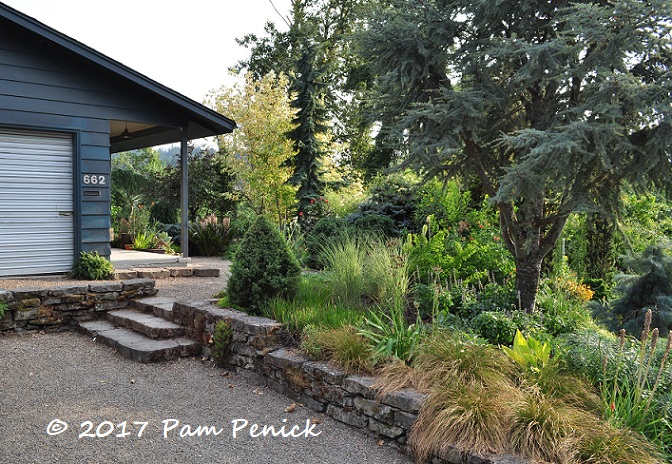 A gravel driveway leads to a garage, but knowing they wouldn't be parking in it, and wanting to create more of an entrance and drop the cars slightly out of view, Buell and Rebecca dug out the driveway, put in a low retaining wall, and repaved the drive with gravel so that it sits about a foot lower than the entry garden. Isn't this a nicer spot to come home to than entering through a dark, cramped garage?
My thanks to Rebecca and Buell for sharing their beautiful garden with me! I do hope to meet them one day, too.
Up next: Our day trip along the Columbia River Gorge to see waterfalls and mountain views — a tribute to an incredibly scenic area that is now tragically on fire. For a look back at our visit to the dormant volcano and sapphire lake of Crater Lake National Park, click here.
I welcome your comments; please scroll to the end of this post to leave one. If you're reading this in a subscription email, click here to visit Digging and find the comment box at the end of each post.
_______________________
Digging Deeper: News and Upcoming Events
Get ready for fall garden tours in Texas! The Garden Conservancy is sponsoring Open Days tours in Fort Worth on Oct. 8th, San Antonio on Oct. 14th, and Austin on Nov. 4th.
Get on the mailing list for Garden Spark Talks. Inspired by the idea of house concerts, I'm hosting a series of garden talks by talented designers and authors out of my home. Talks are limited-attendance events and generally sell out within just a few days, so join the Garden Spark email list for early notifications. Simply click this link and ask to be added.
All material © 2006-2017 by Pam Penick for Digging. Unauthorized reproduction prohibited.
posted in
Aloes
,
Arbors
,
Containers
,
Design
,
Dyckias
,
Edibles
,
Fences
,
Garden art
,
Garden tours 2017
,
Grasses
,
Hillside
,
Paths
,
Ponds
,
Porch
,
Rock
,
Sculpture
,
Shrubs
,
Stock tanks
,
Succulents
,
Sunken garden
,
Travel
,
Trees
,
Trellis
,
Vines
,
Walls
,
Water features