August 29th, 2017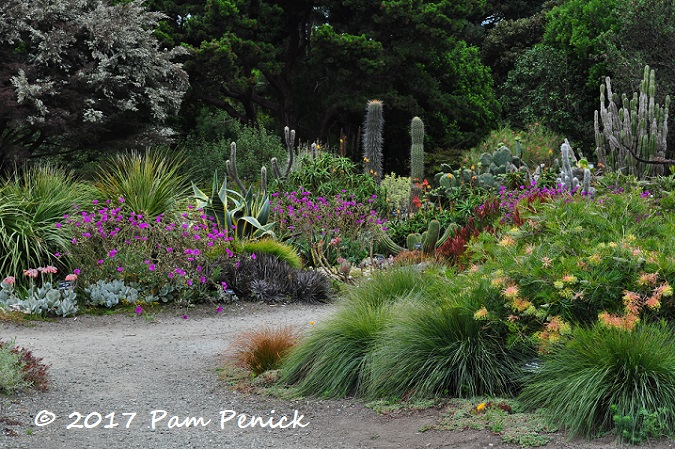 In my last post I showed you the Perennial Garden and Heath and Heather Collection at Mendocino Coast Botanical Gardens in Ft. Bragg, California, which I visited in early August. Today let's continue the tour, starting with the Succulent and Mediterranean Gardens.
My first thought upon seeing this beautiful garden of agaves, cactus, and other dry-loving plants was, Not fair! How is it that they can grow cool-summer plants like fuchsia and heather and heat-loving desert plants? The gardening world lacks justice, but I enjoyed the scene all the same.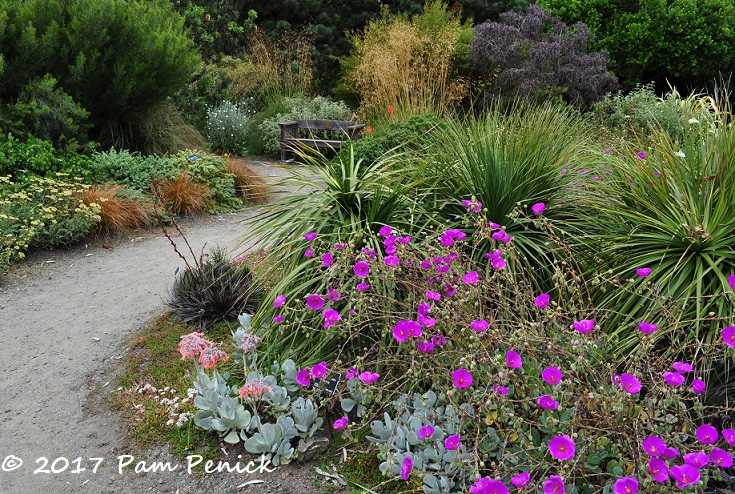 Both succulents and Mediterranean plants appreciate good drainage, and mounded and gravelly planting beds keep their feet dry — a trick we can use in Austin too, to keep desert plants from drowning in rains like Hurricane Harvey just delivered.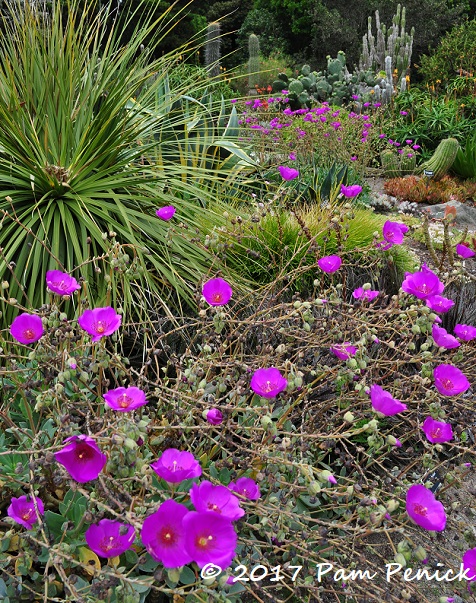 Spikes and hot color!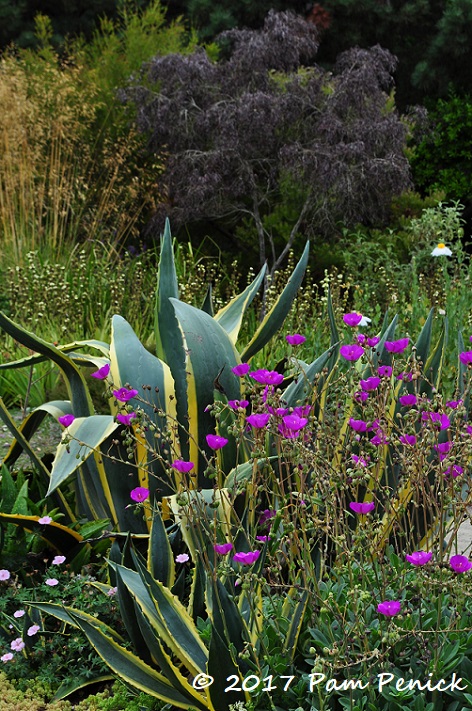 Variegated agave and a winecup-looking flower, with Australian peppermint willow (Agonis flexuosa 'Jervis Bay Afterdark') in the background.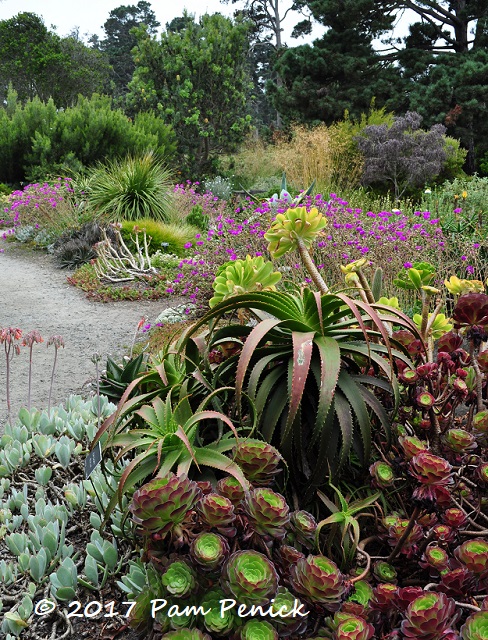 Aloe, aeonium, and pig's ear (Cotyledon orbiculata) succulents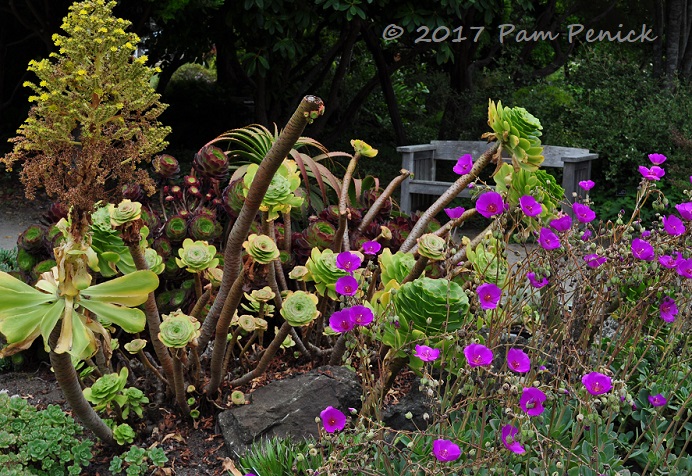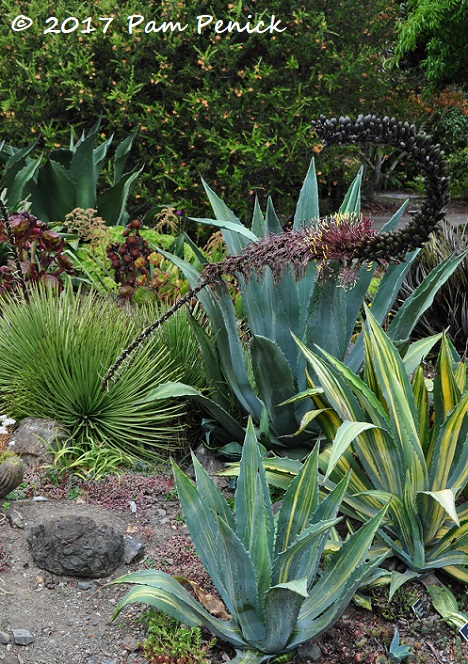 Agave stricta, I think, and its fish-hooked, black-flowerbud bloom spike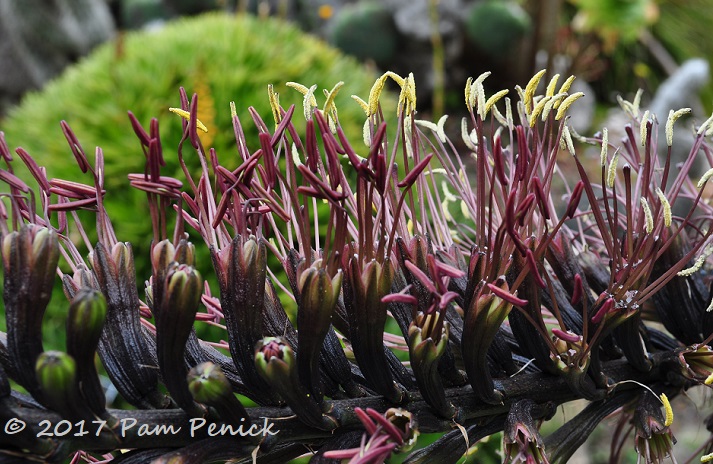 A closeup of the agave flowers. Most agaves bloom once and then die, going out in a blaze of glory.

Houseleeks (Sempervivum calcareum) in bloom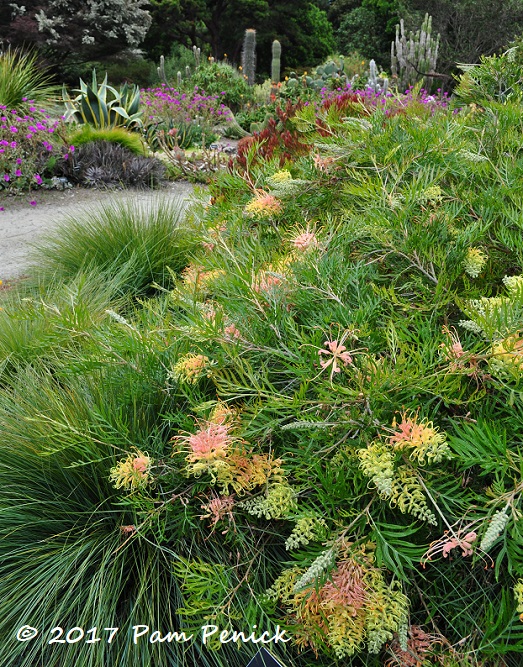 On the Mediterranean side of the path, Australian beauties like grevillea spread their feathery foliage and curlicued, peach blossoms.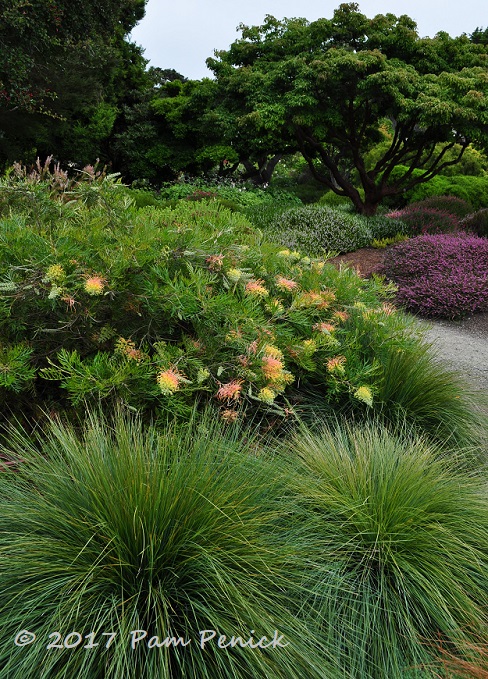 Touchable texture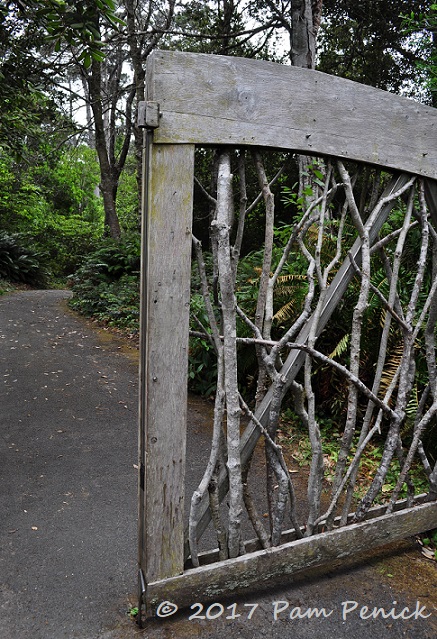 Now at last we were ready to take the ocean trail to the Pacific, a half-mile walk through an extensive natural area populated by deer. This rustic gate made of branches helps keep deer out of the main gardens.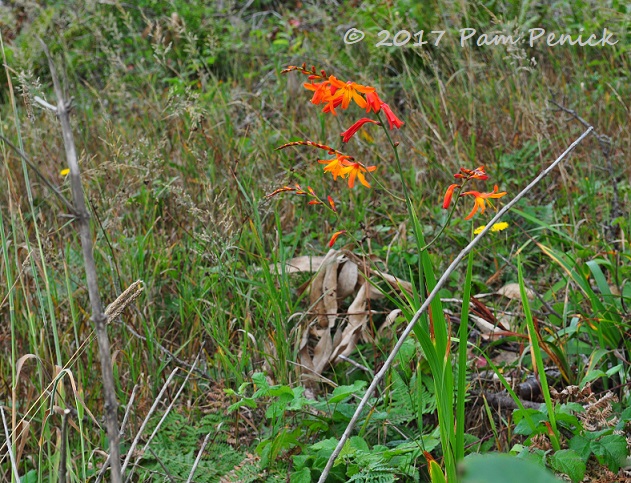 The ocean trail leads through a lush wooded area with ferns and a trickling stream. Crocosmia were growing wild here.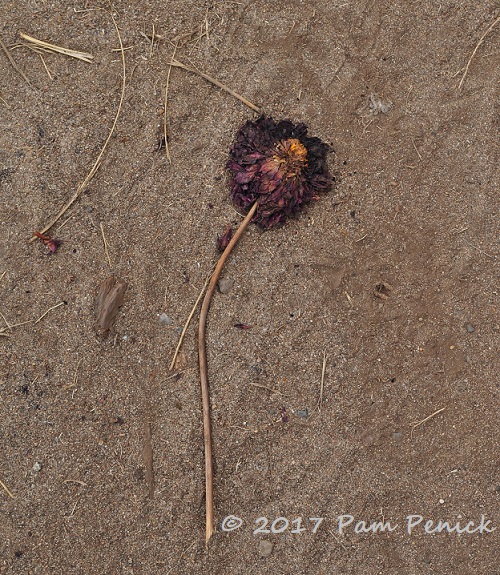 Farther along, a coastal pine forest of craggy trees makes an essential windbreak that protects the main gardens from the punishing wind and salt air of the ocean. I spotted a trod-on flower, pressed into the trail as if pressed between the pages of a book.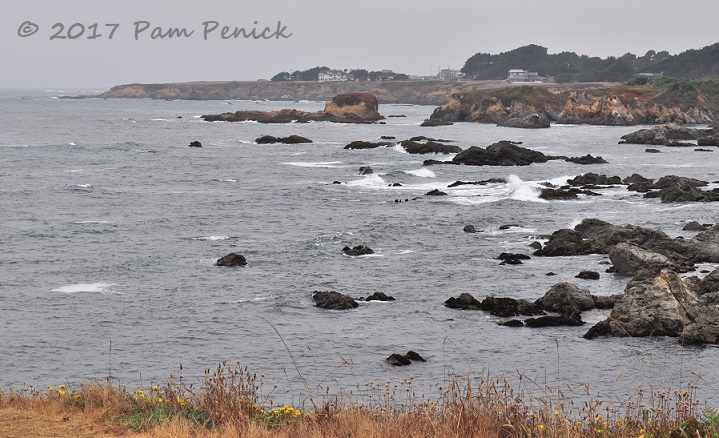 It was a pleasant stroll to reach to the coastal bluff offering views of the Pacific Ocean. In winter and spring you can spot migrating gray whales, I read. The trail meanders through a coastal prairie atop the bluff before circling back past an event lawn and then to…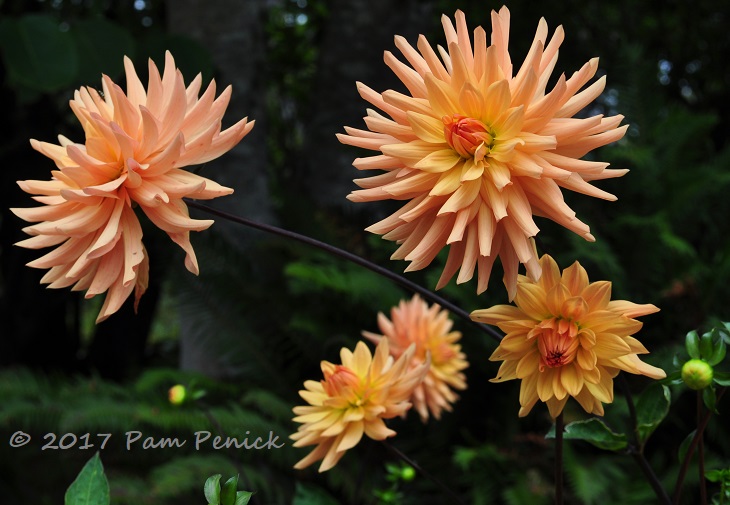 …the Dahlia Garden, which was in full bloom in early August. The garden is located outside of the deer gate because dahlias are deer resistant, according to the garden's website. I used their photos to try to identify the dahlias I photographed, starting with peachy-orange 'Marmalade'.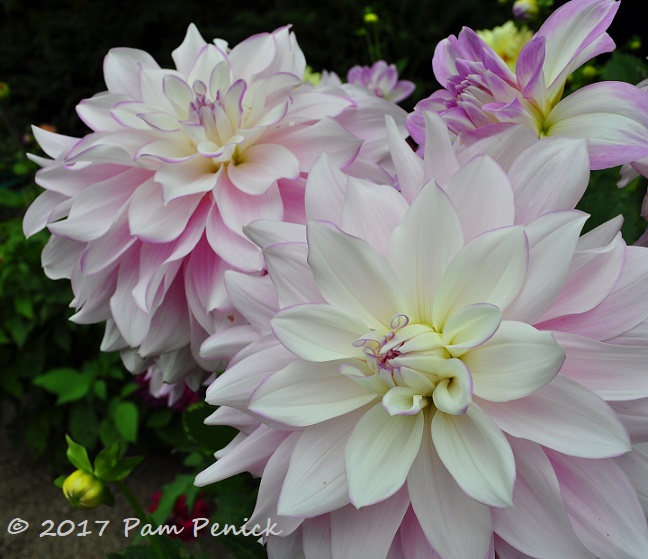 'Victoria Ann' dahlia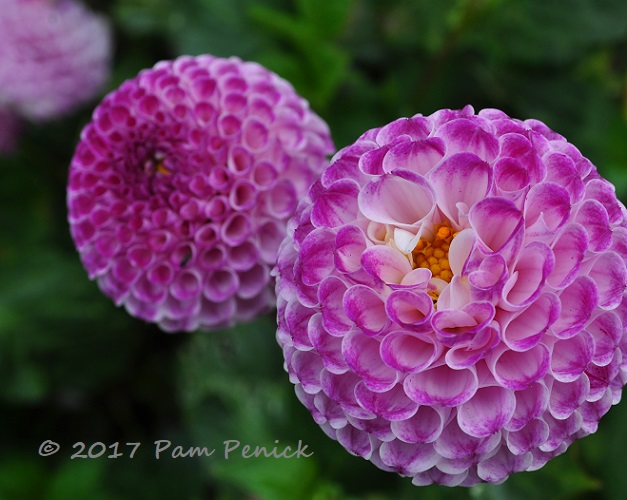 An unknown pink ball dahlia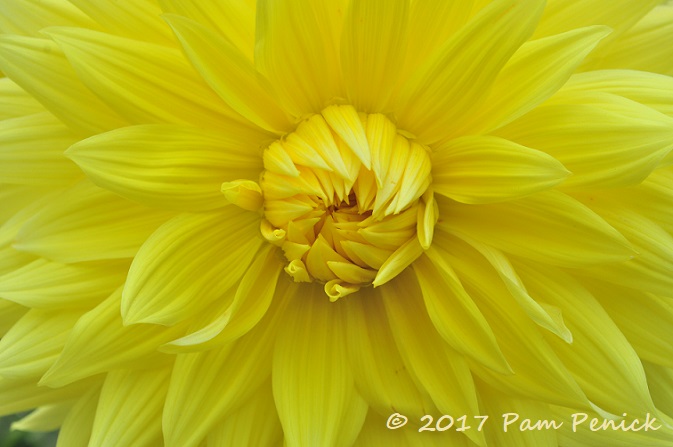 'James Albin' dahlia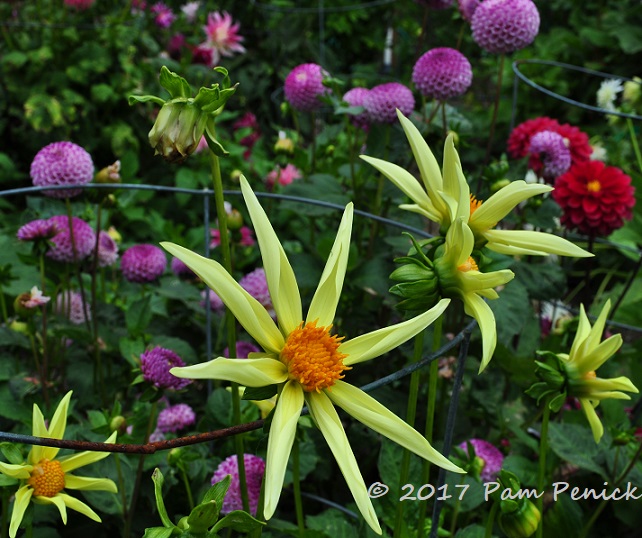 'Honka' dahlia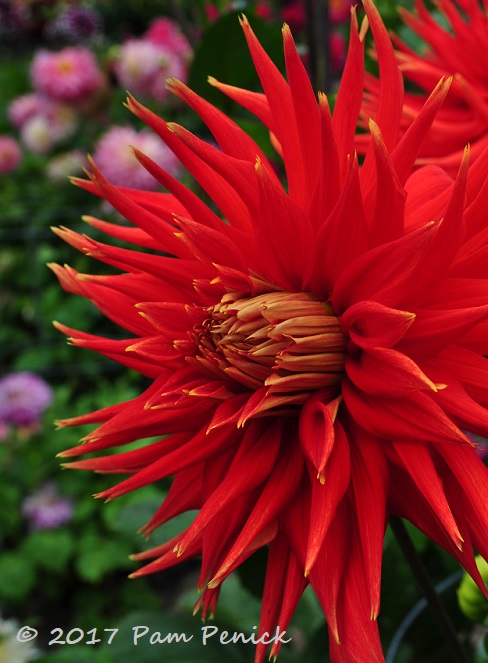 An unknown red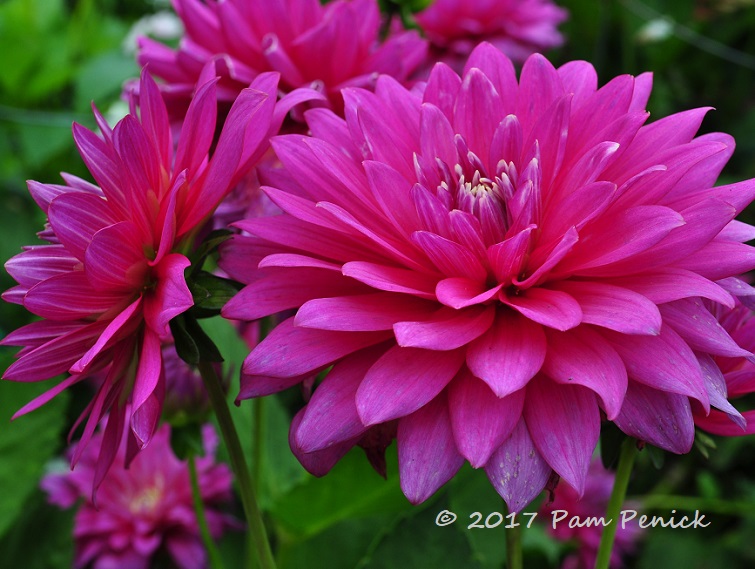 'Gonzo Grape' dahlia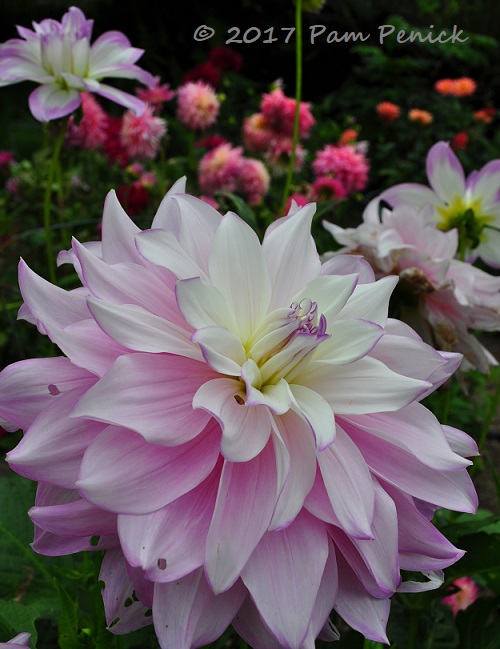 'Victoria Ann' dahlia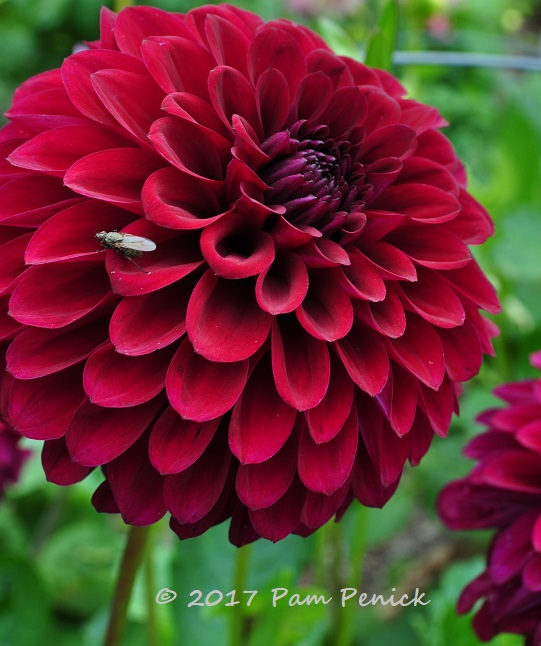 'Crossfield Ebony' dahlia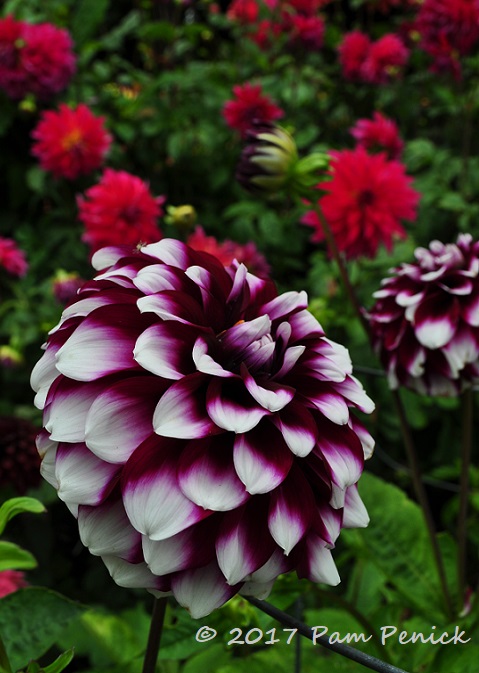 'Ryan C' dahlia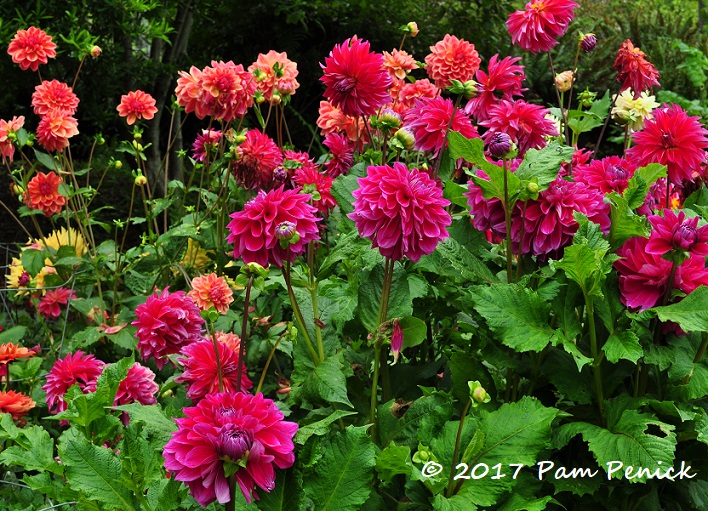 Hot-colored beauties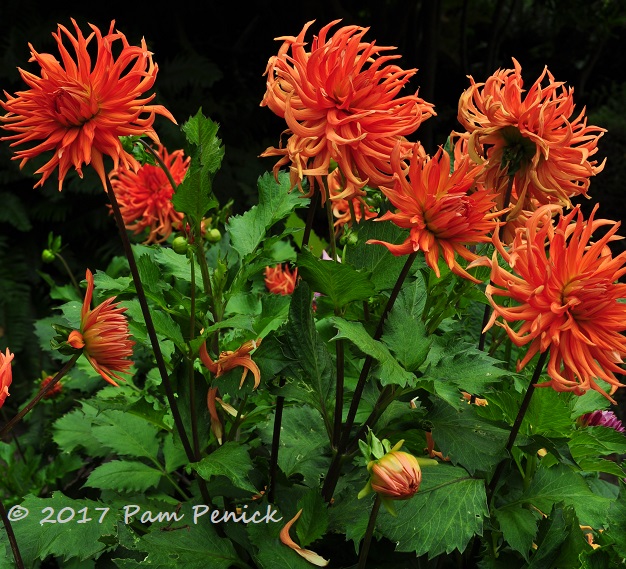 'Bright Star' dahlia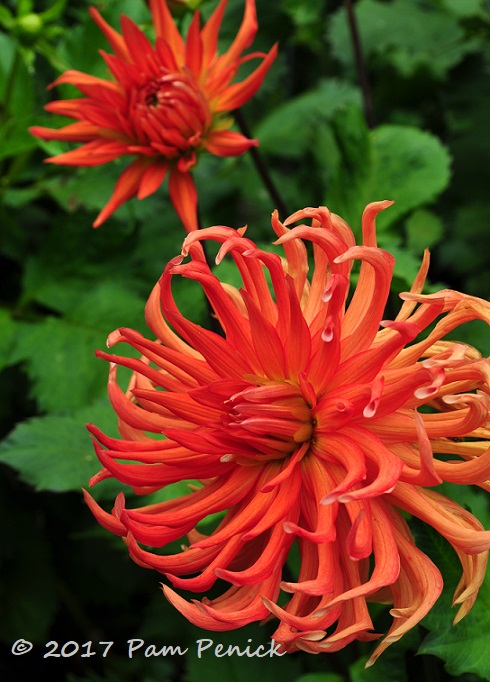 More 'Bright Star'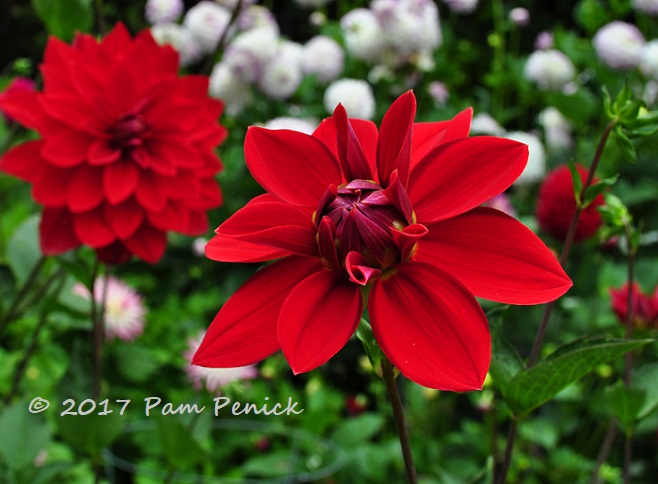 Unknown red dahlia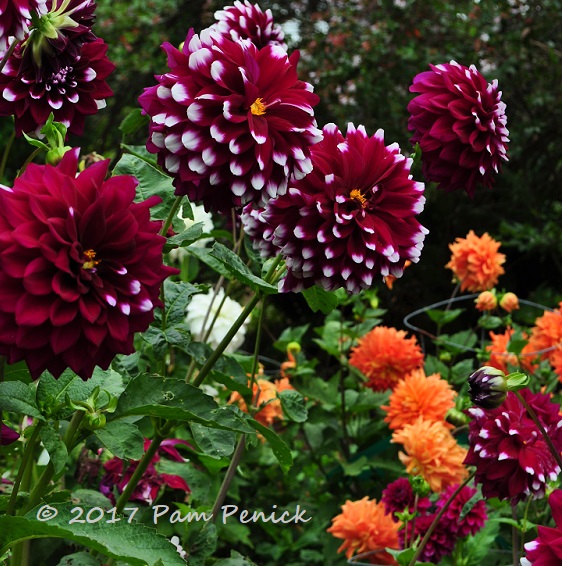 More 'Ryan C'?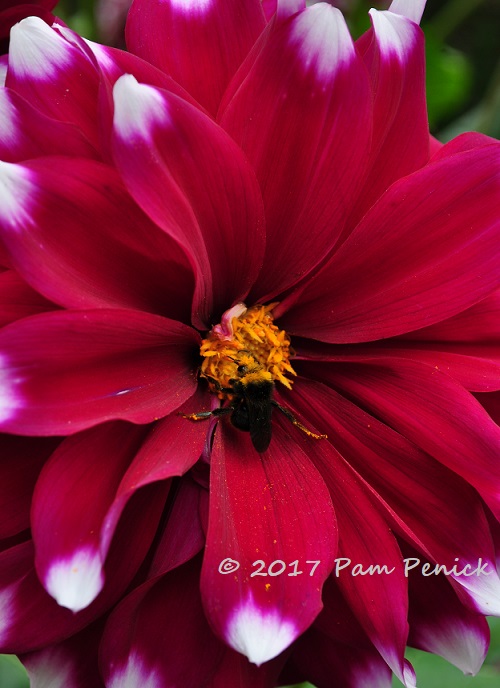 A bee doing a split to get in there.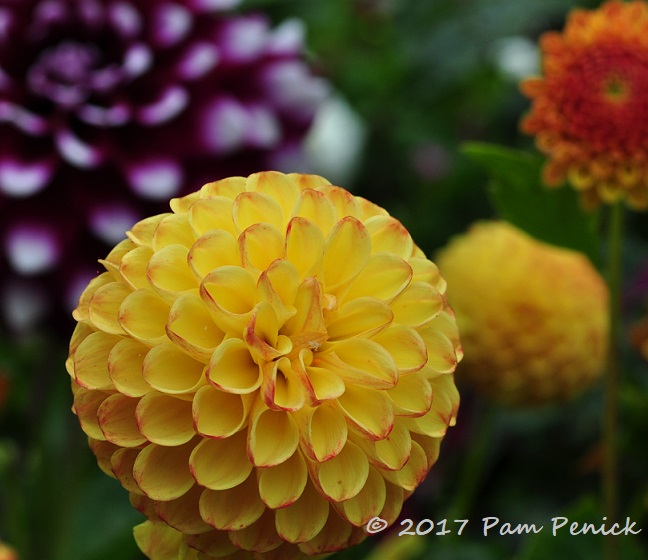 Unknown yellow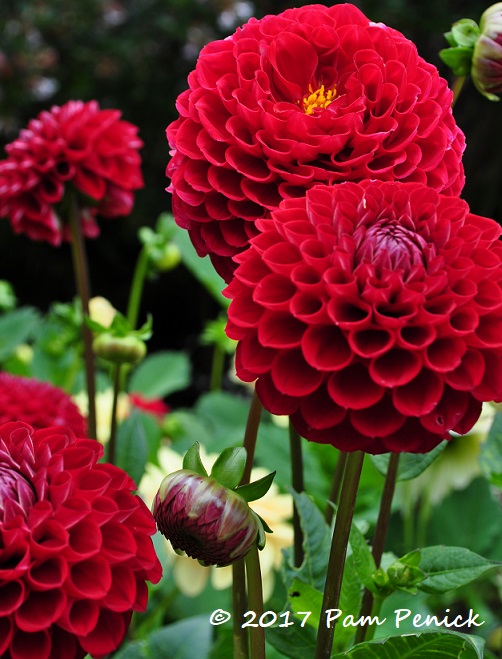 Unknown red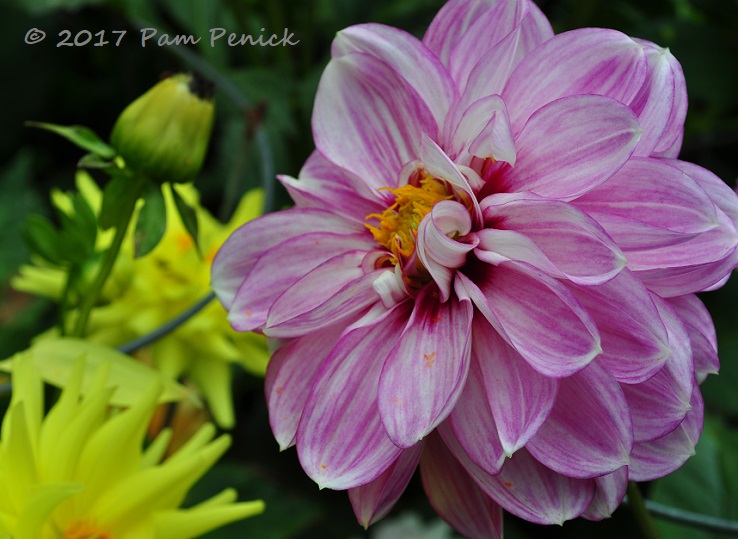 Unknown pink and white dahlia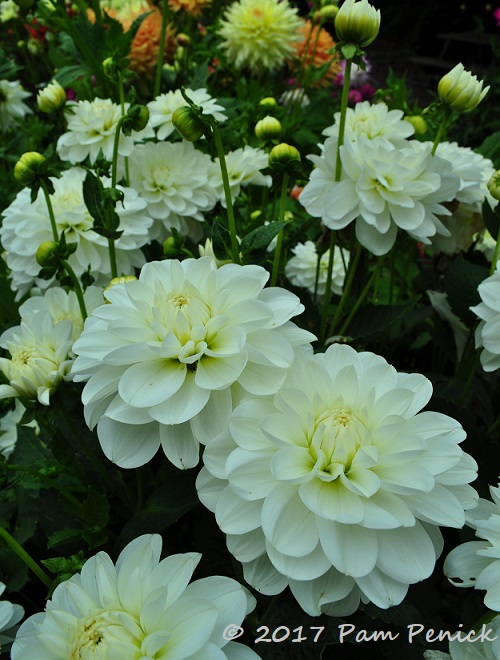 'Sterling Silver' dahlia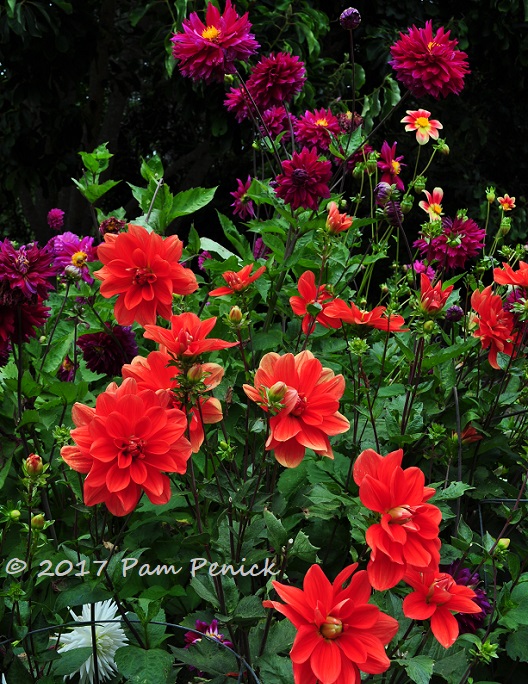 Shades of red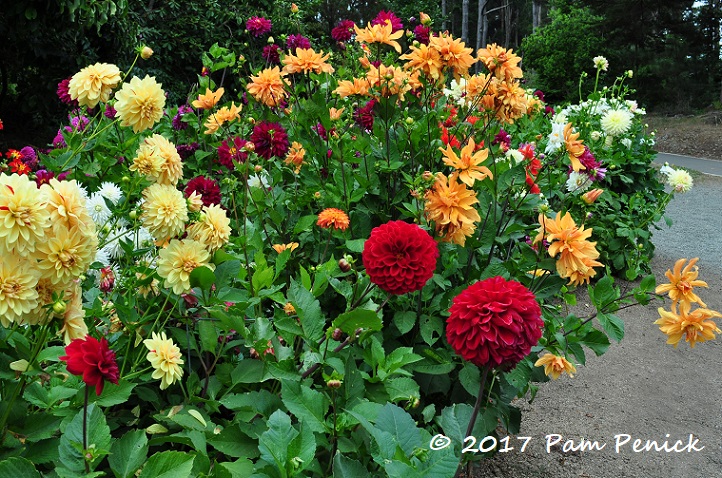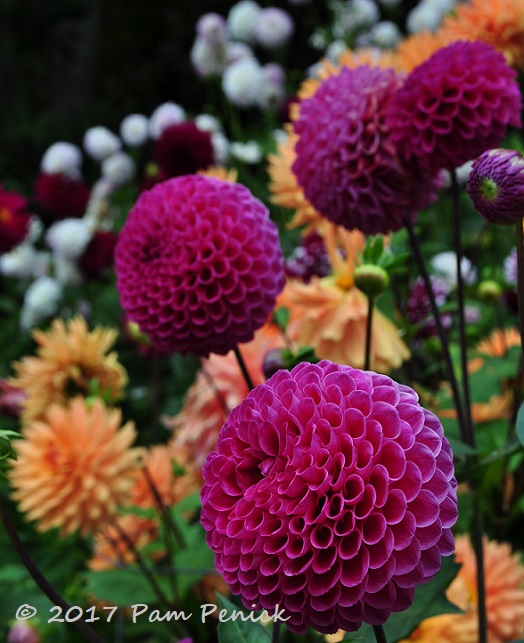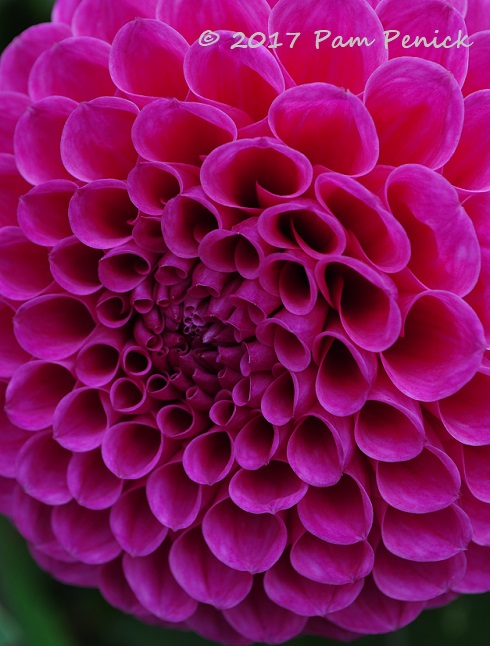 One last closeup of these gorgeous flowers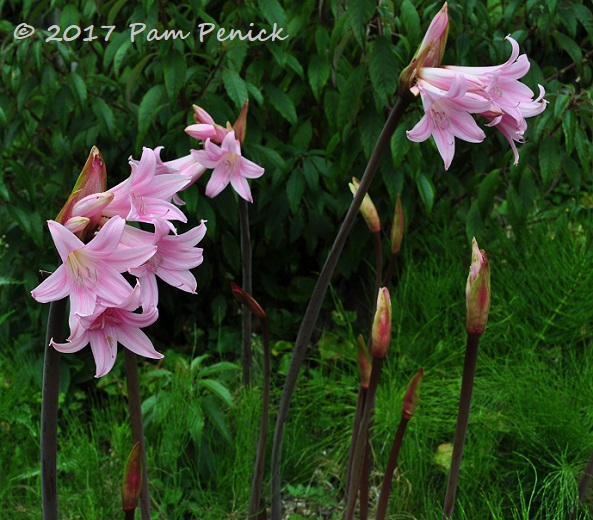 Heading back to the main gardens, I spotted some naked ladies (Amaryllis belladonna), pretty pink-flowering bulbs I'd seen blooming all along the coast at the ends of driveways and by mailboxes, clearly a popular passalong plant.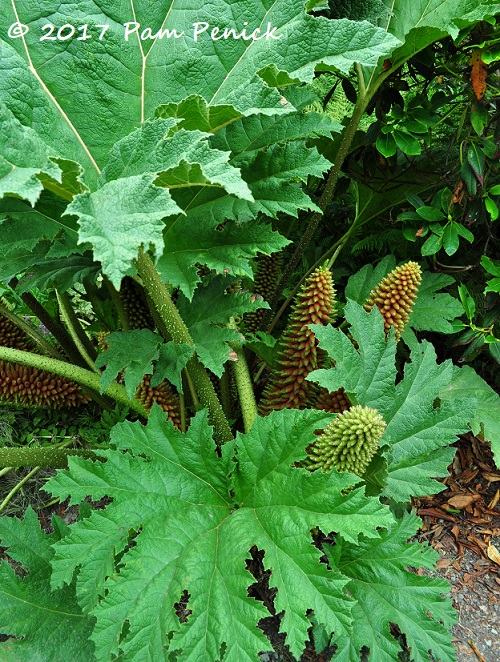 Prehistoric-looking Gunnera manicata was in bloom too, its low-growing flowers resembling spiky ears of corn.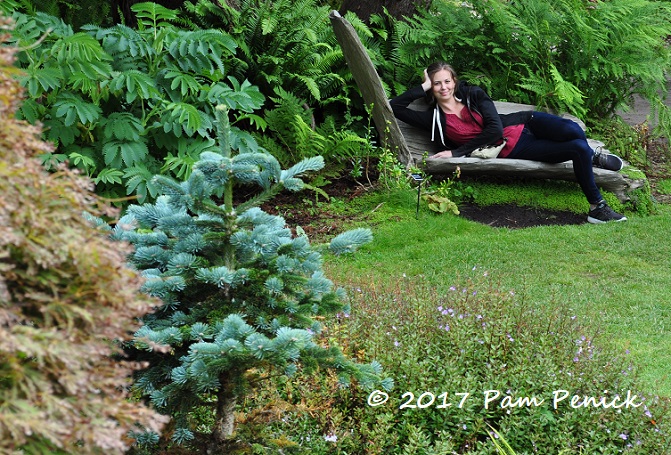 Back in the perennial garden, my daughter found a bench to lounge on, surrounded by lush foliage including…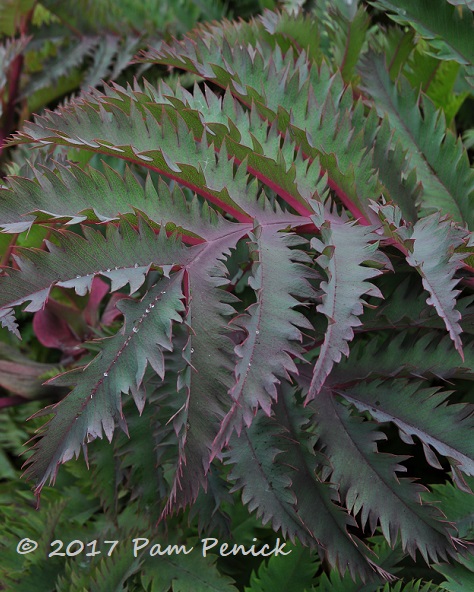 …Melianthus major 'Antonow's Blue'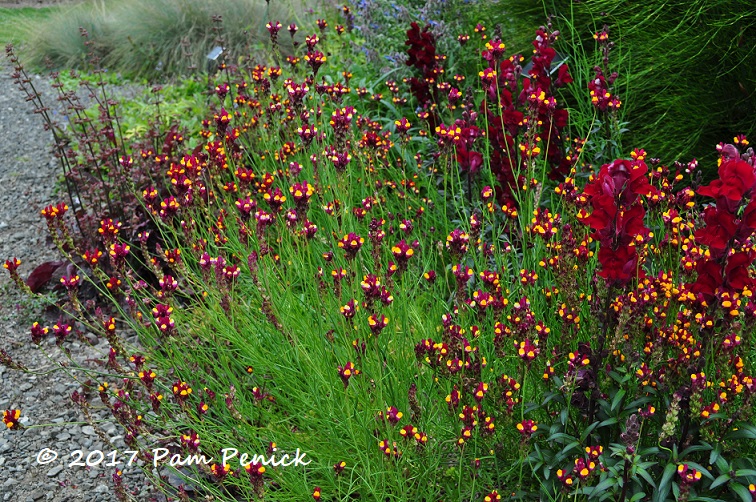 Richly colored flowers dazzled my eyes.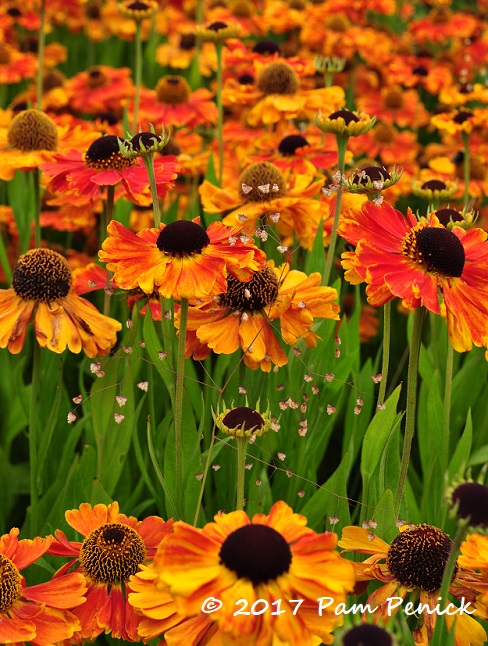 Helenium 'Mardi Gras'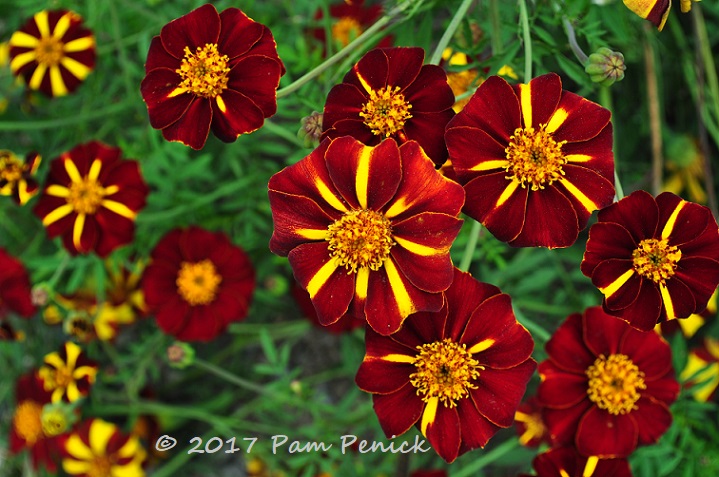 'Harlequin' French marigold (Tagetes patula 'Harlequin')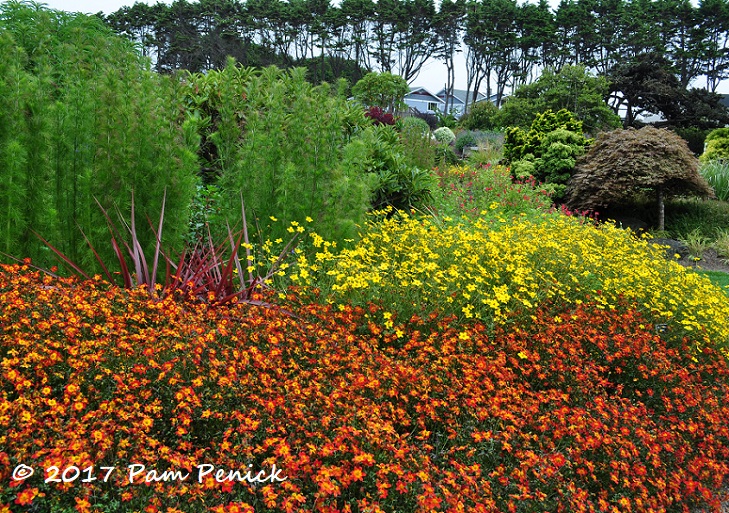 Bidens 'Beedance Painted Red' and Bidens ferulifolia 'Goldmarie'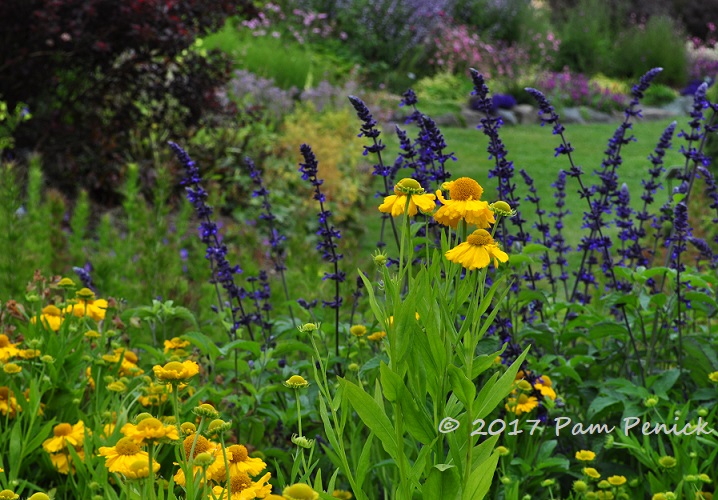 A yellow Helenium and dark-blue salvia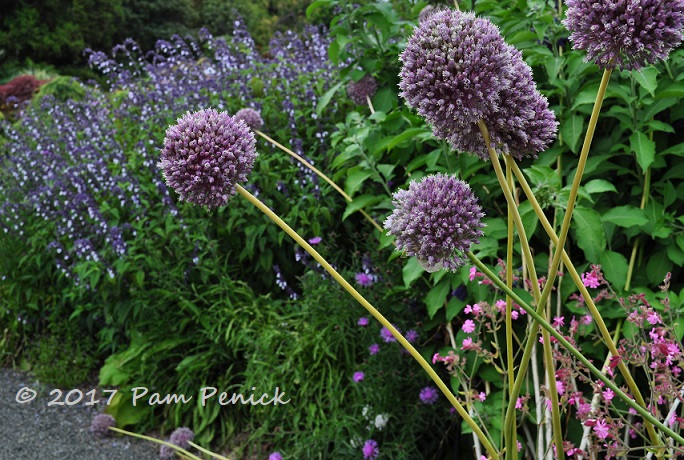 Lavender-headed alliums atop mossy green stems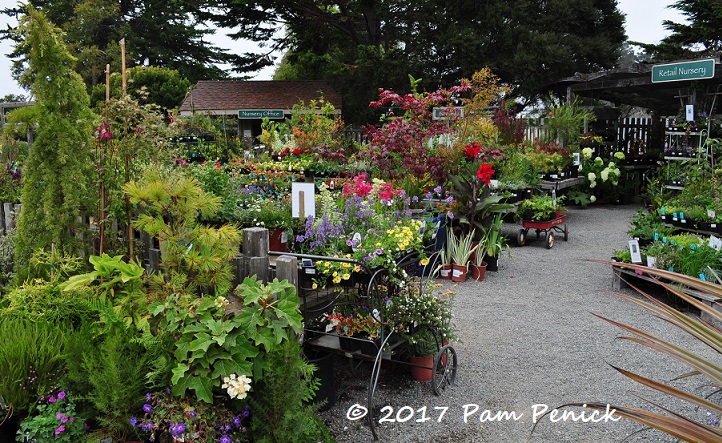 If you're smitten with a particular plant in the gardens, you might be able to find it in the on-site nursery, which is appealingly displayed.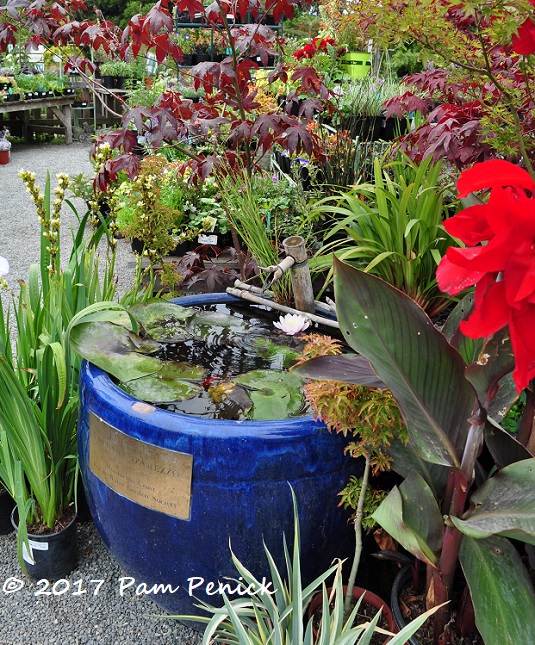 I longingly browsed but did not buy for my Death Star-blasted Texas garden.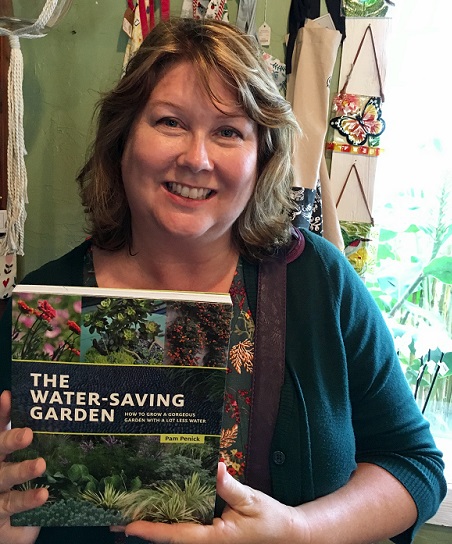 In the gift shop, I was thrilled to find a copy of my book The Water-Saving Garden for sale. Thanks for carrying it, MCBG!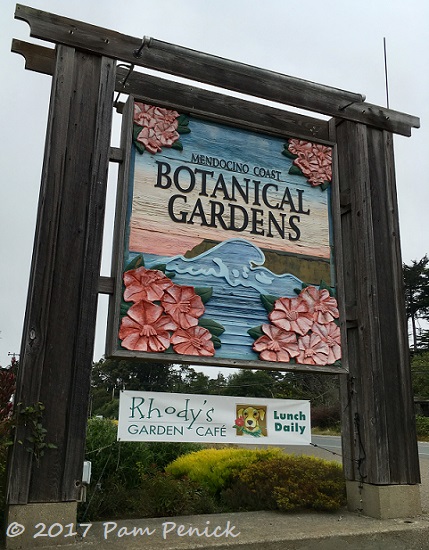 Mendocino Coast Botanical Gardens wowed us, and I'm so glad we were able to visit during our road trip.
Up next: Supersized trees in Redwood National Park and a hike in Fern Canyon. For a look back at part 1 of my visit to Mendocino Coast Botanical Garden, including the colorful Perennial and Heath/Heather gardens, click here.
I welcome your comments; please scroll to the end of this post to leave one. If you're reading this in a subscription email, click here to visit Digging and find the comment box at the end of each post.
_______________________
Digging Deeper: News and Upcoming Events
The Austin Cactus & Succulent Society hosts its Fall Show and Sale on September 2 & 3, from 10:00 am to 5:00 pm, at Zilker Botanical Garden (2220 Barton Springs Road). Come see rare and beautiful cacti and succulents and shop for plants and handcrafted pottery. Admission is free with paid entry to Zilker Botanical Garden ($2 adults, $1 children and seniors).
Get on the mailing list for Garden Spark Talks. Inspired by the idea of house concerts, I'm hosting a series of garden talks by talented designers and authors out of my home. Talks are limited-attendance events and generally sell out within just a few days, so join the Garden Spark email list for early notifications. Simply click this link and ask to be added.
All material © 2006-2017 by Pam Penick for Digging. Unauthorized reproduction prohibited.
posted in
Agaves
,
Aloes
,
Bees
,
Books
,
Botanic/Public Gardens
,
Bulbs/Rhizomes
,
Cactus
,
Containers
,
Flowers
,
Fountains
,
Garden tours 2017
,
Gates
,
Grasses
,
Nurseries & Shops
,
Ocean
,
Paths
,
Ponds
,
Seating
,
Shrubs
,
Signs
,
Succulents
,
Summer color
,
Travel
,
Trees
,
Views
,
Water features
,
Water-Saving Garden