July 28th, 2017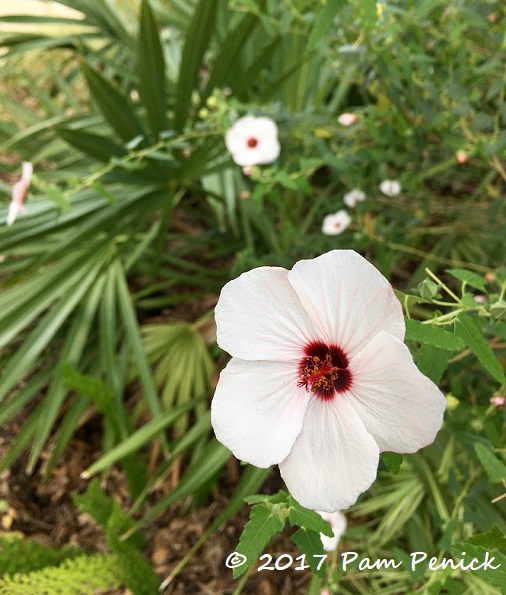 Even in gentler months, my shady garden is not particularly flowery, and in the heat of summer those perennials that do flower — salvias, mistflowers, cupheas — tend to hunker down until fall. One happy exception is pale pavonia, also known as Brazilian rock rose (Pavonia hastata), a cousin to our native hot-pink rock rose (Pavonia lasiopetala). Its tissuey, hibiscus-like white flowers with wine-red eyes and veins bloom all summer on rangy stems of narrow, toothy leaves.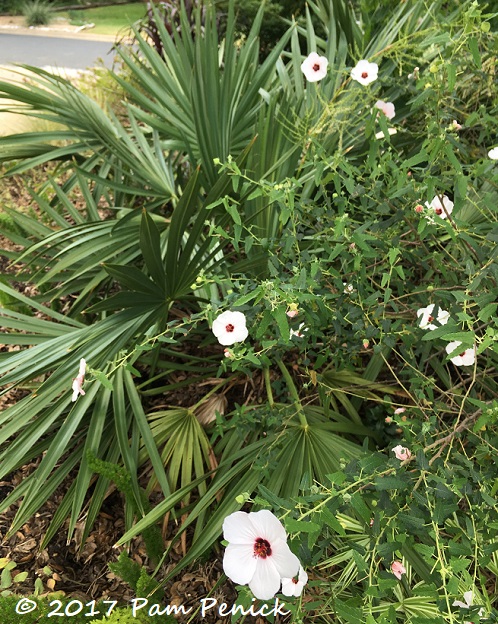 Impervious (in my garden, anyway) to deer, it handles the dry shade of live oaks with aplomb. In the island bed in the driveway, I've paired it with our native palmetto (Sabal minor), 'Sparkler' sedge, and foxtail fern (Asparagus meyeri). There's also a burgundy-leaved loropetalum in the mix, which I think will look great with the pale pavonia's red eyes, if it would only grow.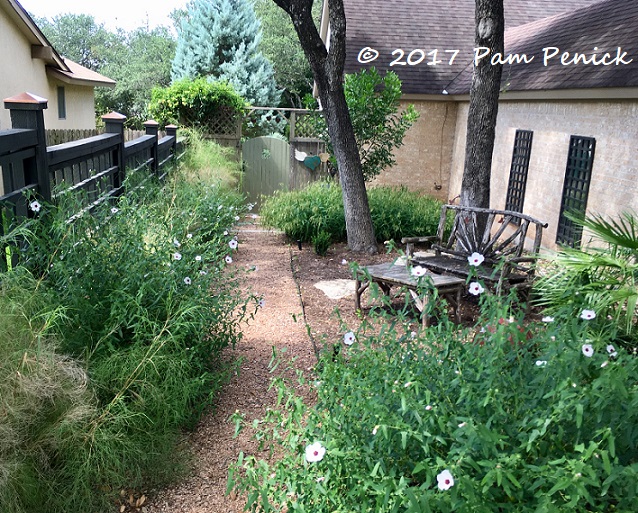 In the side garden, I replaced my original low hedge of flame acanthus, which was continually browsed by deer, with pale pavonia, which blooms reliably amid bamboo muhly (Muhlenbergia dumosa), inland sea oats (Chasmanthium latifolium), and a Mediterranean fan palm (Chamaerops humilis) on the right. (And if you're curious about the blue tree behind the fence, that's a 'Blue Ice' Arizona cypress, one of my favorite trees for that icy-blue color, pyramidal shape, and a Christmasy fragrance.)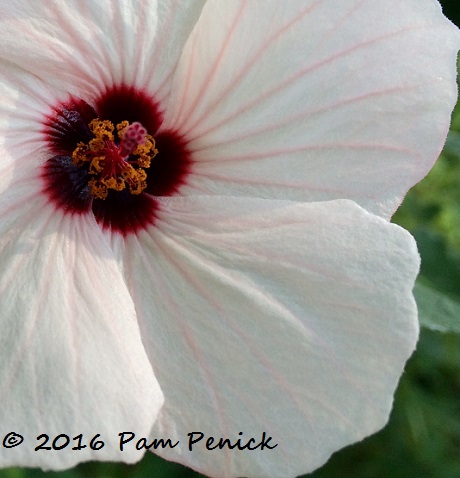 Pale pavonia tends to seed out in the garden, but I find its seedlings easy to pull up after a rain, or you can transplant them around your garden. It can be a little cold tender, so I recommend planting it in spring, not fall. Dave's Garden says it's hardy to zone 7a, which I'm a little dubious about, but maybe in a warm microclimate. It grows to about 4 feet tall and wide in my garden, with a rangy appearance, kind of like Turk's cap.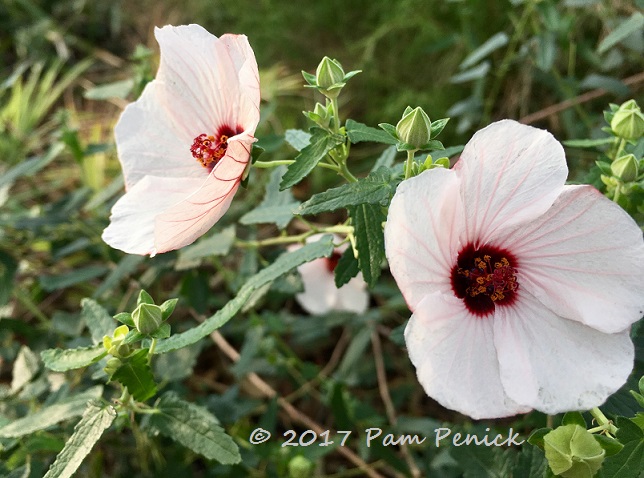 As MSS of Zanthan Gardens noted in a long-ago but useful blog post (she first inspired me to try pale pavonia 10 years ago), some of the flowers in spring and early summer are cleistogamous — i.e., they produce seeds without opening — so you may watch expectantly, awaiting a flush of flowers, only to be disappointed. Be patient. The glowing white flowers will light up the shade by midsummer through fall.
Note: My Plant This posts are written primarily for gardeners in central Texas. The plants I recommend are ones I've grown myself and have direct experience with. I wish I could provide more information about how these plants might perform in other parts of the country, but gardening knowledge is local. Consider checking your local online gardening forums to see if a particular plant might work in your region.
I welcome your comments; please scroll to the end of this post to leave one. If you're reading this in a subscription email, click here to visit Digging and find the comment box at the end of each post.
_______________________
Digging Deeper: News and Upcoming Events
Get on the mailing list for Garden Spark Talks. Inspired by the idea of house concerts, I'm hosting a series of garden talks by talented designers and authors out of my home. Talks are limited-attendance events and generally sell out within just a few days, so join the Garden Spark email list for early notifications. Simply click this link and ask to be added.
All material © 2006-2017 by Pam Penick for Digging. Unauthorized reproduction prohibited.