August 16th, 2017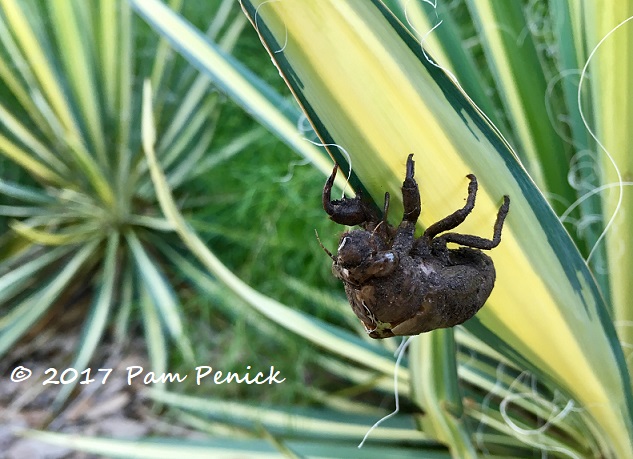 By mid-August this Texas gardener is looking for any shred of hope that summer's heat will be waning soon. But even though I'm barely hanging on — along with this shed cicada skin — many of my plants are soldiering through, including yellow-striped 'Color Guard' yucca. It offers color that lasts summer through winter, no blooms required.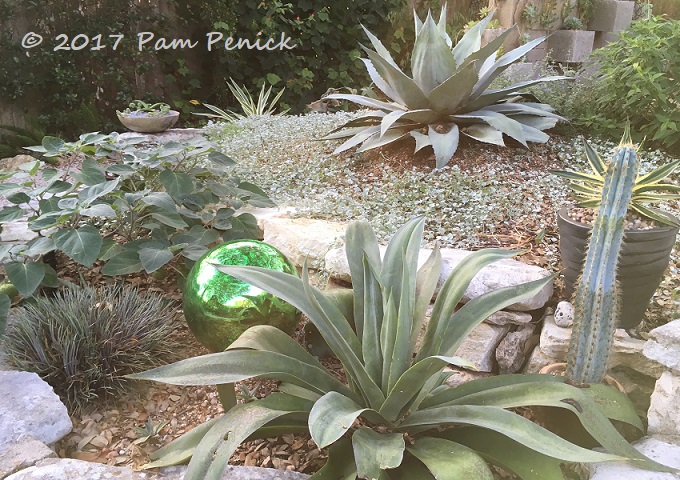 I also enjoy the cooler tones of this silver bed, which contains my new whale's tongue agave (Agave ovatifolia) at top, surrounded by silver ponyfoot (Dichondra argentea); 'Macho Mocha' mangave in front, backed by 'Frazzle Dazzle' dyckia and a self-seeded datura; and, in a pot, blue torch cactus (Pilocereus azureus). Minimal water required for these silver belles.
This is my August post for Foliage Follow-Up. Fellow bloggers, what leafy loveliness is happening in your garden this month? Please join me in giving foliage its due on the day after Bloom Day. Leave a link to your post in a comment below. I'd appreciate it if you'll also link to my post in your own — sharing link love! I look forward to seeing your foliage faves.
I welcome your comments; please scroll to the end of this post to leave one. If you're reading this in a subscription email, click here to visit Digging and find the comment box at the end of each post.
_______________________
Digging Deeper: News and Upcoming Events
Get on the mailing list for Garden Spark Talks. Inspired by the idea of house concerts, I'm hosting a series of garden talks by talented designers and authors out of my home. Talks are limited-attendance events and generally sell out within just a few days, so join the Garden Spark email list for early notifications. Simply click this link and ask to be added.
All material © 2006-2017 by Pam Penick for Digging. Unauthorized reproduction prohibited.