July 16th, 2017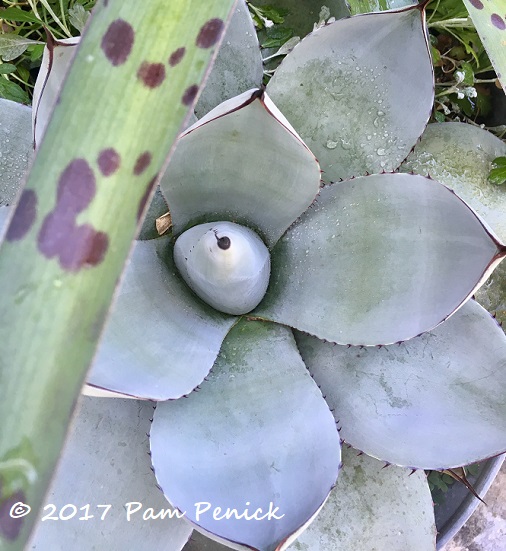 Summer is my most challenging season as a gardener. Yes, really — not winter. I don't care at all for hot weather, so I retreat indoors and don't venture outside much until that first hint of cooler air and lessening of the Death Star that typically occurs in early October. (And then I enjoy being outdoors from October through May, a good 8 months, so don't feel sorry for my being cooped up all summer. It's like a northerner's winter.)
The plants in my garden don't have the luxury of hanging out in the A/C, so they've got to be tough enough not only to withstand months of 95-to-100-degree heat, Gulf Coast humidity, and (sometimes) lack of rain but also the neglect of a summer-wimpy gardener.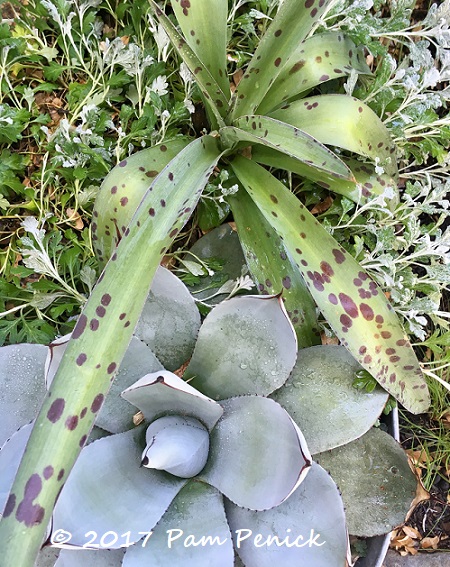 I fear perhaps I overshare about such plants, like an adoring parent with a precocious child, but here I am again for Foliage Follow-Up, touting the beauty and toughness of winter-hardy agaves and succulents, like this container combo of Agave parryi var. truncata and Manfreda maculosa, aka Texas tuberose, a South Texas native. Neither heat nor cold has touched this slow-growing small agave. While the purple-spotted manfreda died back in last winter's freezes, it sprang back quickly in the spring.
I also really like the 'Quicksilver' artemisia (a trial plant from Proven Winners) filling in around them. I don't know if it would be overly aggressive if planted out in the garden, the way 'Oriental Limelight' artemisia can be. But in a container it's perfectly behaved and looks great even when I forget to water. I'm growing this combo in bright shade with a little afternoon sun.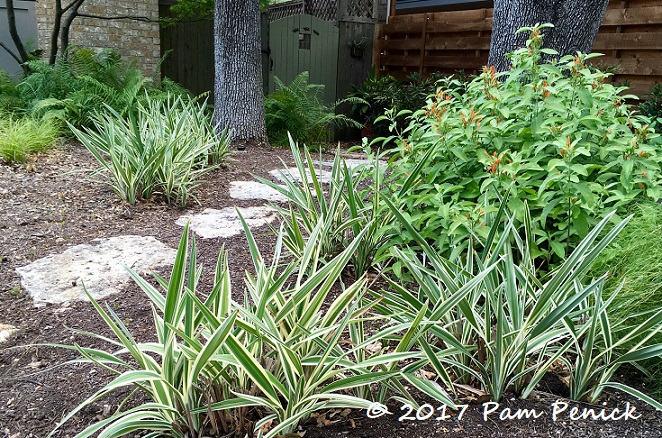 Another combo I'm always appreciative of in the summer is variegated flax lily (Dianella tasmanica 'Variegata') and Mexican honeysuckle (Justicia spicigera), which are not only heat tolerant but shade tolerant and deer resistant. They aren't quite as winter hardy as I'd like in Austin's hardiness zone 8b; both died back messily during last winter's Arctic blast. But hey, they came back this spring and now look great, and on a hot summer's day, what more can one ask of the garden?
This is my July post for Foliage Follow-Up. Fellow bloggers, what leafy loveliness is happening in your garden this month? Please join me in giving foliage its due on the day after Bloom Day. Leave a link to your post in a comment below. I'd appreciate it if you'll also link to my post in your own — sharing link love! I look forward to seeing your foliage faves.
I welcome your comments; please scroll to the end of this post to leave one. If you're reading this in a subscription email, click here to visit Digging and find the comment box at the end of each post.
_______________________
Digging Deeper: News and Upcoming Events
Get on the mailing list for Garden Spark Talks. Inspired by the idea of house concerts, I'm hosting a series of garden talks by talented designers and authors out of my home. Talks are limited-attendance events and generally sell out within just a few days, so join the Garden Spark email list for early notifications. Simply click this link and ask to be added.
All material © 2006-2017 by Pam Penick for Digging. Unauthorized reproduction prohibited.