July 9th, 2017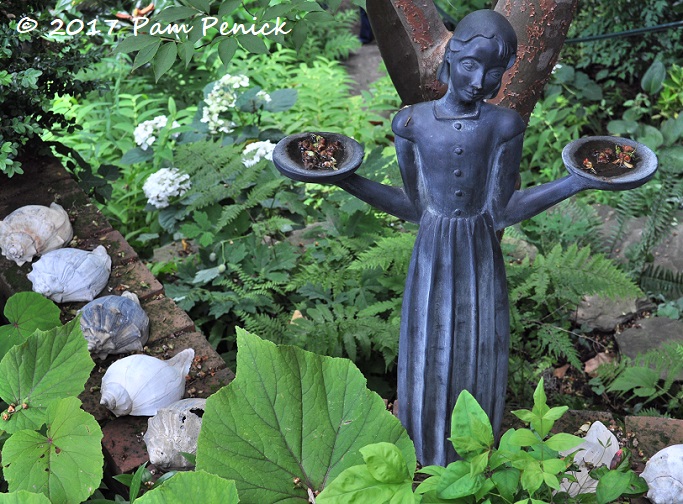 I didn't expect to see a banana tree and sago palm in any of the gardens we visited during the Capital Region Garden Bloggers Fling last month, but Arlington, Virginia, designer Jeff Minnich's garden is full of surprises.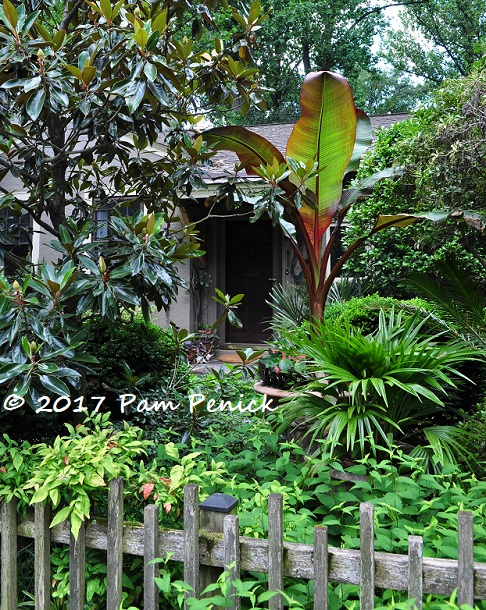 Reminiscent of a New Orleans cottage garden with picket fencing and tropical-looking potted plants out front, and with black-humor garden art in back, the garden evokes a Southern Gothic vibe more common in the Deep South than in the Upper South/Mid-Atlantic region of Washington, D.C.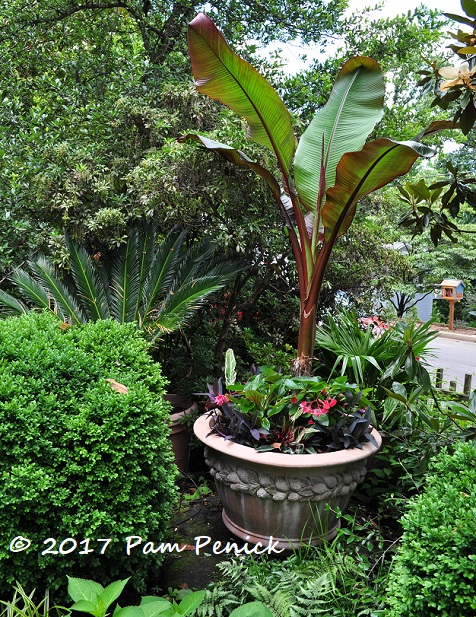 A potted banana makes a broad-leaved focal point in the tiny front garden.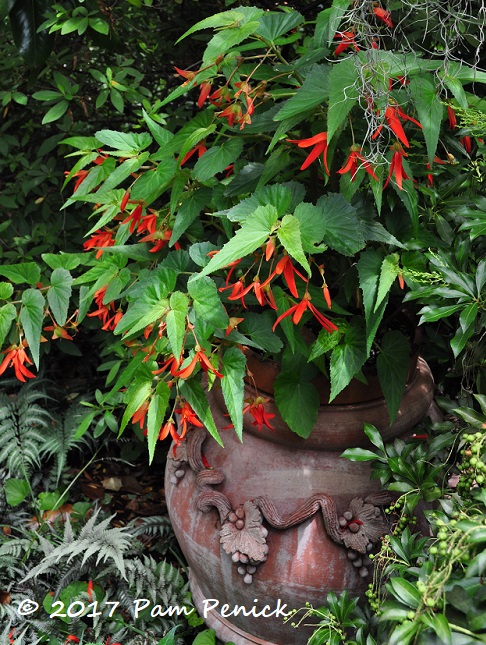 Angel wing begonia brightens the shade in a grapevine-adorned terracotta pot.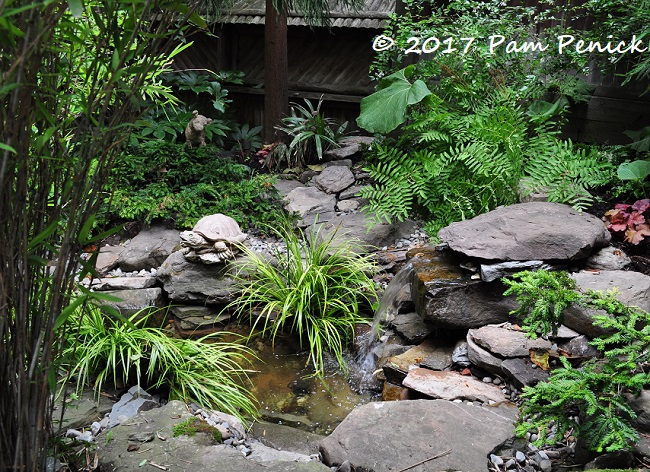 Rounding the corner of the house into the side yard, you see two things: 1) that Jeff has made the most of his small front garden by continuing it into a fully landscaped side yard with a major water feature, and 2) that his lot drops dramatically from the back of the house. This pretty stream, which spills into small pools, turns into a waterfall just a few feet farther along.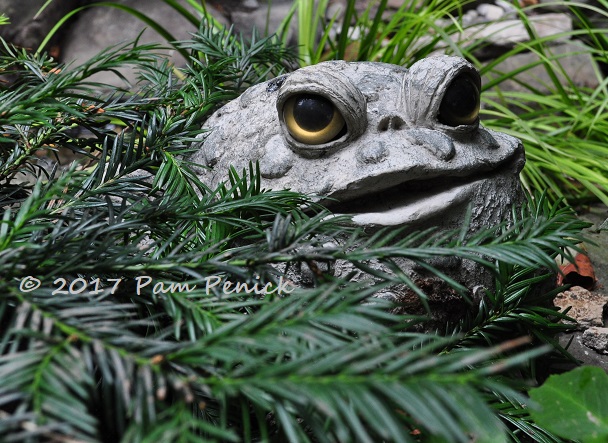 Tucked in a patch of prostrate yew and sedge, a golden-eyed frog watches you pass by.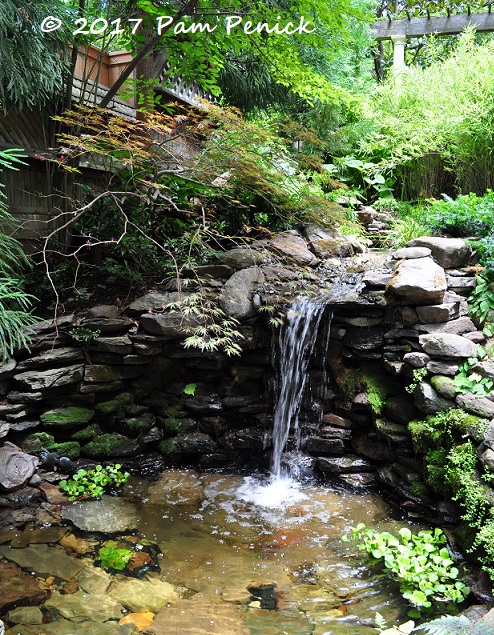 From a small patio at the back corner of the house, you enjoy a view of the waterfall, overhung with a lacy Japanese maple.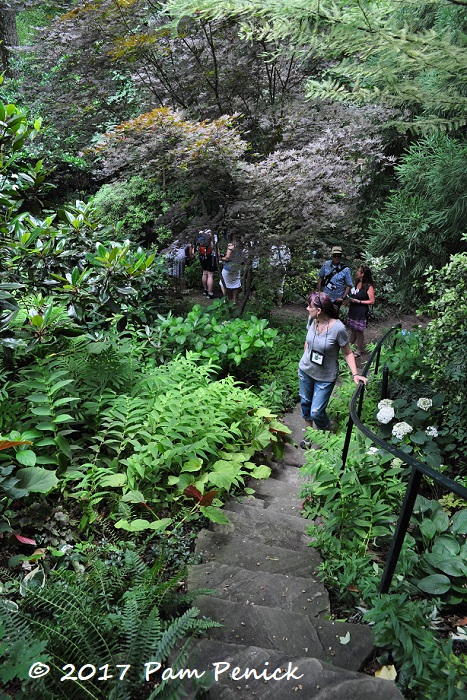 And then the garden falls away from the house into a wooded canyon — or so we'd call it in Texas — lushly planted with ferns, hostas, hydrangeas, Japanese maples, and other shade lovers.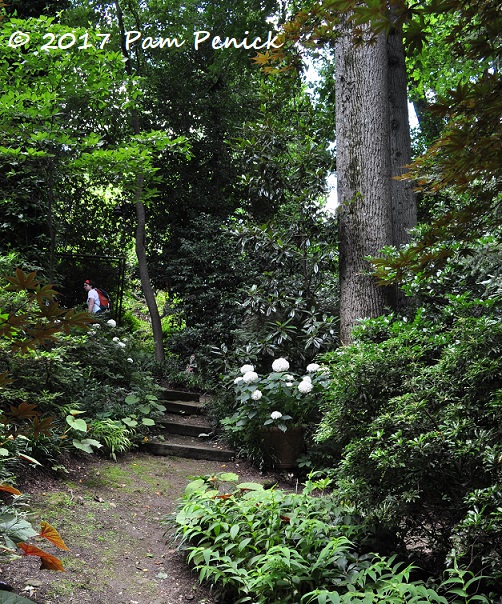 Great old trees rise above the understory along this lower path.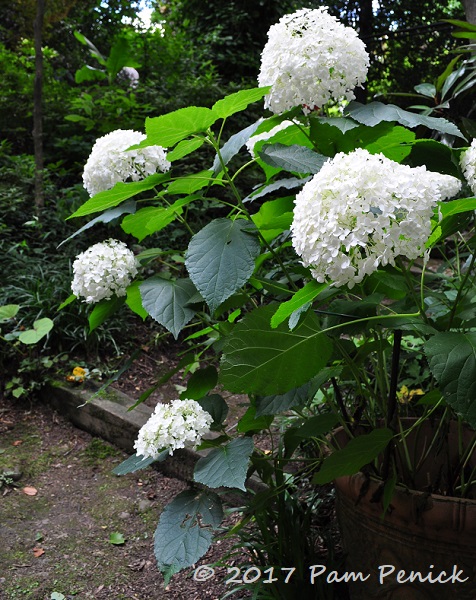 White-flowering hydrangea brightens the dimly lit garden.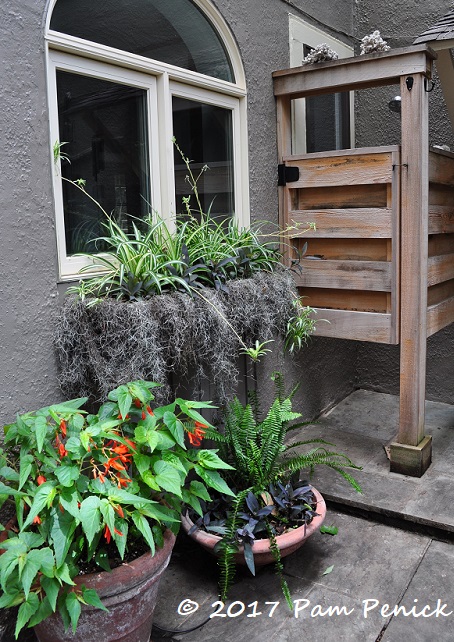 Climbing back up to the house, you reach a narrow back patio and a handy outdoor shower.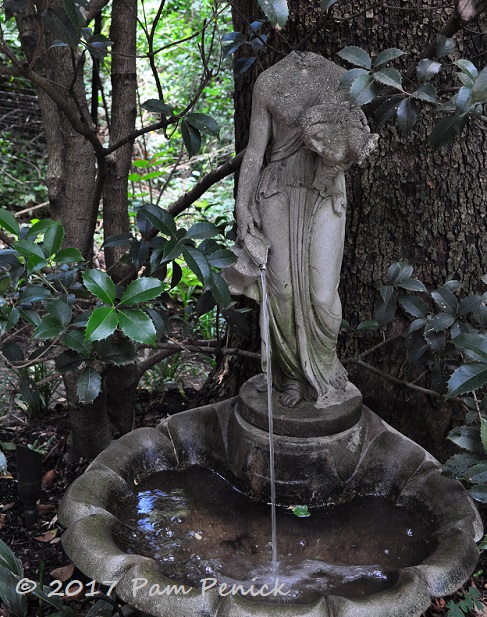 Jeff has a slightly macabre sense of humor, as evidenced by his garden art, like this statuary fountain of a headless woman cradling her own head. This got a lot of attention from the bloggers!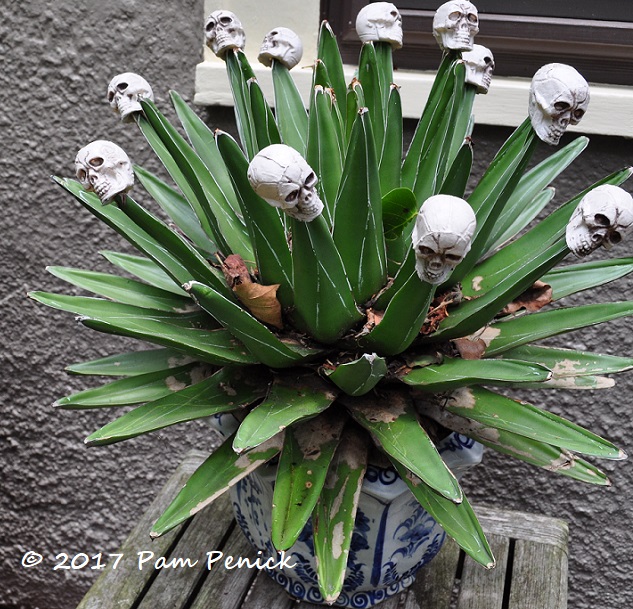 As did this — an agave whose stiff, spiky leaves were topped with tiny skulls.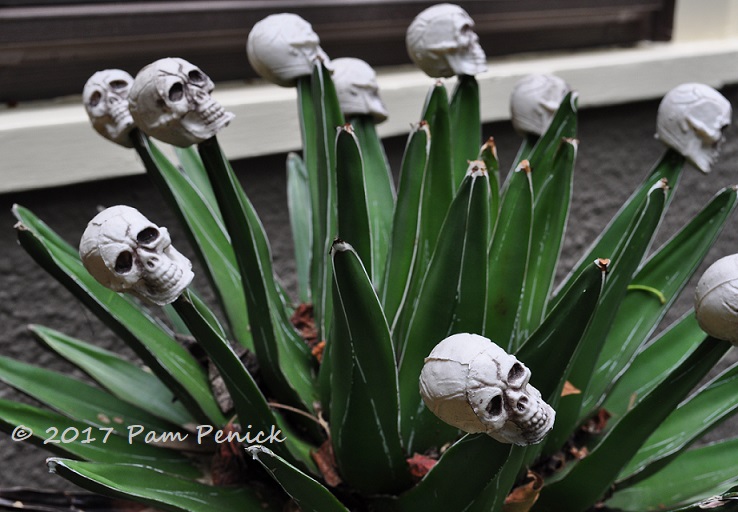 I couldn't help laughing when I saw it — and contemplating the "danger garden" aspect of growing agaves.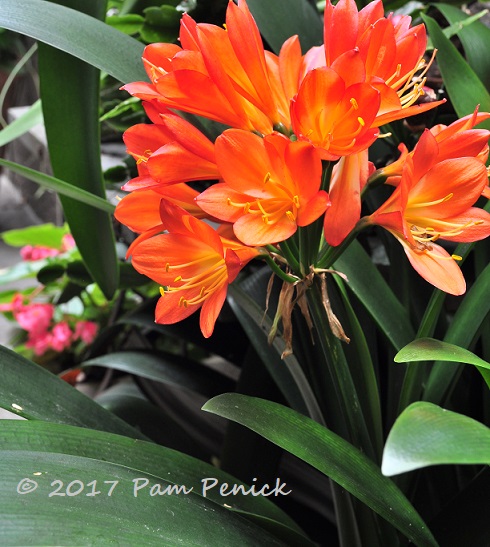 Potted clivia adds color and more of that subtropical New Orleans vibe.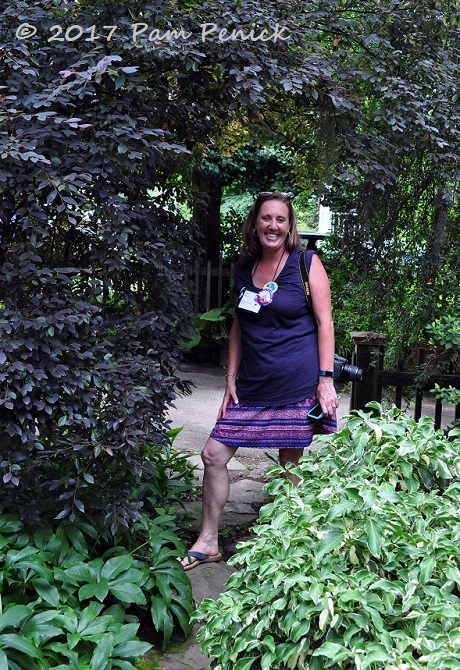 Back out front, I was admiring an arched doorway of purple-leaved loropetalum when Karin of Southern Meadows walked through in her matching purple shirt. Of course I had to get a picture.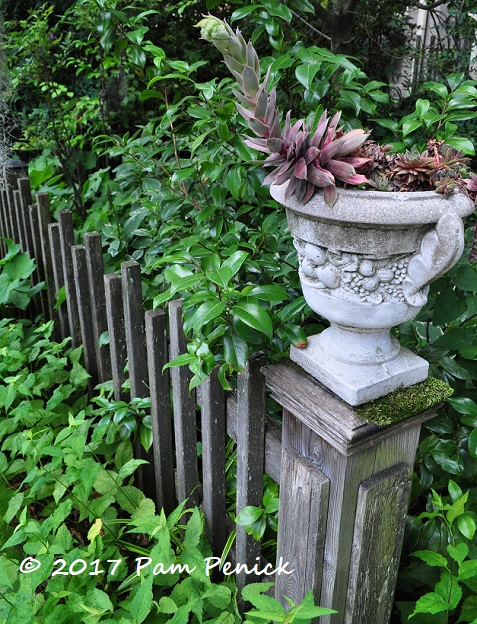 I also really like Jeff's unpainted fence of staggered-height 1×1-inch cedar pickets. A small concrete urn planted with succulents tops this mossy baluster near the street, adding one more charming element to a wonderfully charming garden.
Up next: The Maine-evoking garden of Maryland designer Debbie Friedman. For a look back at Peg Bier's woodland garden of discovery, click here.
I welcome your comments; please scroll to the end of this post to leave one. If you're reading this in a subscription email, click here to visit Digging and find the comment box at the end of each post.
_______________________
Digging Deeper: News and Upcoming Events
Get on the mailing list for Garden Spark Talks. Inspired by the idea of house concerts, I'm hosting a series of garden talks by talented designers and authors out of my home. Talks are limited-attendance events and generally sell out within just a few days, so join the Garden Spark email list for early notifications. Simply click this link and ask to be added.
All material © 2006-2017 by Pam Penick for Digging. Unauthorized reproduction prohibited.
posted in
Agaves
,
Arbors
,
Containers
,
Decor
,
Fences
,
Fling DC/VA
,
Fountains
,
Garden art
,
Garden tours 2017
,
Hillside
,
Outdoor showers
,
Palms/Cycads
,
Paths
,
Patios & decks
,
Ponds
,
Porch
,
Rock
,
Sculpture
,
Shade garden
,
Shrubs
,
Succulents
,
Travel
,
Trees
,
Tropicals
,
Water features
,
Waterfalls