July 3rd, 2017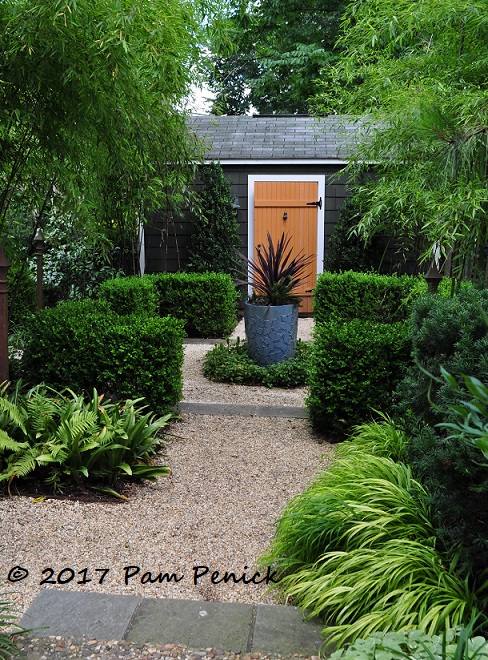 Much as I love my contemporary-naturalistic garden, and enjoyed puttering in my flowery cottage garden before that, my next garden — whenever and wherever that turns out to be — is going to be more like this one: smaller, with formal garden rooms laid out along axis views, and planted mainly with evergreens for less seasonal maintenance.
This beautiful and classic garden belongs to Arlington, Virginia designer Scott Brinitzer, and we saw it on the second day of touring during the Capital Region Garden Bloggers Fling in late June. We entered the garden via this long gravel path, drawn in by a striking focal point: a potted purple cordyline in a dusty blue pot in front of a pumpkin-colored shed door.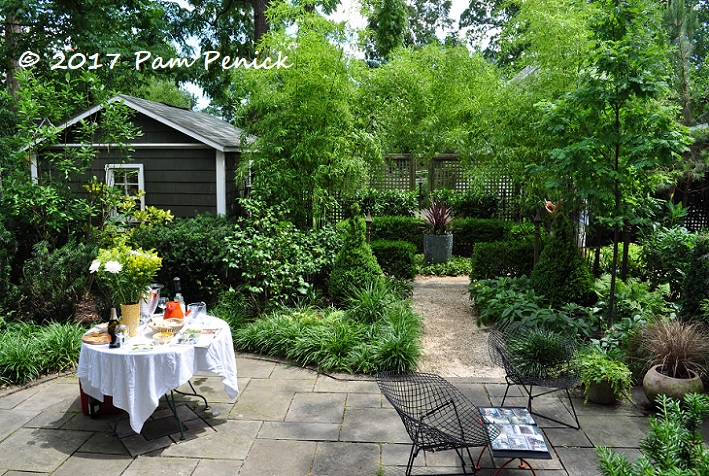 You can see the same pot in this photo, pulling double duty now as a focal point viewed from a spacious stone patio off the back of the house. Framed by a low hedge of clipped boxwood, feathery clumping bamboo, and panels of gray lattice fencing, the pot works like a visual magnet, drawing the eye into the next space along the L-shaped gravel path that connects various garden rooms.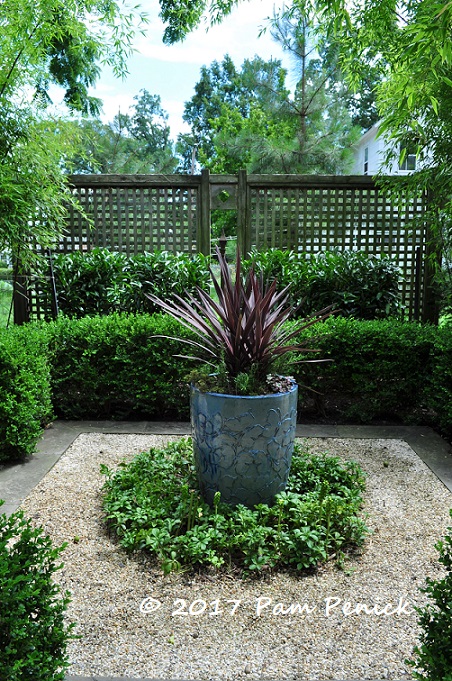 I might have mirrored the lattice panels for additional privacy, but leaving them open provides more air flow, which is a plus in a Southern garden.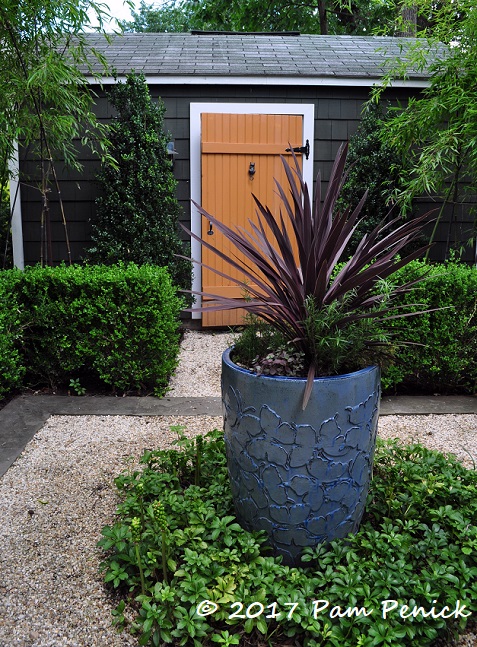 I love the color choices, which give a contemporary edge to the classic design. (Compare with the door's previous incarnation in blue, as seen in Scott's portfolio pics on his website.)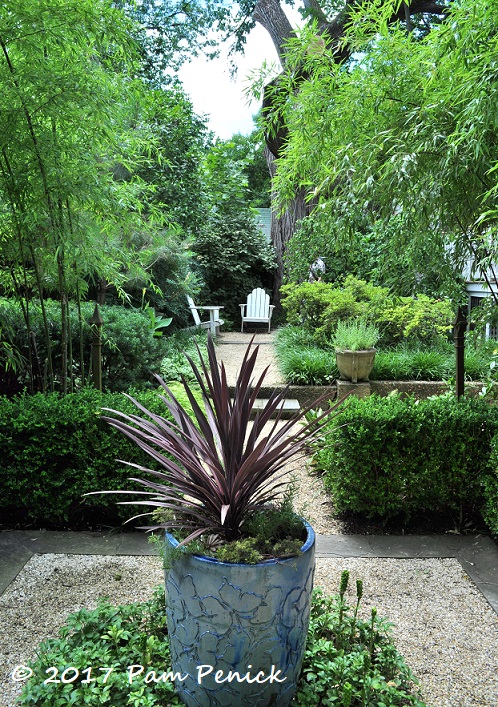 Here's the opposite view, looking away from the shed toward a small circular patio and a pair of white Adirondacks. This pathway is a double axis, with carefully considered views that pull your eye toward focal points in each direction — an effective design technique for directing the movement of people through a garden and making the most of a small space.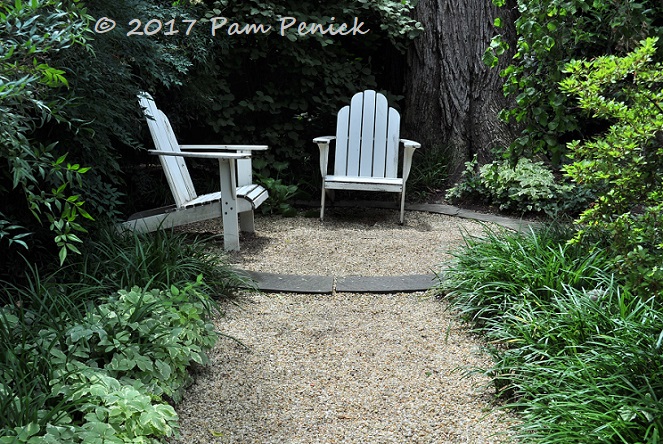 The circular patio acts as a visual pause at the end of the path…

…as well as a turning point for a pathway to the driveway.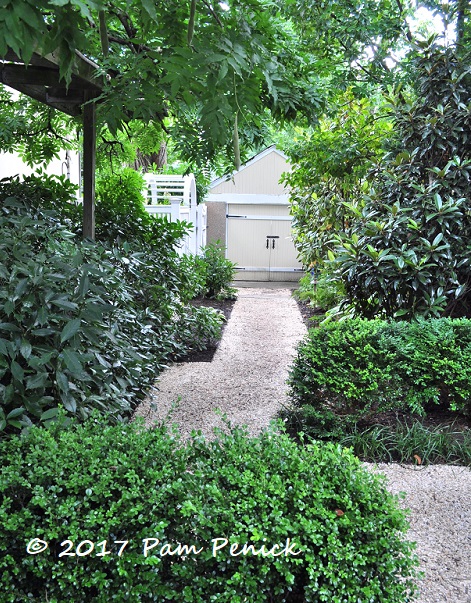 The old garage still sits at the end of what was once a long driveway. Scott told us that he kept part of the driveway up by the street and converted the rest into a water-permeable gravel path and garden, helping to cut down on water runoff from his property. Yes, that makes it a water-saving garden!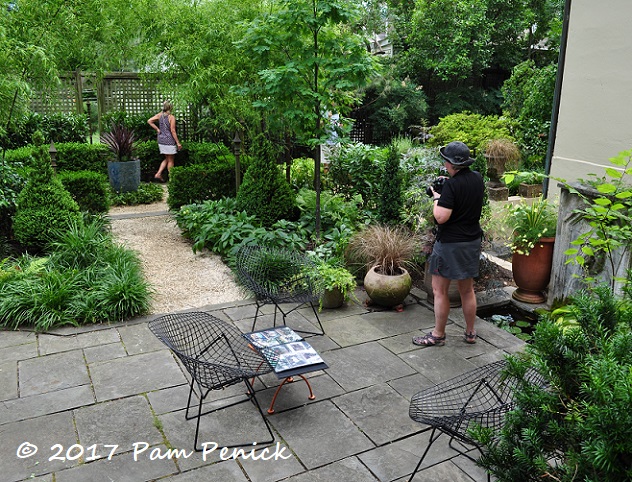 Heading back to the stone patio, wire chairs take up very little space, visually, as they cluster around a lion's-head wall fountain.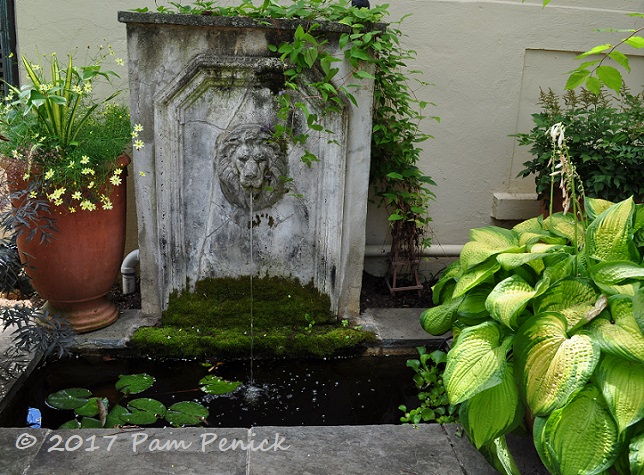 I love how the fountain is cloaked with moisture-loving moss and softened by a clematis vine. A yellow hosta echoes the yellow-themed container planting at left…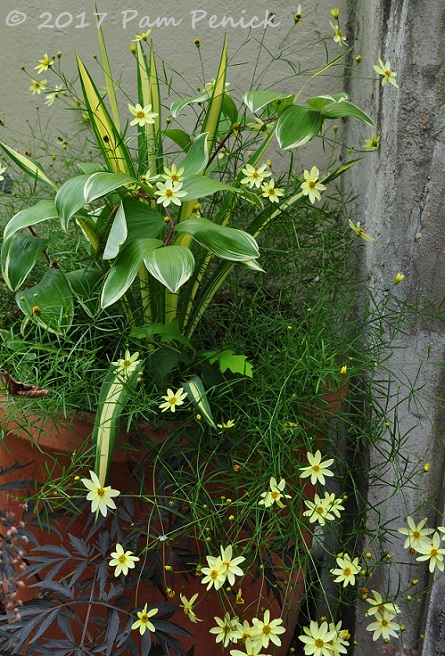 …filled with 'Color Guard' yucca, variegated Solomon's seal, and (I think) 'Moonbeam' coreopsis.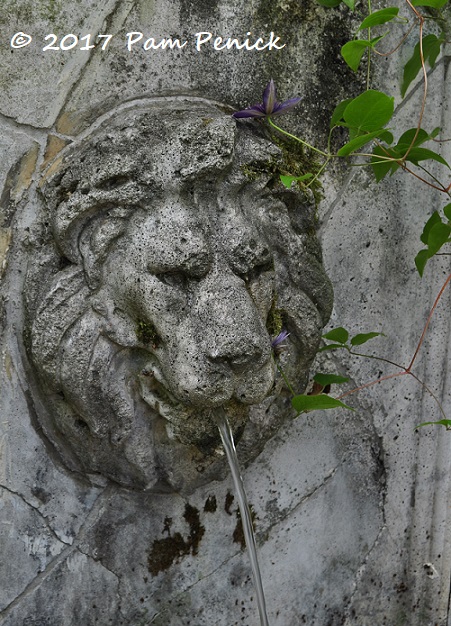 Lion's-head fountain and purple clematis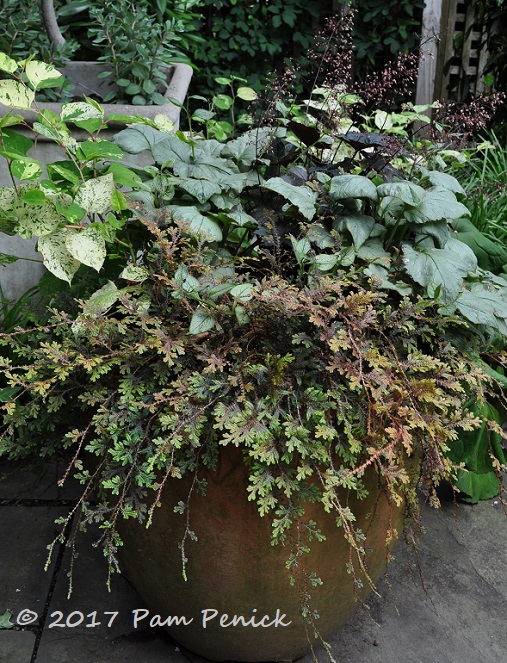 Other patio pots contain caramel-colored plants, for an interesting change of pace.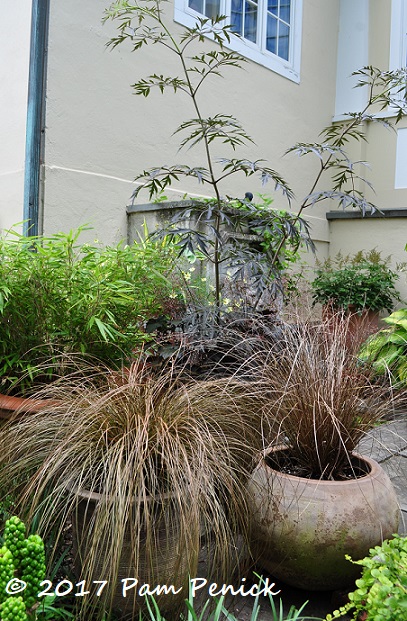 New Zealand sedges, I think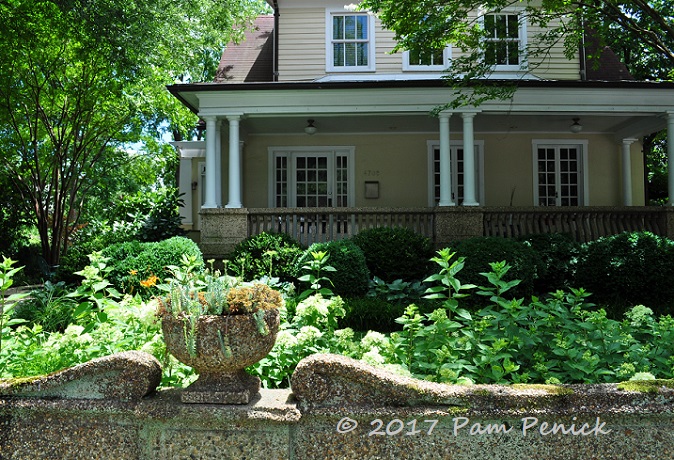 Enveloped by the garden, the house is shaded by lovely trees, which Scott planted in his own and his neighbors' yards as part of a streetwide beautification effort. A swooping wall of concrete aggregate encloses the front garden and the front porch — the creation of the home's former owner.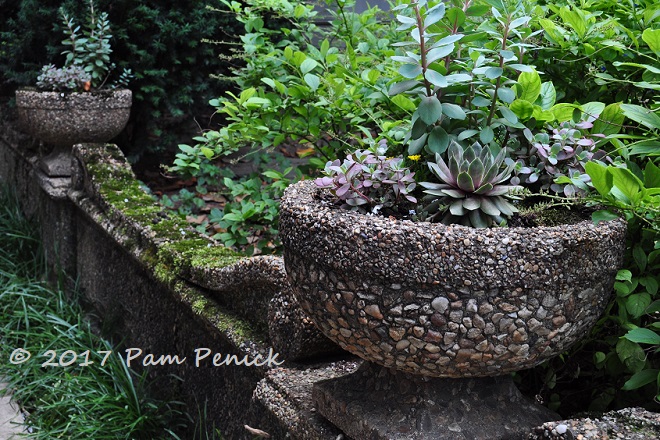 Built-in urns are planted with a variety of succulents.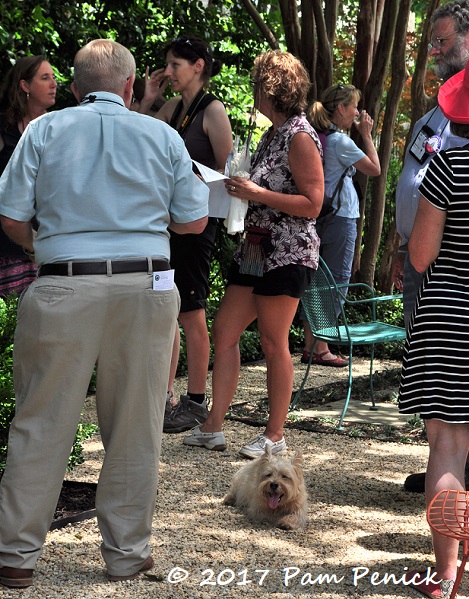 Scott's dog, a cute Norwich terrier named Kobe, hung out with us as we toured the garden and enjoyed the wine and snacks the owners generously provided.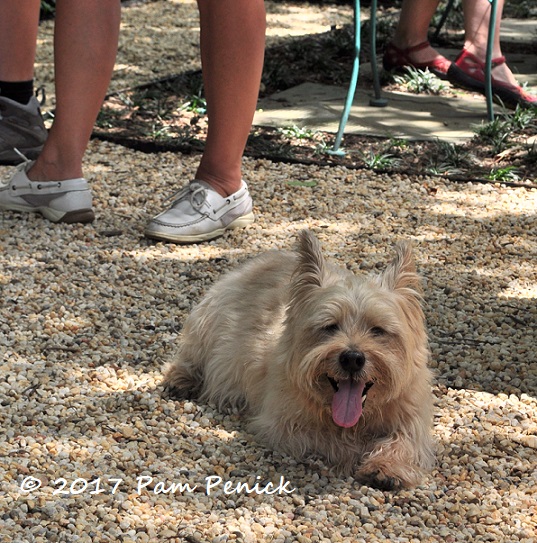 He seems pretty happy living here, doesn't he?
Up next: My visit to the Smithsonian Gardens and U.S. Botanic Garden on the National Mall. For a look back at the pollinator-friendly Casa Mariposa garden of Fling planner Tammy Schmitt, plus a winery and garden center visit, click here.
I welcome your comments; please scroll to the end of this post to leave one. If you're reading this in a subscription email, click here to visit Digging and find the comment box at the end of each post.
_______________________
Digging Deeper: News and Upcoming Events
Get on the mailing list for Garden Spark Talks. Inspired by the idea of house concerts, I'm hosting a series of garden talks by talented designers and authors out of my home. Talks are limited-attendance events and generally sell out within just a few days, so join the Garden Spark email list for early notifications. Simply click this link and ask to be added.
All material © 2006-2017 by Pam Penick for Digging. Unauthorized reproduction prohibited.
posted in
Bamboo
,
Bouquets
,
Containers
,
Design
,
Dogs
,
Doors
,
Fences
,
Fling DC/VA
,
Fountains
,
Garden art
,
Garden tours 2017
,
Grasses
,
Paths
,
Patios & decks
,
Porch
,
Seating
,
Sheds
,
Shrubs
,
Succulents
,
Travel
,
Trees
,
Vines
,
Walls
,
Water conservation
,
Water features
,
Water gardening
,
Yuccas