June 29th, 2017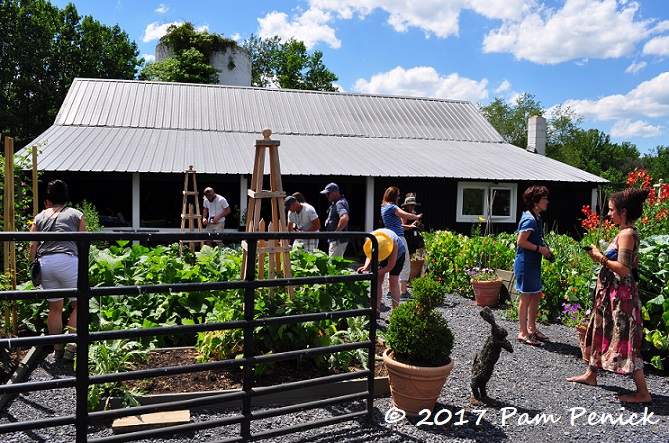 Attending Garden Bloggers Fling is always a whirlwind of garden touring and socializing with other bloggers. I come home with ideas bouncing around in my head, as well as a sense of new connections made and friendships renewed — not to mention hundreds of photos to sort through and share here at Digging.
This year's Capital Region Fling was hosted in the Washington, D.C. area (including Maryland and northern Virginia) by the indefatigable Tammy Schmitt of Casa Mariposa. I'm going to share the gardens in reverse order, starting with a rural estate garden near Middleburg, Virginia — the last private garden we visited, and a vision of English-country relaxed elegance.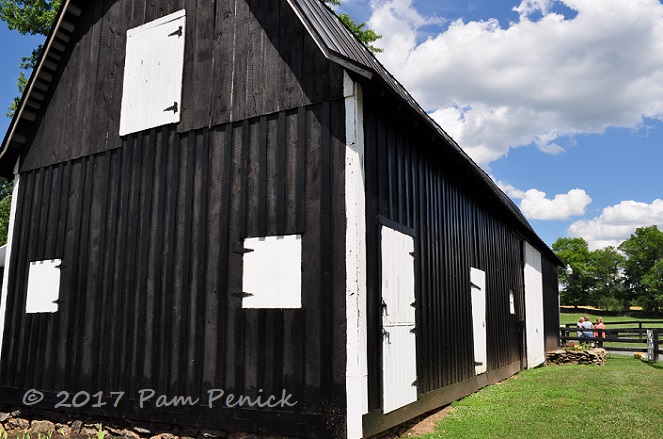 The estate consists of 180 acres, if I recall correctly, and a historic home dating to 1790 — which boggled my mind. That's ancient for a young country like the U.S. As we walked up the drive, we first passed a fenced vegetable garden (top photo) and a handsome black-stained barn.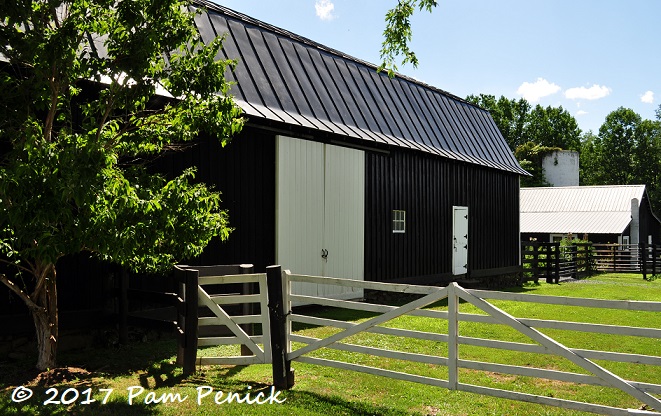 This is horse country, as Tammy told us, although if horses live here I didn't see any.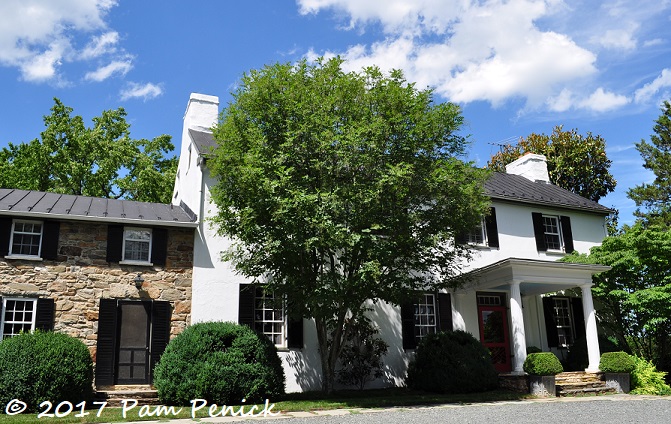 The home itself is well proportioned and inviting, and the owner welcomed us here and gave us a little history of the place. She and her husband bought the property not long after they married in the 1970s. When she decided to make a garden, she traveled to England to visit and study as many gardens as she could before starting her own.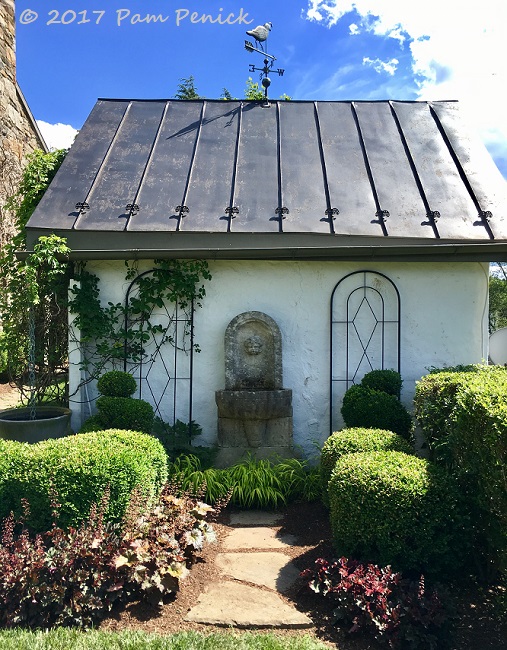 As you enter the left side yard, you pass a white stucco garden shed with a standing-seam roof and classical wall fountain framed by twin trellises, clipped boxwood, and bronze heuchera.

And then the back-yard lawn opens before you, flowing out from a raised terrace off the back of the house. The house overlooks a long perennial border (not visible here), past which rolling green fields spread out to a wooded horizon. Walking toward the white arbor at left…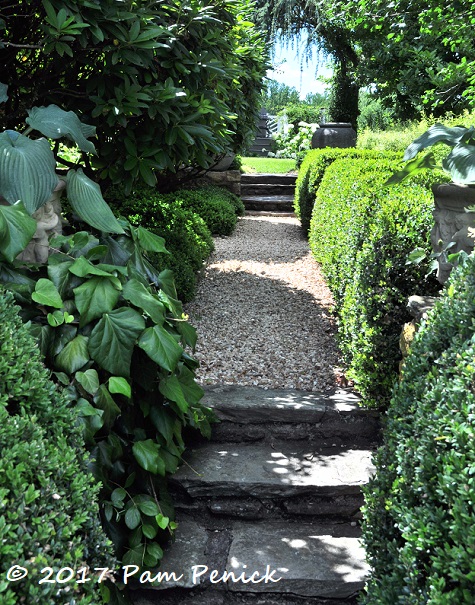 …you enter a formal side garden with boxwood-lined gravel paths.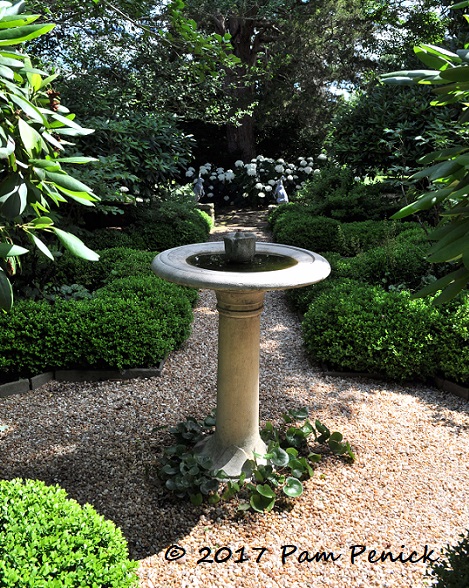 A birdbath acts as a focal point along one path, with white hydrangeas blooming beyond.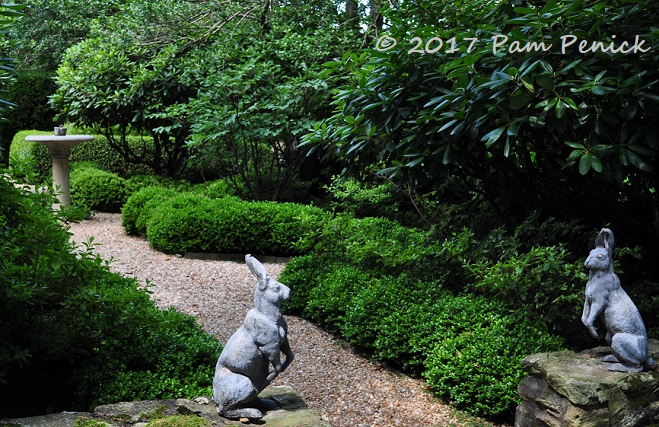 At the end of the path, two hare ornaments face each other atop a low stone wall…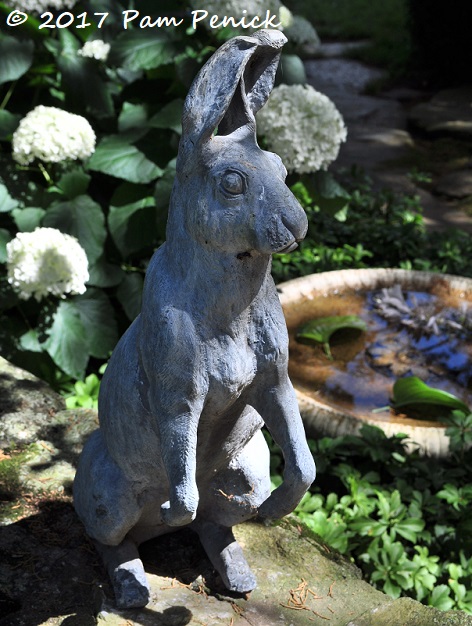 …one of several charming animal figures I spotted in the garden.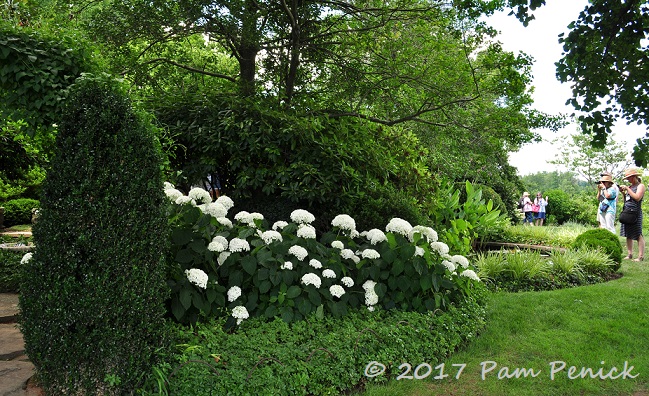 The path curves around a flowering white hydrangea to a sunny border anchored by a semicircular pond.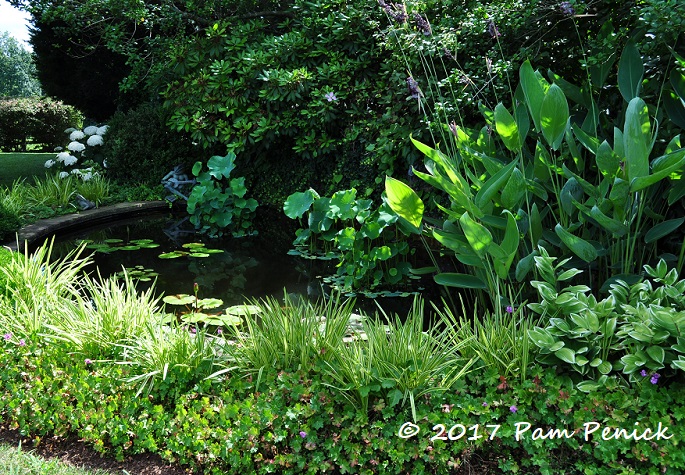 Its formal edge softened with a line of variegated grasses and geranium, the pond contains lotus, waterlilies, and other water lovers.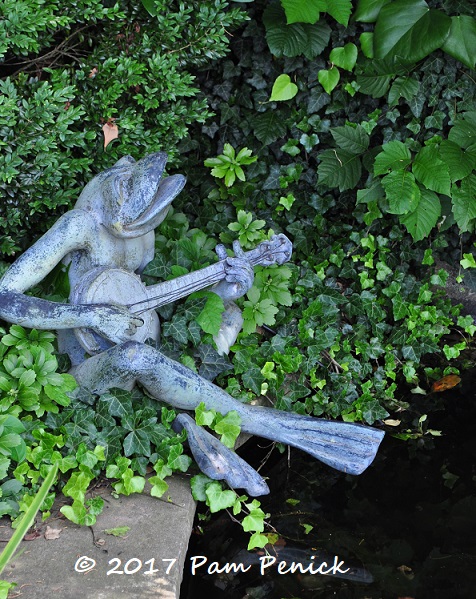 A banjo-playing frog adds a humorous note.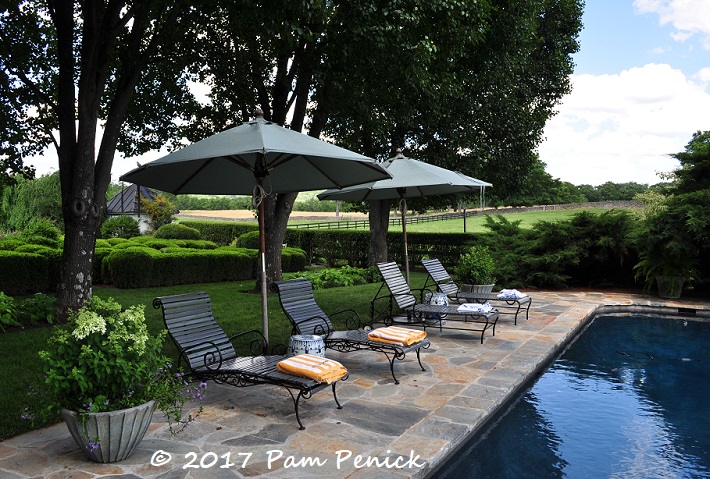 For humans who love getting wet, a swimming pool beckons, with a row of chaises and striped towels that echo the orange and gray patio stones. Fence-lined fields stretch off in the distance.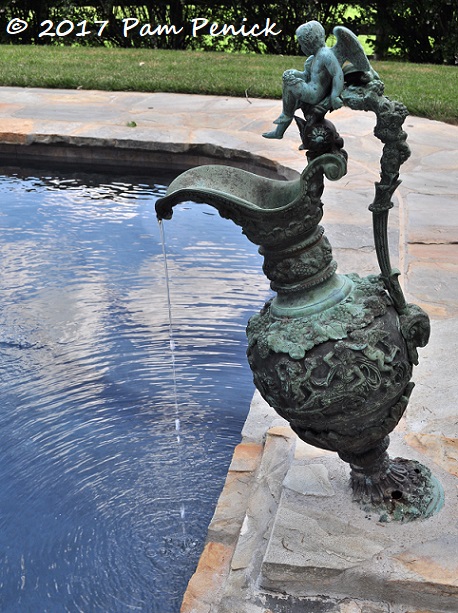 A tilted verdigris urn cemented into the patio spills water into the pool.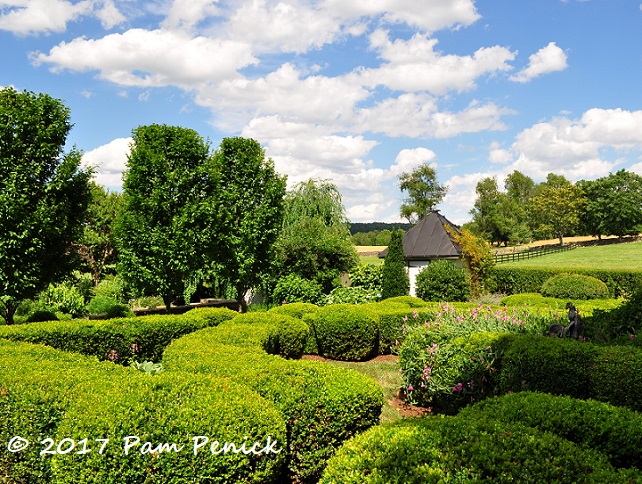 Past the pool, a sunny parterre garden is backed by a picturesque, hip-roofed garden shed.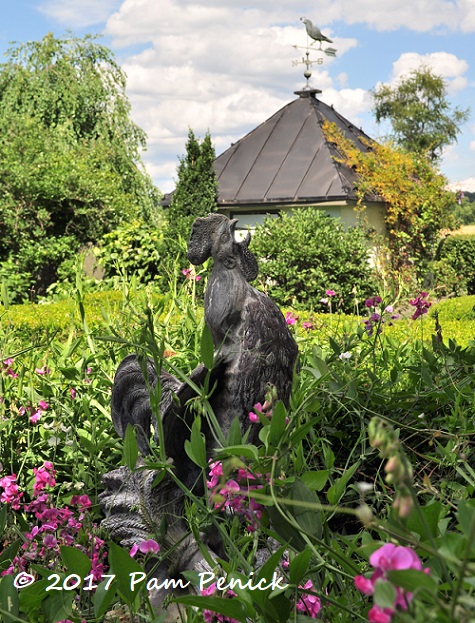 At its center, pink sweet peas clamber over a rooster statue.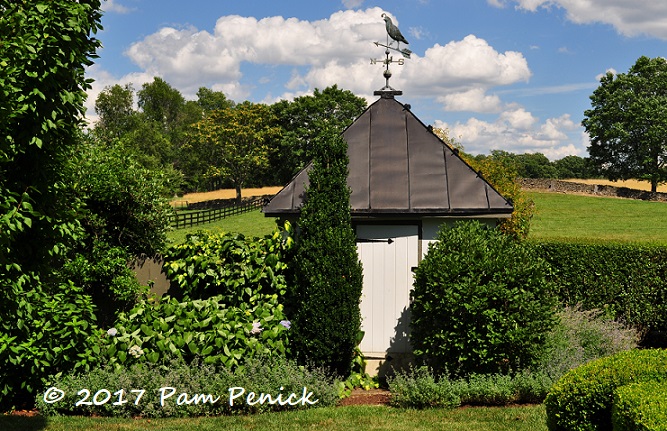 The shed is nestled amid shrubs and perennials.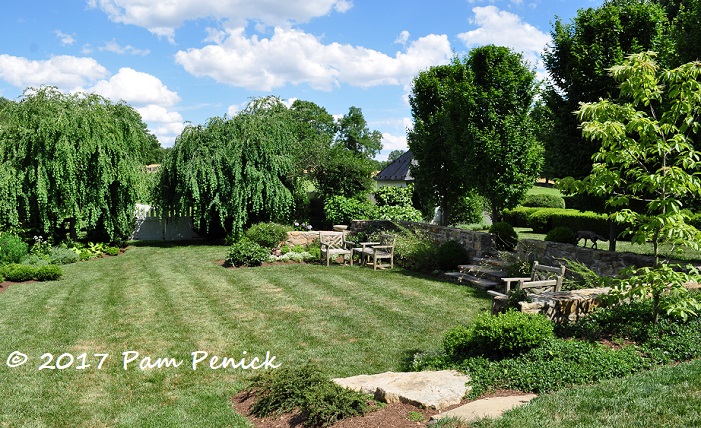 As the lot slopes gently downhill, the garden steps down into a sunken lawn framed on one side by a stone wall and row of trees.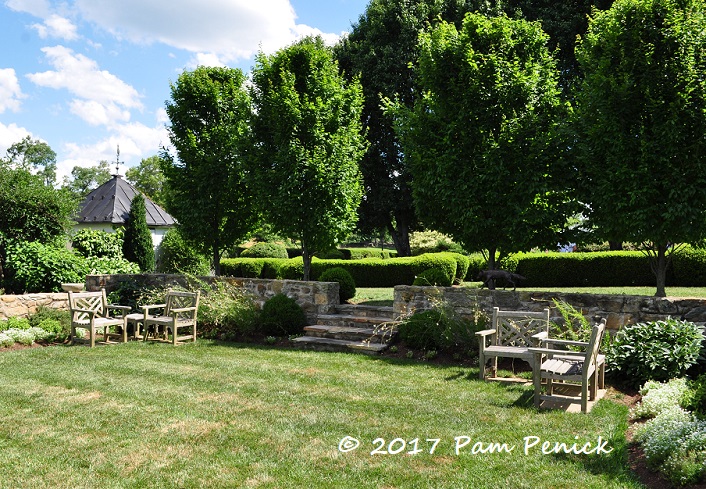 Chinese Chippendale-style chairs make conversation areas at each corner of the wall.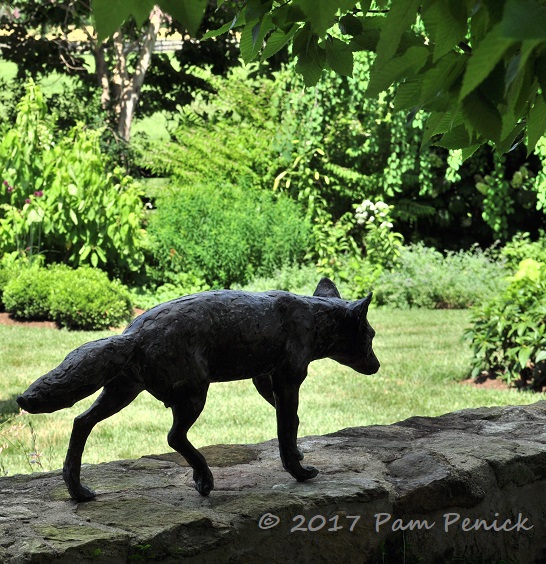 Atop the wall, a bronze fox slinks past.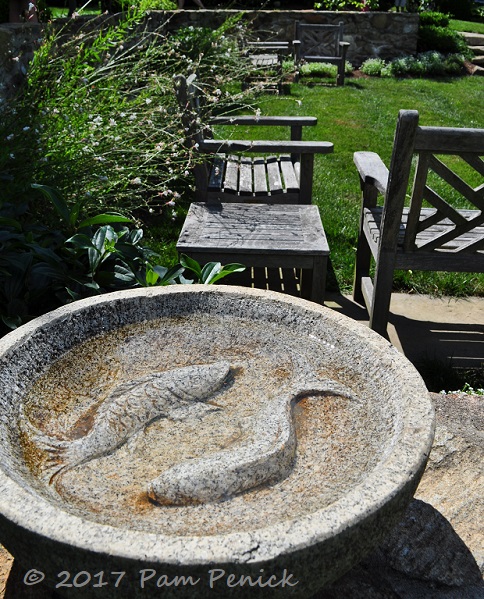 A stone birdbath with carved koi adorns another part of the wall.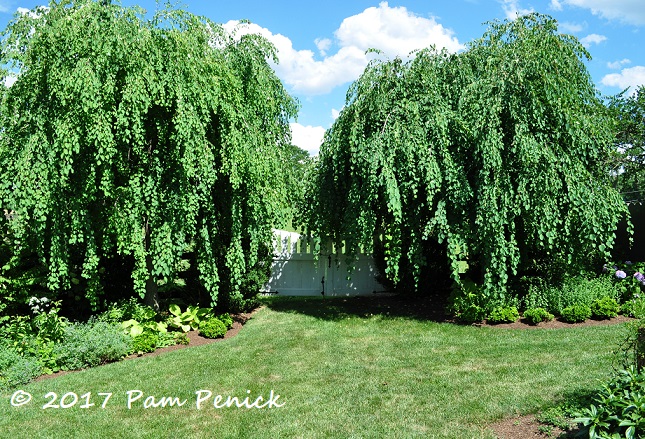 A pair of weeping trees guards a white gate leading out to the horse fields.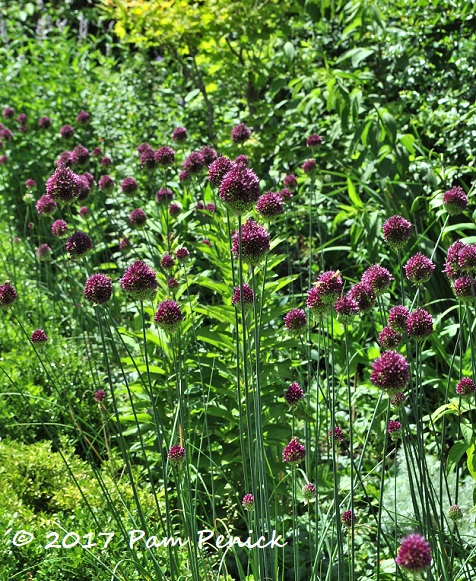 Purple drumstick alliums stand tall in a sunny perennial border.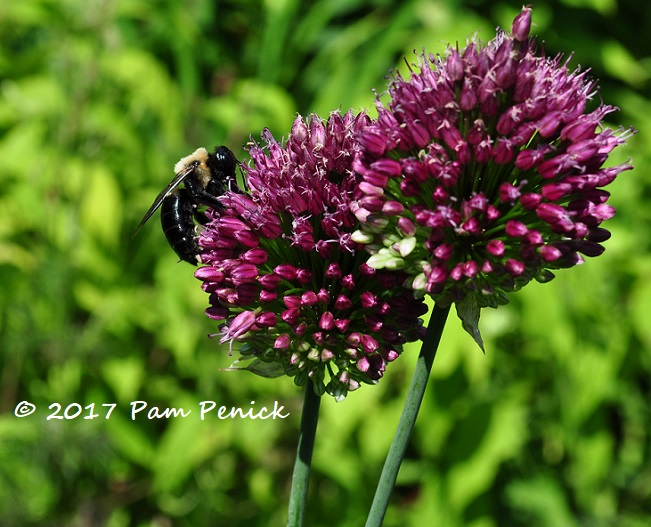 Bees were busy at their work here.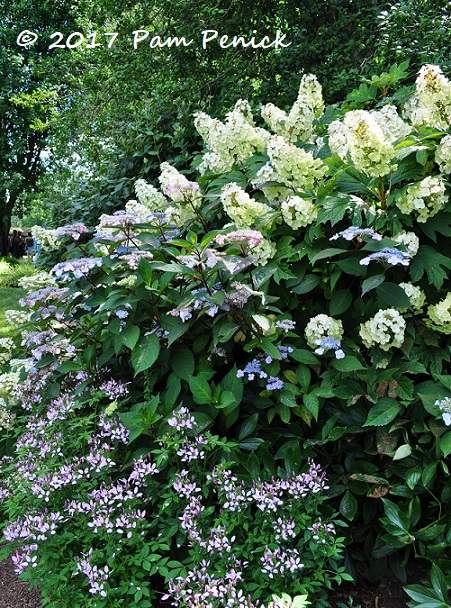 Hydrangeas, however, were the stars of the early summer garden. Here a white hydrangea overhangs a blue lacecap, with cleome filling in below.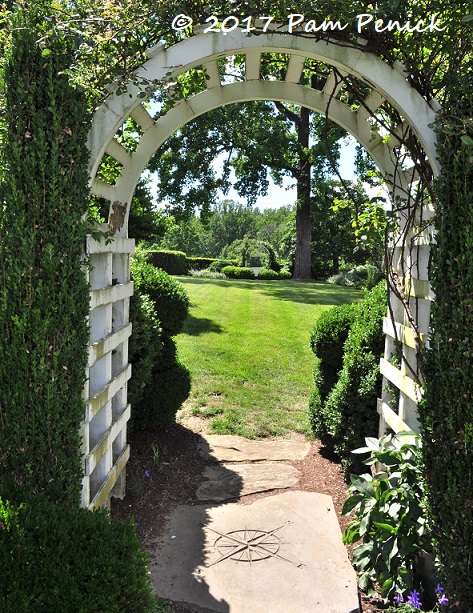 Heading back through the white arbor toward the house (note the compass carved into the stone paver)…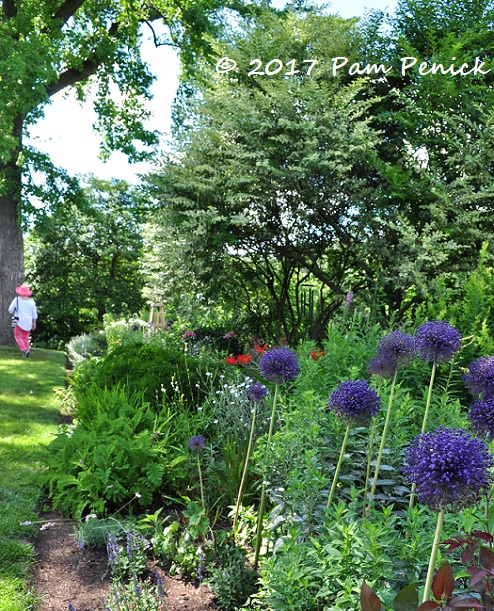 …I stopped to admire more alliums in a long mixed border of perennials, shrubs, and trees.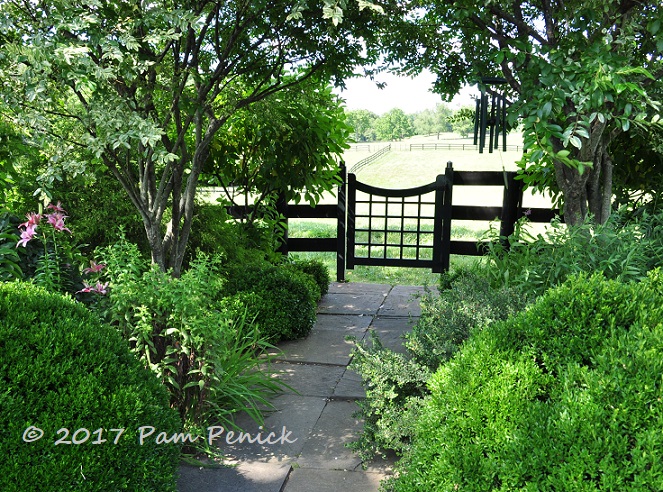 A stone path cuts through the border, under arching tree limbs, to an inviting black gate overlooking sun-washed fields.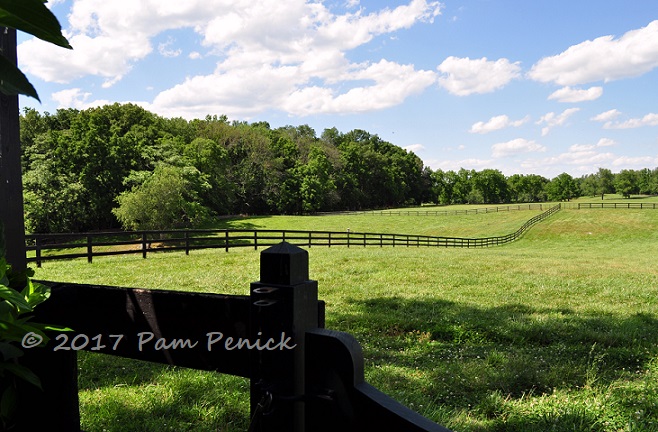 A pastoral view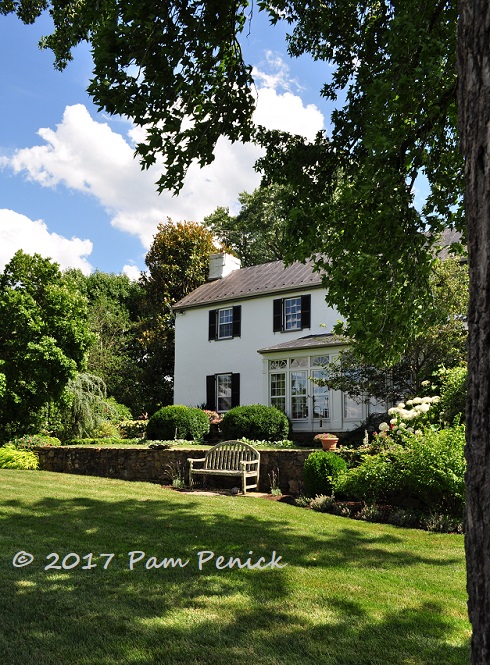 What a treat it was to visit this beautiful, English-style rural garden in northern Virginia's horse country.
Up next: The colorful garden of designer Linda Hostetler.
I welcome your comments; please scroll to the end of this post to leave one. If you're reading this in a subscription email, click here to visit Digging and find the comment box at the end of each post.
_______________________
Digging Deeper: News and Upcoming Events
Get on the mailing list for Garden Spark Talks. Inspired by the idea of house concerts, I'm hosting a series of garden talks by talented designers and authors out of my home. Talks are limited-attendance events and generally sell out within just a few days, so join the Garden Spark email list for early notifications. Simply click this link and ask to be added.
All material © 2006-2017 by Pam Penick for Digging. Unauthorized reproduction prohibited.
posted in
Arbors
,
Bees
,
Birds
,
Containers
,
Edibles
,
Farms
,
Fences
,
Fish
,
Fling DC/VA
,
Flowers
,
Fountains
,
Garden art
,
Garden structures
,
Garden tours 2017
,
Gates
,
Lawns
,
Paths
,
Ponds
,
Porch
,
Sculpture
,
Seating
,
Sheds
,
Shrubs
,
Summer color
,
Swimming pools
,
Travel
,
Trees
,
Trellis
,
Views
,
Walls
,
Water features
,
Water gardening