June 16th, 2017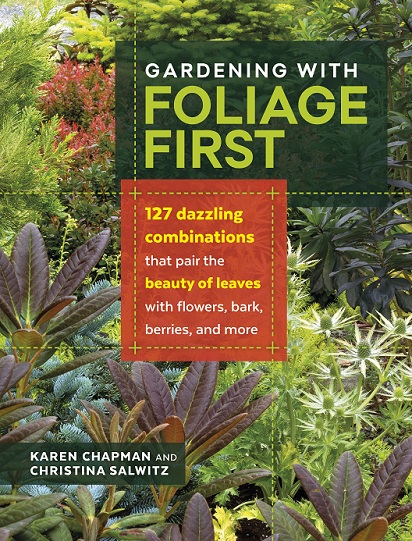 Today is Foliage Follow-Up, my monthly meme that encourages us to focus on often-underappreciated foliage plants, rather than spotlight-hogging flowers. That means it's the perfect day to review a new book by two foliage-loving design experts, Karen Chapman and Christina Salwitz.
Gardening with Foliage First: 127 Dazzling Combinations that Pair the Beauty of Leaves with Flowers, Bark, Berries, and More is an excellent follow-up to their award-winning Fine Foliage (click for my review). At 340 pages and much beefier compared to the slim Fine Foliage, Gardening with Foliage First delves more deeply into the art of combining foliage plants for subtle beauty and long-term impact in a garden.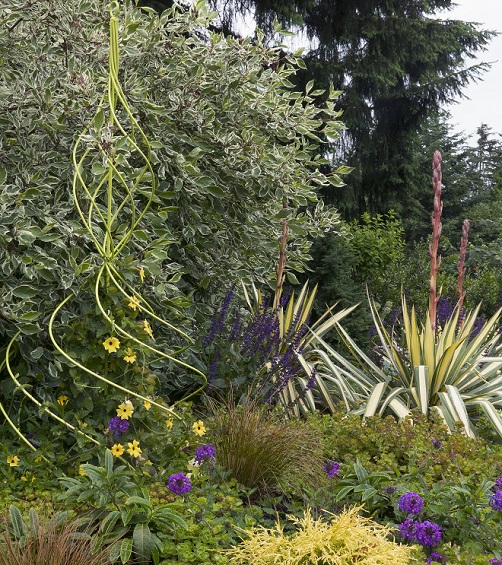 Photo courtesy of Karen Chapman
And an art it is! After all, this is what we pay designers to do for us, when we look up one day and notice our garden is a "disappointing mélange of midsize green leaves" once the flowers have finished blooming, or there's nothing to look at in winter. Chapman and Salwitz are adept at lifting the veil on design decisions and explaining why certain plants pair well together. With clear explanations enlivened by a cheeky sense of humor, they make garden design more approachable. They show, for example, how you can match the darker color along the edge of a leaf to the berries or leaves of another plant, making both plants shine brighter, or how to play the shaggy shape and texture of one plant against the fine-leaved daintiness of another.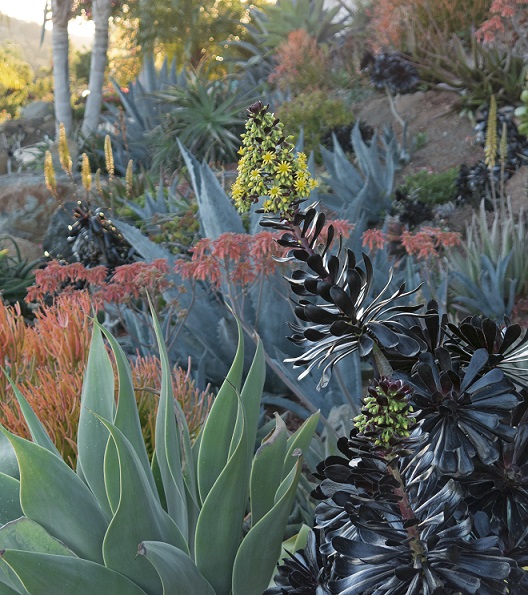 Photo courtesy of Karen Chapman
Generously illustrated with a photo of the whole scene, plus close-ups of each plant, each combo (there are more than 100 altogether) is given a 2-page, sometimes 3-page, spread, and they're helpfully organized by whether they're appropriate for sun or shade, as well as by whether peak season occurs in spring/summer or fall/winter.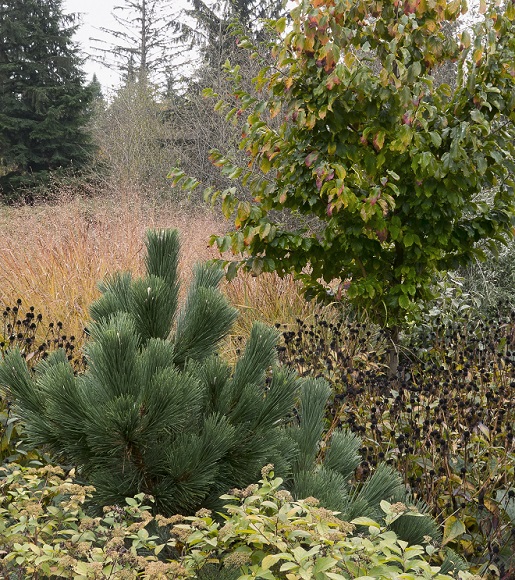 Photo courtesy of Karen Chapman
Of course, for us Central Texas gardeners, "sun" and "summer" mean something entirely different than in the cool, moist Pacific Northwest, where the authors live, and our gardening conditions differ in other ways too, particularly in the alkalinity of our soil. Put simply, we just can't grow a lot of the plants featured in the book. So while readers in cooler regions of the country can likely copy featured plant combos "verbatim," we hot-climate gardeners must get a little more creative, coming up with similar-looking plants that grow well here that can be subbed in for those that don't. I actually find that to be a fun exercise and marked up my book with notes on possible substitutions.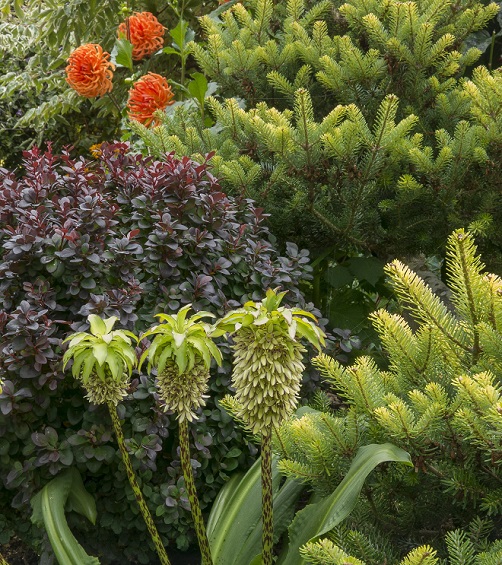 Photo courtesy of Karen Chapman
Not every plant will have a suitable counterpart for our hot climate, but a surprising number do. For example, in the combo pictured above, I mentally subbed out the 'Bed Head' dahlia for pomegranate, the 'Concorde' barberry for loropetalum, the pineapple lily (Eucomis) for pineapple sage, and the golden Korean fir for 'Yukon Gold' yaupon holly.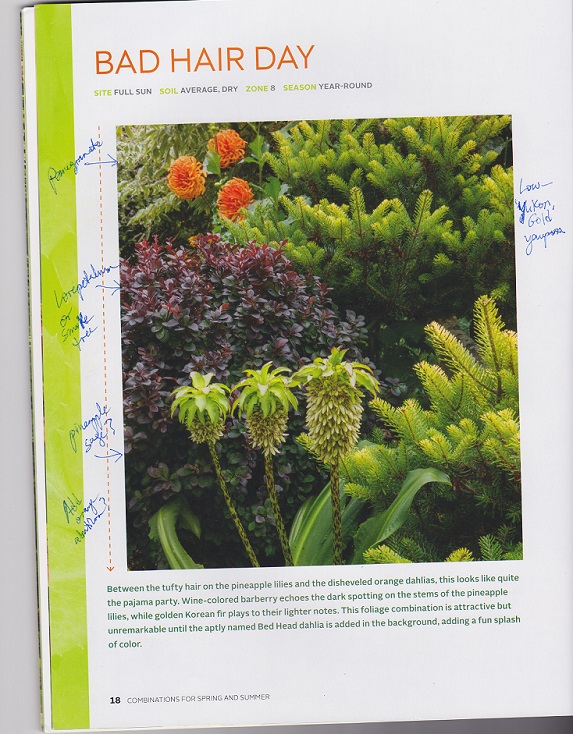 Like so! What do you think? Can you come up with other substitutes I didn't think of?
Wherever you garden, experienced gardeners will have fun using the featured combos as a jumping-off point for their own inventive pairings. And new gardeners will learn how to look at plants more observantly in order to create similar combos (or copy these if they work for your region) that rely largely on foliage, which gives a richer, more durable dimension to a garden than just planting for flower color. After all, you need both to make a stunning garden.
This is my June post for Foliage Follow-Up. Fellow bloggers, what leafy loveliness is happening in your garden this month? Please join me in giving foliage its due on the day after Bloom Day. Leave a link to your post in a comment below. I'd appreciate it if you'll also link to my post in your own — sharing link love! I look forward to seeing your foliage faves.
Disclosure: Timber Press sent me a copy of Gardening with Foliage First for review. I reviewed it at my own discretion and without any compensation. This post, as with everything at Digging, is my own personal opinion.
I welcome your comments; please scroll to the end of this post to leave one. If you're reading this in a subscription email, click here to visit Digging and find the comment box at the end of each post.
_______________________
Digging Deeper: News and Upcoming Events
Get on the mailing list for Garden Spark Talks. Inspired by the idea of house concerts, I'm hosting a series of garden talks by talented designers and authors out of my home. Talks are limited-attendance events and generally sell out within just a few days, so join the Garden Spark email list for early notifications. Simply click this link and ask to be added.
All material © 2006-2017 by Pam Penick for Digging. Unauthorized reproduction prohibited.