May 22nd, 2017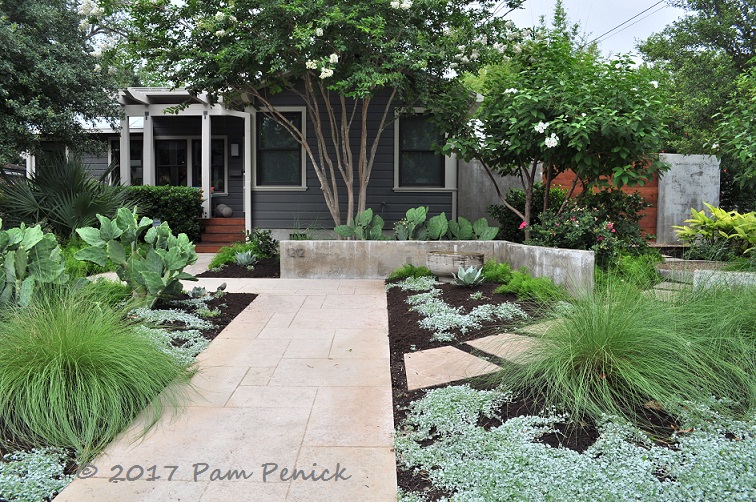 I've long admired designer B. Jane's contemporary-style gardens here in Austin, including one I wrote about for Austin Home last year. Last week I visited B.'s personal garden in Central Austin's Brentwood neighborhood and fell hard for her lawn-free, block-planted front yard.
A straight walk of Lueders limestone zigzags toward the front porch, leading the eye first to house numbers affixed to a low concrete wall. The wall curves off to the right, creating a small garden room encircled with white-flowering Mexican olives, red roses, and chartreuse shell ginger. In front of the wall, block plantings of spineless prickly pear and Gulf muhly provide greenery and separation from the street. Spreading below, silver ponyfoot shines like a moonlit pool of water.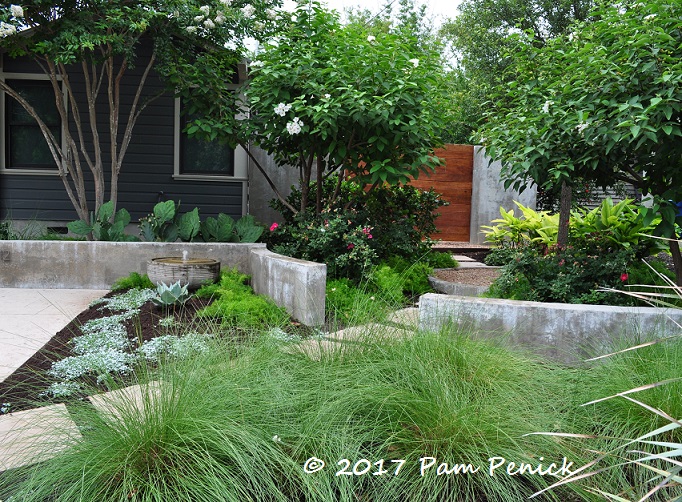 A closer look at the low-walled entry to the front garden room, flanked by Mexican olives (Cordia boissieri) in bloom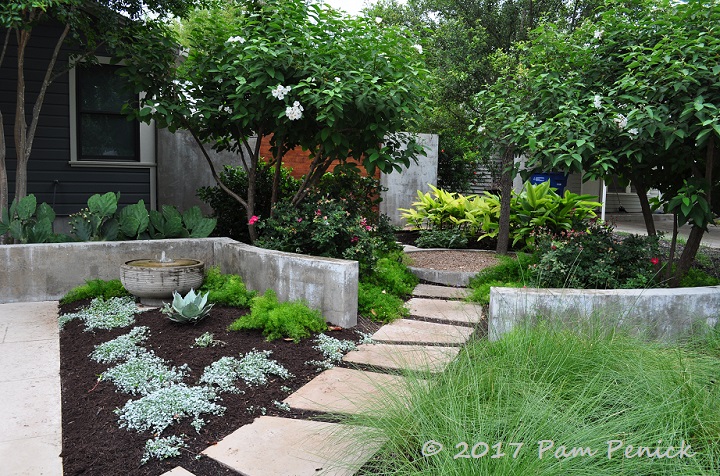 Asymmetrically-cut limestone leads to a circular gravel "skirt" around a tree trunk, neatly edged with concrete, which in turn is framed by chartreuse-leaved ginger plants.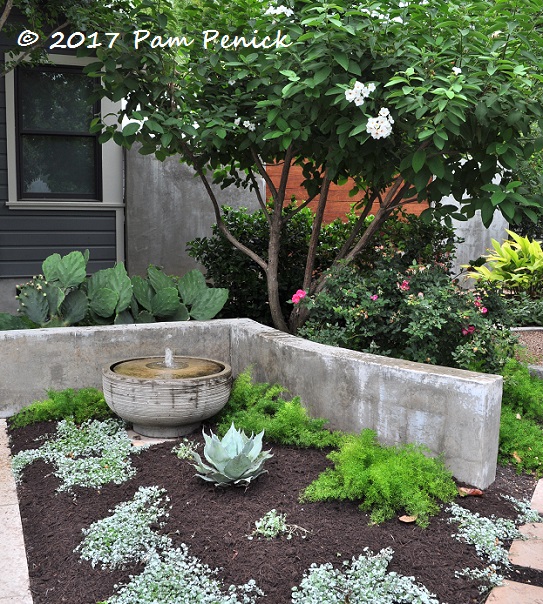 I love B.'s cast-stone Girona fountain from Campania International, which has a slightly submerged platform on which birds can easily bathe.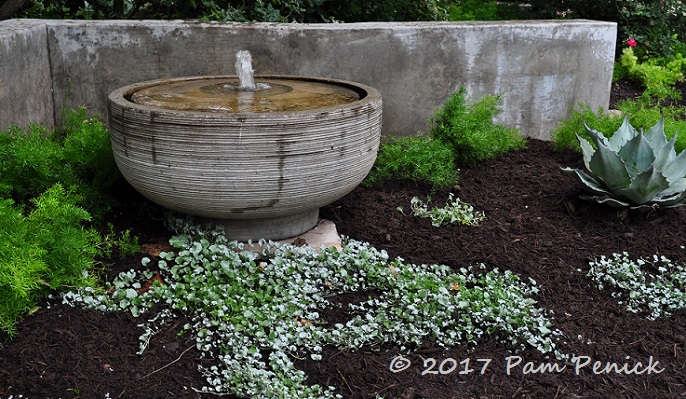 The color and texture of the fountain work so well with the concrete wall.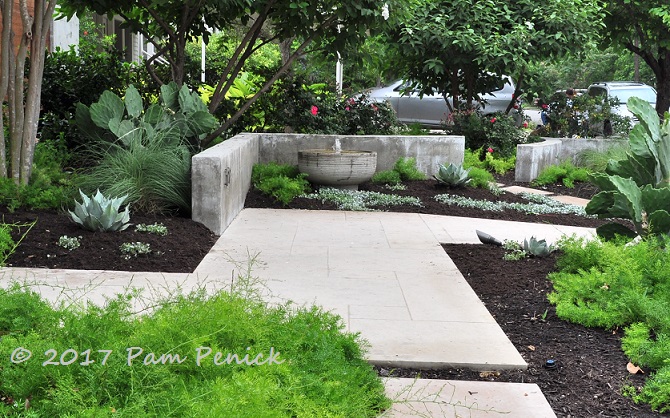 Here's a side view from the driveway. B. uses asparagus fern (Asparagus densiflorus 'Sprengeri') as a frothy, evergreen groundcover (foreground) — which probably needs Central Austin's higher temps to survive our occasional hard freezes.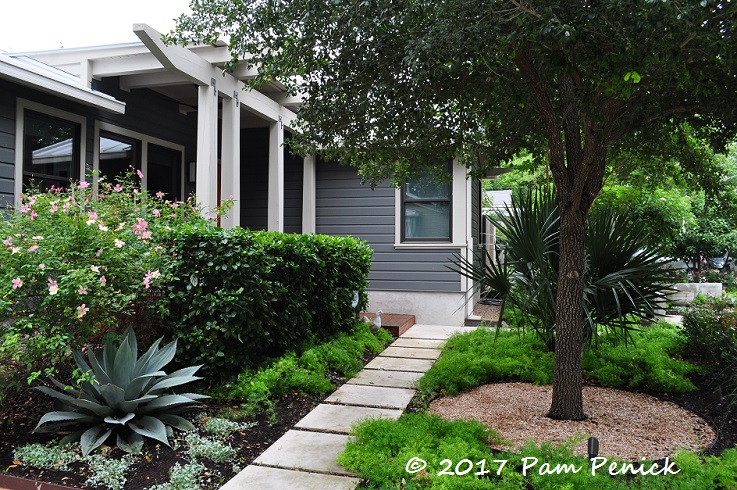 Square pavers lead from the driveway to the front porch. Another gravel circle gives definition to a young live oak and adds a geometric element. At the corner, a whale's tongue agave pairs with a mutabilis rose, and I believe B. said that's a viburnum hedge along the porch.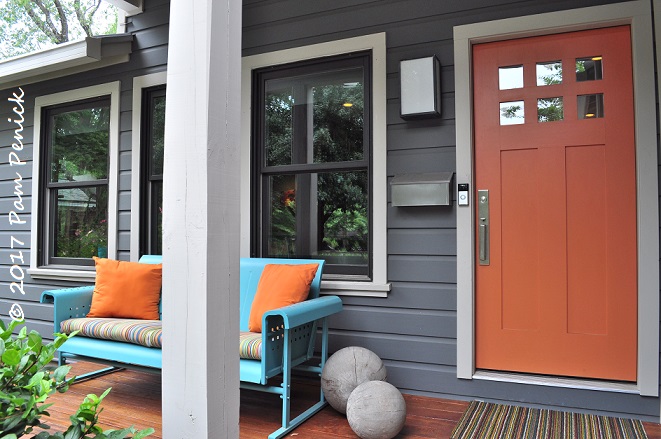 Orange and turquoise show up throughout B.'s back garden, but the first hint of that color scheme appears on the front porch, with a retro-modern front door painted tangerine and a turquoise glider softened with orange throw pillows and a striped cushion. The doormat echoes the cushion's colorful stripes.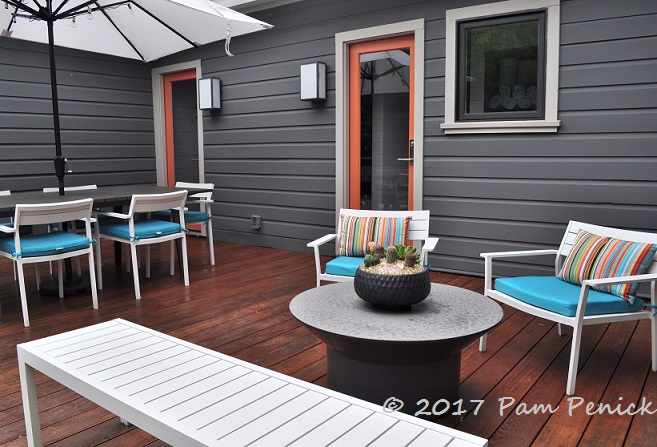 In the backyard, an ipe deck offers plenty of space for a 6-person dining table and a couple of low-slung white chairs with turquoise cushions and colorful, striped pillows. A white bench allows clear views of…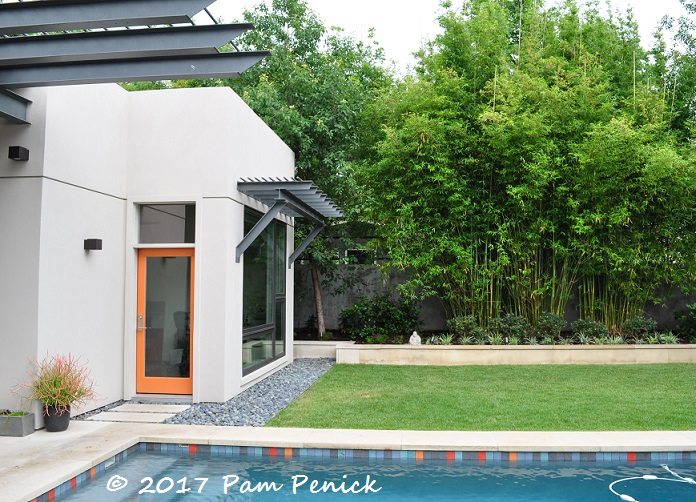 …a clean-lined swimming pool bordered with colorful waterline tiles, a rectangular play lawn, and an evergreen screen of bamboo bordered by a low wall offering extra seating. The detached structure at left is a home office for B.'s husband, with expansive windows shaded by awnings of steel beams and rods.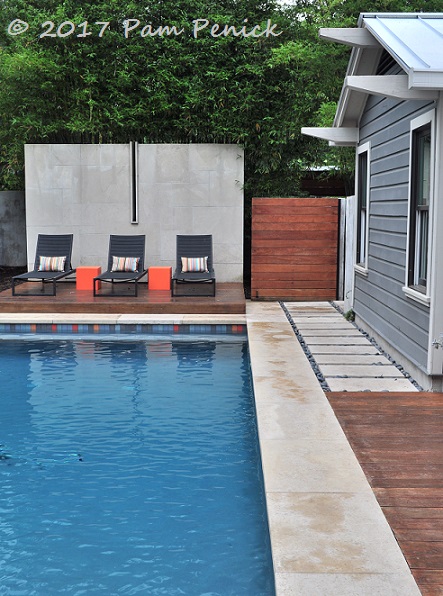 At the far end of the pool, an ipe deck outfitted with a trio of chaises longues is backed by a notched Lueders limestone wall.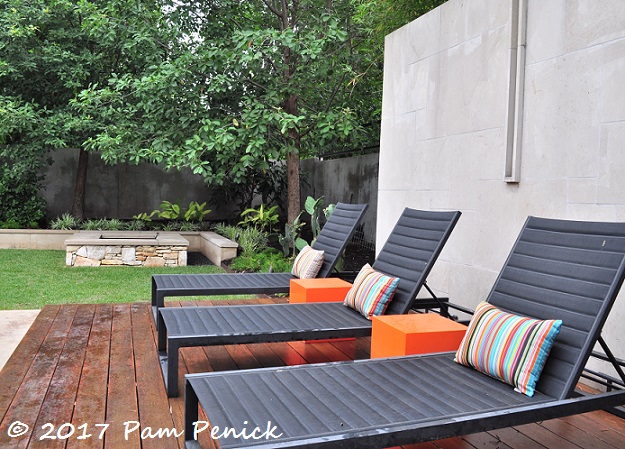 Sun worshippers can hang out here, and when the sun sets, a stone fire pit in the corner offers a spot to warm up.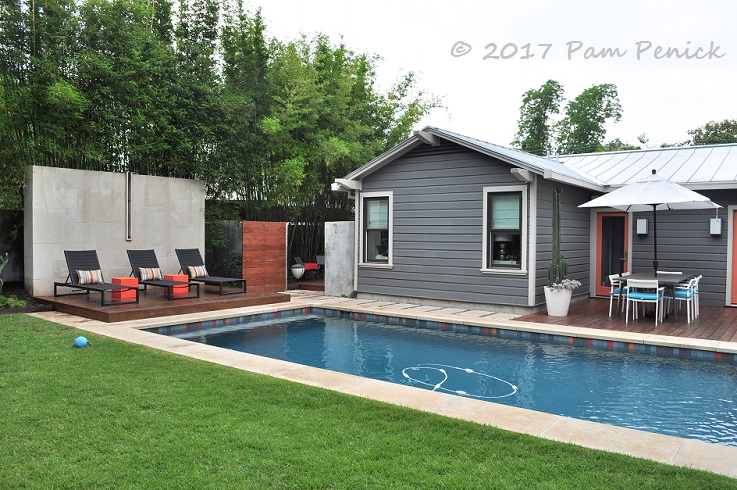 The view from the lawn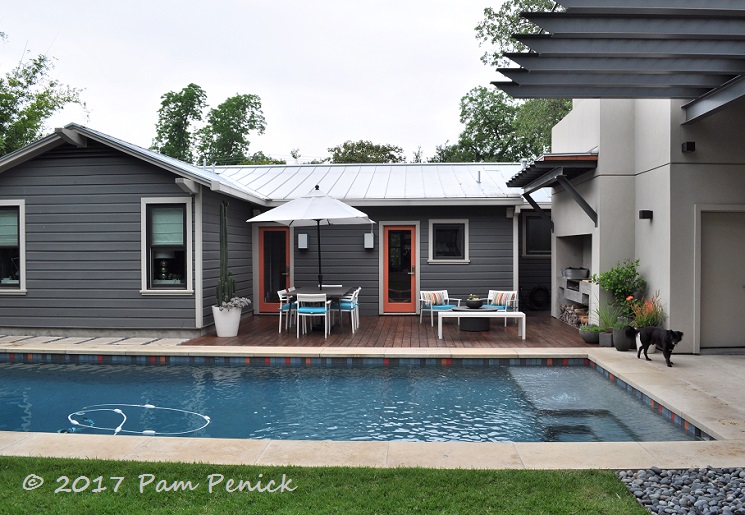 The back deck

A built-in grilling station also serves to screen the deck from the neighbors and enclose the space.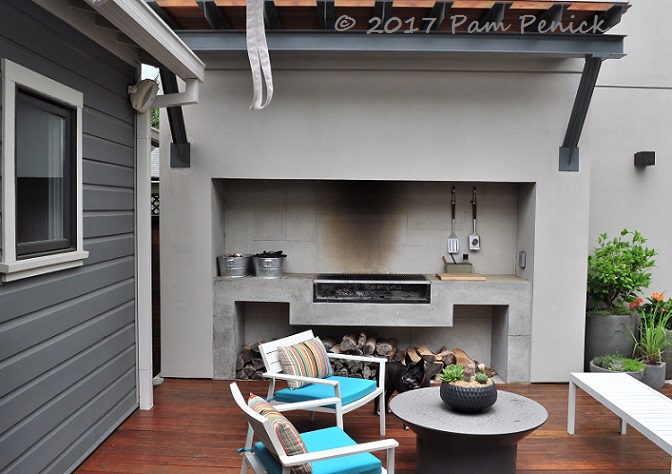 Wood is conveniently stored below.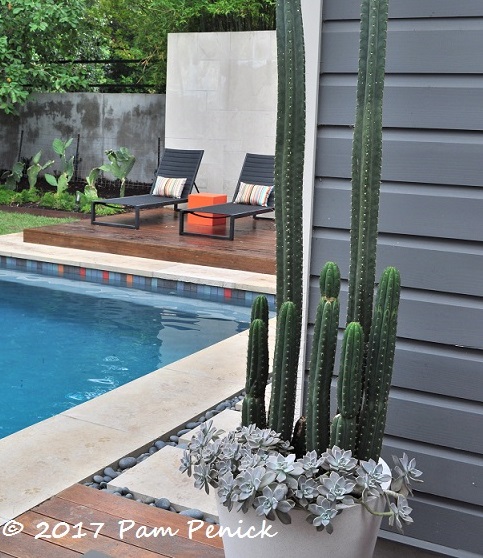 A container planted with cactus and ghost plant accents the edge of the deck.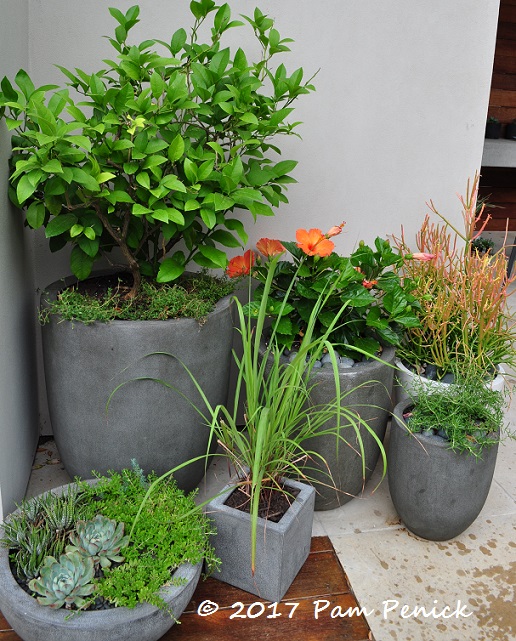 In another corner, a collection of gray cast-stone pots contains citrus, herbs, orange-flowering hibiscus, and succulents, including orange-hued sticks-on-fire euphorbia.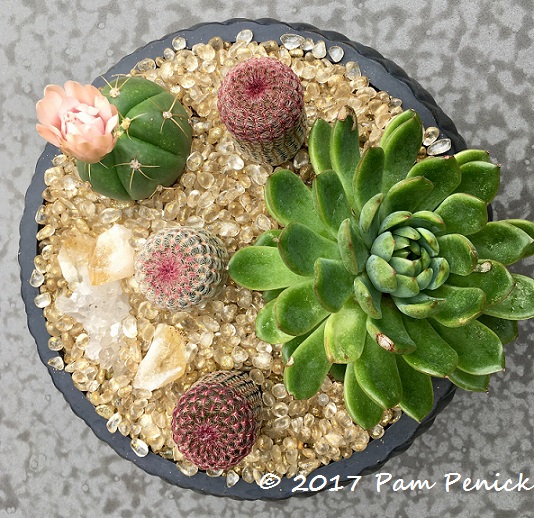 Rosy pink cacti — including one in bloom — and an echeveria get the glam treatment with gold glass mulch in this container.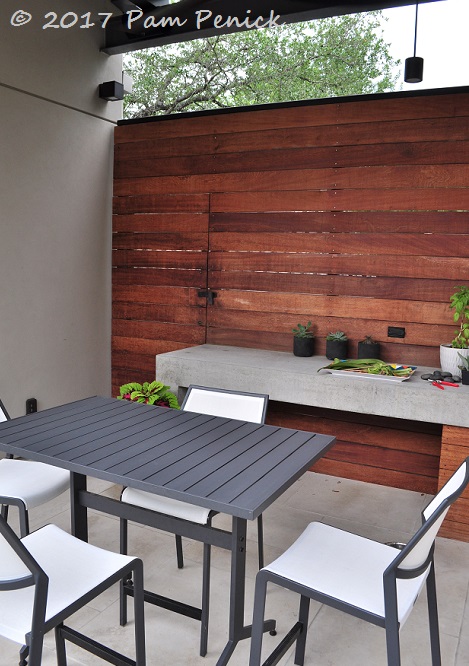 Opposite the chaise longue deck, tucked between the house and the detached office, a small roofed patio offers shady seating and a buffet table.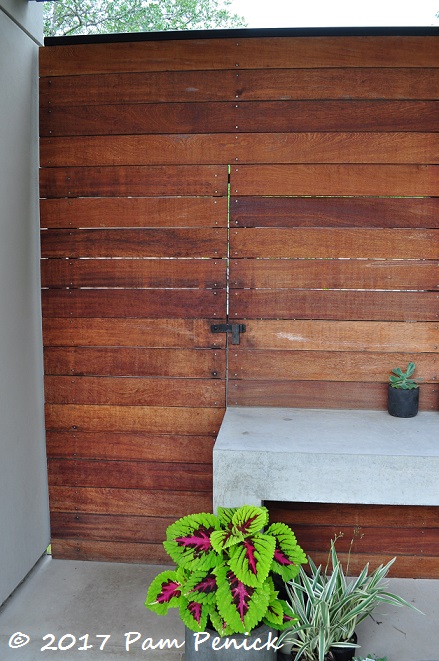 The wooden fence hides a storage area.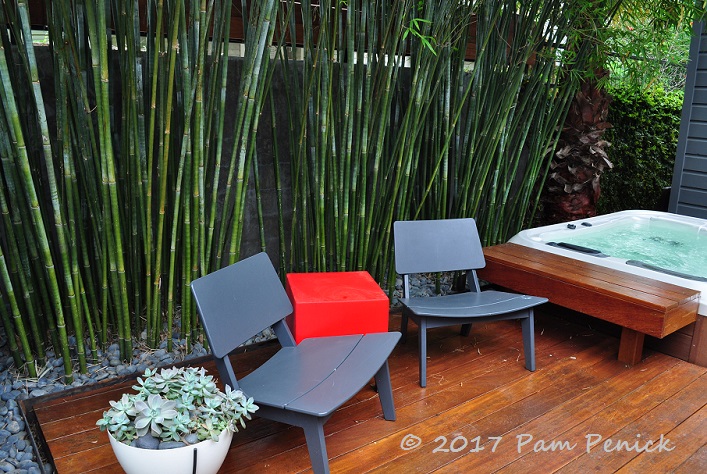 To the right of the sun deck with the chaises, a private patio just off the master bedroom offers a Zen-style retreat with Loll seating, a screen of bamboo (Bambusa textilis 'Gracilis'), and a hot tub…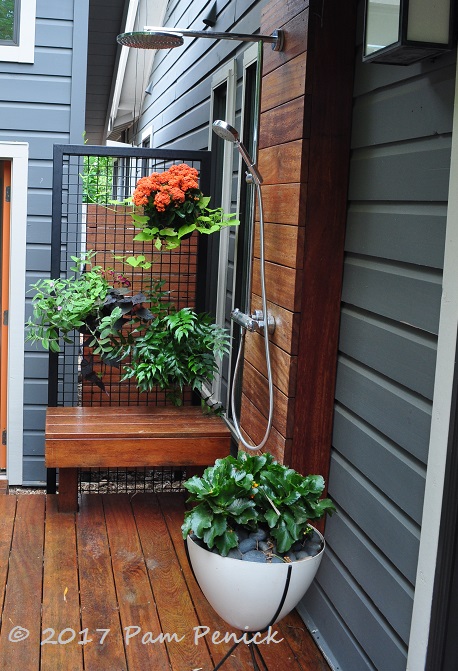 …as well as a beautiful outdoor shower. No spidery recesses in this open design, while still hidden from neighbors by fencing and the bamboo. The building just past the hot tub (at left) is B.'s home office.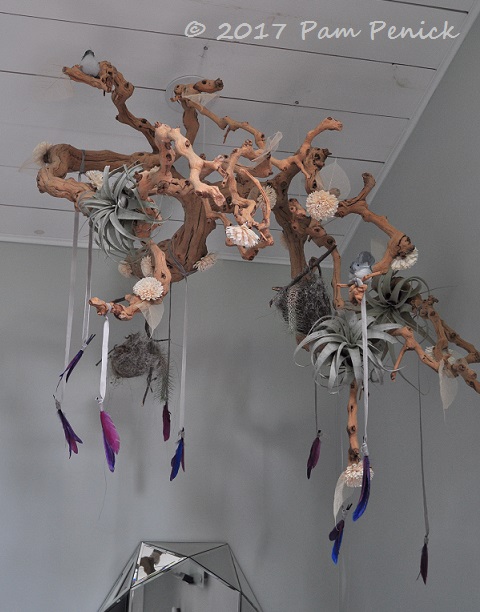 She let us peek inside to see a hanging sculptural branch adorned with tillandsias, feathers, and other natural talismans, made by the talented vertical-garden artists at Articulture.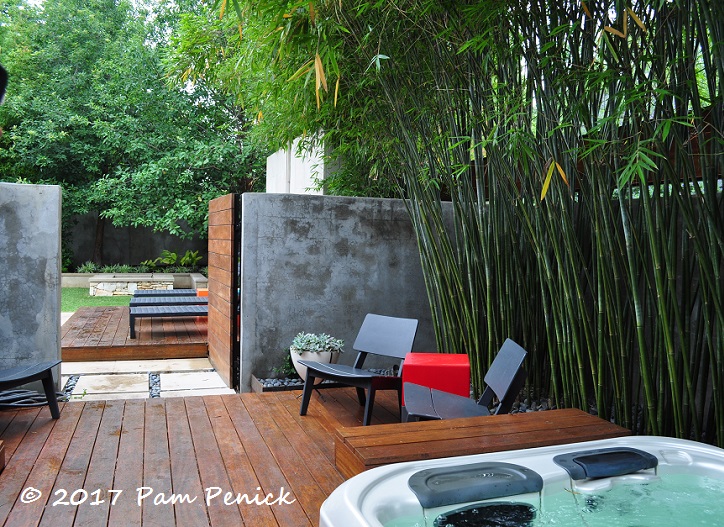 Looking back toward the main garden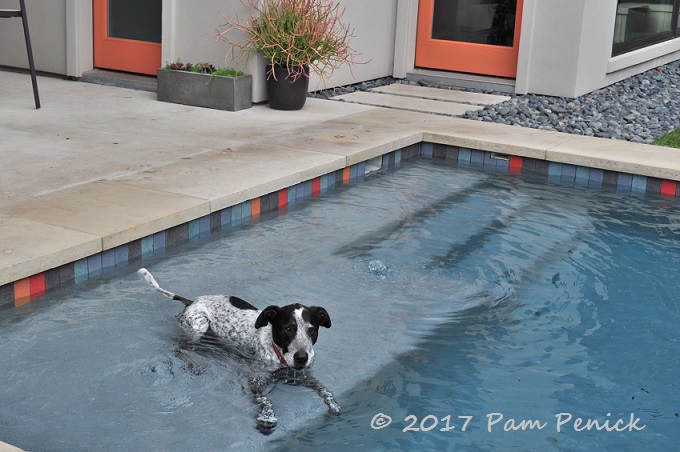 B. is disciplined about color and uses it so effectively, like here in the pool tiles, arranged for a random effect. The tiles pick up the colors of the doors and plant containers and the water itself. Brisket, a German short-haired pointer mix who loves to swim, jumped in for a soak while I was admiring the pool.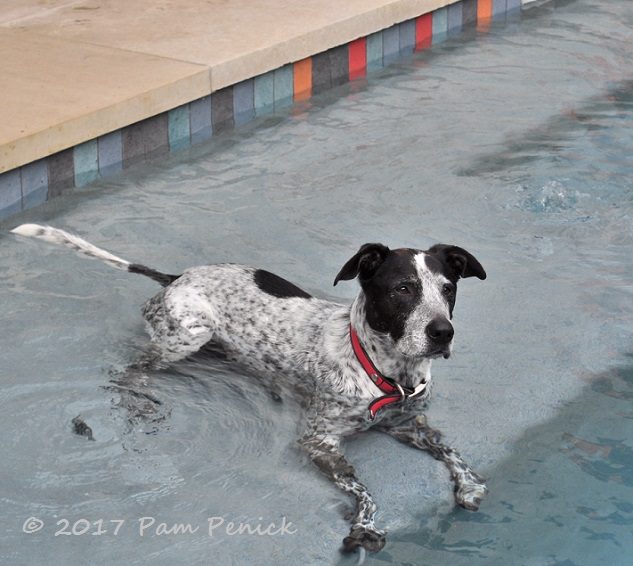 And little wonder, for this is a garden to relax in and enjoy — even for dogs! Thanks for the tour, B.!
For more pics of this garden and others, check out the website of B. Jane Gardens.
I welcome your comments; please scroll to the end of this post to leave one. If you're reading this in a subscription email, click here to visit Digging and find the comment box at the end of each post.
_______________________
Digging Deeper: News and Upcoming Events
The Austin Daylily Society will host a free garden tour on Sunday, May 28, from 10 am to 2 pm. Four private gardens featuring lots of daylilies will be open to the public, including Tom Ellison's lovely Tarrytown garden.
Calling all pond lovers! The Austin Pond & Garden Tour is coming up June 3rd (North Austin ponds and night pond) and 4th (South Austin ponds). Tickets, which are $20, can be purchased online and include entry to all 20 ponds.
Get on the mailing list for Garden Spark Talks. Inspired by the idea of house concerts, I'm hosting a series of garden talks by talented designers and authors out of my home. Talks are limited-attendance events and generally sell out within just a few days, so join the Garden Spark email list for early notifications. Simply click this link and ask to be added.
All material © 2006-2017 by Pam Penick for Digging. Unauthorized reproduction prohibited.
posted in
Agaves
,
Arbors
,
Bamboo
,
Cactus
,
Color
,
Containers
,
Decor
,
Design
,
Dogs
,
Doors
,
Fences
,
Firepits
,
Fountains
,
Garden art
,
Garden tours 2017
,
Grasses
,
Groundcovers
,
Lawn Gone!
,
Lawns
,
Outdoor showers
,
Paths
,
Patios & decks
,
Porch
,
Roses
,
Seating
,
Succulents
,
Swimming pools
,
Trees
,
Walls
,
Water features
,
Xeric plants