October 11th, 2009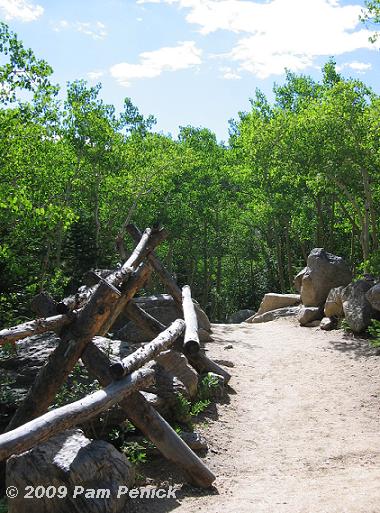 Aspens along Alberta Falls trail, Rocky Mountain National Park, Colorado
Last week I invited other bloggers to post their favorite stories or pictures of a national park they've visited. I'd just watched Ken Burns' series The National Parks, which illustrates how America's attitude toward its national parks has evolved over time: from an emphasis on scenery that should be preserved from rapacious development; to a vacation destination to rival Europe; to a potential source of oil or grazing lands in times of national trouble; to a slow recognition that the native fauna—particularly predators, which had been systematically eradicated from the parks—are an integral part of the ecosystem; to a source of both national pride and intimate family histories, as each generation takes its children to the parks and passes on a love for the grandeur of their natural beauty.
People who love gardens tend also to love Mother Nature's garden, and we've had the sense to preserve some of her best handiwork in the national parks. So readers, please join me this week in celebrating a national park you have visited by posting about it. It's not about perfect photos (although those are welcome!) but personal stories of discovery.
Come back to this post to leave your link, and at the end of the week I'll compile the links into a wrap-up post so others can easily find your stories and photos. If you don't have a blog, feel free to leave a brief comment about your experience at a national park. Visits to national monuments, forests, etc., as well as non-U.S. national parks, are welcome too.
I look forward to reading your stories!
Update: Click here for the wrap-up of national parks posts.
All material © 2006-2009 by Pam Penick for Digging. Unauthorized reproduction prohibited.