May 5th, 2017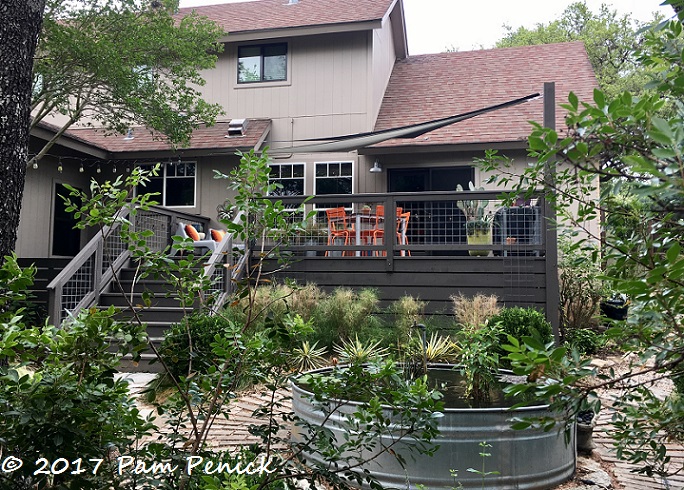 We've always wanted shade for our deck, which is one of the few spots in our yard not overhung by live oaks. Facing south, it gets blasted by the Death Star all day long, and even our kitchen table overlooking the deck gets unpleasantly toasty by midafternoon.
A solution has proven tricky. The back of our 1970s ranch sports an unlovely variety of rooflines, making it difficult (and expensive) to build a pergola or attach an awning for sun relief.

Shade sails to the rescue! We'd thought about installing shade sails over the years but couldn't find a local pro who'd take on a smaller residential project like ours. (Shade sails are popular in Austin in commercial or schoolyard settings, where they are used to shade playgrounds, sport courts, and restaurant patios.) We looked into ordering a sail from Coolaroo and hanging it ourselves, but so many DIY sails end up looking like loose, flappy tarps, and we weren't confident in our ability to anchor it so that a strong wind wouldn't rip it off our house — or rip a fascia board with it.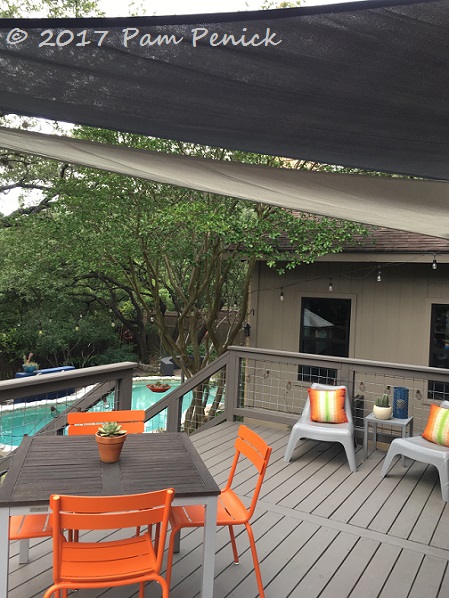 Happily, I finally found a professional installer right at the time we were refinishing our deck. Greg at Mueller Highlife custom ordered and installed two shade sails for us, one floating over the other, which function as a modern awning for our windows and back door and partially shade the deck.
For full shading, I could have ordered a larger rectangular sail, but I was determined not to block our view of the tree canopy, which we enjoy from our kitchen/dining windows. So we sacrificed on maximizing shade in return for an unobstructed view from indoors, and I'm happy with the compromise. And Greg did a great job, so give him a call if you need a sail for your yard.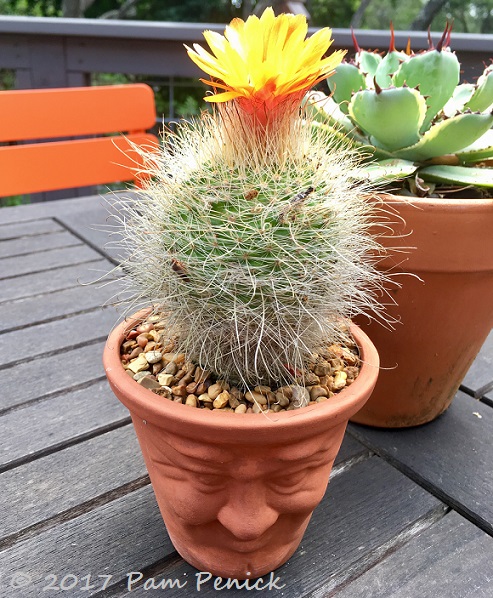 Garden-wise, I'm enjoying all the beauty of late spring, including the beautiful flowering of a potted cactus.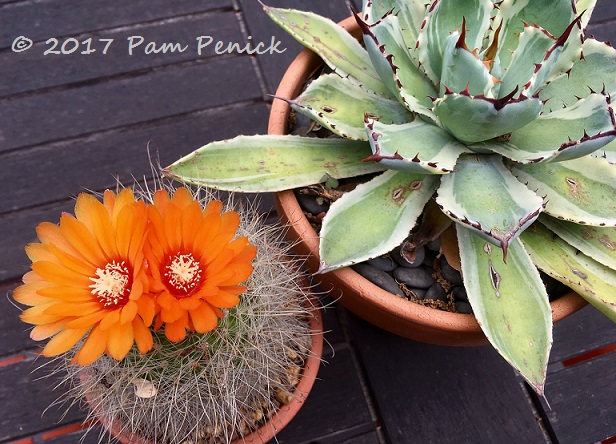 It's always incredible to me that spiny, seemingly inhospitable cacti can put forth these luscious blossoms.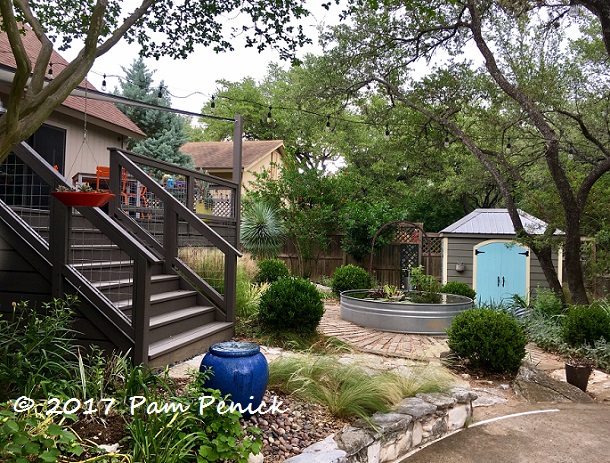 The stock-tank pond is always a source of pleasure during the warmer seasons.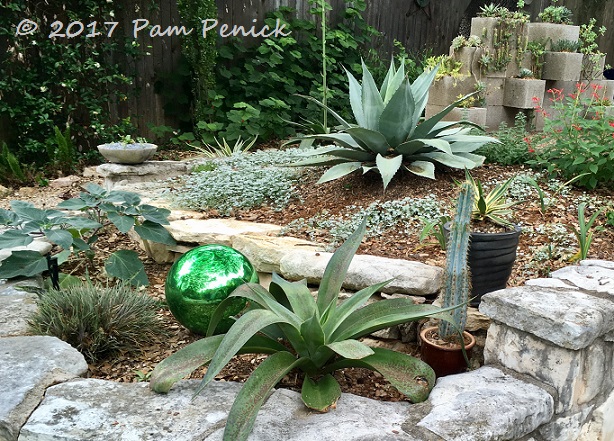 In Moby's old spot, the new whale's tongue agave (Agave ovatifolia) is settled in, with silver ponyfoot (Dichondra argentea) and pineapple sage (Salvia elegans) filling in around it. In the lower terrace, 'Macho Mocha' manfreda, 'Frazzle Dazzle' dyckia, and a volunteer datura are ready for summer's impending heat.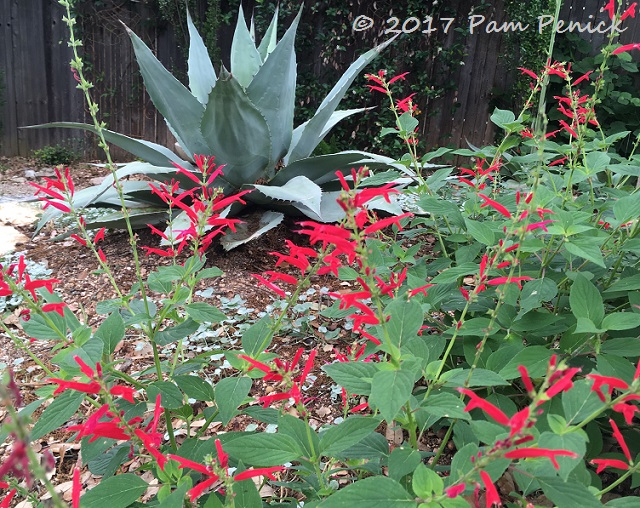 Moby 2 and pineapple sage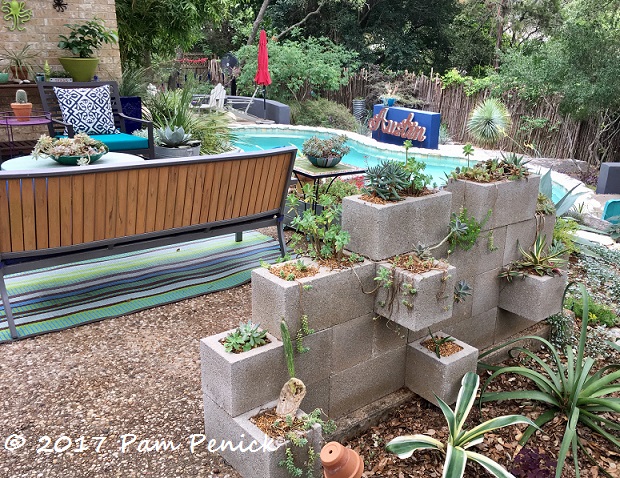 From the upper patio, here's the succulent-filled cinderblock wall.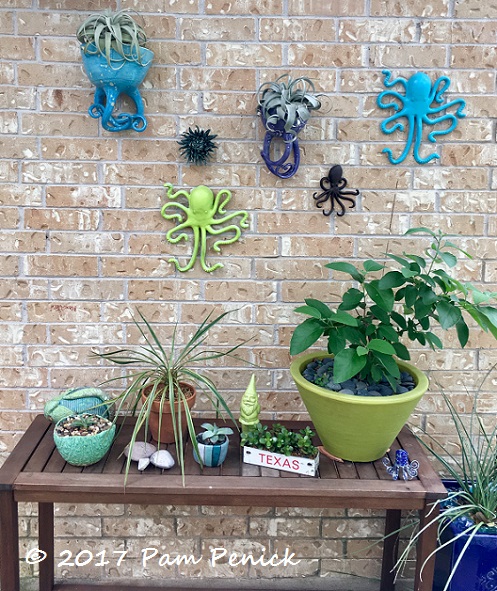 And the tentacle wall is coming along with the addition of a blue, beaded cephalopod from my friend Linda in San Antonio (to the right of the chartreuse pot).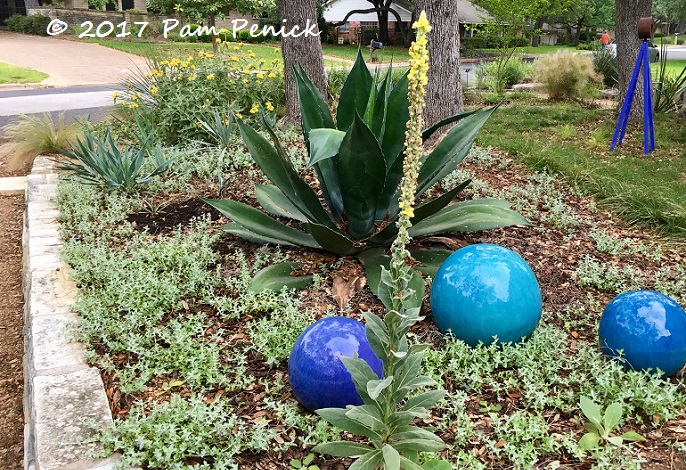 Out front, 'Green Goblet' agave is recovering from deer-antlering damage in a bed of woolly stemodia (Stemodia lanata), with a mullein's yellow flower spike echoing the yellow blooms of Jerusalem sage in the distance.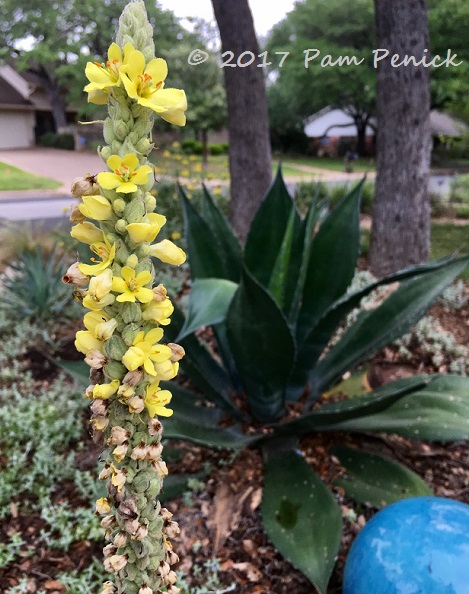 I hope you'll be enjoying your garden too this weekend!
I welcome your comments; please scroll to the end of this post to leave one. If you're reading this in a subscription email, click here to visit Digging and find the comment box at the end of each post.
_______________________
Digging Deeper: News and Upcoming Events
Mark your calendar for the Inside Austin Gardens Tour on May 6, sponsored by Travis County Master Gardeners. This fun garden tour occurs every 18 months and features a mix of homegrown gardens "for gardeners, by gardeners," as their tagline says.
Get on the mailing list for Garden Spark Talks. Inspired by the idea of house concerts — performances in private homes, which support musicians and give a small audience an up-close and personal musical experience — I'm hosting a series of garden talks by design speakers out of my home. Talks are limited-attendance events and generally sell out within just a few days, so join the Garden Spark email list for early notifications. Simply click this link and ask to be added.
posted in
2nd garden--2017
,
Agaves
,
Cactus
,
Containers
,
Decor
,
Fountains
,
Garden art
,
Grasses
,
Patios & decks
,
Ponds
,
Seating
,
Shade sails
,
Sheds
,
Shrubs
,
Signs
,
Stock tanks
,
Succulents
,
Tillandsias
,
Walls
,
Water features
,
Xeric plants
,
Yuccas