May 2nd, 2017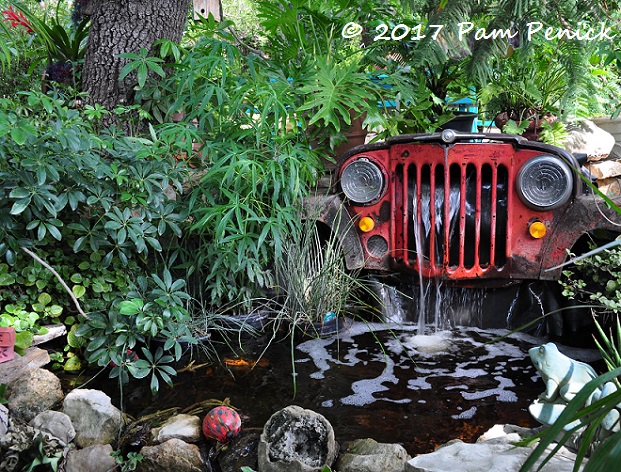 Last weekend I was invited to visit (along with other garden bloggers) the 5 private gardens that'll be on the Inside Austin Gardens Tour this Saturday, May 6. Hosted by the Travis County Master Gardeners, the tour typically features homeowner-designed and -maintained gardens rather than fancy designer gardens, so you know you'll see uniquely personal spaces.
The most unique garden on this year's tour has to be Shari Bauer's garden in Spicewood. (With two Spicewood gardens on the tour, maybe it should have been renamed Inside and Outside Austin Gardens.)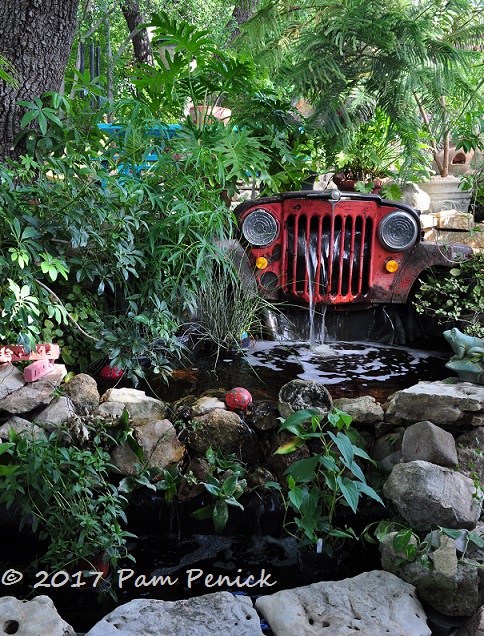 Shari has adorned her hillside garden perched above the Pedernales River with whimsical sculpture, shrines, and structures she's whipped up from found objects and thrift-store finds. Even the front grille of an old Willys Jeep is putty in her hands. She turned this one into a one-of-a-kind fountain spilling into a cascading pool. Encircled by lush foliage like philodendron, the vignette reminds me of the scene in Jurassic Park when Dennis crashes his Jeep, right before the dinosaur eats him!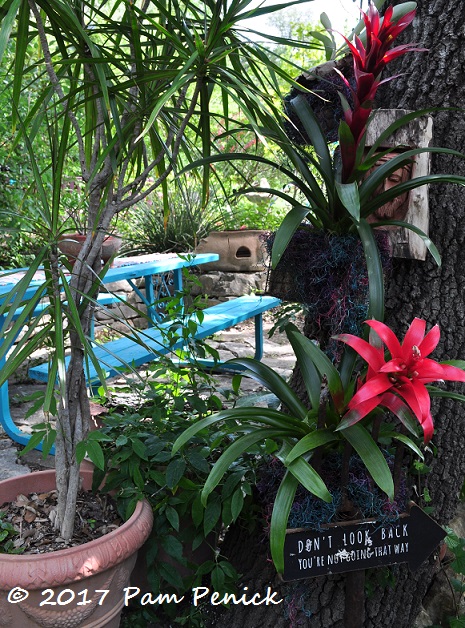 The tropical look continues as you climb uphill, where you find bromeliads growing on tree trunks and tropical houseplants summering outdoors.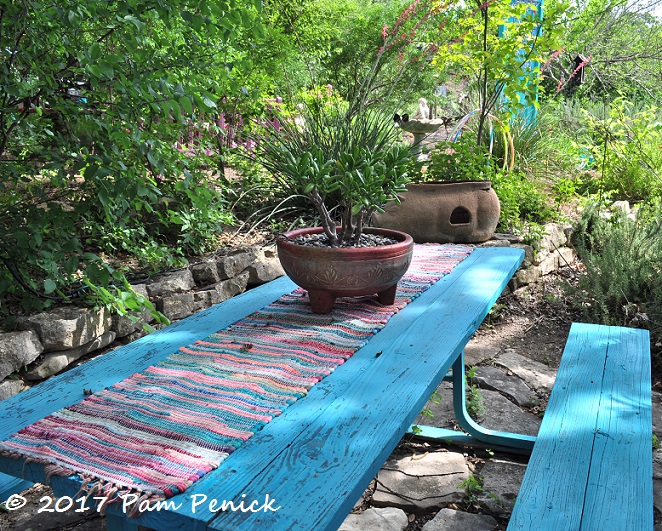 Turquoise is Shari's favorite color, she told us, and she uses it liberally throughout her garden.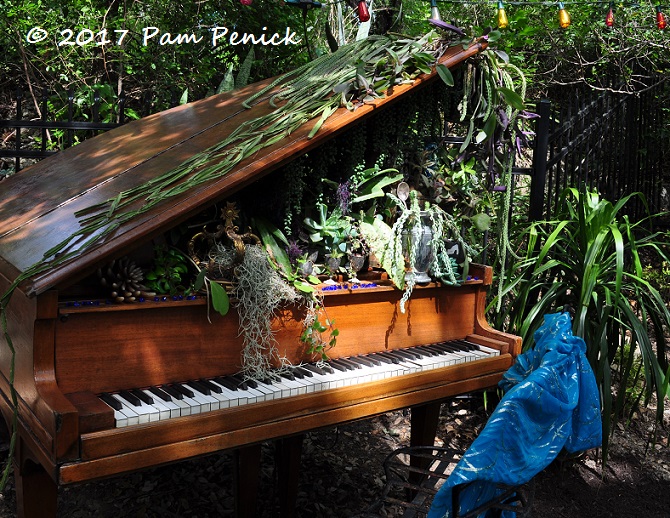 After the Jeep fountain I didn't think anything would surprise me, but this piano did. Draped and stuffed with succulents and cacti, the piano is playing to Shari's tune.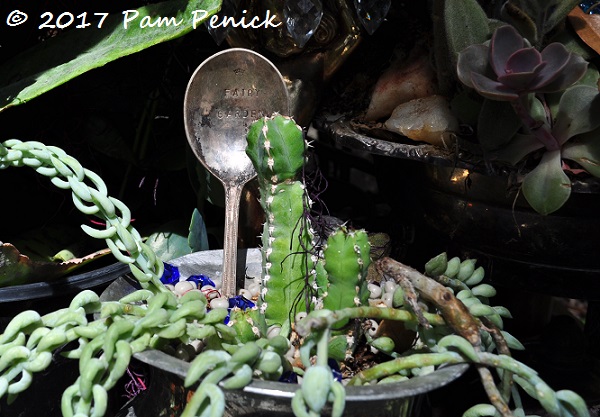 A closer look reveals fun potted arrangements inside the lid.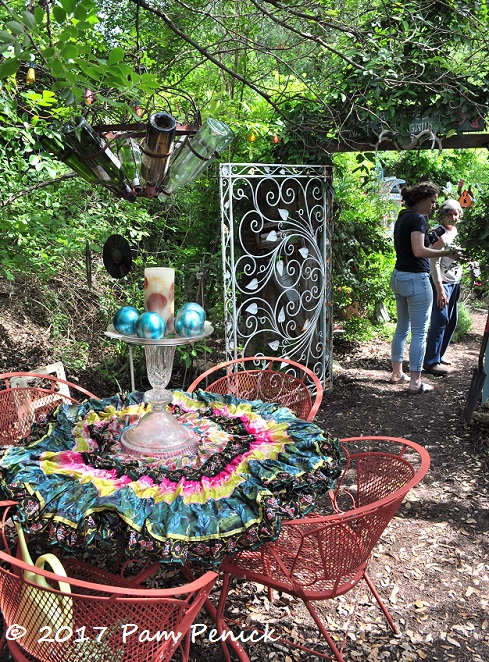 Shari creates rooms with furniture, chandeliers hanging from trees, and doorways that invite you in.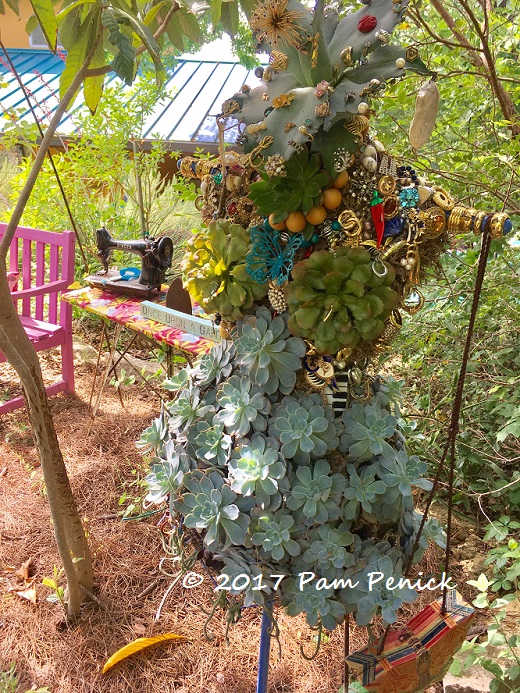 Her sense of humor is on full display at every turn. Next to an old sewing machine stands this dress form clad in succulents and "bling."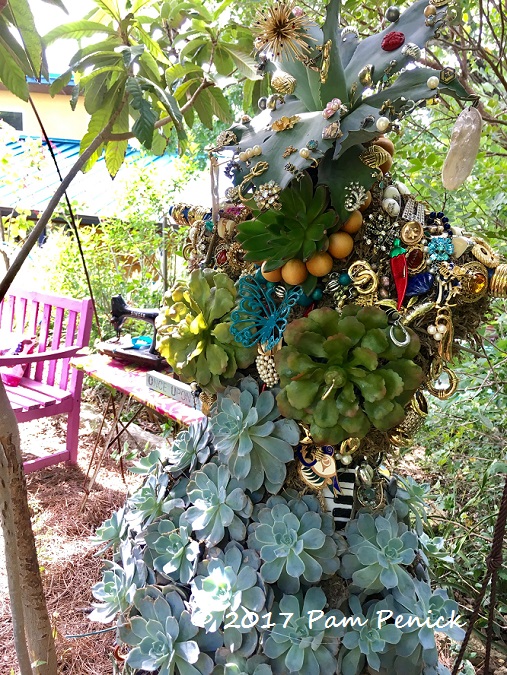 Notice the "nipple" piercings.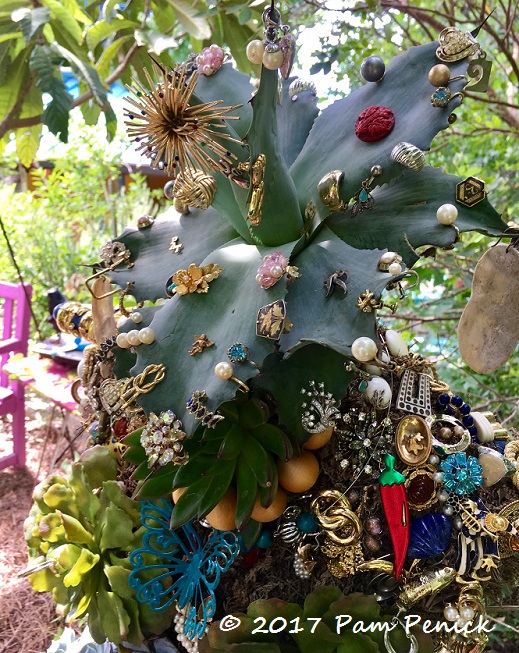 The head is an agave adorned with dozens of earrings and brooches.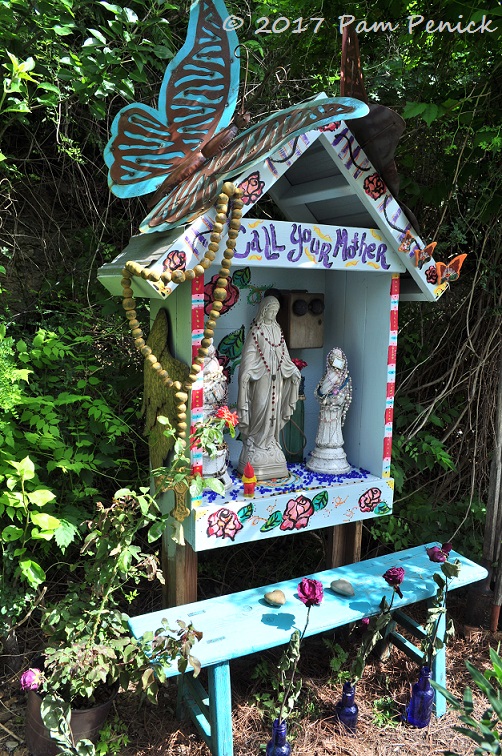 Along another path, a painted shrine with Madonna figurines and an old telephone urges visitors to call their mothers.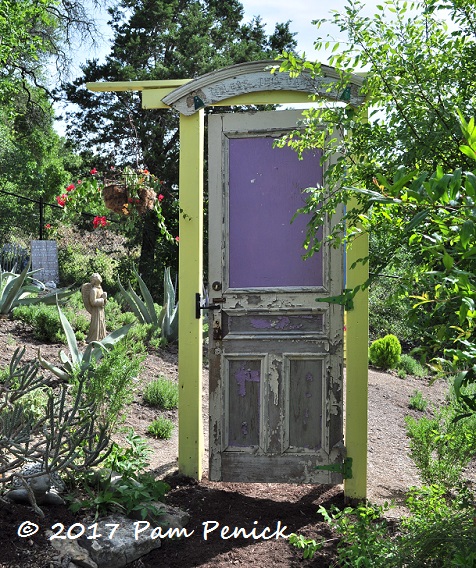 In a sunny clearing, a doorway appears. Open it…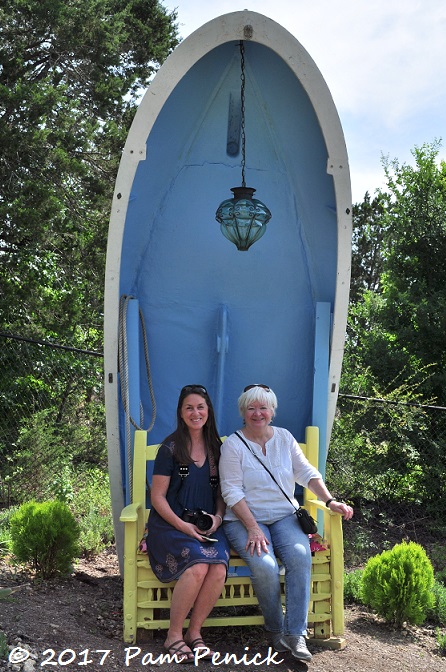 …and the path leads to a yellow bench sheltered by a boat standing on end — with a hanging light that actually works. Seated are Cat of The Whimsical Gardener and Linda of Patchwork Garden.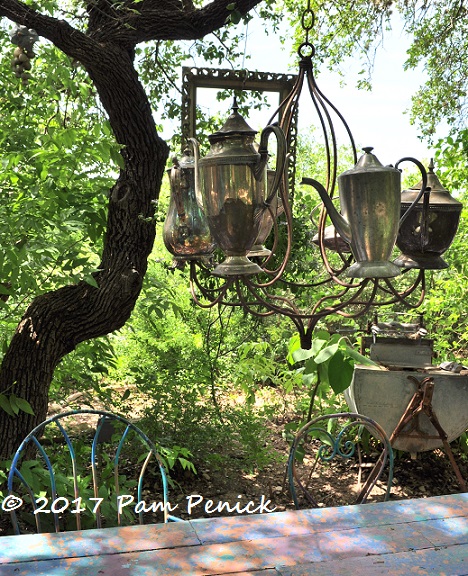 Shari recycles a lot of silver serving pieces, like these teapots turned into a chandelier…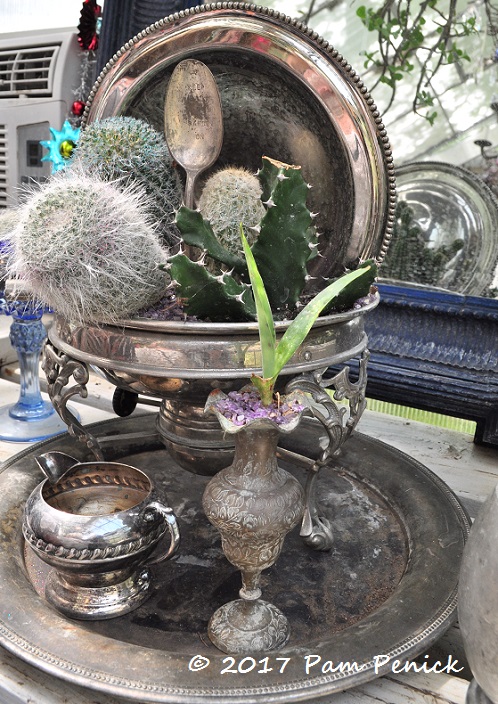 …and a compote turned into a cactus planter. The white spines and hairs of the cacti look quite nice against the tarnished silver.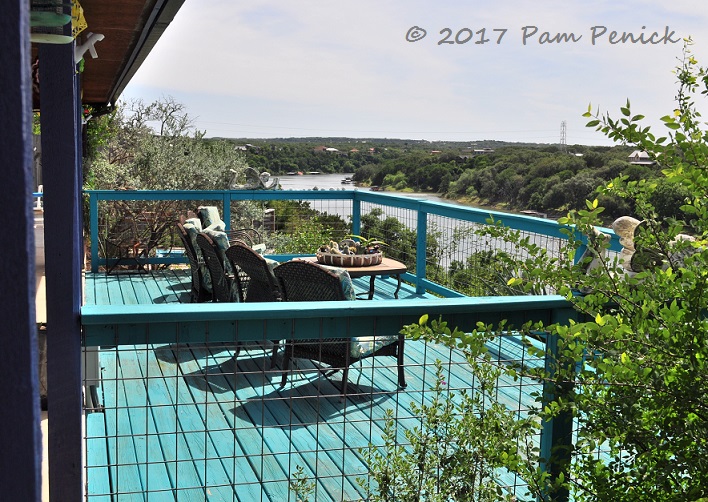 A turquoise-painted deck offers a stunning view of the Pedernales River, wonderfully full again after previous years of drought.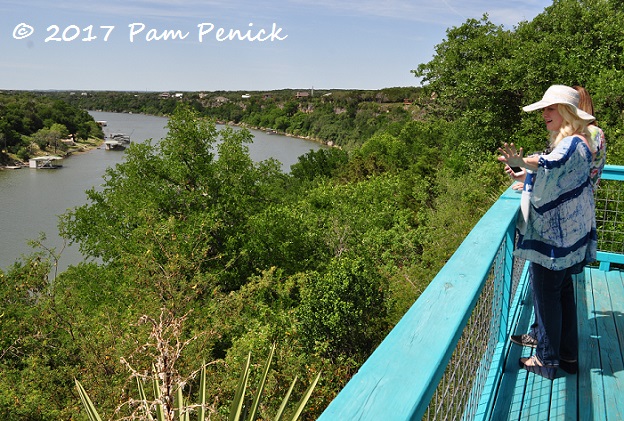 Here's Shari, who appeared to be as joyful as her garden.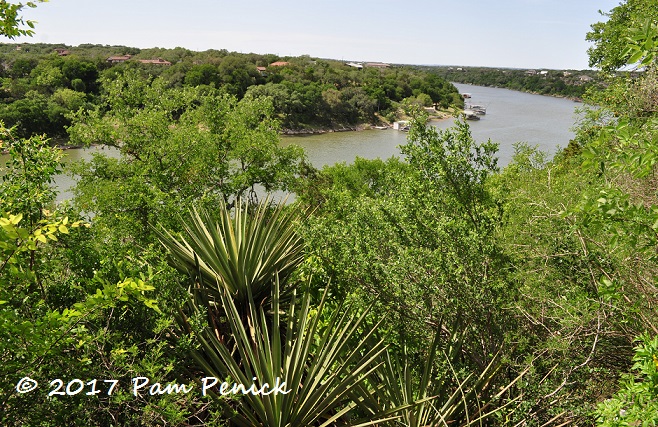 That's quite a nice view.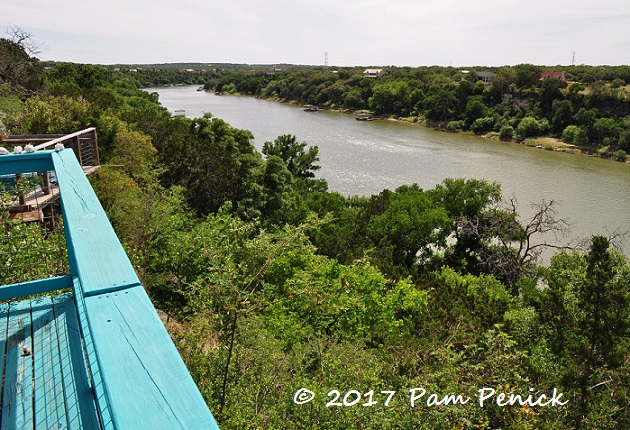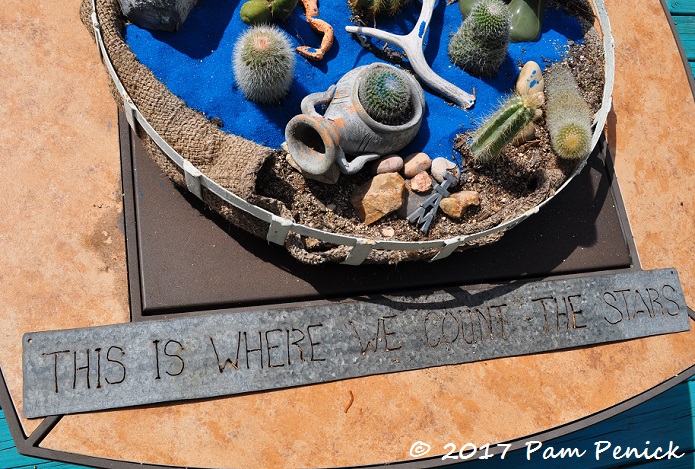 "This is where we count the stars," reads a sign on the deck's fire-pit table. Sounds like a nice way to spend an evening.
Up next: The east Austin garden of Daphne Jeffers, a colorful cottage garden out front and a serene Zen garden in back.
I welcome your comments; please scroll to the end of this post to leave one. If you're reading this in a subscription email, click here to visit Digging and find the comment box at the end of each post.
_______________________
Digging Deeper: News and Upcoming Events
Mark your calendar for the Inside Austin Gardens Tour on May 6, sponsored by Travis County Master Gardeners. This fun garden tour occurs every 18 months and features a mix of homegrown gardens "for gardeners, by gardeners," as their tagline says.
Get on the mailing list for Garden Spark Talks. Inspired by the idea of house concerts — performances in private homes, which support musicians and give a small audience an up-close and personal musical experience — I'm hosting a series of garden talks by design speakers out of my home. Talks are limited-attendance events and generally sell out within just a few days, so join the Garden Spark email list for early notifications. Simply click this link and ask to be added.
posted in
Agaves
,
Cactus
,
Containers
,
Decor
,
Doors
,
Fountains
,
Garden art
,
Garden structures
,
Garden tours 2017
,
Gates
,
Lighting
,
Patios & decks
,
Ponds
,
Rivers & creeks
,
Sculpture
,
Seating
,
Signs
,
Succulents
,
Trees
,
Views
,
Water features