November 12th, 2009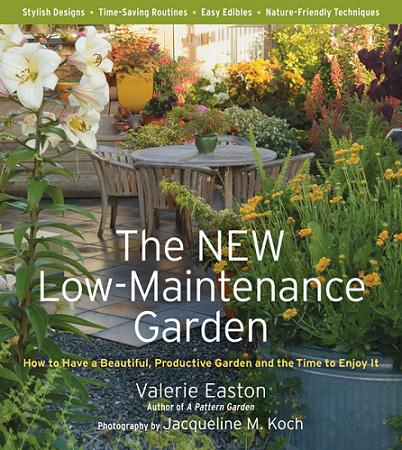 The New Low-Maintenance Garden: How to Have a Beautiful, Productive Garden and the Time to Enjoy It, by Valerie Easton, photography by Jacqueline M. Koch (2009)
Plant lovers may reject Valerie Easton's very premise: that you can have a low-maintenance garden by making a "non-plant-centered garden," one that depends on hardscaping for all-season structure and a limited, selective palette of the gardener's favorite, easy-care plants. I've read enough comments on garden blogs to know that many readers are pro-plant and anti-hardscaping. We value plants above all else and view designers who want to pave part of the garden with suspicion.
Easton understands all too well. She writes,
We usually start our gardens with the best intentions and often with a plan in mind, which is soon abandoned when we tote home black nursery pot after nursery pot. All those tiny trees and shrubs and baby perennials look so innocent and scarcely dangerous. Just squeeze one more in, and then another and another. Soon enough our garden becomes a conglomeration of plants we've fallen in love with. We end up with a space that isn't particularly personal or reflective of our needs, as well as such a maintenance nightmare we don't love it for long….If you come to gardening through your love of plants, and most of us do, how can you possibly create a non-plant-centered garden?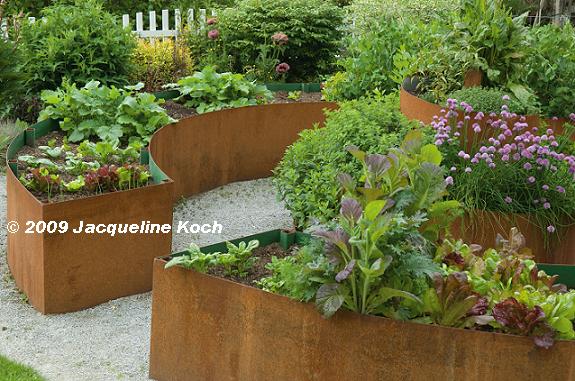 Joan Caine's garden, Cameron Scott/Exteriorscapes design, Seattle, WA. Posted with permission of the photographer.
She was herself a plant collector for many years, maintaining a large, richly planted garden until one day she realized it had become a chore rather than a sanctuary. Her son grown and her husband wanting to pursue other interests (not help in the garden every weekend), she found her garden had become all work and no play. So they sold their house and garden and moved to a new home with a smaller lot, which she promptly turned into a low-maintenance retreat for herself, her family, and friends. How? By eschewing most perennials and relying on hardscaping, small shrubs and trees, perennial bulbs, and groundcovers.
Easton advocates simplifying, decisively editing plant choices, thinking before planting, and, above all, making a strong design that will guide your planting scheme and make your garden look inviting all year with places to relax and enjoy the garden, not just work in it. Her mantra: "Design before plants, think geometry, and invest in infrastructure."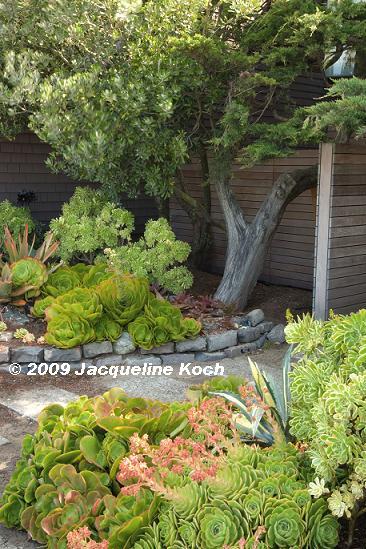 Thomas Lloyd-Butler's garden, Jeong Hyeon Lee design, San Francisco, CA. Posted with permission of the photographer.
The book is filled with lovely images of small gardens that blend extensive hardscaping—patios, wide paths, sheltering arbors, raised beds—with beautiful plantings of slow-growing foliage plants and seasonal color provided by bulbs, shrubs, and groundcovers, not perennials that require dividing, staking, deadheading, and pruning. Easton suggests using raised beds to define and divide the garden and provide a relatively weed-free place to grow ornamentals or edibles, and planting groundcovers that carpet the ground to squeeze out weeds.
Like many designers, she strongly believes in hardscaping as a way to bring people into the garden, provide unchanging structure, and reduce the planting area (after all, hardscaping doesn't need to be watered or mowed). She does address sustainability issues like how to reduce water runoff, keeping rainfall on one's property rather than moving it to storm drains; gardening without pesticides and herbicides; and incorporating edibles in the ornamental garden. At the end of each chapter she provides a list of additional reading or other resources.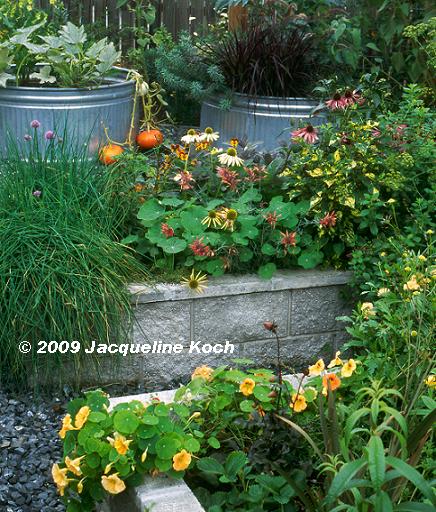 The author's garden in late summer. Posted with permission of the photographer.
Easton's premise may not appeal to garden-blogging plant lovers. But it will be embraced by gardeners facing the limitations of an aging body or the time constraints of a busy career; by gardeners with a contemporary sensibility who want a clean-lined, non-fussy garden; by nongardeners who want an inviting place to enjoy being outdoors; and, not least, by designers who are asked by nearly every client for a low-maintenance garden.
Disclosure: The New Low-Maintenance Garden was sent to me for free from Timber Press for review purposes. My review is uncompensated, and my opinion is my own.
All material © 2006-2009 by Pam Penick for Digging. Unauthorized reproduction prohibited.