April 27th, 2017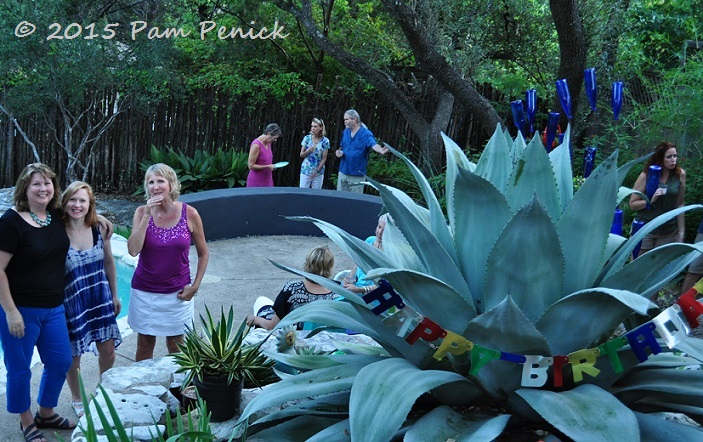 After Moby, my beloved whale's tongue agave (pictured here at his 10th birthday party — yes, really), bloomed and died last fall, I harvested and potted up more than 100 bulbils from its bloom stalk.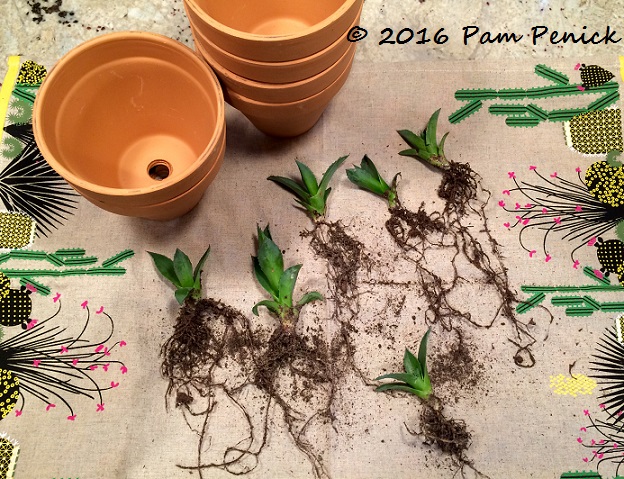 I watched over them for a couple of months as they grew healthy roots. And then I started giving them away. Many went to friends here in Austin, but I also shipped dozens of baby Mobys (bulbils are clones of the mother plant, after all) to far-flung garden-blogging friends who have an affinity for agaves.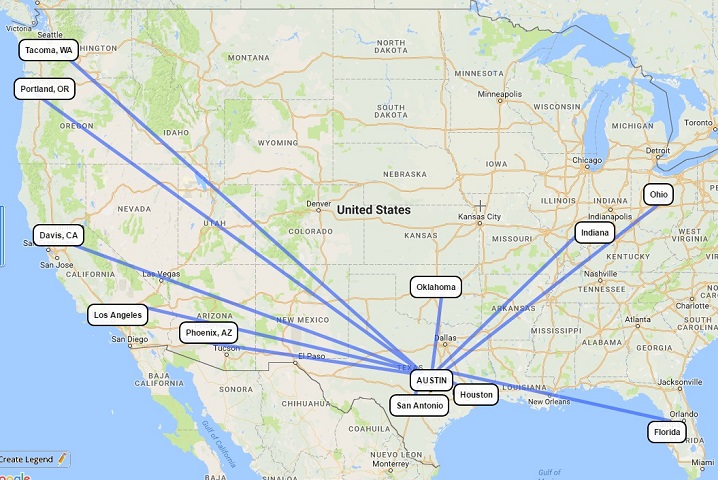 At the suggestion of a friend who wondered where Moby's spawn swam off to, I made a map of the places I shipped them. From my home in Austin, Texas, those little whales went out all over the U.S., from Florida to California and from Ohio to Washington.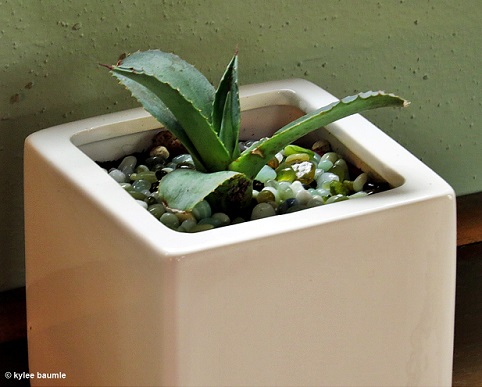 Kylee of Our Little Acre in Ohio adopted this Moby Jr., which looks happy in a pot with polished-stone mulch.
I recently asked the adoptive parents to share, if they wished, a photo and update about their Moby Jrs. Getting a baby agave through its first winter can be a challenge, and I didn't expect that all would survive. (I lost two of six I'd kept for myself.) Aside from freezes and winter rains, I learned that squirrels, dogs, overeager landscapers, and even acorn peltings maimed or harpooned some of the baby whales. It was like a National Geographic special out there!
Tamara of Chickadee Gardens in Saint Helens, Oregon, shared the saddest story, having lost all of her agaves to an unusually snowy winter: "Unfortunately, my Moby-ettes did not survive this punishing winter we had. They were in pots (and sheltered, too), but we got down to 10 degrees for a couple of days, and not one of my agaves survived. I had three others in the ground, much larger, that succumbed too. I am 'agave-less' right now."
How tragic to be agave-less! I'm sorry, Tamara.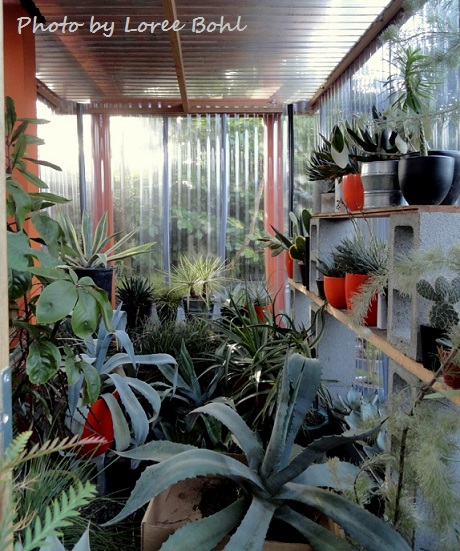 In nearby Portland, Loree of Danger Garden tucked her agave pups in her plastic-lined shade cabana and hoped for the best. She wrote, "My Moby spawn arrived a few weeks before our winter turned nasty. I potted them up, put them in the 'greenhouse,' and then promptly forgot about them. Taking care of the garden plants — which endured repeated rounds of ice, snow, frigid temperatures, and record rainfall — took priority. Truth be told, I hadn't really even thought of them until I got your email. That spurred me to climb in and see how they were doing."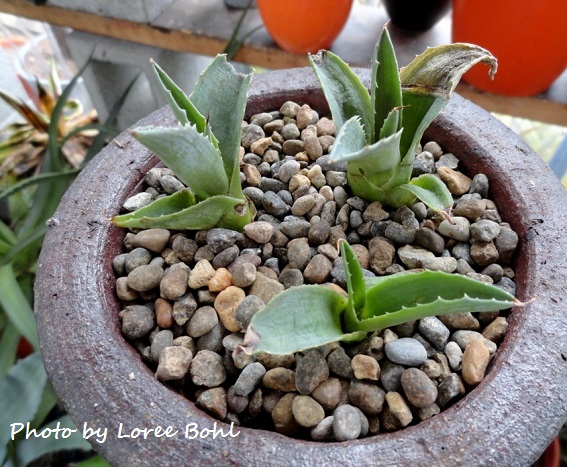 What?? She forgot about them? Not to worry. "They're fine," she said. "Once the temperatures are warmer and the soil dries up a bit, I plan to plant at least one in the ground, and then let the other one or two grow on in a container."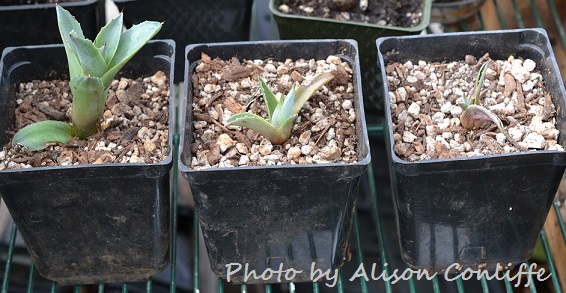 In the Tacoma, Washington, area, Alison of Bonney Lassie popped hers in a greenhouse too, and while one shriveled, two survived. "They're probably going to spend their lives in pots going in and out of the greenhouse every winter," she said. "Putting them in the ground might be iffy. I planted a big whale's tongue agave in the ground my first year here, and it succumbed that first winter."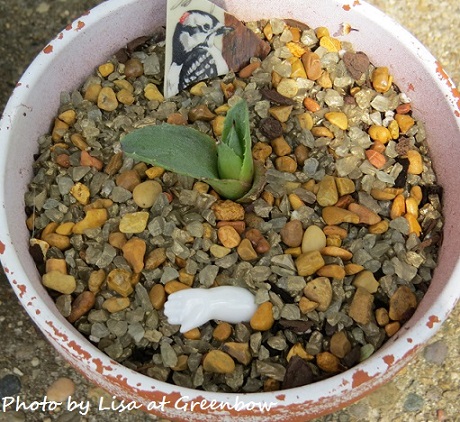 Indiana, of course, is too cold for whale's tongue agave (hardy to zone 7a with excellent drainage) to live outside all year, so Lisa of Greenbow kept hers inside on a windowsill. "I probably should have started them in smaller pots," she wrote, "but hey, I was thinking MOBY." Her smaller one "looks so lonely in its pot that I put a couple of bits of trifle in with him so he felt comfort. They have been outside a few days and are already getting better color."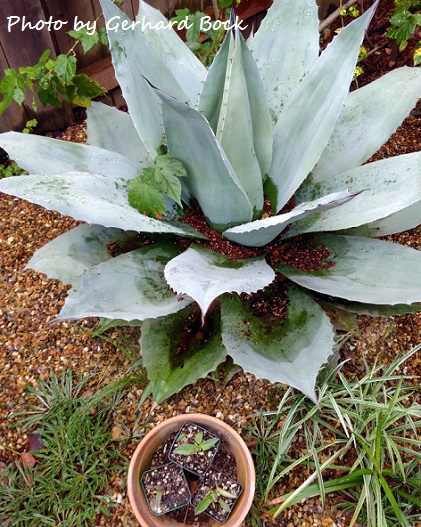 In northern California near Sacramento, Gerhard of Succulents and More is already growing a big whale's tongue 'Vanzie'. Of his Moby offspring (pictured in the terracotta pot), he wrote, "It's hard to believe they'll be this big someday — and bigger because this A. ovatifolia is nowhere near its mature size. All three made it through the winter just fine. Some critter started to nibble on them in the last week. It must not have liked the taste because it spat out the pieces it had chewed on."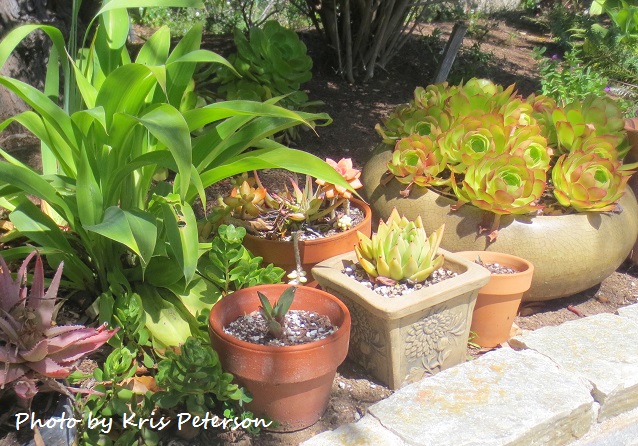 I mailed a handful of pups to sunny Los Angeles, where Kris of Late to the Garden Party kindly distributed them for me to several L.A. friends, keeping two for herself. "Unlike some of my potted succulents," she wrote, "the Mobys took our heavier-than-usual winter rain in stride. As more rain can't be expected here until fall at the earliest, I'll have to watch the babies through our long, dry period to make sure they remain adequately hydrated. They'll eventually go into my dry garden near my more mature Agave ovatifolia."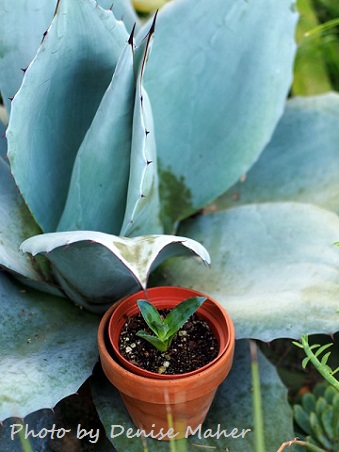 Denise of A Growing Obsession received a few pups from Kris's stash, and she shared this amusing update in full-on Moby style: "Here's the baby whale in his new pod, being taken under the….flipper of my 'Frosty Blue' ovatifolia, getting tutored in the ways of the world far from his mama."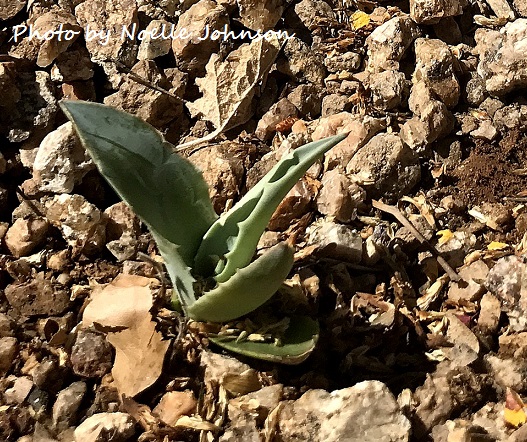 In Phoenix, Noelle of Ramblings from a Desert Garden planted her Moby pups straight into her garden. "One died," she wrote, "and the other was accidentally dug out by my landscaper before I caught it. He may have mistaken it for an unwanted agave volunteer, as I have him take my agave babies out and let him repot them for his other clients." (In which case, it may be living on in someone else's garden.) A third one "is on a drip emitter and is thriving in morning sun and afternoon shade."

Closer to home, Laurin of Ravenscourt Gardens in Houston wrote, "I kept the little Mobys in the house under a cloche in my garden window until it got warmer. Once I moved them outside, the squirrels decided to dig them up. So as you can see, I have thwarted the squirrels' path and added rocks. They have good roots and are little troopers!"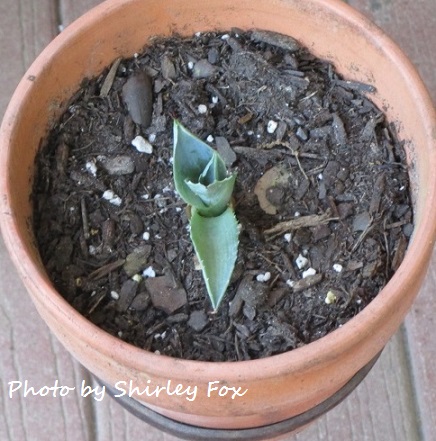 Last October on a visit to San Antonio, I dropped off a flat of Moby pups with Shirley of Rock-Oak-Deer and asked her to please share them with my Alamo City friends and distribute the rest as she liked. A Chicken Little situation ensued, as it was a mast year for the live oaks, which dropped an insane amount of acorns.
Shirley wrote of this pup, "You may notice he's a bit lopsided. The flat you dropped off was whisked away to the shade of my live oak trees. Then a big acorn drop pelted them, and a few leaves were broken off before I moved them to the safety of the porch. Lesson learned, and they are mostly recovered now. It's been fun distributing them to San Antonio fans of Digging. One little Moby even attended a meeting at SAWS so I could give it to Heather of Xericstyle. Another went to Robbi of Antique Rose Emporium when she spoke at GVST. There are some left for special surprises."
Thanks so much for spreading the Moby love, Shirley!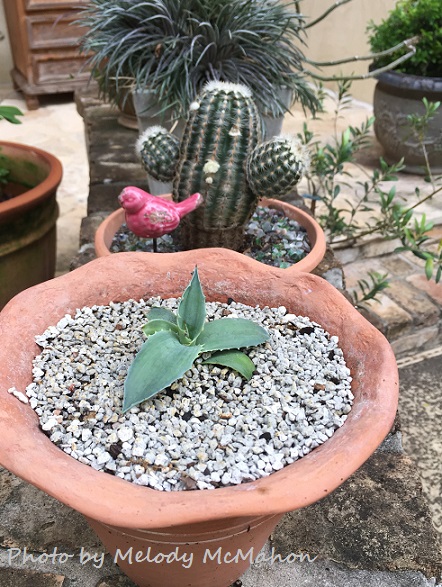 My friend Melody received a pup from Shirley's flat and wrote: "Little Moby Jr. is progressing nicely in his new home. His roots were surprisingly healthy and long when I got him from Shirley and moved him up to his bigger pot." Looking good, Junior!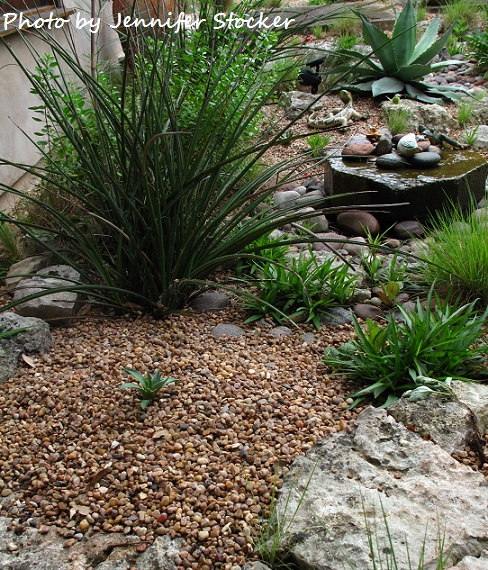 Here in Austin, many of my blogger friends took home a few pups. Jenny of Rock Rose wrote, "I left my little Moby in a pot over the winter. He is now in the ground in the front courtyard garden, watched over by an older Agave ovatifolia. He just started to sprout two new leaves, so I think he is well on the way. Come on, Little Moby."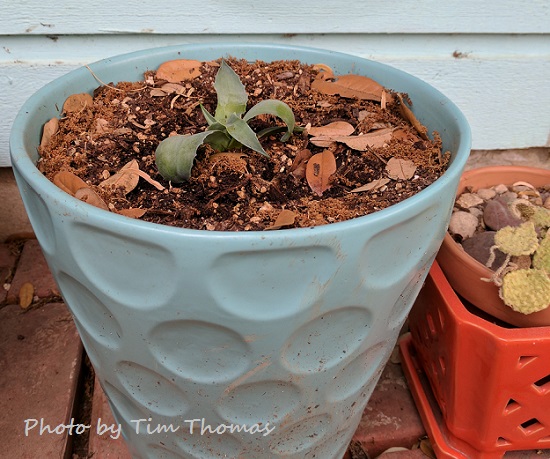 Tim of Xeric Front Yard has had to contend with exuberant pups — and not the agave sort: "My Moby pup is doing well after an uneven start. It wintered indoors near our big picture window. Several times when she saw a squirrel, my dog Junie jumped on the glass, then accidentally landed on the pup on the way down, flipping it out of the dirt. That's the reason it's not particularly symmetrical and is missing some of its leaves. My goal is to eventually have it be a centerpiece in one of the beds right outside our bedroom window."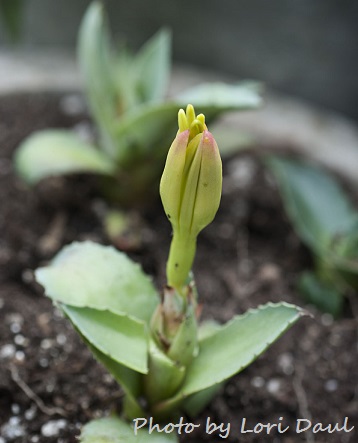 Lori of The Gardener of Good and Evil noticed something surprising on one of her Moby Jrs — a miniature bloom stalk! I found a bloom stalk sprouting from one of my pups as well; apparently the flowering hormone is still active in some of the bulbils? I cut off the bloom stalk on mine to see if the pup would live on, but Lori is letting hers do what it wants. It'll be interesting to see how this plays out!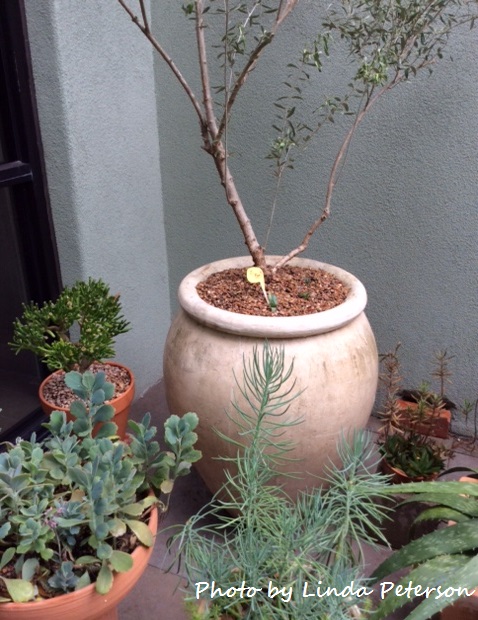 The funniest update came from my friend Linda in San Antonio, who received three from the flat I gave Shirley Fox: "The babies only made it to their new home yesterday, having survived in their short lives all the dangers of unseasonable, unreasonable cold, near-drowning in torrential floods, and death by asphyxiation and/or concussion visited upon them by vicious live oaks with their leaf and acorn minions! Having somehow survived all those perils, this intrepid trio still remained in the clutches of a Crafty Fox, and only arrived safely here after the payment of a ransom (Indian food, in unmarked quantities, no police, etc.)"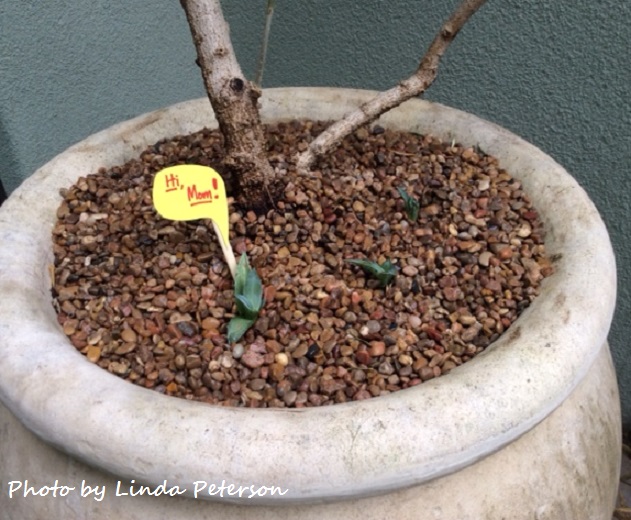 What's this — a note from one of the pups itself?! Linda had me in stitches with this photo and continuing update: "But brave little Mobelia and the twins, Mobelina and Mobelette, have found safe haven at last, sheltering under the branches of a little olive tree, all within the protective walls of the atrium outside our bedroom, where a close eye can be kept every day, and lullabies and encouragement provided as required."
See what happens when you name a plant and express its personality in silly blog posts for years on end? Actually, I love that my friends are playing along with the Moby adoration, and I especially love that they are keeping Moby's memory — and genetics! — alive by planting his spawn in their gardens across the country. Swim on, Moby-ettes!
Giveaway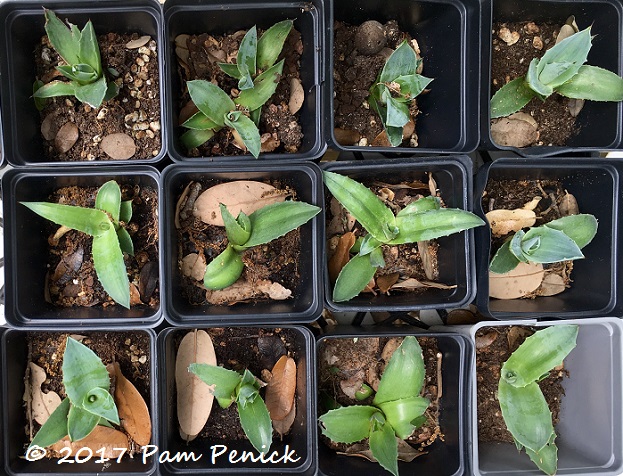 Even with all the sharing, I still have a handful of Moby pups remaining, and I've decided to offer them in a giveaway to 5 local readers who are able to come by and pick them up. For your chance to adopt a tiny Moby clone, please leave a comment on this post telling me why you'd like to grow a whale's tongue agave, or something you've enjoyed about Moby. If I get more than 5 requests, I'll ask a family member to help me choose based on the content of the comments.
Good luck, fellow Austinites!
Update 4/29/17: This giveaway has ended. And the winners of the Moby spawn are Carol from Katy, Annemarie Read, Phyllis, Gretchen Niendorff, and Kat Mathews! I'll email you about picking up your plants, ladies. —Pam
I welcome your comments; please scroll to the end of this post to leave one. If you're reading this in a subscription email, click here to visit Digging and find the comment box at the end of each post.
_______________________
Digging Deeper: News and Upcoming Events
Mark your calendar for the Inside Austin Gardens Tour on May 6, sponsored by Travis County Master Gardeners. This fun garden tour occurs every 18 months and features a mix of homegrown gardens "for gardeners, by gardeners," as their tagline says.
Get on the mailing list for Garden Spark Talks. Inspired by the idea of house concerts — performances in private homes, which support musicians and give a small audience an up-close and personal musical experience — I'm hosting a series of garden talks by design speakers out of my home. Talks are limited-attendance events and generally sell out within just a few days, so join the Garden Spark email list for early notifications. Simply click this link and ask to be added.