April 16th, 2017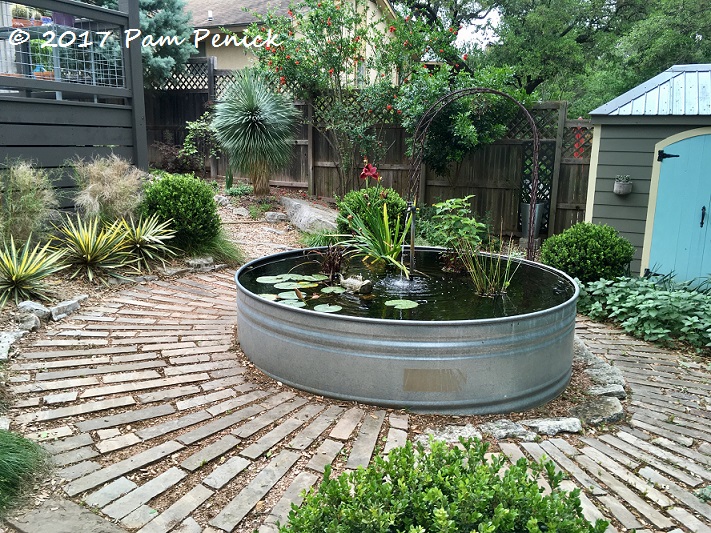 I'm imagining my blog feed filling up with pictures of pastel Easter eggs and white lilies. But here at Digging, in spite of a flurry of kitchen activity (I'm making Tex-Mex deviled eggs and a lemon cake), it's still Foliage Follow-Up. Let's start with the stock-tank pond garden, encircled by masses of 'Color Guard' yucca and bamboo muhly along the uphill side and heartleaf skullcap on the downhill side, with "doorways" marked by 'Winter Gem' boxwood. Across the pond, a shimmering Yucca rostrata guards the side-yard path.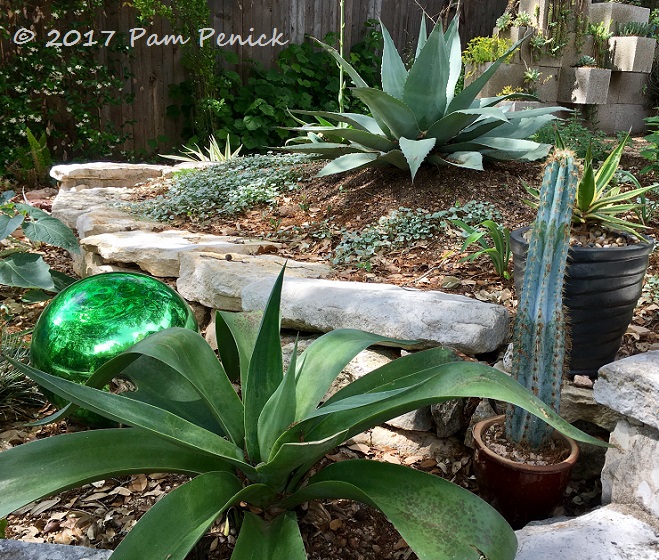 In the raised beds, Moby2 (Agave ovatifolia) reigns over a mix of bright-shade-tolerant foliage plants, including silver ponyfoot, 'Quadricolor' agave, blue torch cactus (Pilocereus azureus), and 'Macho Mocha' mangave.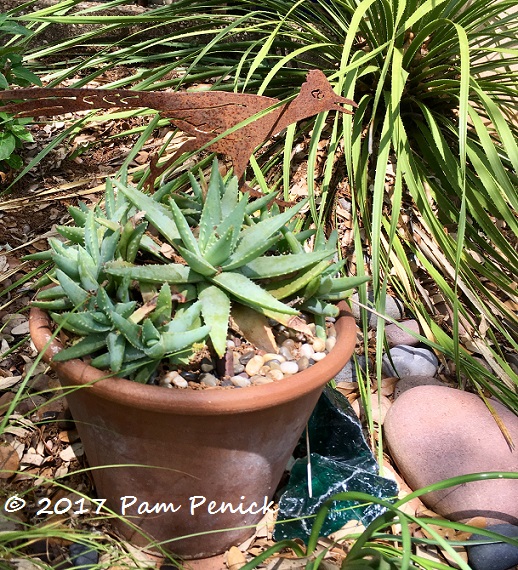 A metal roadrunner darts across a pot of aloes, with the strappy leaves of Texas nolina in the background.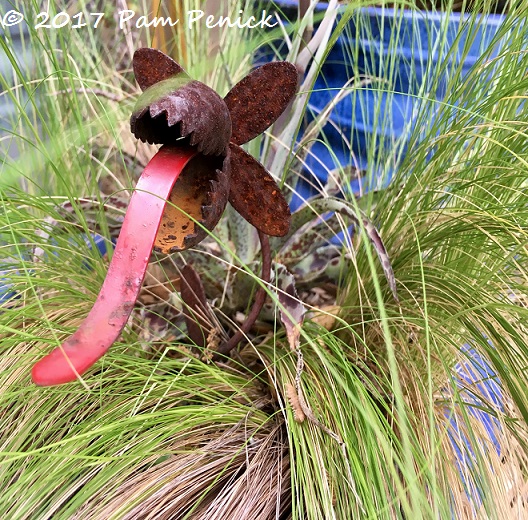 I have a thing for metal garden art. Here, a toothy smile (feed me, Seymour!) greets you from a pot of 'Chocolate Chips' manfreda and Mexican feathergrass.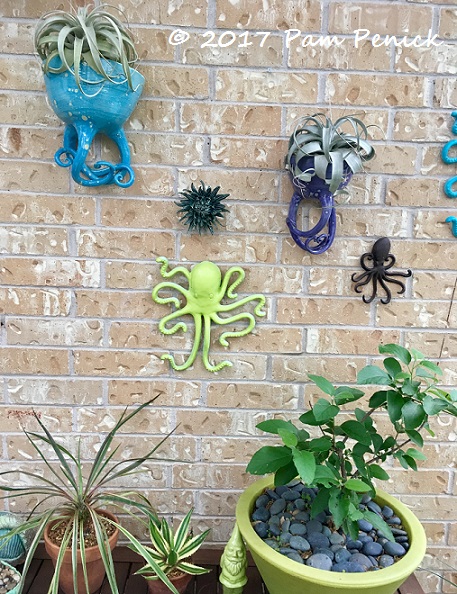 Lately, I also have a thing for squids — or at least these squidy pots. With curly, writhing "arms," Tillandsia xerographica makes a perfect plant for them.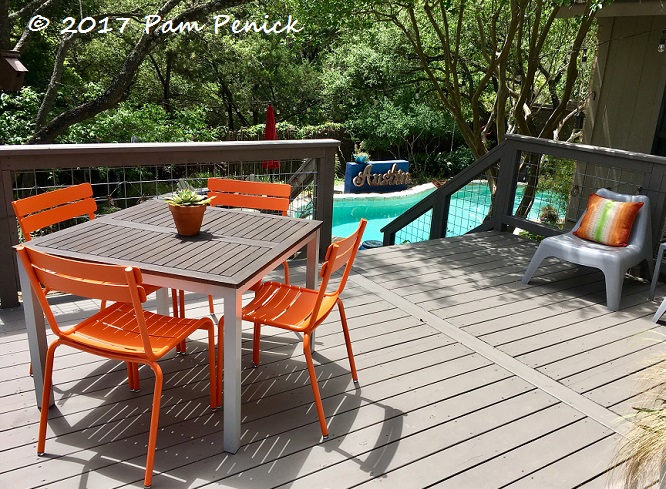 Fresh green leaves on the live oak trees are the most dominant foliage in my garden right now. They're a bright-green backdrop to everything else.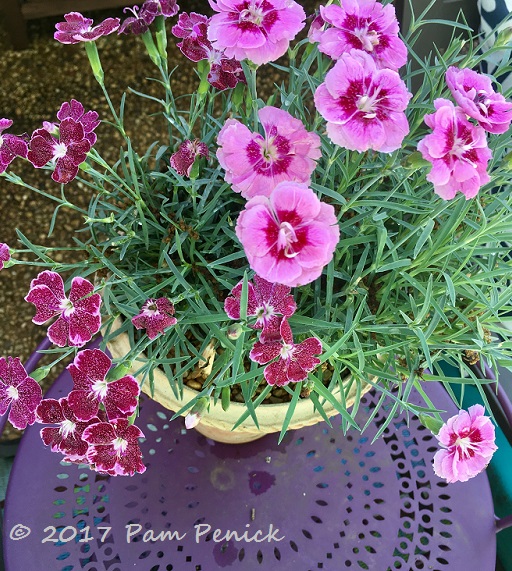 Since it IS Easter, I can't leave without posting a little floral color, so here we go: two pinks (Dianthus 'Lavender Lace' and 'Light Pink + Eye') crammed together into one pot.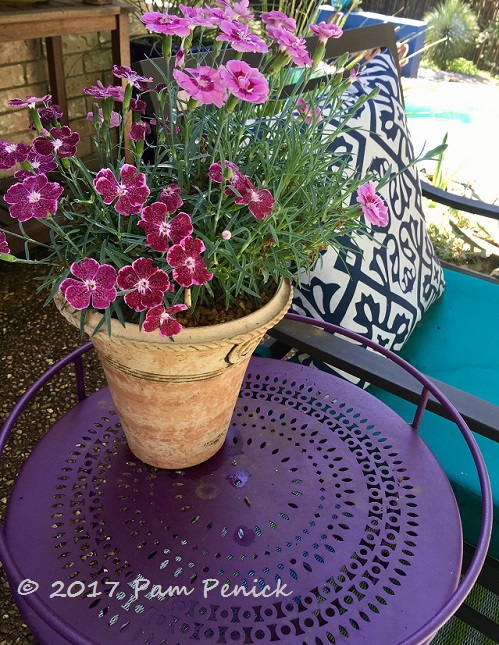 One more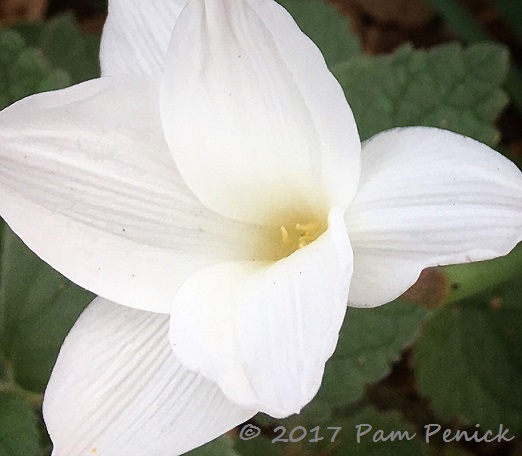 And while I don't have an Easter lily, I do have white rain lilies. Happy Easter, y'all!
This is my April post for Foliage Follow-Up. Fellow bloggers, what leafy loveliness is happening in your garden this month? Please join me in giving foliage its due on the day after Bloom Day. Leave a link to your post in a comment below. I'd appreciate it if you'll also link to my post in your own — sharing link love! If you can't post so soon after Bloom Day, no worries. Just leave your link when you get to it. I look forward to seeing your foliage faves.
I welcome your comments; please scroll to the end of this post to leave one. If you're reading this in a subscription email, click here to visit Digging and find the comment box at the end of each post.
_______________________
Digging Deeper: News and Upcoming Events
Mark your calendar for the Inside Austin Gardens Tour on May 6, sponsored by Travis County Master Gardeners. This fun garden tour occurs every 18 months and features a mix of homegrown gardens "for gardeners, by gardeners," as their tagline says.
Get on the mailing list for Garden Spark Talks. Inspired by the idea of house concerts — performances in private homes, which support musicians and give a small audience an up-close and personal musical experience — I'm hosting a series of garden talks by design speakers out of my home. Talks are limited-attendance events and generally sell out within just a few days, so join the Garden Spark email list for early notifications. Simply click this link and ask to be added.
posted in
2nd garden--2017
,
Agaves
,
Aloes
,
Birds
,
Cactus
,
Containers
,
Foliage Follow-Up
,
Garden art
,
Grasses
,
Paths
,
Patios & decks
,
Ponds
,
Seating
,
Sheds
,
Shrubs
,
Signs
,
Stock tanks
,
Succulents
,
Swimming pools
,
Tillandsias
,
Trees
,
Water features
,
Xeric plants
,
Yuccas