March 24th, 2017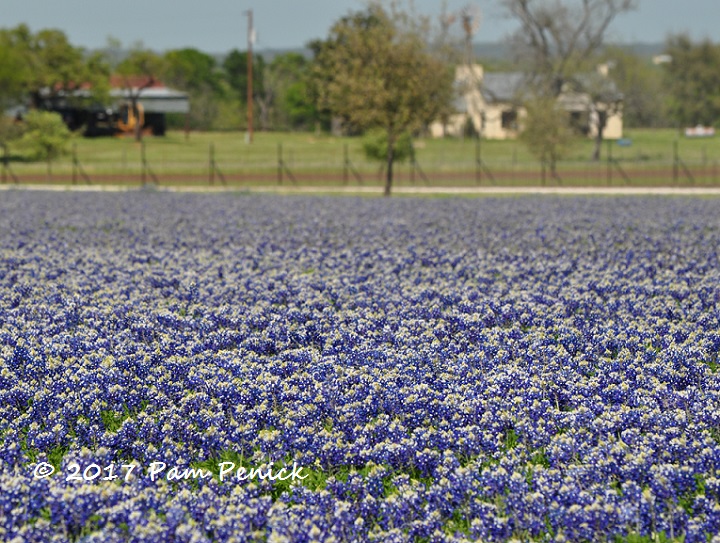 A wildflower photo safari is my springtime ritual, and I especially like to drive out to the Texas Hill Country to photograph wildflowers against the rugged hills, rocks, and prickly pear. This spring, thanks to a mild winter, Texas bluebonnets (Lupinus texensis) are carpeting roadsides a few weeks early, so there was no time to lose if I wanted to see our state flower in its blue splendor.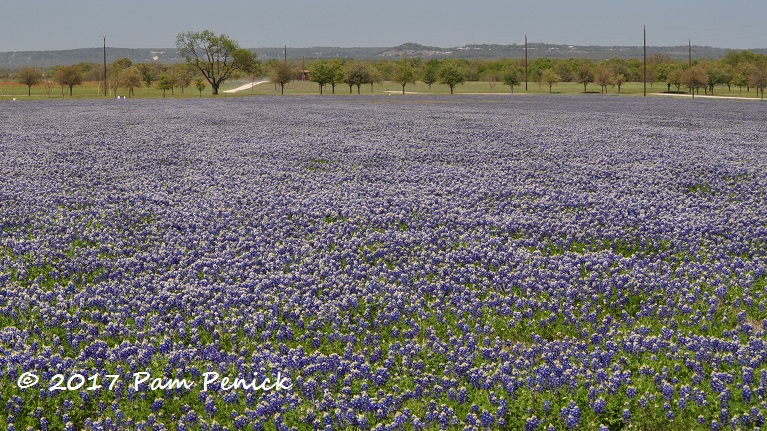 Here's what a field of bluebonnets looks like — sparkling blue heaven.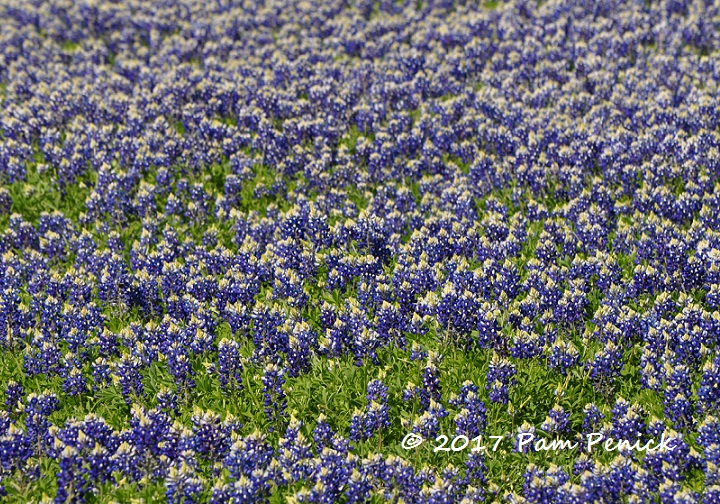 Unfortunately, while I saw plenty of bluebonnets along the roadsides from Spicewood to Llano, there was nowhere to safely pull over to photograph them, and I didn't see any fields in bloom. Even scenic Willow City Loop off Highway 16 was downright sparse.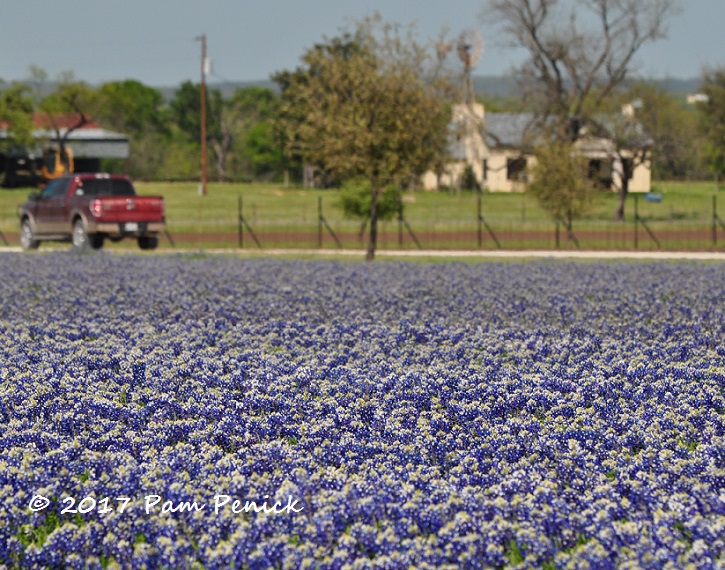 Happily, there's always Wildseed Farms just east of Fredericksburg, where you can view farm fields of wildflowers, which they grow for their seed-selling operation. (Here's my obligatory annual pickup truck-and-wildflowers picture.)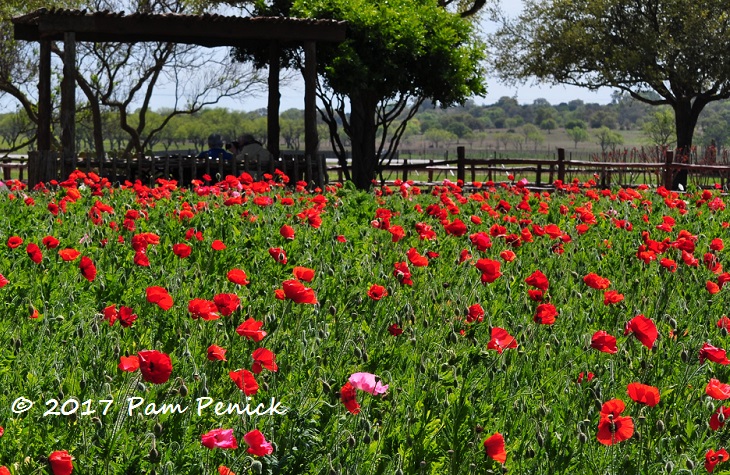 Right now Wildseed Farms has fields of bluebonnets and corn poppies in full flower.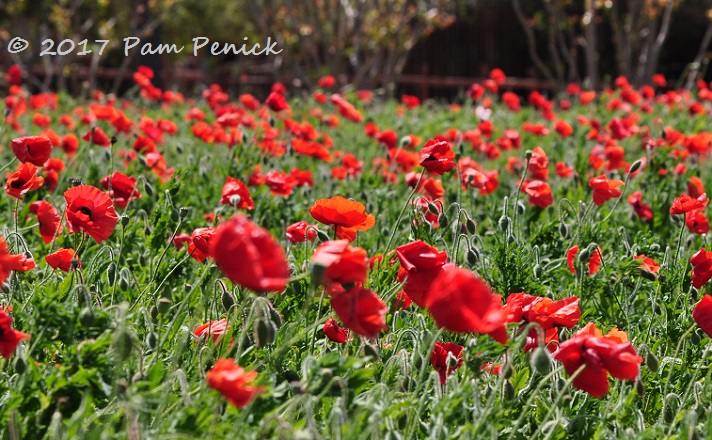 Yesterday's high winds made photographing the long-stemmed poppies challenging.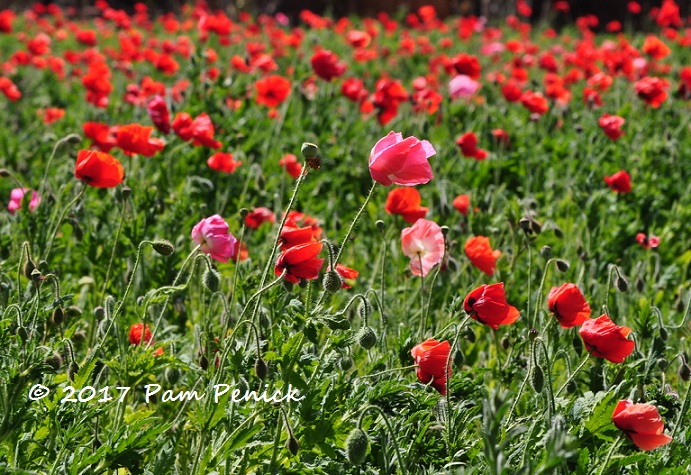 I always like spotting a few pink poppies amid the red ones.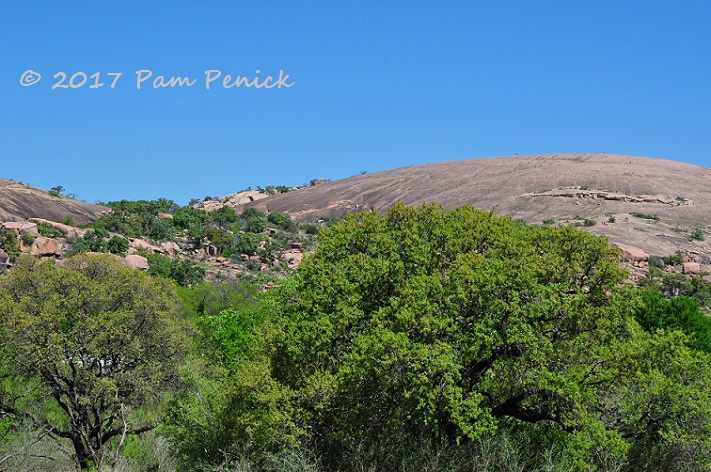 I'll leave you with a view of Enchanted Rock, which always deserves a detour if you're driving Highway 16 north of Fredericksburg.
For my previous wildflower safaris, check out these blog posts:
Wildflower drive through the Texas Hill Country, March 2016
An Easter wildflower safari, April 2015
Wildflower safari in the Hill Country, April 2010
Texas wildflower Bloom Day, April 2010
I welcome your comments; please scroll to the end of this post to leave one. If you're reading this in a subscription email, click here to visit Digging and find the comment box at the end of each post.
_______________________
Digging Deeper: News and Upcoming Events
Get on the mailing list for Garden Spark Talks. Inspired by the idea of house concerts — performances in private homes, which support musicians and give a small audience an up-close and personal musical experience — I'm hosting a series of garden talks by design speakers out of my home. Talks are limited-attendance events and generally sell out within just a few days, so join the Garden Spark email list for early notifications. Simply click this link and ask to be added.
All material © 2006-2017 by Pam Penick for Digging. Unauthorized reproduction prohibited.
posted in
Annuals
,
Color
,
Farms
,
Flowers
,
Nurseries & Shops
,
Parks & greenbelts
,
Rock
,
Spring color
,
Travel
,
Views
,
Wildflowers