February 5th, 2008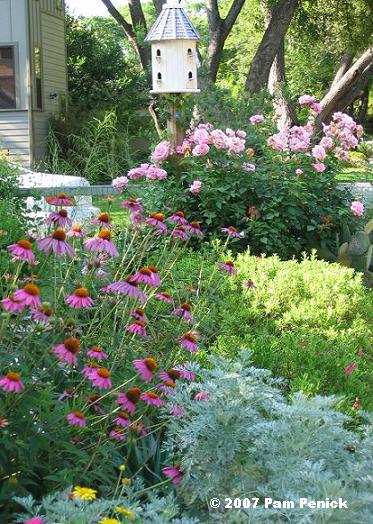 Front garden, Early Summer 2007. Purple coneflower and 'Belinda's Dream' roses harmonize, while silver artemesia and chartreuse Salvia greggii foliage add a little punch.
Like many gardeners, I love color in the garden. Pinks reign in the front, reds and blues in the back. At this time of year, when my winter garden is mostly green and tan, it's fun to look back at some of my favorite color combinations for this month's Garden Bloggers' Design Workshop hosted by Gardening Gone Wild. Check out the comments at GGW for other bloggers' posts about color in their gardens. It'll brighten up a winter evening.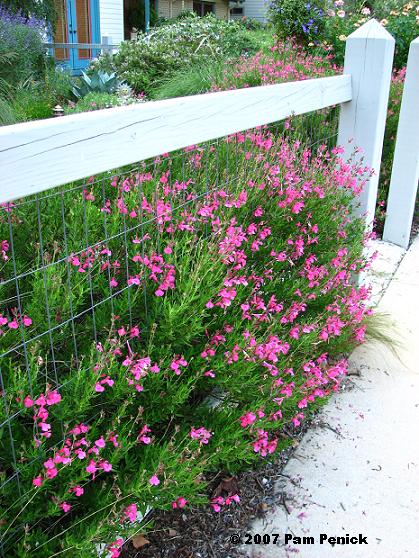 Most of my pinks in the front are hot pink, like this Autumn sage (Salvia greggii ). Not only does it bloom spring through fall with periodic shearing, its foliage releases a fresh, minty fragrance when you brush against it. If you like to harmonize, it looks great with other bright pinks like purple coneflower, roses, rock rose (Pavonia ), and skullcap (Scutellaria ). I particularly like it with silvers (agaves, artemesia) and purples (Salvia leucantha ).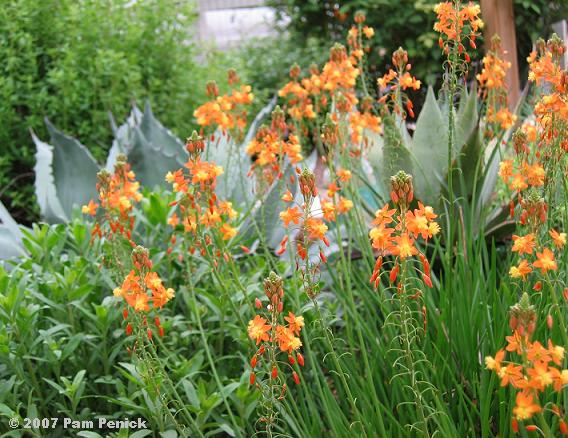 While Frances at Faire Garden goes for dark, near-black foliage, silver is fast becoming my favorite foliage color in the sunny front garden. Silver plants tend to be drought- and heat-tolerant, and they moderate clashing colors with aplomb. Put something silver between hot pink and orange, and you can get away with it. Here silvery 'Whale's Tongue' agave lets orange bulbine share space with my hot pinks.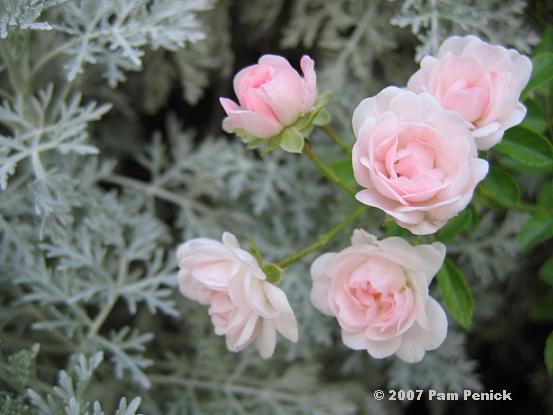 Silver looks just as lovely with pale pink. 'The Fairy' rose teams up with 'Powis Castle' artemesia for a cool combo.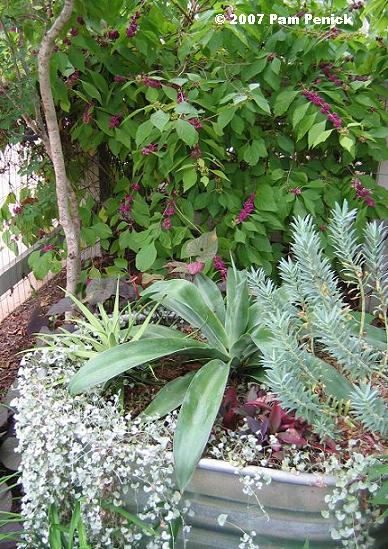 Lately I've been adding silvers in the form of stock-tank planters. This one shows off some silvery plants that work well in part shade with well-drained soil. I especially like this silver and purple combination: American beautyberry (Callicarpa americana ) in back; in the stock tank, from left to right, silver ponyfoot (Dichondra argentea ), squid agave (Agave bracteosa ), black sweet potato vine (Ipomoea batatas 'Black Heart'), Manfreda maculosa 'Macho Mocha' mangave, purple heart (Setcreasea pallida ), and gopher plant (Euphorbia rigida or E. biglandulosa ).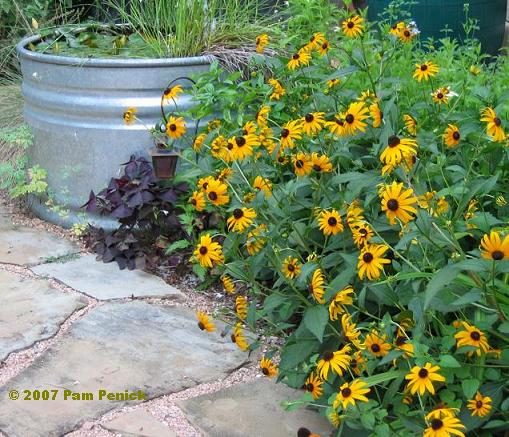 Another silver stock tank fulfills its manufactured purpose by holding water. It's a 100-gallon container pond in my back garden. Beside it, purple oxalis contrasts with golden-yellow black-eyed Susans (Rudbeckia 'Goldsturm').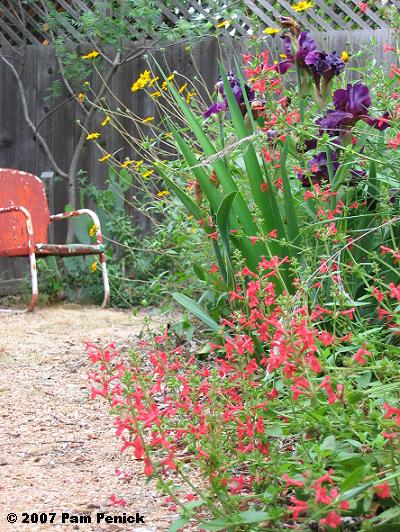 The back garden, though shadier, is hotter—in terms of color. Here I favor reds and contrasting purples and blues, with golden yellow thrown in for good measure. In this photo, Texas betony (Stachys coccinea ) heats up at ground level, its red echoed in the old motel chair, and purple iris and golden zexmenia (Wedelia texana ) occupy the high ground.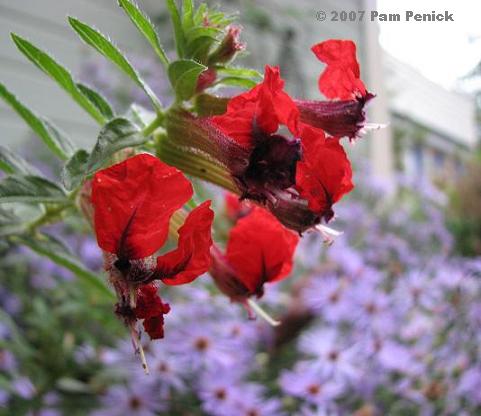 Bat-face cuphea (Cuphea llavea ) should be Austin's mascot plant thanks to our bat fixation. For contrast behind it, I've got purple fall aster (Aster oblongifolius ).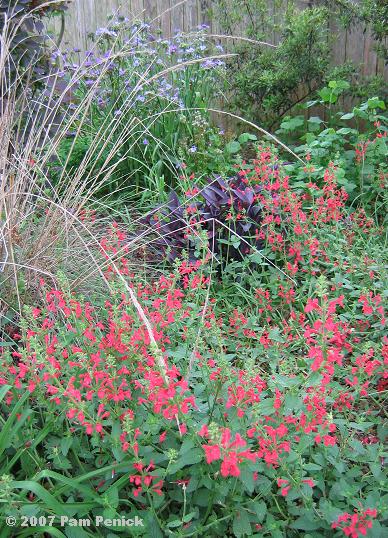 More red and purple under the cedar elm: Texas betony, purple heart, and native spiderwort in spring. Unfortunately, the smoke tree visible in the upper left corner has gone to the garden in the sky since I took this photo. Not of natural causes either, I'm afraid. It just never tolerated the heat (or dryness) of my garden very well and always looked ratty by mid-summer. Plants, if you can't take the heat, get out of the kitchen—I mean garden.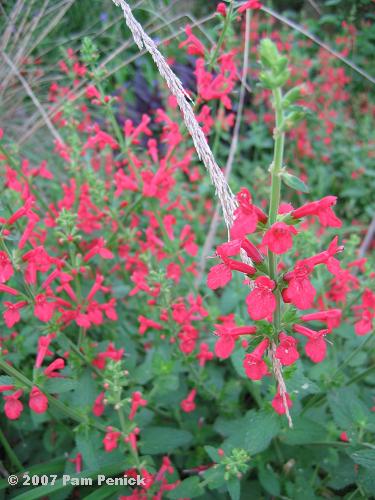 More betony! More red!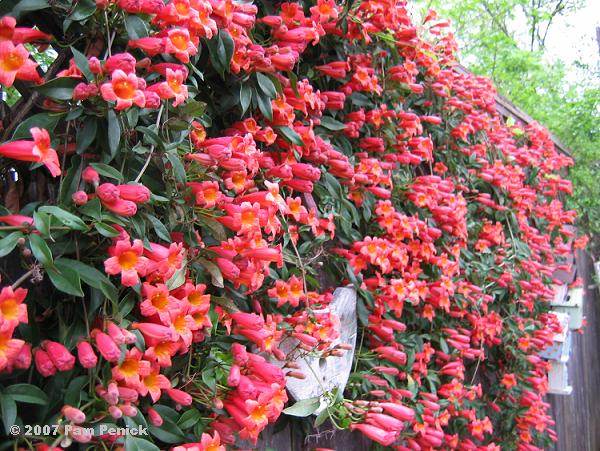 I'll end with a different color in my garden—the orangey coral of 'Tangerine Beauty' crossvine (Bignonia capreolata ). In about a month, I should be enjoying this sight again. It almost makes this winter-loving Southern gardener wish for spring.
All material © 2006-2008 by Pam Penick for Digging. Unauthorized reproduction prohibited.