March 16th, 2017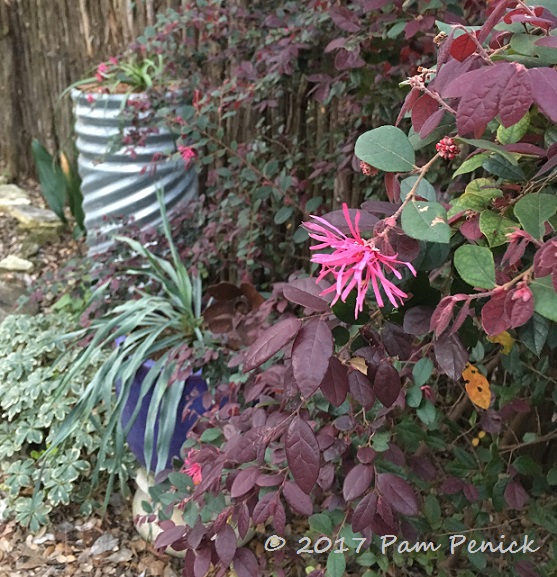 One of my favorite spring-blooming shrubs for bright shade features raspberry flowers and maroon leaves. It's Chinese fringeflower (Loropetalum chinense 'Sizzling Pink'), and its richly colored foliage contrasts beautifully with blue-green paleleaf yucca (Y. pallida) in a purple pot. Variegated pittosporum 'Cream de Mint' adds shade-brightening foliage at ground level.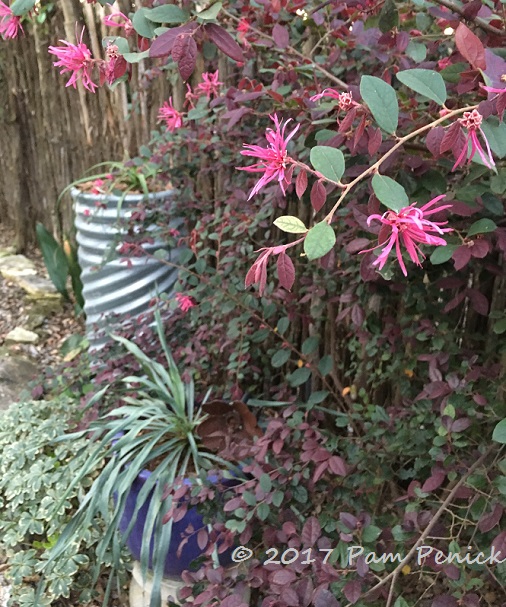 A slightly different view shows more of the fringeflower flowers. In back, a shiny, silver culvert pipe-turned-planter helps brighten the shade and brings out the gray tones in the loropetalum leaves.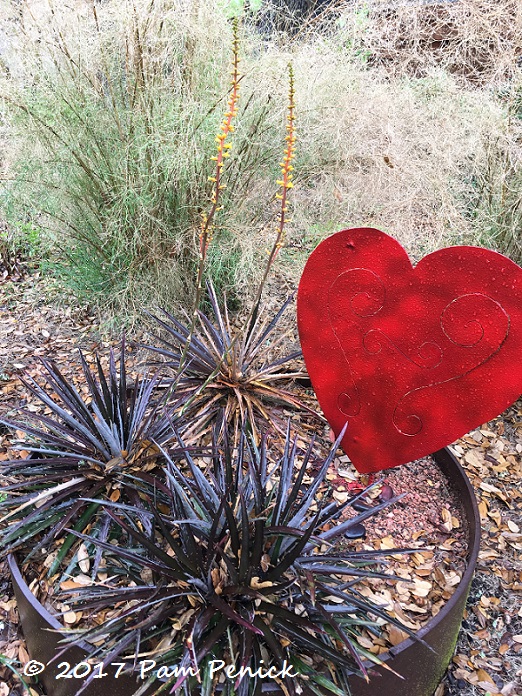 More maroon appears in a low pipe planter in the front garden: a trio of 'Burgundy Ice' dyckias. Talk about fab foliage! I love its color and starburst form, although this spiny plant easily draws blood with vicious teeth. Orangesicle flower spikes in spring make it even better.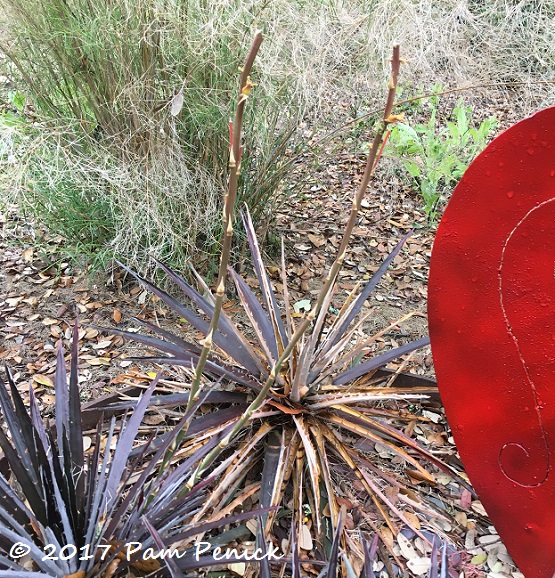 The deer think so too. Those dyckia flowers lasted, oh, about a week before the deer found them. So it goes!
This is my March post for Foliage Follow-Up. Fellow bloggers, what leafy loveliness is happening in your garden this month? Please join me in giving foliage its due on the day after Bloom Day. Leave a link to your post in a comment below. I'd appreciate it if you'll also link to my post in your own — sharing link love! If you can't post so soon after Bloom Day, no worries. Just leave your link when you get to it. I look forward to seeing your foliage faves.
I welcome your comments; please scroll to the end of this post to leave one. If you're reading this in a subscription email, click here to visit Digging and find the comment box at the end of each post.
_______________________
Digging Deeper: News and Upcoming Events
Get on the mailing list for Garden Spark Talks. Inspired by the idea of house concerts — performances in private homes, which support musicians and give a small audience an up-close and personal musical experience — I'm hosting a series of garden talks by design speakers out of my home. The upcoming talk with James deGrey David has sold out, but join the Garden Spark email list for speaker announcements delivered to your inbox; simply click this link and ask to be added. Subscribers get advance notification when tickets go on sale for these limited-attendance events.
All material © 2006-2017 by Pam Penick for Digging. Unauthorized reproduction prohibited.