February 16th, 2017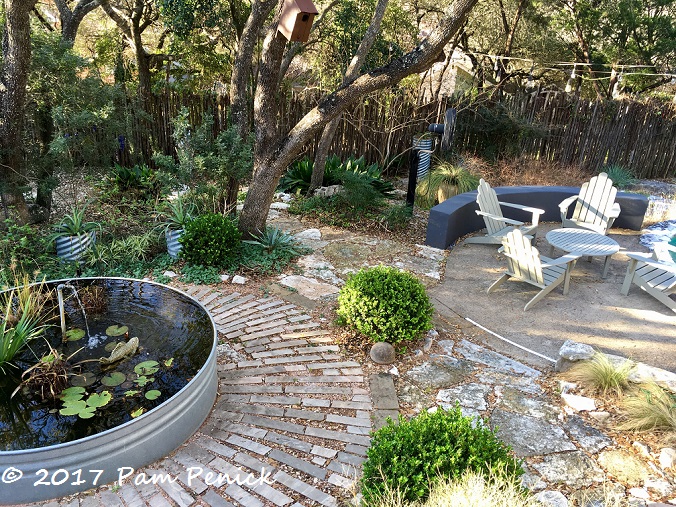 The pond patio garden is mostly evergreen, so the big cleanup here occurs later, in March, when I muck out the pond and divide the water plants.
With our brief winter segueing right into spring, February is a transitional month here in Central Texas. We may yet get another freeze, but new growth is greening up many plants, even as winter-browned foliage hangs on.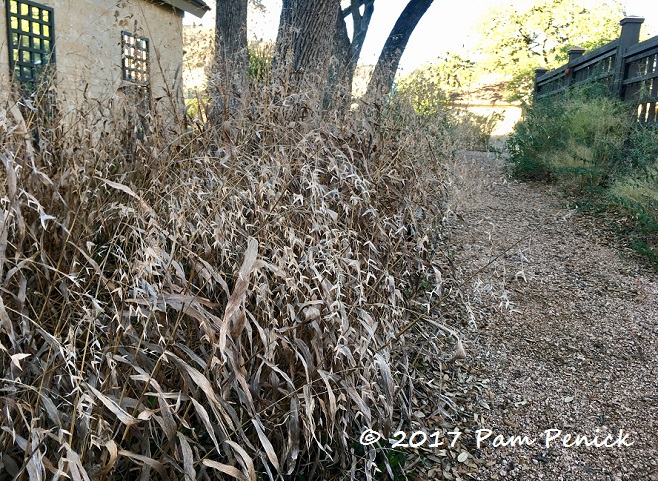 Inland sea oats still sporting its winter look, with chevron seedheads dangling. Fresh green leaves are already popping up from the roots, so I'll cut it back this week.
It's important to provide cover and food sources for birds and other wildlife as well as have something to look at all winter, so I leave plants standing after they go brown. But now it's definitely time.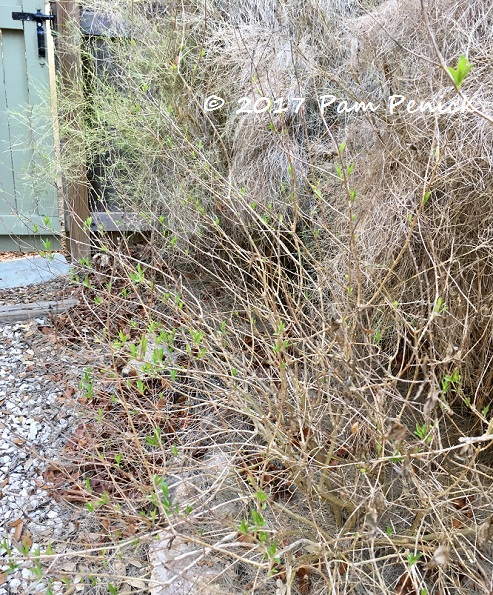 Flame acanthus (Anisacanthus quadrifidus var. wrightii) branches are showing new leaf growth. I'll cut the branches back to about 12 inches to keep the plant compact.
My garden thinks winter is over, and I'm racing to keep up. Cutting back renews many of the woody natives and keeps them from getting straggly, like autumn sage and flame acanthus.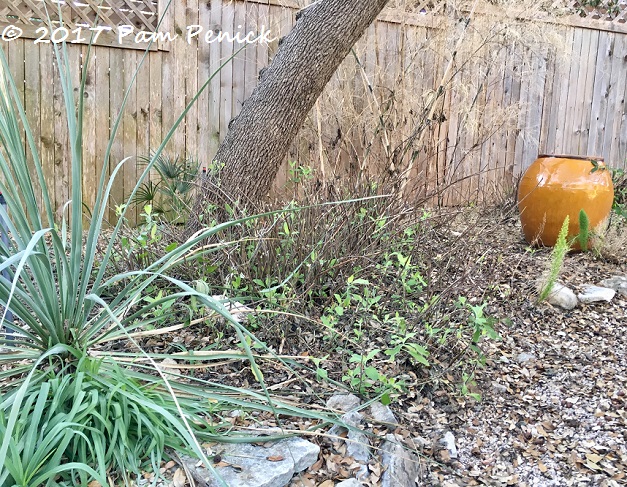 Mexican honeysuckle after its cut-back — not pretty now, but it'll grow. I only cut it back this hard in years with hard freezes that turn it to mush.
Still, the big mid-February cut-back gets a little harder every year, the older I get, and I may hire help next year.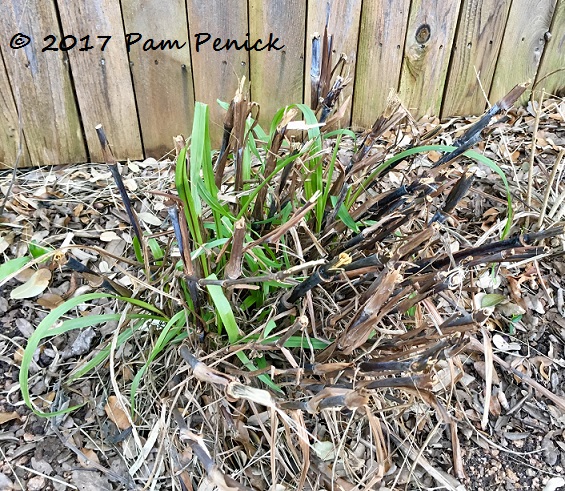 'Vertigo' pennisetum after its cut-back
But for now I forge on solo and try to get it done in manageable stages: a little last weekend, a little more this weekend.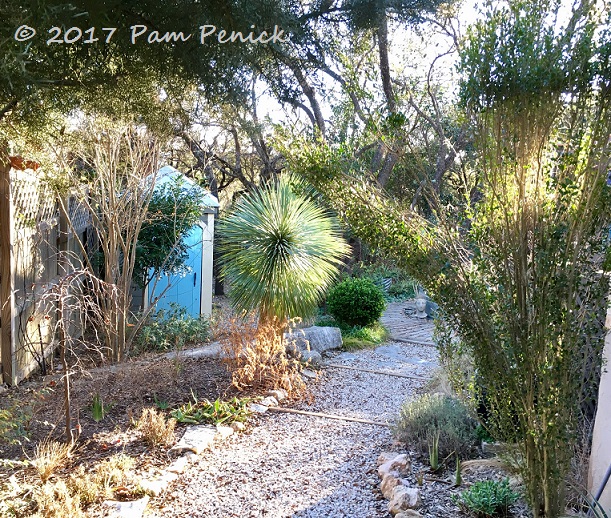 I also need to make time for unexpected tidying, like this drooping 'Will Fleming' yaupon, which I noticed today leaning over the path. But check out the size on that Yucca rostrata by the shed! It grew a lot last year and now stands about 6-1/2 feet tall.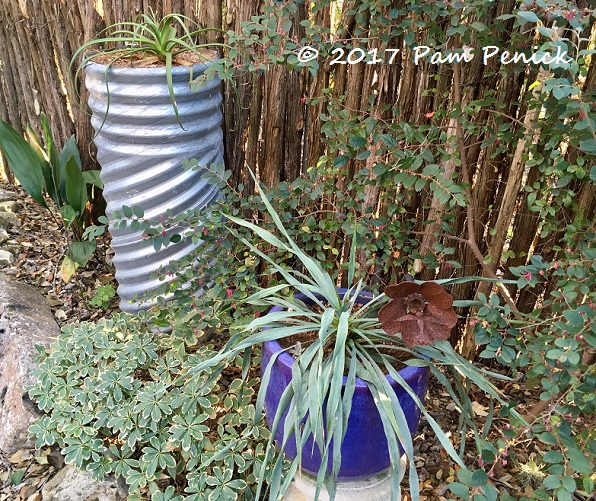 Last weekend I got sidetracked (of course) with some repotting, like the squid agave in the culvert-pipe planter, which had settled too deeply and needed to be pulled out and replanted in added soil.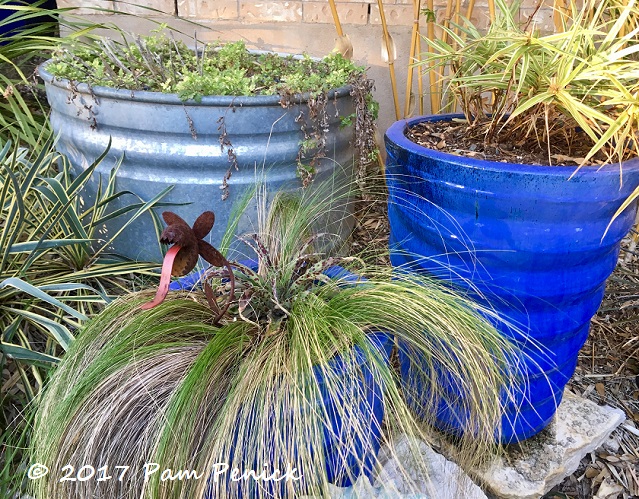 I also replaced a shaded-out yucca in the taller blue pot with a 'Sparkler' sedge I transplanted. I hope it'll survive my tough love of containers this summer by not requiring more than a weekly or maybe twice-weekly watering. I've struggled to find a plant that likes the bamboo-shaded, dry conditions of the stock-tank planter. I'm going to try Texas sotol this spring.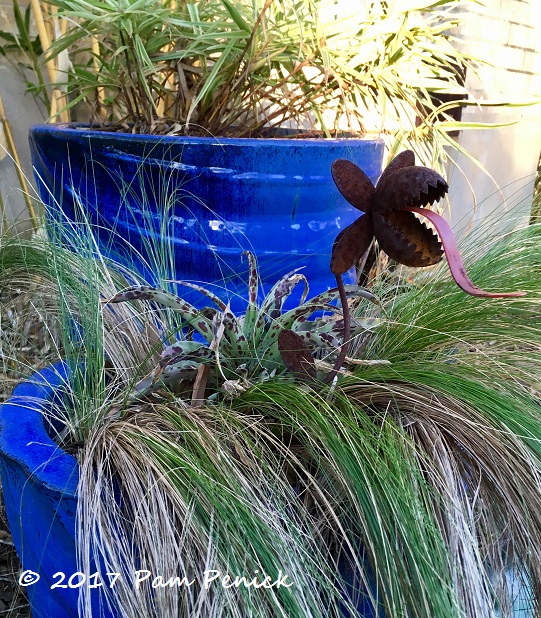 I'm happy to see a freeze-damaged 'Chocolate Chips' manfreda coming back nicely in the smaller pot, alongside Mexican feathergrass.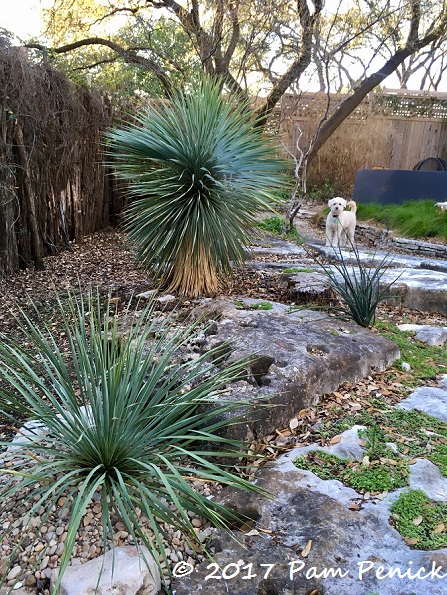 I've also done some significant planting lately, including a new 5-gallon Yucca rostrata 'Sapphire Skies' from Hill Country Water Gardens & Nursery to accompany my prize-money yucca along the back fence.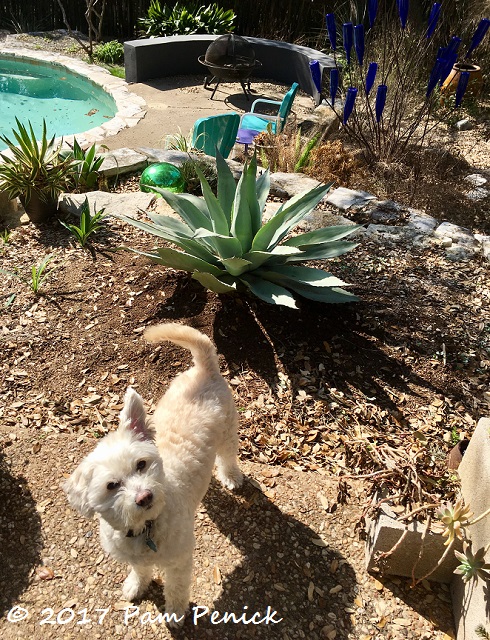 I also planted a new and bigger Moby replacement — that is, a new whale's tongue agave (Agave ovatifolia) for Moby's old spot. I'll have a post about agave-planting challenges soon!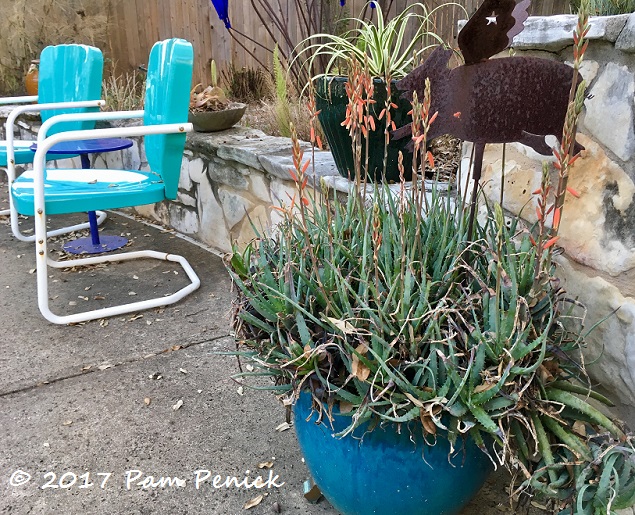 I still need to tackle some pot clean-up chores, since December's deep freeze made a mess of some of my succulents. Like this 'Blue Elf' aloe, for example. It's normally beautiful at this time of year, with coral bloom spikes hoisted above slender, blue-green leaves. It's blooming OK, but the fleshy leaves have bleached, frostbitten tips and would benefit from selective pruning.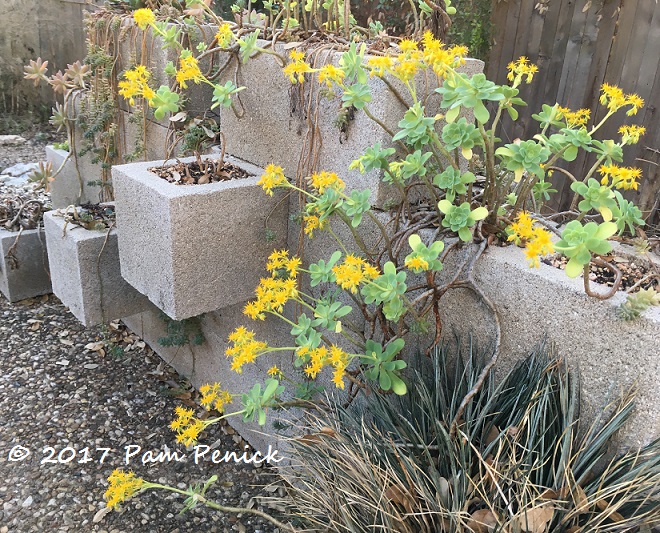 The cinderblock succulent wall looks forlorn too, in spite of a brave show by the Palmer's sedum (Sedum palmeri), which survived our freezing weather just fine and has been feeding honeybees for weeks. For future reference, other survivors include 'Blue Spruce' sedum, ghost plant (Graptopetalum paraguayense), variegated prickly pear, and soap aloe with a little damage. I was most sad to lose my Coppertone stonecrop, but I can easily buy a new one, along with a few other small succulents, to refresh the wall planter this spring.
Like I said, it's a busy time of year in the garden!
This is my February post for Foliage Follow-Up. Fellow bloggers, what leafy loveliness — or dead-foliage clean-up chore — is happening in your garden this month? Please join me in giving foliage its due on the day after Bloom Day. Leave a link to your post in a comment below. I'd appreciate it if you'll also link to my post in your own — sharing link love! If you can't post so soon after Bloom Day, no worries. Just leave your link when you get to it. I look forward to seeing your foliage faves.
I welcome your comments; please scroll to the end of this post to leave one. If you're reading this in a subscription email, click here to visit Digging and find the comment box at the end of each post.
_______________________
Digging Deeper: News and Upcoming Events
2/25/17: Come to my talk at the Wildflower Center. I'll be speaking at the day-long Native Plant Society of Texas Spring Symposium at the Lady Bird Johnson Wildflower Center in Austin. My talk is called "Local Heroes: Designing with Native Plants for Water-Saving Gardens," and it's about creating water-wise home gardens that don't sacrifice beauty. The symposium is open to the public. Click here for registration. I'll be offering signed copies of my books, The Water-Saving Garden and Lawn Gone!, after my talk ($20 each; tax is included). I hope to see you there!
Get on the mailing list for Garden Spark Talks. Inspired by the idea of house concerts — performances in private homes, which support musicians and give a small audience an up-close and personal musical experience — I'm hosting a series of garden talks by design speakers out of my home. The upcoming talk with James deGrey David has sold out, but join the Garden Spark email list for speaker announcements delivered to your inbox; simply click this link and ask to be added. Subscribers get advance notification when tickets go on sale for these limited-attendance events.
All material © 2006-2017 by Pam Penick for Digging. Unauthorized reproduction prohibited.
posted in
2nd garden--2017
,
Agaves
,
Aloes
,
Containers
,
Fences
,
Foliage Follow-Up
,
Grasses
,
Paths
,
Patios & decks
,
Ponds
,
Pruning
,
Seating
,
Shrubs
,
Stock tanks
,
Succulents
,
Texas natives
,
Trees
,
Walls
,
Water features
,
Water gardening
,
Yuccas