January 24th, 2017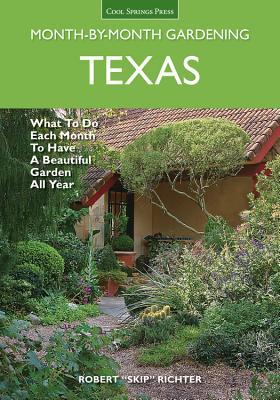 Texas gardeners and shutterbugs who enjoy photographing the beautiful Texas Hill Country will appreciate today's book picks: Texas Month-by-Month Gardening by Robert "Skip" Richter and Photographing Austin, San Antonio & the Texas Hill Country by Laurence Parent.
Let's start with Texas gardening. Author Skip Richter is a beloved figure in Texas gardening circles. Formerly the extension service horticulturist and head of the Master Gardeners in Travis County and a regular on KLRU's Central Texas Gardener, Skip now resides in Houston, but he's gardened and taught gardening all across our climatically diverse state. (Texas encompasses hardiness zones 6 through 10, and annual rainfall varies from 56 inches in the southeastern corner to 8 inches in far western Texas!) That makes him well qualified to write a general gardening book for the Lone Star State.
Texas Month-by-Month Gardening: What to Do Each Month to Have a Beautiful Garden All Year (2014, Cool Springs Press) is Skip's first book, and it's part of the Cool Springs Press regional gardening series. (Look online for a Month-by-Month Gardening book for your region.) This is a practical how-to book for beginners or new-to-Texas gardeners. As many a newbie has learned the hard way, our seasons in Texas can seem upside-down from what's considered normal in more-temperate parts of the country. It can be useful to have an experienced gardening coach like Skip tell you that January, for example, is when you should "start transplants of warm-season vegetables for the spring garden…in zones 8 and 9." Of June, Skip points out that in our blistering climate, "flowers that are called 'heat-tolerant' in milder climates often either die or stop blooming….[W]e need to shift strategies and look to plants with colorful foliage to paint our landscapes with color."
Skip says to think of the book as an owner's manual: "Each month is divided into the major tasks involved in establishing and maintaining a healthy, attractive, and productive garden and landscape. This includes the basics of gardening: planning, planting, plant care, watering, fertilizing, and problem-solving." Skip's writing is accessible and friendly, and in addition to the solid info, it's generously illustrated with nice color photos of plant combos and people actively gardening. I could find no mention of the photographer, so I assume the images are Skip's, as his bio mentions that he's an avid photographer. The only incongruous image is, ironically, on the cover: a shot of James David and Gary Peese's Austin garden, a beautifully crafted and horticulturally experimental showpiece — i.e., not the kind of garden that most beginner gardeners would aspire to emulate. Also, many of the photos appear to be of gardens in central, south, and east Texas, so west Texas desert gardeners may feel overlooked.
Considering the vastness of our state, however, the book does a great job of covering the basics. I wish I'd had a book like this when I started gardening in Texas 23 years ago.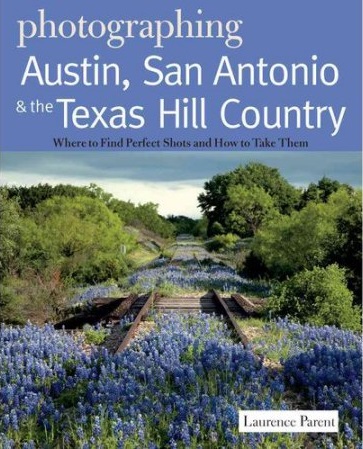 As lovers of the outdoors, gardeners often enjoy photographing natural vistas and wildflowers, and Central Texans are lucky to have the gorgeous Hill Country at their doorstep. Each spring, if we're having a good bluebonnet or Indian paintbrush season, I go on a wildflower photo safari through the Hill Country, looking for the most colorful views. I also enjoy photographing sights around Austin. So when I spotted Photographing Austin, San Antonio & the Texas Hill Country: Where to Find Perfect Shots and How to Take Them (2012, The Countryman Press) at Book People, I couldn't resist buying a copy.
Author Laurence Parent, a resident of Wimberley, has photographed covers for Texas Highways and other publications, and he's scouted hundreds of great locations throughout Central Texas. Dividing the region into four areas — western Hill Country, eastern Hill Country, Austin, and San Antonio — he lists between 10 and 23 locations for each area, describing each with details of the scenery, how to access good photography spots, the best time of year to shoot, and even what sort of weather conditions to look for to get an extra special shot. Rural locations include state parks, caverns, rivers, likely wildflower-peeping routes, and canyons. Urban locations include city skylines, botanical gardens and parks, historic districts, cathedrals and missions, universities, and bridges.
Parent's gorgeous photographs tantalize throughout the book, tempting you to visit his locations to see if you can duplicate these moments or capture an original one of your own. This is both a travel book and a photography instruction manual I'll refer to again and again.
I welcome your comments; please scroll to the end of this post to leave one. If you're reading this in a subscription email, click here to visit Digging and find the comment box at the end of each post.
_______________________
Digging Deeper: News and Upcoming Events
Book Review Week is happening all this week right here at Digging! Do you have an Amazon gift card from the holidays burning a hole in your pocket? Need a good gardening book to get you through winter? Come here first for my recommendations.
2/25/17: Come to my talk at the Wildflower Center. I'll be speaking at the day-long Native Plant Society of Texas Spring Symposium at the Lady Bird Johnson Wildflower Center in Austin. My talk is called "Local Heroes: Designing with Native Plants for Water-Saving Gardens," and it's about creating water-wise home gardens that don't sacrifice beauty. The symposium is open to the public. Click here for registration. I'll be offering signed copies of my books, The Water-Saving Garden and Lawn Gone!, after my talk ($20 each; tax is included). I hope to see you there!
Get on the mailing list for Garden Spark Talks. Inspired by the idea of house concerts — performances in private homes, which support musicians and give a small audience an up-close and personal musical experience — I'm hosting a series of garden talks by design speakers out of my home. The first talk with Scott Ogden has sold out, but join the Garden Spark email list for speaker announcements delivered to your inbox; simply click this link and ask to be added.
All material © 2006-2017 by Pam Penick for Digging. Unauthorized reproduction prohibited.