January 16th, 2017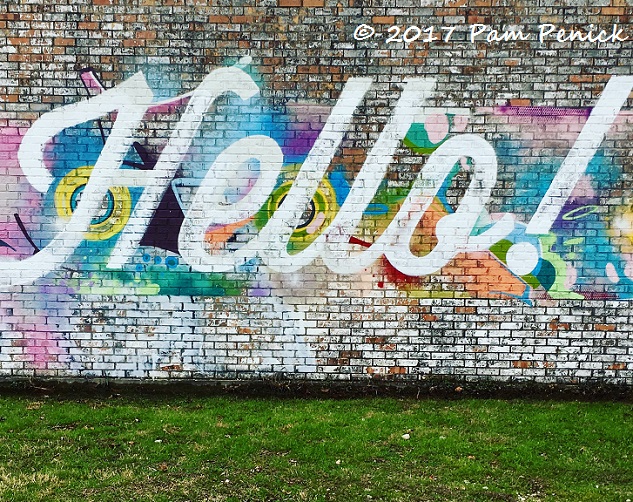 Hello, winter! We're not used to seeing you here in Central Texas. Despite predictions of a mild winter, with the warming influence of a La Niña, we've already had two multi-day stretches of hard freezes, with a couple of nights dropping into the upper teens.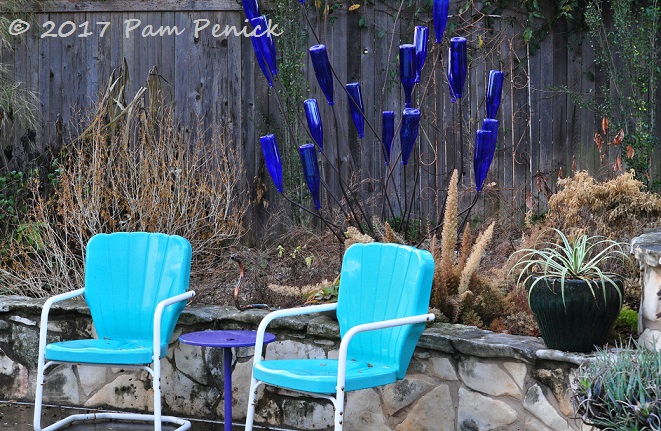 The result? Brown, brown, brown plants. Semi-melted agaves and aloes. Tender succulents reduced to mush. (Notice the potted 'Monterrey Frost' squid agave looks great though!)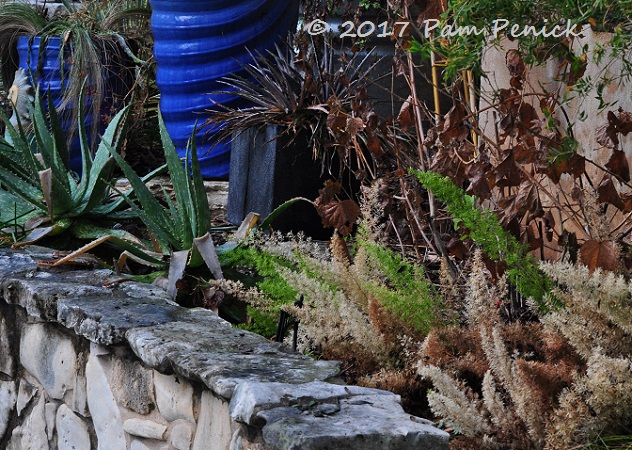 Considering that my garden didn't have a single hard freeze last winter, this has come as a shock, not only to my marginally hardy plants but to my eyes. I'm not used to seeing so much brown. And I have to admit that I don't like it.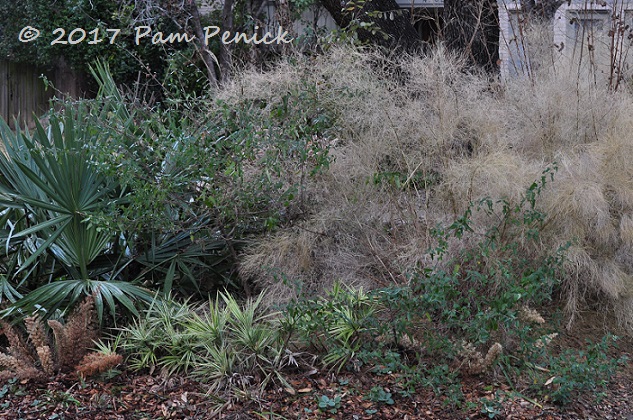 Oh, the natives are fine, of course. They can take temperature extremes in stride. The Texas dwarf palmetto (Sabal minor) on the left still looks green and happy. So do certain exotics, like pale pavonia (Pavonia hastata) and 'Sparkler' sedge. But bamboo muhly (Muhlenbergia dumosa) and foxtail fern (Asparagus meyeri), both of which I rely on heavily because they thrive in dry, dappled shade and deer don't touch them, have become as dry and bleached as straw. I can only hope they'll come back from the roots.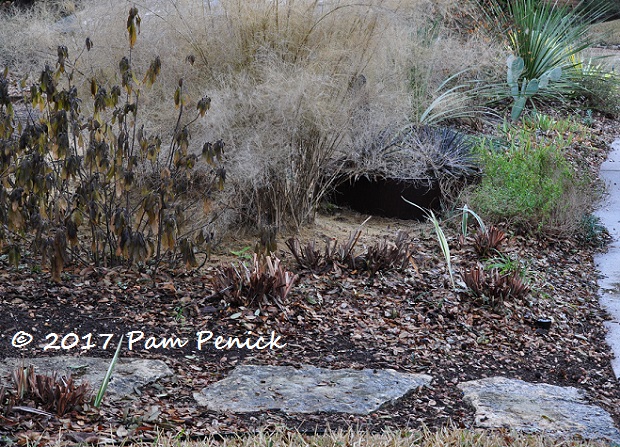 It's the same story with Mexican honeysuckle (Justicia spicigera) and variegated flax lily (Dianella tasmanica 'Variegata'). Mushy and brown.
If you're wondering, yes, I cut back the dianella in the front garden because I couldn't stand its straw-like ugliness near the front door. But generally I recommend waiting on cutting back until mid-February to give roots a little protection, to avoid stimulating early growth that could get zapped by another freeze, and to give shelter to wildlife.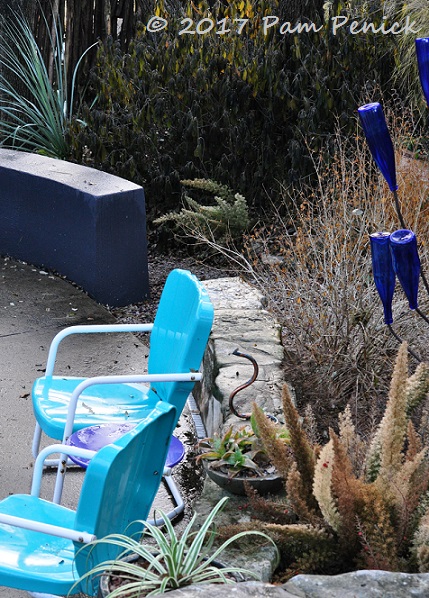 In the back garden, the stand of Mexican honeysuckle, usually green all winter, is blackened and sad.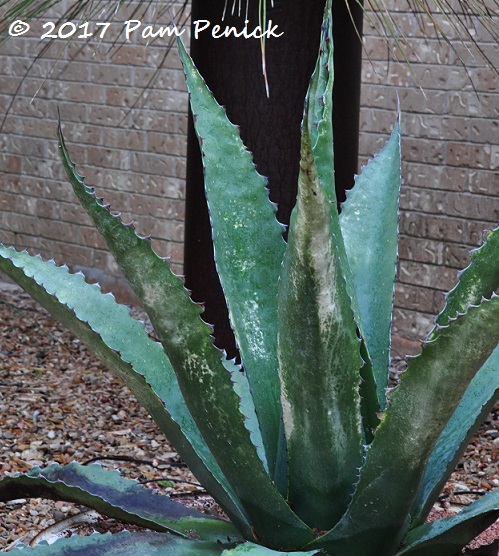 Even my normally winter-hardy 'Jaws' agave shows some bleached-out freeze damage.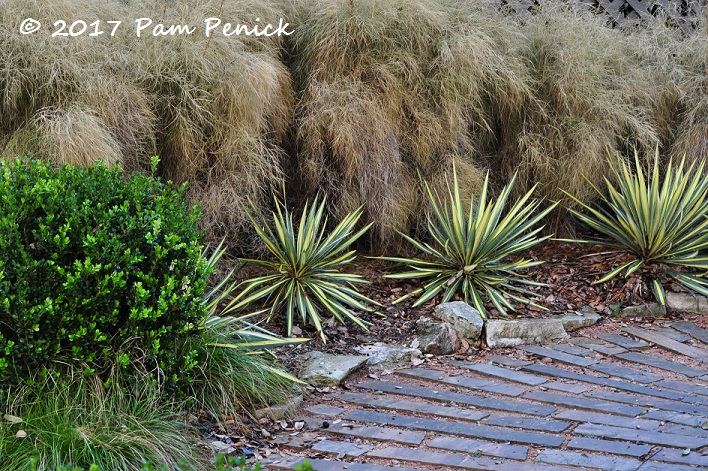 This is when yuccas really shine, like these 'Color Guard' yuccas. Winter weather doesn't faze them. Let's sing the praises of 'Winter Gem' boxwood too, impervious to polar vortexes. Gah, the poor bamboo muhly behind the yuccas, though.
I'm sure those of you in colder climates are finding it hard to sympathize. What can I say? Mild winters are surely our reward, here in Texas, for putting up with blistering summers, right? RIGHT??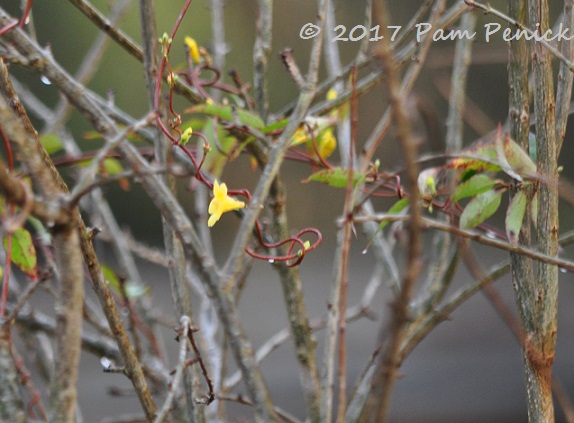 Ah well. Spring is already stirring here in Austin, as the Carolina jessamine (Gelsemium sempervirens) shows. By mid-February new growth will be glowing green throughout the garden, and winter clean-up will begin in earnest.
This is my January post for Foliage Follow-Up. Fellow bloggers, what leafy loveliness — or ugliness — is happening in your garden this month? Please join me in giving foliage its due on the day after Bloom Day. Leave a link to your post in a comment below. I'd appreciate it if you'll also link to my post in your own — sharing link love! If you can't post so soon after Bloom Day, no worries. Just leave your link when you get to it. I look forward to seeing your foliage faves.
I welcome your comments; please scroll to the end of this post to leave one. If you're reading this in a subscription email, click here to visit Digging and find the comment box at the end of each post.
_______________________
Digging Deeper: News and Upcoming Events
2/25/17: Come to my talk at the Wildflower Center. I'll be speaking at the day-long Native Plant Society of Texas Spring Symposium at the Lady Bird Johnson Wildflower Center in Austin. My talk is called "Local Heroes: Designing with Native Plants for Water-Saving Gardens," and it's about creating water-wise home gardens that don't sacrifice beauty. The symposium is open to the public. Click here for registration. I'll be offering signed copies of my books, The Water-Saving Garden and Lawn Gone!, after my talk ($20 each; tax is included). I hope to see you there!
Get on the mailing list for Garden Spark Talks. Inspired by the idea of house concerts — performances in private homes, which support musicians and give a small audience an up-close and personal musical experience — I'm hosting a series of garden talks by design speakers out of my home. The first talk with Scott Ogden has sold out, but join the Garden Spark email list for speaker announcements delivered to your inbox; simply click this link and ask to be added.
All material © 2006-2017 by Pam Penick for Digging. Unauthorized reproduction prohibited.
posted in
2nd garden--2017
,
Agaves
,
Aloes
,
Bottle tree
,
Containers
,
Dyckias
,
Foliage Follow-Up
,
Grasses
,
Murals
,
Palms/Cycads
,
Pruning
,
Seating
,
Shrubs
,
Texas natives
,
Vines
,
Weather
,
Yuccas